Pizza chains race for more slices of the customized pie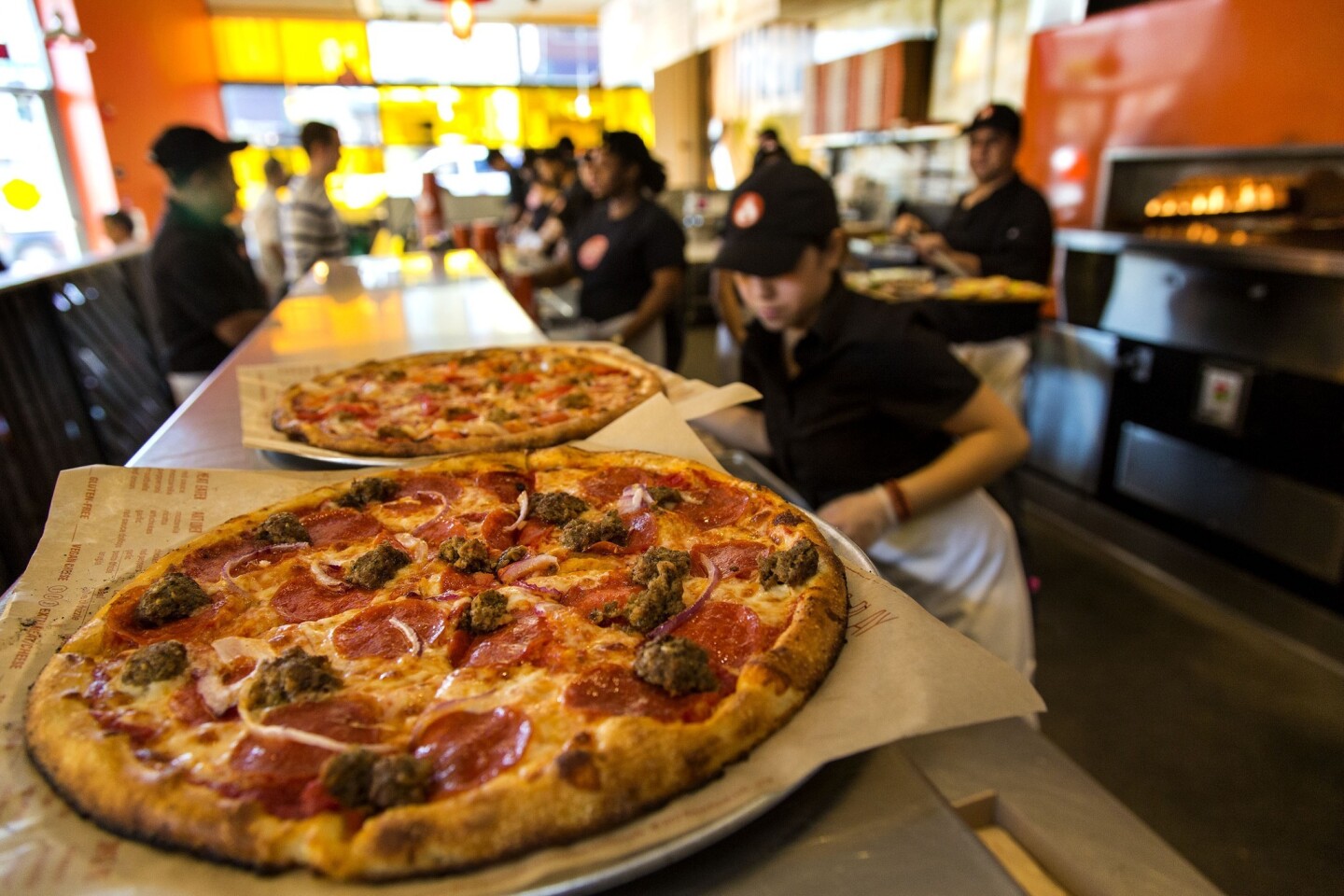 A Meat Eater pizza awaits pickup at Blaze Pizza in Pasadena. The chain has six locations now in Southern California, with more coming this year.
(Ricardo DeAratanha / Los Angeles Times)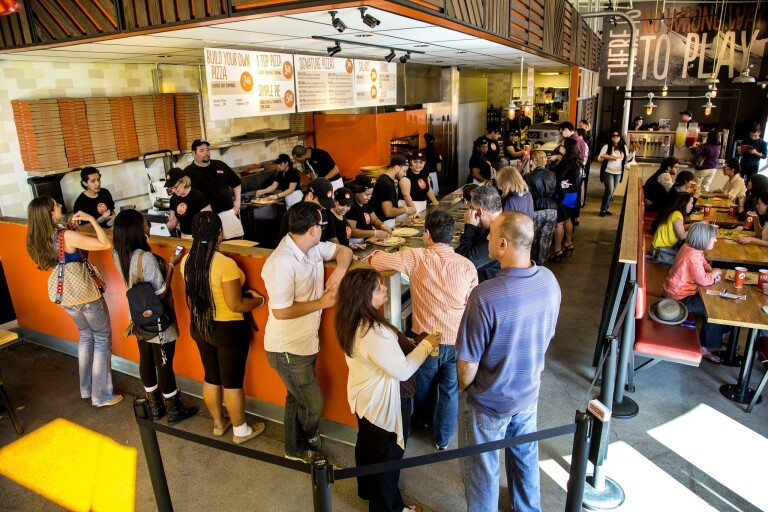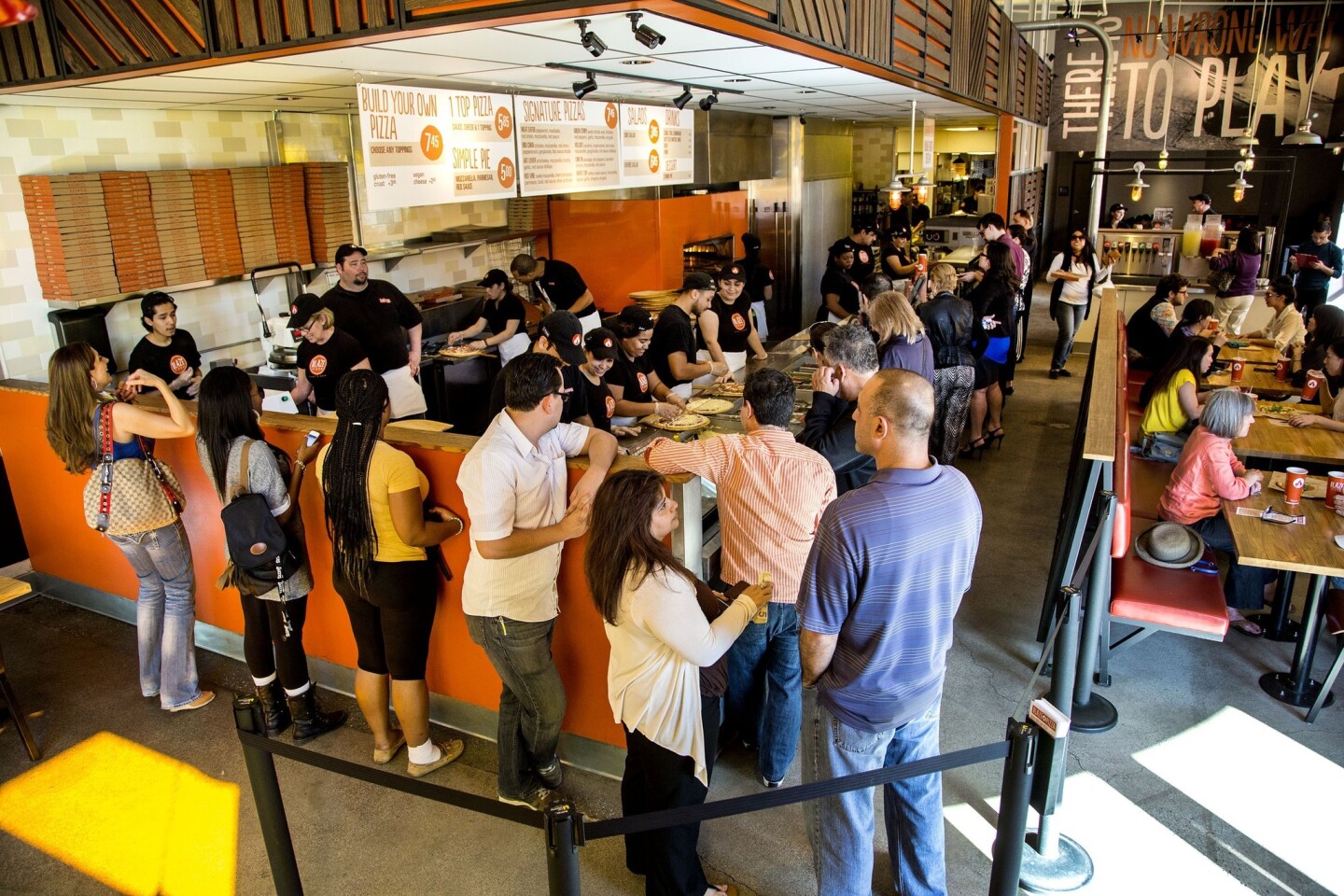 Customers wait to order their pizzas. They can choose from several sauces, meats, vegetable toppings and cheeses.
(Ricardo DeAratanha / Los Angeles Times)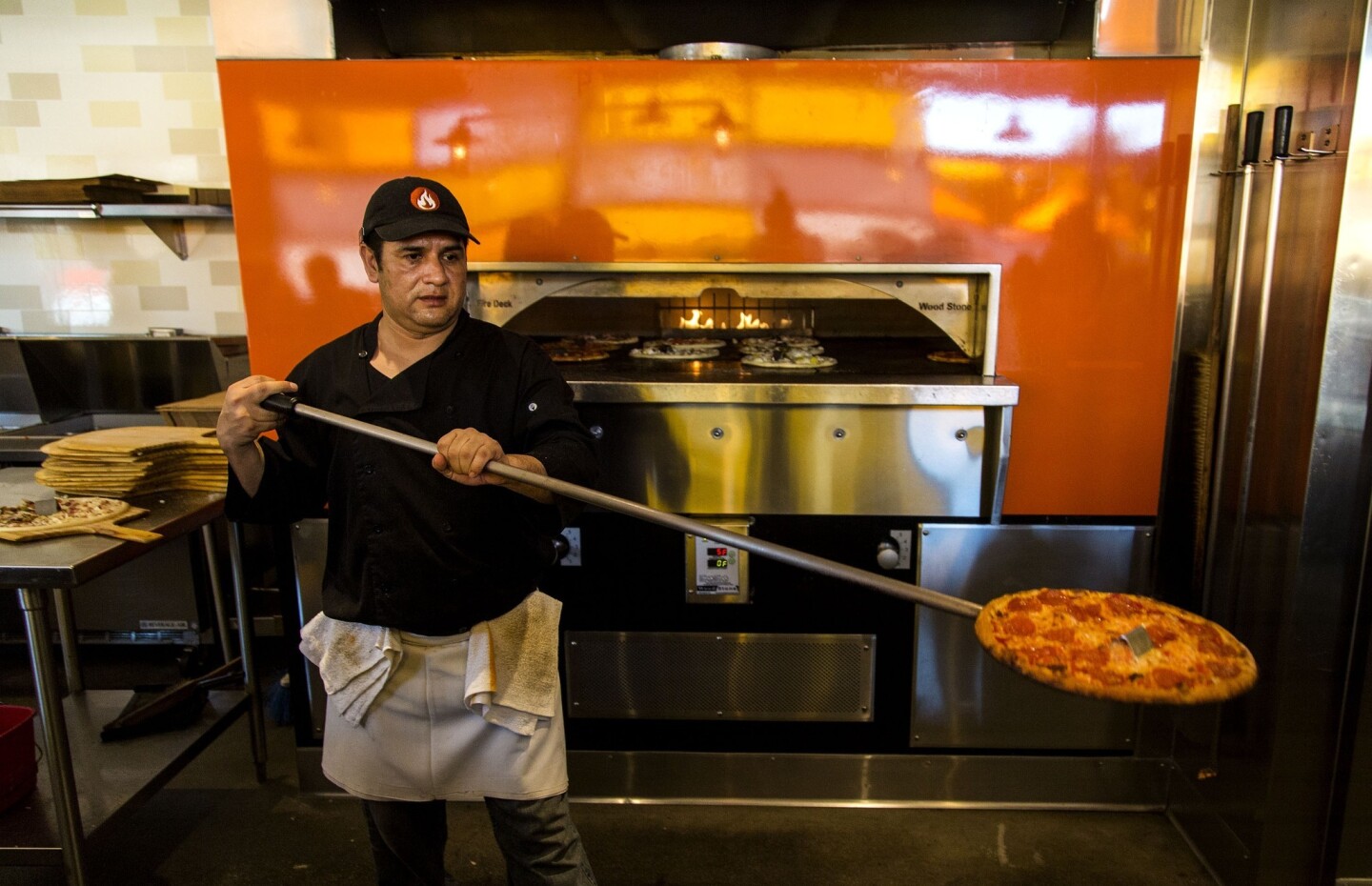 Jorge Agundez takes a pizza out of the oven. The pies are cooked in very high heat, so they're ready in a few minutes.
(Ricardo DeAratanha / Los Angeles Times)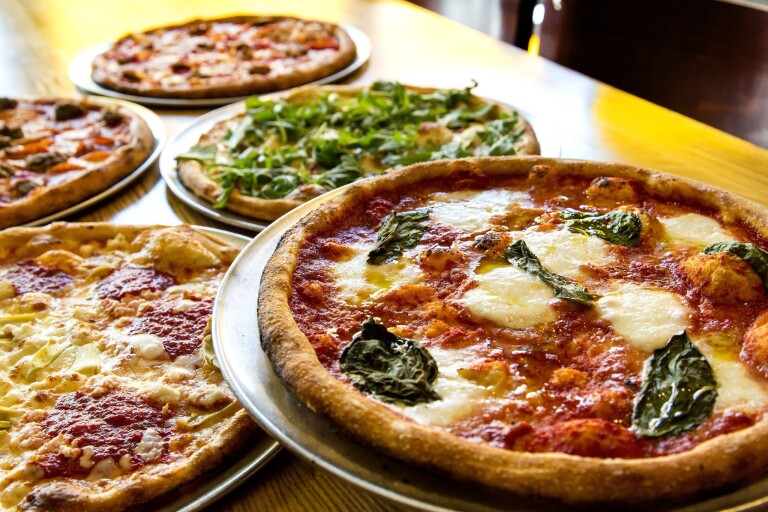 Some of Blaze's signature pizzas: The Red Vine is made with ovalini mozzarella, cherry tomatoes, Parmesan, basil, tomato sauce and an olive oil drizzle (far right); the Art Lover has artichokes, mozzarella, ricotta, chopped garlic and tomato sauce dollops (lower left).
(Ricardo DeAratanha / Los Angeles Times)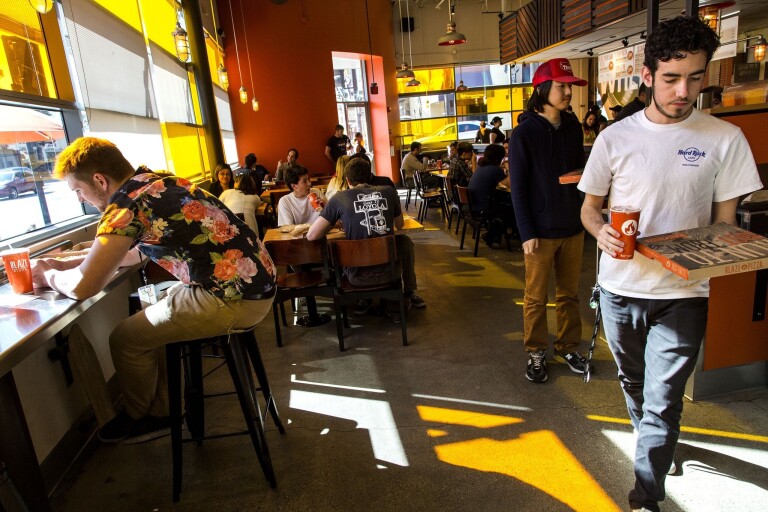 Lunchtime at Blaze Pizza in Pasadena, where the Simple Pie is $5 and a one-topping pizza is $5.85.
(Ricardo DeAratanha / Los Angeles Times)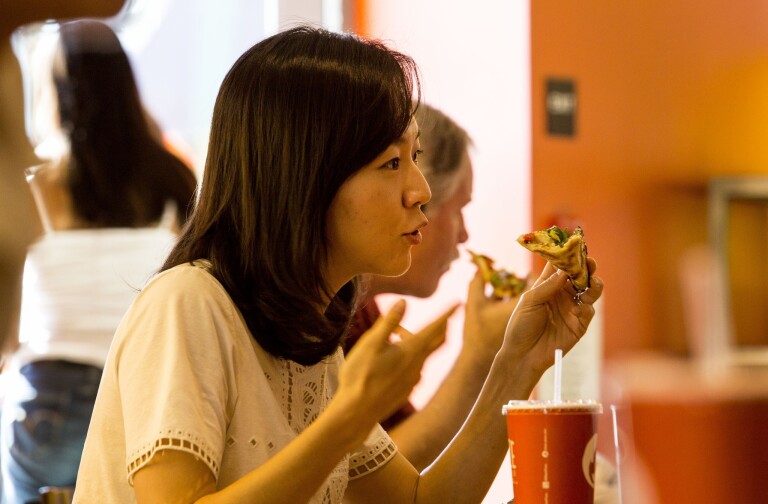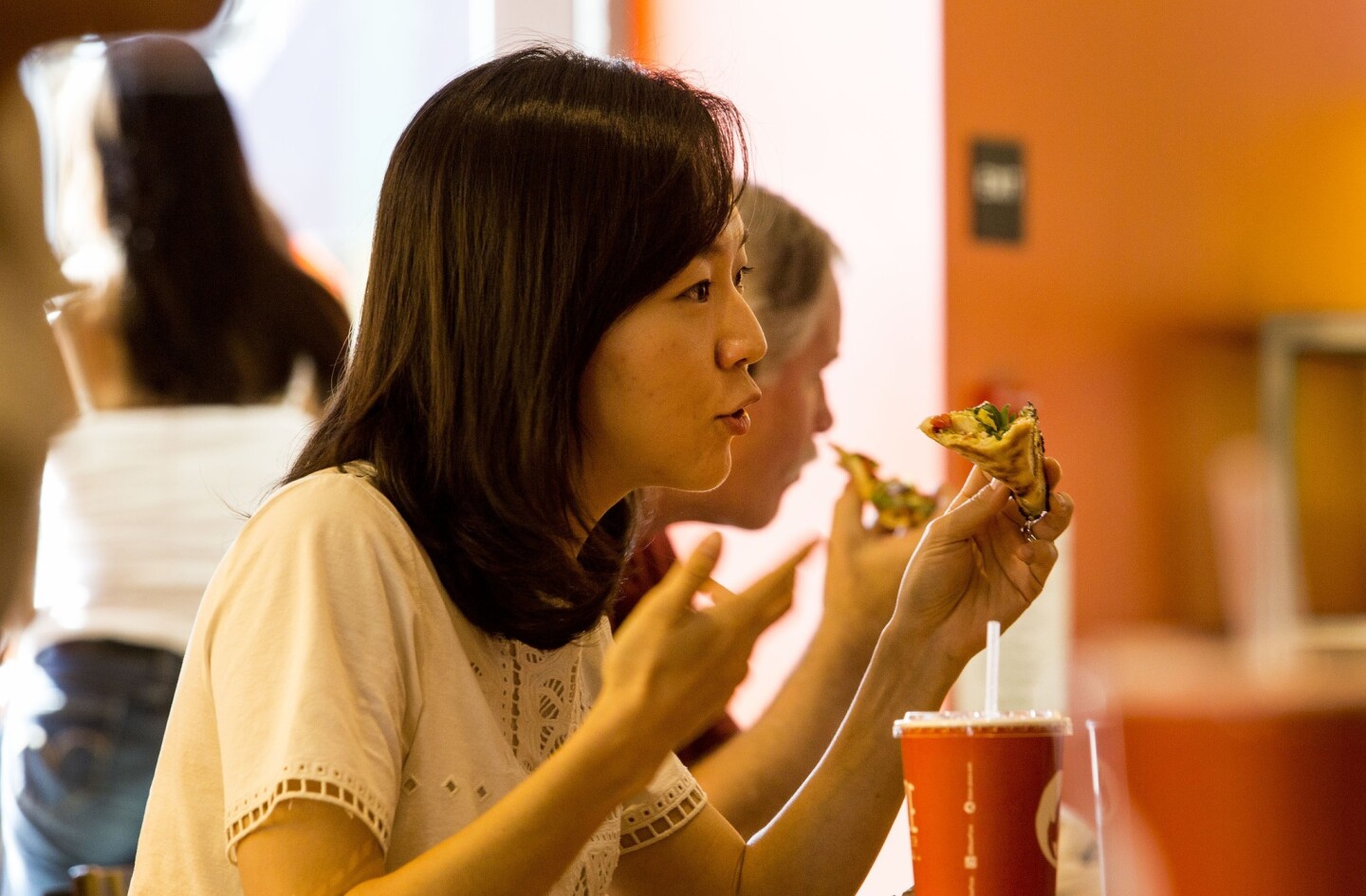 Blaze Pizza is part of a growing trend of made-to-order pizzerias. Its concept is fast-casual.
(Ricardo DeAratanha / Los Angeles Times)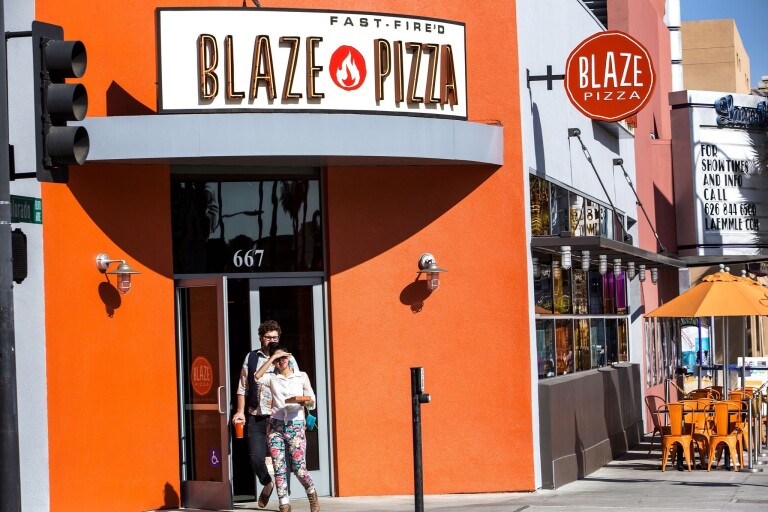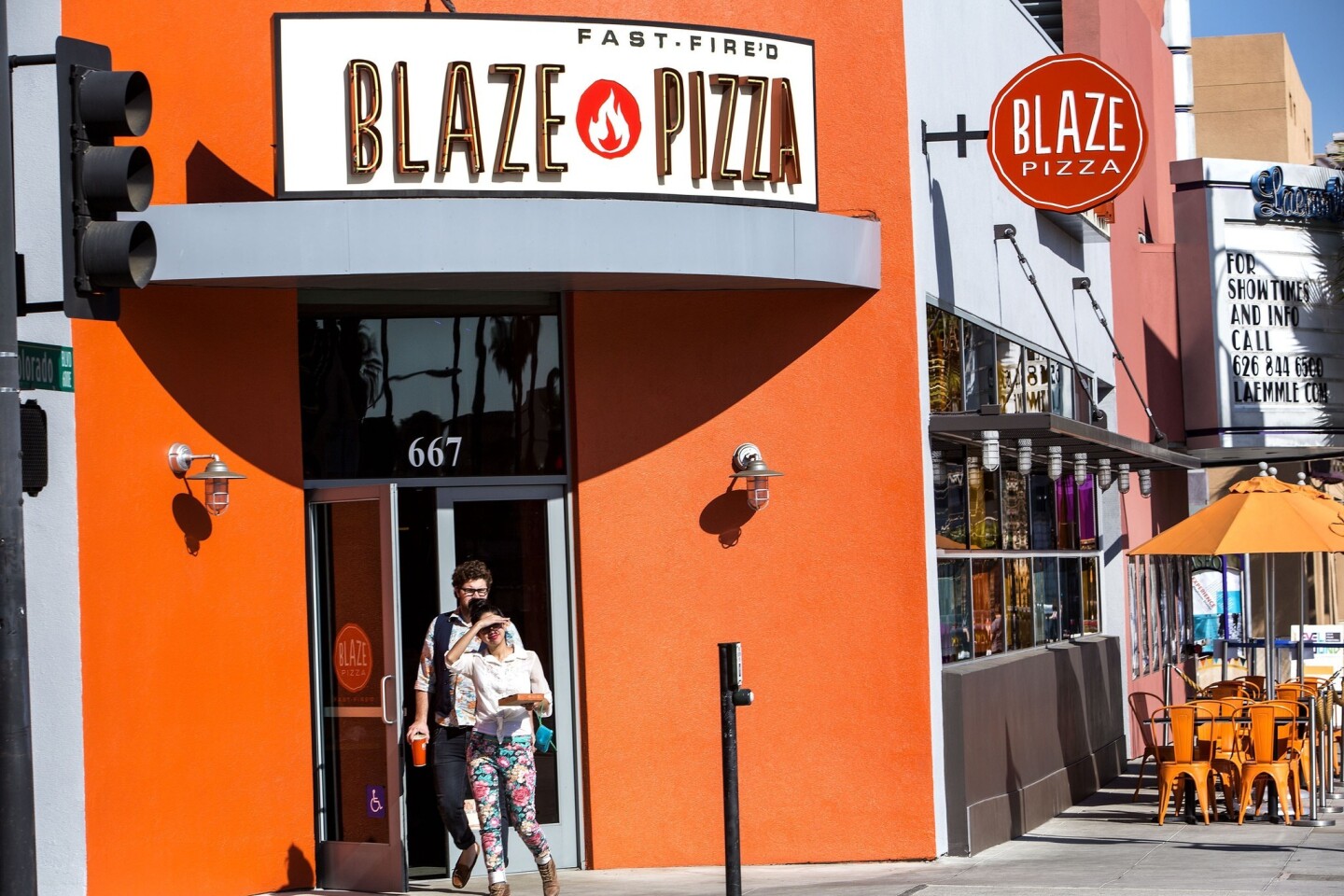 Blaze Pizza in Pasadena is on Colorado Boulevard at El Molina Avenue.
(Ricardo DeAratanha / Los Angeles Times)
In the next few years, a new kind of chain pizza restaurant will pop up by the thousands across the country and beyond, pouring tomato sauce and grating mozzarella over America's culinary landscape in the race to become "the Chipotle of pizza."
That means diners get to customize their own pizzas as they're prepared in assembly-line fashion in an environment somewhere between fast-food and upscale. The pizzas are usually 11 to 12 inches, cost about $7 and are baked in a super-hot oven, so diners are sitting down to eat within minutes. Like Chipotle, the newest pizza chains tout premium ingredients -- organic baby spinach, Fra' Mani salami, porcini mushrooms or bacon marmalade. And they say they're changing the way Americans consume pizza; it's not just about delivery anymore (and chains such as Pizza Hut and Domino's are adapting to catch up).
Rick Wetzel, the name behind Wetzel's Pretzels and co-founder of Pasadena-based Blaze Pizza, points out that 41% of Americans eat pizza once a week and 90% eat it once a month. "I think that this category is probably good for 5,000 restaurants across the U.S. in seven to 10 years. ... I want my share of them."
If the number of pizzas being made is any indication, they're all on to something. Anthony Carron, chef and co-founder of 800 Degrees Neapolitan Pizzeria, says its Westwood location has sold more than 275,000 pizzas since it launched last year. Wetzel says the Blaze in Pasadena is "doing upward of 1,000 pizzas a day. The numbers are insane."
More build-your-own pizzerias seem to open every day. Spin Pizza of Kansas City, Mo., now has locations in Orange County and plans to open a Huntington Beach location in the spring; Pizza Press of Anaheim is developing a franchising strategy; and the founders of California Pizza Kitchen are expected to launch a customizable-pizza concept this year.
How to keep up with them all? Here's a guide to several major Los Angeles-area contenders.
800 Degrees Neapolitan Pizzeria
https://www.800degreespizza.com
Number of locations: Three locations with an additional eight planned for this year, in Southern California and Las Vegas. To come: San Francisco, Chicago and New York.
Latest opening: A 5,000-square-foot, 120-seat pizzeria in Santa Monica opened in January with a 30-foot pizza counter, a private dining room and a to-go area where you can pick up make-your-own pizza kits.
The pizza: These are Neapolitan, hand-stretched pies with toppings such as prosciutto di Parma, Fra' Mani salami, bacon marmalade, buffalo mozzarella or truffle cheese.
The price: A Margherita pizza is $6.65; add-ons are $1 to $6. Specialty pies such as the Vongole (fresh clams, pecorino, garlic, cracked black pepper and parsley) are $8.85 to $12.85.
The players: Chef Carron, who had worked at Michael Mina in San Francisco, teamed with Adam Fleischman of Umami Burger and Allen Ravert of Mexicali Cocina Cantina.
The sell: 800 Degrees bakes its pizzas in wood-burning ovens. Also, "it's nice enough that you can come here on a date," Carron says.
Blaze Pizza
Number of locations: Six are open right now in Southern California, with 13 more opening this year — and maybe more, Chief Executive Wetzel says. Across the U.S., 45 stores are planned this year.
Latest opening: Last week, Blaze Pizza opened in Indianapolis; it was the company's 11th restaurant. The next L.A. store will be in April at the Farmers Market on Fairfax.
The pizza: Thin pressed-dough pizzas; start with a Simple Pie (tomato sauce, mozzarella and Parmesan) and add toppings such as applewood bacon, crumbled meatballs, ricotta and artichokes. Signature pies include the Green Stripe (pesto, chicken, red peppers, garlic, mozzarella and arugula).
The price: A Simple Pie is $5; a one-topping pizza is $5.85; and any build-your-own or Blaze specialty pizza is $7.45.
The players: Rick and Elise Wetzel, along with Maria Shriver and Tom Werner (co-owner of the Boston Red Sox), among others.
The sell: It's chef-driven fast-casual. Bradford Kent of Olio Pizzeria developed the pizza, including the dough, which ferments for 24 hours. "It's a $15 pizza for $7," Wetzel says.
Live Basil Pizza
https://www.livebasilpizza.com
Number of locations: The first three locations opened in Colorado last year, followed by a fourth in Los Angeles. The company won't disclose expansion plans and currently doesn't franchise.
Latest opening: The L.A. location opened in January at L.A. Live downtown.
The pizza: Neapolitan pizzas from a gas-fired brick oven with ingredients such as fresh goat cheese, bison sausage and organic baby spinach.
The price: Choose up to three toppings plus fresh vegetables for $8.50. Cheese pizza is $8, and signature pies, such as Italian sausage and wild mushroom, are $8 to $10.
The players: Rick Schaden and Tom Ryan of Consumer Capital Partners. They're partners in burger chain SmashBurger and 24-hour diner Tom's Urban 24. Ryan's also a former executive of Quiznos, Pizza Hut and McDonald's.
The sell: Slightly more upscale, with a lot of marketing emphasis on its organic tomato sauce and local and wild ingredients. The fresh basil is really fresh, snipped from plants at the counter.
MOD Pizza
Number of locations: The Seattle-based company opened its first MOD Pizza (MOD stands for "made on demand") in 2008 and has 14 locations on the West Coast, mostly in the Pacific Northwest. "We hope to grow to about 40 stores this year," says co-founder Scott Svenson, with 100 more stores by the end of 2015.
Latest opening: The first California locations opened in the last few months, one in Valencia in November and one in Irvine in December. (Svenson says to expect about eight more in Southern California in 2014.)
The pizza: Super-thin, crisp-edged pizzas baked in 800-degree stone bed ovens. Create your own or choose from its "Top 11" pizzas, such as the Sienna with mozzarella, Parmesan, garlic, fresh rosemary, red onion and mushrooms.
The price: Pizzas are $7.47 each with unlimited toppings; a mini (6-inch) pizza is $4.77.
The players: Svenson, a former Starbucks executive, and his wife, Ally Svenson, who co-founded Seattle Coffee Co.
The sell: Uber-family-friendly, with hand-spun milkshakes, garlic knots and cinnamon knots, and diners are greeted with gusto by employees when they enter.
Pieology
Number of locations: 15 in California and one in Colorado. Founder Carl Chang says he doesn't have "a preconceived number" of planned locations, but expect more franchises soon.
Latest opening: Three Pieologys opened at the end of the year: two in San Diego and another in Claremont. Corona, Torrance, Tustin and Valencia are next.
The pizza: Super-thin-crust flatbread pizza baked in Wood Stone ovens; either choose your own toppings or pick one of Pieology's seven combos.
The price: $7.50 with unlimited toppings, $6 for its classic cheese pizza.
The players: Founder Chang, real estate developer and former tennis coach of younger brother Michael Chang.
The sell: Chang says his goal is to "really get connected to the local community, local schools." One pizza in each quarter of the year at each location is named for a local person or cause.
PizzaRev
Number of locations: There are seven stores, and 10 additional stores are planned for the Los Angeles area in the next year. "It's a pretty quick growth path," says Irv Zuckerman, with several franchisees in place in Orange County, San Diego County and elsewhere.
Latest opening: PizzaRev's most recent opening was in Van Nuys, and its next location is in Mid-City at Pico and San Vicente boulevards next month, followed by a Koreatown location at Vermont Avenue and Wilshire Boulevard in June.
The pizza: Pressed-dough pizza that PizzaRev calls "Roman-style thin and crispy." Choose your sauce (tomato, white, olive oil or barbecue), your cheese (mozzarella, feta, blue or ricotta), then any of the 27 toppings listed on its menu. There's also a separate condiment bar with 20 to 30 kinds of sauces and spices.
The price: They're all $7.99.
The players: Zuckerman and Rodney Eckerman, former co-chief executives of Clear Channel Entertainment, and sons Jeff Zuckerman and Nicholas Eckerman, who partnered with the owners of Buffalo Wild Wings.
The sell: The stone-bed double-sided ovens are meant for fast production, to cut down on waiting times. The company also just entered into an agreement to serve drinks through Coca-Cola Freestyle machines that dispense 100 brands of beverages.
Pizza Studio
Number of locations: Five in Southern California with 160 franchises planned over the next five years, co-founder Samit Varma says.
Latest opening: The Mall of America in Bloomington, Minn.
The pizza: Pressed-dough flatbread-style pizzas baked in a conveyor belt convection oven. Choose your crust flavor, sauce (tomato, basil pesto, tangy barbecue or olive oil), toppings and final seasonings.
The price: Any pizza with unlimited toppings is $7.99. Starving Artist pizzas such as a Margherita, pepperoni or Island Pizza (tomato sauce, mozzarella, caramelized onion, crispy bacon, pineapple and basil) are $5.99.
The players: Varma, a venture capitalist and engineer with a military background, partnered with Ron Biskin, a former Wolfgang Puck executive and chief operating officer of Native Foods Cafe.
The sell: Multiple flavors of pizza dough, such as traditional, whole-grain and flax seed, and spicy "firecracker." Post-oven finishes: Top any pizza with arugula, barbecue sauce, balsamic glaze, chipotle powder or truffle salt, to name a few.
---
Get our weekly Tasting Notes newsletter for reviews, news and more.
You may occasionally receive promotional content from the Los Angeles Times.