The Review: Ecco in Costa Mesa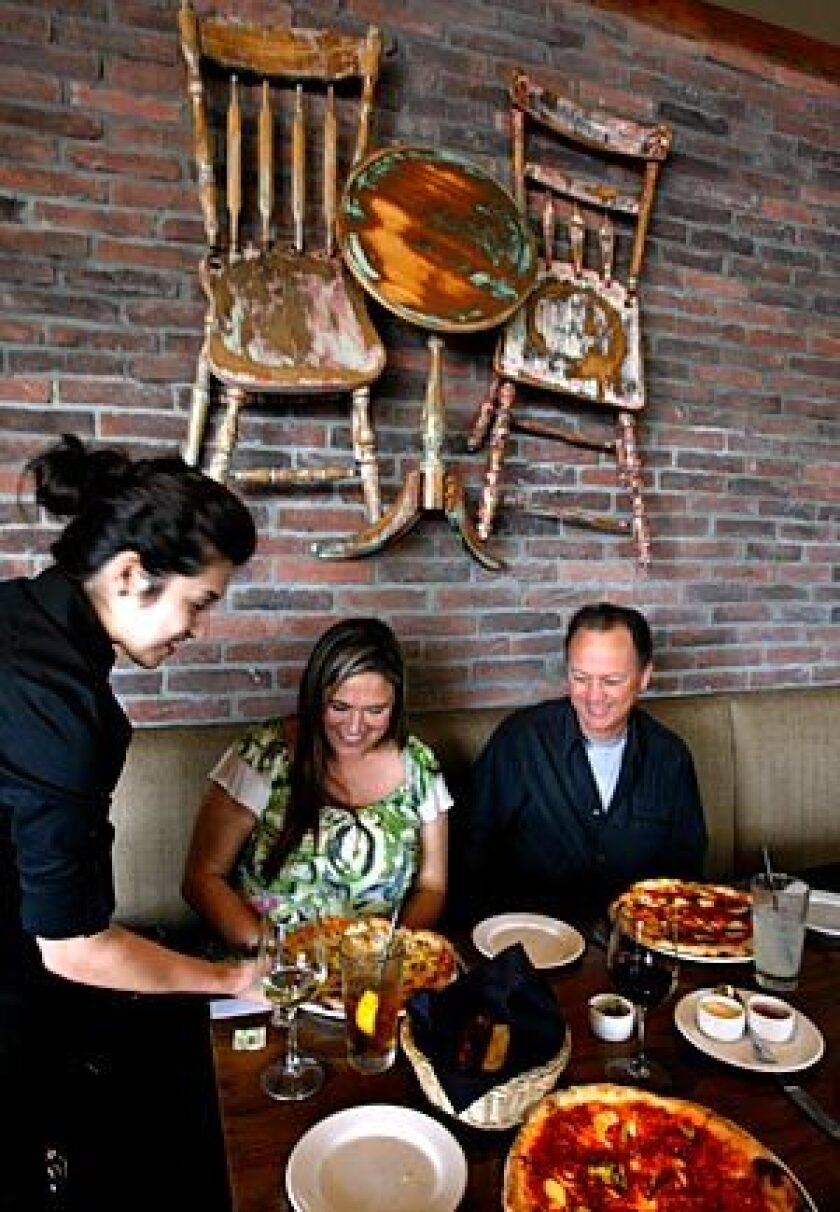 A stone's throw from the mega-mall South Coast Plaza in Costa Mesa, a short ride down Bristol, you'll find the Camp, an "alternative" mall on the order of the nearby Lab. It's a quirky place, with buildings set askew along a winding footpath and even a petite silver Airstream wedged in there like something left over from a hippie encampment. A soundscape of chirping frogs, birds and running water emanates from concealed speakers among the rocks. To add to the corporate grooviness, fire pits, outdoor tables and hammocks are dotted about the property.
The Camp is home to an eclectic mix of independent and eco-friendly businesses — a bicycle shop, Patagonia store and a handful of restaurants, including 7-month-old Ecco.
The minute I walked in I got a heightened sense of déjà vu. I really had been here before, it turns out, when the complex first opened and when chef-restaurateur Tim Goodell (Aubergine, Red Pearl Kitchen) had launched an American restaurant in the same space. It didn't last. Nor did several other restaurants that came after.
But Ecco looks as if it's going to be around awhile. With a menu of well-executed Italian cuisine, including thin-crust pizzas, moderate prices, a friendly, efficient staff and low-key ambience, Ecco has a broad appeal.
An Italophile friend who raved about the pizzas persuaded me to try the place. Pizzaiolo Carlo Abarca has the credentials. He's worked with Antonio Cagnolo of Antonello and Franco Barone, who opened Il Barone in Orange County. Committed to Neapolitan pizza, Abarca's turning out pies with a thin crust blistered around the edges from the heat of the wood-burning oven.
Of course, I had to order the Diavola, a lovely loose tomato sauce with imported fresh mozzarella, Grana Padano and hot sausage. Every bite different and definitely, as the name suggests, devilish. The Seasonal is topped with guanciale (cured pork jowl), thinly sliced red pears, caramelized onions and a thin blanket of mascarpone, mozzarella and Gorgonzola. It's subtle but delicious.
If your gold standard is American-style pizza heaped with toppings, Ecco's pies aren't for you. Toppings are sparse, even by Mozza standards. Abarca's pies rigorously follow the Neapolitan style. I quite like the thin crust, but it can sometimes go limp at the center. The mushroom pizza, which trades in mozzarella for a mix of Fontina and Taleggio cheeses and a sparse drizzle of white truffle oil, is the richest of the bunch. The veggie version turns out to be one of the best, a pretty mix of eggplant, asparagus and herbs on a smear of basil pesto with dollops of goat cheese that puff up and brown.
The menu from chef Kris Kirk, formerly of Sage on the Coast, covers a lot of territory for such a small restaurant. It seats about 80 inside at funky wood tables and scuffed chairs. The art, in fact, is a series of old wooden chairs flattened and hung on the wall as sculpture. The soft lighting comes from battery-run faux candles in keeping with the Camp's eco-aesthetic.
Kirk has a nice touch with the antipasti. Arancini (rice balls) come smoking hot sitting in a puddle of cheery red marinara sauce with a bite of hot pepper. Fried to achieve a slightly crunchy golden crust, they're delicious bites with that sauce made from crushed San Marzano tomatoes. Crisp fried calamari comes with a tomato-based arrabiata ("angry") sauce fired with red chile flakes.
There's a vinegary, old-school chopped Italian salad, with bits of salami, diced mozzarella, garbanzo beans, tomatoes, pickled peppers and more. Or a less interesting bresaola (air-cured beef) salad covered with arugula leaves. Wood-grilled artichoke comes with a lemon aioli that tastes more like doctored jar mayonnaise than a real aioli.
The pasta section of the menu is fairly modest, yet Kirk's turning out some of the best pasta dishes I've had in the O.C. That includes a rustic dish of orecchiette with crumbled sausage, Swiss chard and crimini mushrooms, and a terrific bucatini puttanesca put together with verve. Portions are on the small side (i.e., Italian-sized), but you can add $18 to the price to get a family-sized portion to serve three or four.
The real surprise is that staple of old red-sauce Italian restaurants, manicotti. I had a hunch that it might be worth ordering here. And it is. It's very light, rolled up with fresh spinach, ricotta and mozzarella and then cloaked in that loose tomato sauce and a scribble of béchamel before being run under the broiler to bubble the top.
Anybody who makes it past antipasti, pizza and pasta all the way to the hearty main courses is a real trencherman. My pick is chicken Marsala with grilled asparagus and roasted fingerling potatoes, because the sauce is so silky and balanced. Chicken is crisp and moist, and pork Milanese is a very good rendition of a classic. The fish special one night, wild Virginian sea bass in a tomato-based seafood stew with shrimp and mussels, was excellent too.
The wine list offers some basics at good prices, but beyond that, it could use some more interesting labels. Desserts are a bit of a let-down. An amaretto apple upside-down cake tastes more like a muffin. And somebody went crazy with the salt on the butterscotch budino with sea salt. The fluffy individual cheesecake is cloyingly sweet. Best choice? A refreshing affogato of vanilla ice cream "drowned" in espresso, here more like a coffee float with a frill of whipped cream on top.
This earnest neighborhood Italian has an authenticity of spirit that eludes some of the glitzier Italian restaurants in Orange County. It's worth seeking out and paying a visit to the Camp.
ECCO
Rating: one-and-a-half stars Rating is based on food, service and ambience, with price taken into account in relation to quality. ****: Outstanding on every level. ***: Excellent. **: Very good.*: Good. No star: Poor to satisfactory.
LOCATION: The Camp, 2937 Bristol St., Costa Mesa; (714) 444-3226; https://www.eccocm.com.
PRICE: Dinner starters, $7 to $12; salads, $7 to $10; pizza, $14 to $16; pasta, $12 to $15; plates from the wood-fired grill, $17 to $24; sides, $5; desserts, $7.
DETAILS: Open 11 a.m. to 2:30 p.m. and 5 to 11 p.m. Sunday to Thursday; 11 a.m. to 2:30 p.m. and 5 p.m. to midnight Friday and Saturday. Full bar. Corkage fee, free for the first bottle, $10 for the next, two-bottle minimum. Valet parking at the Camp, $3.
---
Get our weekly Tasting Notes newsletter for reviews, news and more from critics Bill Addison and Patricia Escárcega.
You may occasionally receive promotional content from the Los Angeles Times.