Recipe: Panzanella with sherry vinaigrette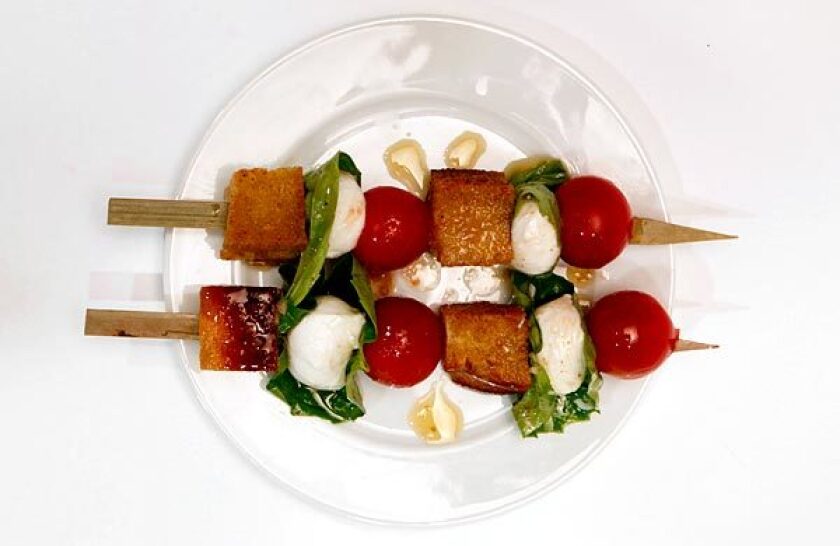 Panzanella with sherry vinaigrette
Total time: 30 minutes
Servings: 12 skewers
Note: Adapted from "On a Stick!" by Matt Armendariz.
---
Our recipes, your kitchen: If you try this or any other recipe from the L.A. Times Test Kitchen, we would like to know about it so we can showcase it on our food blog and occasionally in print. Upload pictures of the finished dish here.
---
24 (1-inch) cubes French bread (from approximately ½ loaf)
3/4 cup plus 2 tablespoons olive oil, divided
1 teaspoon garlic powder
Salt
Pinch black pepper
1/4 cup sherry vinegar
1/2 shallot, finely chopped
1 1/2 teaspoons stone-ground mustard
24 cherry tomatoes
24 small mozzarella balls (ciliegine)
24 basil leaves
1. Heat the oven to 350 degrees.
2. Toast the bread: In a large bowl, toss the bread cubes with 2 tablespoons oil, the garlic powder, one-half teaspoon salt and a pinch of pepper. Place in a single layer on a baking sheet and toast until golden, 10 to 12 minutes, turning every few minutes.
2. Make the vinaigrette: In a medium bowl, whisk together the sherry vinegar with the shallot and mustard. Slowly whisk in the remaining three-fourths cup olive oil to emulsify. Season with one-eighth teaspoon salt, or to taste.
3. Onto each skewer, thread 2 toasted cubes of bread, 2 tomatoes, 2 mozzarella balls and 2 basil leaves. Just before serving, drizzle liberally with sherry vinaigrette.
Each skewer: 241 calories; 5 grams protein; 9 grams carbohydrates; .66 grams fiber; 20 grams fat; 5 grams saturated fat; 15 mg cholesterol; 1 gram sugar; 222 mg sodium.
---
Get our weekly Tasting Notes newsletter for reviews, news and more.
You may occasionally receive promotional content from the Los Angeles Times.