Critic's Choice: <i>Fromage</i> fanciers, rejoice!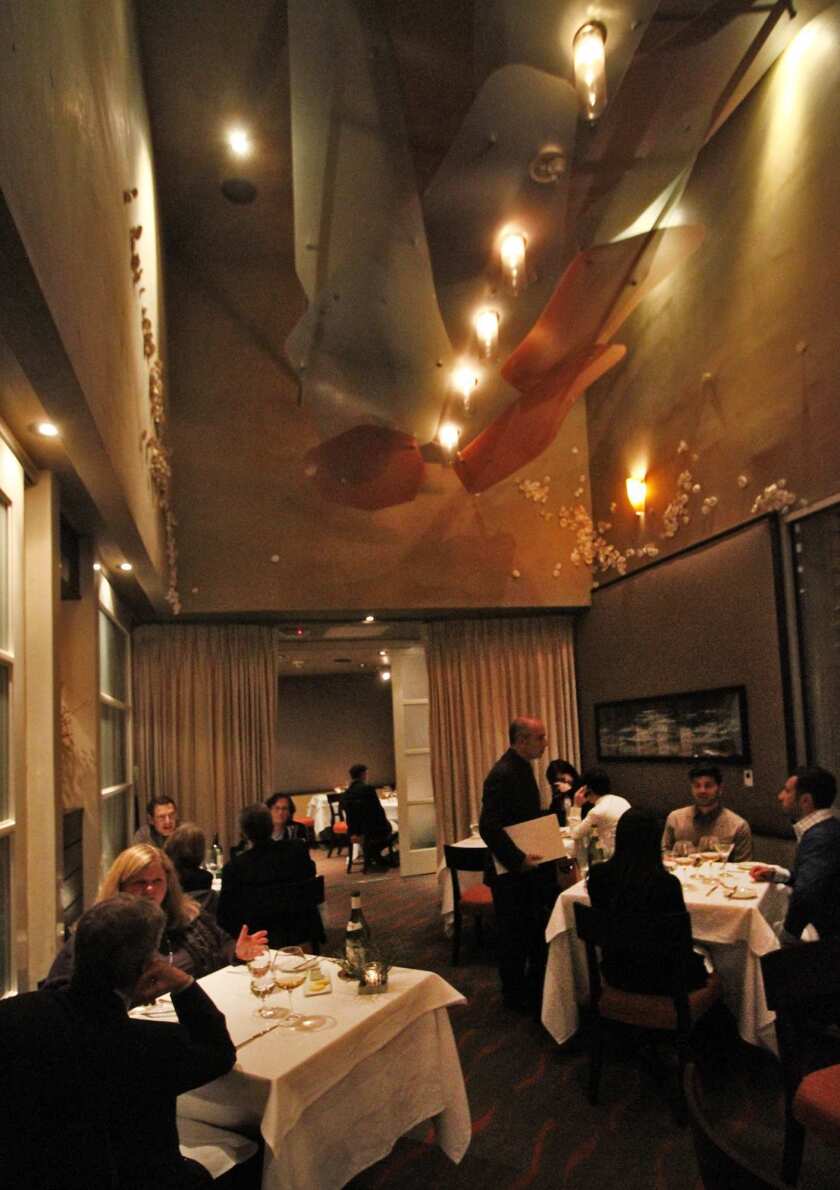 Los Angeles Times Restaurant Critic
Turophiles (yes, that's what cheese lovers are called) look forward to the cheese course the way dessert hounds long for their pudding. But not every cheese course is equal. Some restaurants try to get away with industrial cheeses straight out of the fridge or, not at all prepared, offer a hunk of the Parmigiano used on their pasta. That's why we treasure the restaurants that take care with their tomme and bucheron and bleu d'Auvergne.
Here's a selection of places with especially well-chosen cheeses, but they're by no means the only ones.
Fig Restaurant: Who'd think you could find such a swell cheese and charcuterie bar a block from the beach? You just have to know it's there, inside Fig Restaurant at the Fairmont Miramar in Santa Monica. Slide onto a seat at the curved pewter bar and consult with the resident cheese guru, Eric Brazel. Choose from more than two dozen options or opt for one of the well-edited cheese flights — domestic, blue-veined, progressive, challenging and "Eric's stash." Impressive too that they're all served at the right temperature. Not to miss: chef Ray Garcia's house-made charcuterie and his farm-to-table menu that gives credit to all the farmers he buys from.
Fairmont Miramar, 101 Wilshire Blvd., Santa Monica, (310) 319-3111, figsantamonica.com. Cheeses, $6 each, cheese flights, $18 to $25.
Providence: Manager and co-owner Donato Poto did time at Primi and Bastide before opening the seafood-centric restaurant with Michael Cimarusti six years ago. He's worked hard to convey his knowledge and love of French and Italian cheeses to the staff at Providence. Servers can reel off the names and characteristics of every one of the more than two dozen cheeses on the lavishly appointed cart. That inevitably means you end up trying more rather than fewer. Maybe Casatica (a buffalo-milk cheese from Bergamo), or a farmstead goat's milk cheese from Capriole in northern Kentucky. And then, and then…. Not to worry, Michael Cimarusti's seafood cuisine is so ineffably light, you have the appetite to handle a nice selection. Is there a better way to end a meal like this? Not in my book.
5955 Melrose Ave., Los Angeles, (323) 460-4170, https://www.providencela.com. Cheeses, $8 each à la carte; cheese course included in nine-course tasting menu.
Palate Food + Wine: Palate in Glendale is both a terrific restaurant and a wine bar complete with its own climate-controlled cheese room. Chef-owner Ottavio Becerra is crazy about cheese and usually has 20 to 24 to be enjoyed anywhere in the restaurant or the wine bar in back. Wine director Steve Gulden lards his wine list with both whites and reds that work with cheese. Highlights right now? Andeerer Traum from Switzerland, a raw cow's milk with washed rind, and a triple-cream Gratte-Paille from Rouzaire in the Ile de France region. In January, they're bringing back the weekly "Cirque du Fromage," this time on Wednesdays, when the kitchen zeros in on cold, hot, savory, even sweet dishes, all made with cheese.
933 S. Brand Blvd., Glendale, (818) 662-9463, https://www.palatefoodwine.com. Cheese, selection of three, $14; each additional cheese, $4.
Spago: After one of chef Lee Hefter's massive tasting menus, it's hard to even think about a cheese course. That may not be the time to indulge. Better to save the fromage for a lighter à la carte meal that might start with Chino Farm white corn soup or fresh ricotta gnocchi with ragout of Sonoma lamb followed by slow-roasted French turbot. The excellent Wiener schnitzel leaves plenty of room for one of best cheese selections around. Cheese guy Adam Tobal will discuss the options with the table and go from there. Save room, though, for Sherry Yard's beautiful desserts.
176 N. Cañon Drive, Beverly Hills, (310) 385-0880, https://www.wolfgangpuck.com/restaurants/fine-dining/3635. Cheese platter with three to four cheeses, $21.
LQ@Starry Kitchen: Pop-ups come and go, but Laurent Quenioux's at Starry Kitchen downtown seems to come and go with some regularity (typically every other week, Sunday to Tuesday). And when he's cooking there, the French chef makes a point of including his famous cheese cart. In fact, last time around he gave notice that guests could come in to LQ@SK just for cheese service and the chance to savor any of the 30-plus cheeses on his well-curated cart. "Cheese Mistress" Paloma does a presentation of all the cheeses to help in selecting them. Prices are reasonable: $4 per selection for up to seven cheeses, and then $3 for each additional item. And if you want truffle honey (I wouldn't) with your cheese, you'll have to fork over an additional $2, which seems fair enough.
350 S. Grand Ave., Los Angeles, (213) 617-3474; for more information, contact lq@starrykitchen.com.
---
Get our weekly Tasting Notes newsletter for reviews, news and more.
You may occasionally receive promotional content from the Los Angeles Times.