'America's first craft brewery' attempts to unionize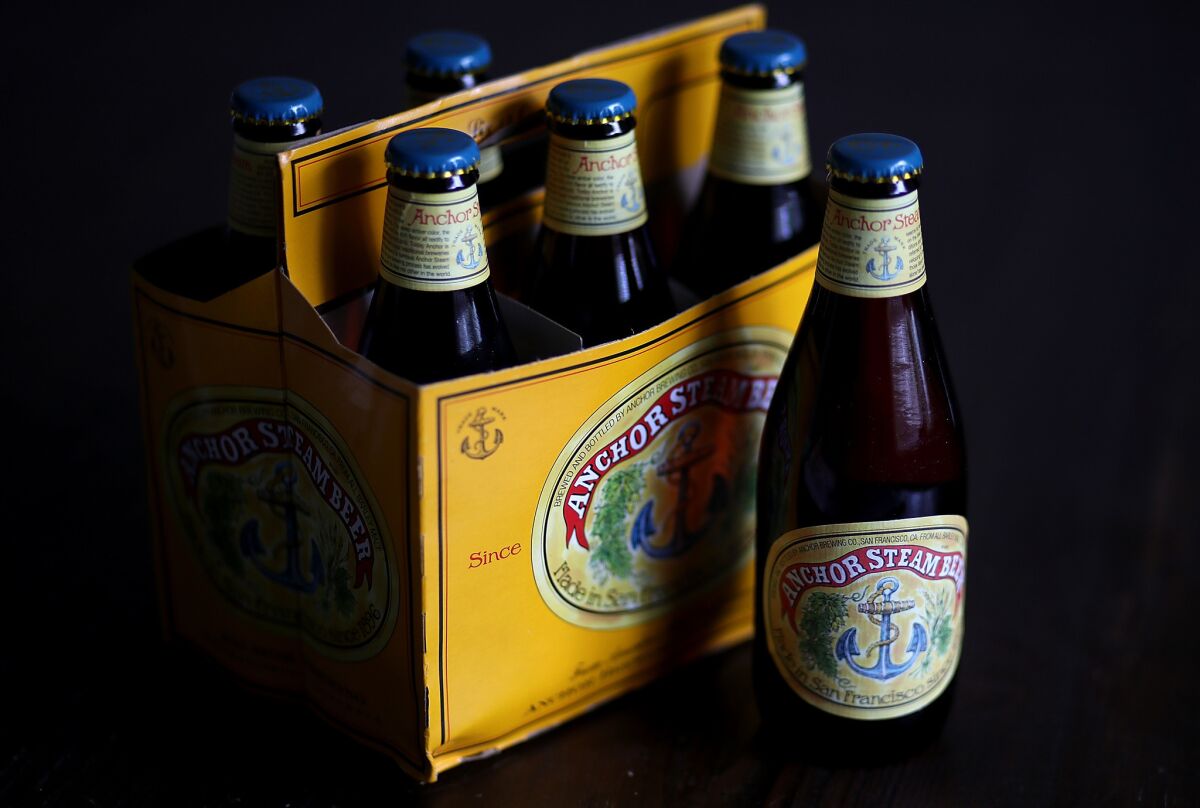 Last week an organizing committee representing 73 employees of the historic Anchor Brewing Co. in San Francisco formally declared its intent to unionize. In a letter delivered to management, workers asked Anchor and its parent company, Sapporo Holdings, to recognize the union and their right to collectively bargain.
"Anchor is a San Francisco tradition," the letter stated. "It used to be one of its best places to work — and it can be again. Anchor workers should be paid enough to live in San Francisco. We're struggling to survive and raise our families."
Although many of the country's largest breweries are unionized — workers in the American facilities of Anheuser-Busch and MillerCoors are represented by the Teamsters or United Auto Workers, for example — unions are practically nonexistent among smaller, independent and craft operations.
But workers at smaller breweries say they're being paid less than their counterparts at macrobreweries even as their cost of living has risen.
"There's this 'woke' drinking culture," said Brace Belden, a part-time Anchor employee and a member of the union organizing committee. "The workers who do what I do for those big corporations make $30 an hour, whereas I make $16.50 an hour. And they don't live in San Francisco."
Cesar Ibarra has been an Anchor employee for eight years. Back then, he was living in an apartment in San Francisco, but to save money he moved to Richmond, an East Bay suburb, and then even farther out to Suisun City. Now he has an 70-minute commute each way, every day, plus tolls.
"I love Anchor like it's a family," said Ibarra, a union organizer who works in the fermentation department. "But working here is becoming a challenge, especially now that I have an infant daughter."
Anchor management sent a company-wide email Friday acknowledging receipt of the union organizers' letter. But they did not voluntarily accept the union, which caused organizers to file a petition with the National Labor Relations Board. If approved, the NLRB will conduct an election at Anchor, and if a majority of the employees vote in favor of unionizing, the board will certify the union.
An Anchor spokesperson declined to comment.
Founded in 1896, Anchor calls itself "America's first craft brewery." In August 2017, the company was acquired by the Japanese beverage giant Sapporo — a sale that upset many Anchor fans and was considered a blow to independent brewing. In a press release, the San Francisco Brewers Guild noted that because of the sale, it had to bar Anchor from membership, which was "beyond sad ... given their rich heritage both in the craft beer industry and San Francisco."
The motivation to unionize began even before the Sapporo acquisition. Employees noticed changes to their benefits in January 2017, when they were required to pay 15% of the cost for health, dental and vision insurance premiums; previously, Anchor had covered those costs. The lunch policy changed from a 45-minute paid break to 30 minutes unpaid.
Garrett Kelly has been an Anchor employee for three years and works in the fermentation department with Ibarra.
"We hoped that with the acquisition, things would improve," he said. When they didn't, Kelly and other organizers began approaching fellow Anchor employees, discussing the possibility of unionization and gauging interest. When they felt they had the numbers, the organizing committee approached the International Longshoremen and Warehouse Union, a union with more than 30,000 members that started in San Francisco in the 1930s, which accepted the Anchor workers into its ranks.
The 73 employees who signed ILWU union cards work in production, which includes brewing, racking and fermentation, and at the Anchor Public Taps, a pub and bar across the street from the brewery.
---
Get our L.A. Goes Out newsletter, with the week's best events, to help you explore and experience our city.
You may occasionally receive promotional content from the Los Angeles Times.