Vegetarian cookbook author Anna Thomas ladles out 'Love Soup'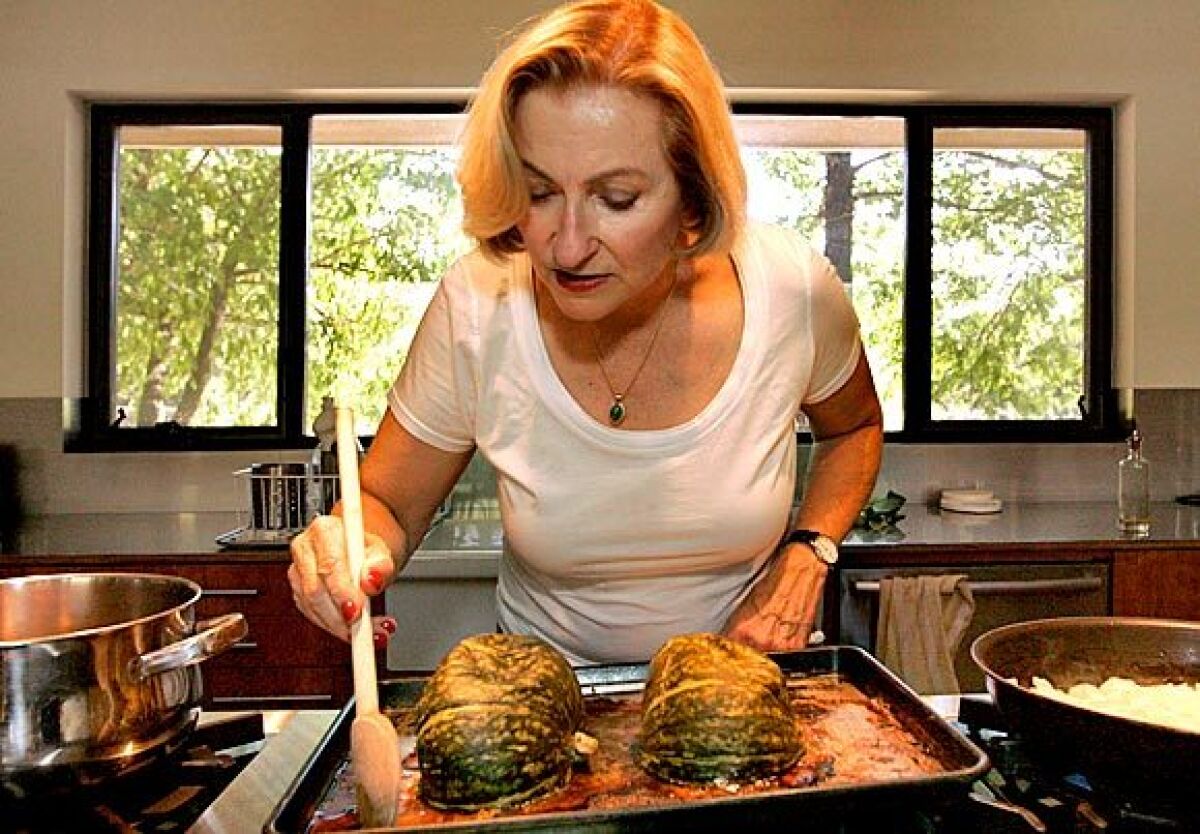 Anna Thomas, a few canvas bags hanging on one arm, wanders the rows of the Ventura farmers market just eight hours before her guests are to sit around the table in the soaring great room of her home in Ojai. She chooses yellow onions and prune plums, leeks and walnuts as an ocean breeze cools the shoppers on one of the hottest days of the season.
Though she's hardly a familiar name today, Thomas is the one who in the early 1970s lured many a hungry idealist rebelling against a meat-and-potatoes childhood into the kitchen with "The Vegetarian Epicure," a seminal book that came out of nowhere to sell more than 1 million copies.
More than 30 years later, she has another new cookbook, "Love Soup," a collection of 100 soups and dishes to eat with them, that she hopes will lure a new generation into the kitchen in much the same way her first book did. Like so many cooks, she worries that people are losing touch with an essential skill and is determined to do her part to halt the decline.
And she sees soup as a solution. "I've been really thinking about this a lot. Soup is the portal to home cooking. You cannot make too terrible a mistake with soup," Thomas says. "Don't we want to know how to take care of ourselves a little?"
But today, changing the culinary world is the last thing on her mind. She's thinking about an evening with friends. Thomas has been cooking for her friends for decades; this will be a snap.
"Yes! Dinosaur kale!" she says, buying two bunches as she explains that it's named for "the way your toy dinosaurs looked. Because who knows what their skin really looked like?"
Although she doesn't need them for dinner, she takes the last two irresistible baskets of Gaviota strawberries from another farmer. And at the Peacock Farms stand, the young vendor assures her that although it's early in the season, the Fuyu persimmons are sweet.
"My favorite way to go to the market is not to have a plan, just to wander and see what calls me," she says, taking off her elegant, green-framed sunglasses to reveal eyes the color of the Caribbean.
In fact, her first cookbook, published in 1972, was her solution to caring for herself, albeit an audacious one. A UCLA film student without much money, she took the advice of friends who appreciated her cooking and wrote a book, and she has since balanced careers in film and food. At the moment, Thomas is working on a film dramatizing the life of Israeli poet Rachel Blaustein.
"The Vegetarian Epicure" stands as a culinary touchstone for many baby boomers. My copy came as a Christmas gift from my mother shortly after I graduated from college. As a girl who was well acquainted with tuna casserole held together by Campbell's mushroom soup, I considered myself sophisticated, even a little groovy, for making potage les deux champignons from Thomas' European-influenced, hippie-tinged book. (The pages of the book are back-to-the-land brown, and there's an acknowledgment that her readers just might smoke pot with their meals.)
The ratatouille page in my copy is splotchy, as is the one for sweet oatmeal raisin bread. There are risottos, curries and soufflés -- not, as Thomas says, ideologically based vegetarian food.
And I'm not the only one with fond memories. "I just remember reading it cover to cover because she cooked like a European," says Martha Rose Shulman, author of "The Vegetarian Feast," published in 1979, and more than 25 other cookbooks. "It was the first vegetarian book that I really thought was done by a real cook," she says.
Thomas and her then-husband, director Gregory Nava, left Los Angeles for Ojai in 1985 with their two young sons. The previous year their film "El Norte" came out. Thomas and Nava wrote it; she produced, he directed, and they earned an Oscar nomination. They lived in a big ranch house, with a kitchen roomy enough for a couch.
After a divorce, and once her younger son finished high school, Thomas moved to a smaller house that snuggled up to the Topa Topa Mountains. But it needed renovation, and for three years she was left with a kitchen just 81 inches across, tucked into one part of the house. She put most of her kitchen equipment in storage.
But she kept cooking. Soup was a natural for the tiny space.
And she kept inviting friends, ringing the dinner bell with e-mails announcing, "The soup kitchen is open."
All that soup led to her new book and to an easygoing style of entertaining
"It was really cozy. It was really great," Thomas says.
In just a few hours, the soup kitchen, now -- post-renovation -- a soaring space around a lavishly long soapstone-topped island, will be open again.
Preparing the meal
We drive to her house along roads lined with orange trees, unpack our food, and Thomas puts me to work cleaning and chopping and measuring. We're making the dishes in a menu from the book: roasted kabocha squash and celery root soup, kale salad with cranberries and walnuts, and Octavia's gingerbread.
Even for soup, she uses a metric scale because it's more exact, she says. "Two medium onions, a medium tomato. What is that?"
Chunks of turnip and celery root, and a kabocha squash cut in half go into the oven, a Wolf with a six-burner stove. The vegetables eventually are puréed for the soup.
Thomas makes the gingerbread, to be served with sweetened Greek yogurt. The recipe came from Octavia Walstrom, whom she met while making a film about the architect John Lautner. Walstrom lived in a Lautner house and made it for the crew; Thomas adapted it.
Thomas, 61, heard about someone who got an offer of a date -- sight unseen, based on the gingerbread. The date, Thomas jokes, should be hers.
While we're working, Thomas' friend Lisa Robertson stops by to loan an immersion blender -- Thomas has burned out two of them puréeing soups -- and to talk about what she might contribute to the evening. How about Manchego cheese with quince paste? It's something she brought to a party the night before that had gone mostly uneaten.
"I'll take it back from Margaret," she determines.
Thomas' older son, Chris Nava, comes in too, with a container of mussels he'd like to make that evening. So a pasta and mussels course gets added into the mix.
Nava, 25, who trained as a musician and teaches piano, is making desserts in a new restaurant in town, with two big oven burns on his forearms to show for it. Her kitchen, Thomas says, has become like Maurice Sendak's "The Night Kitchen," with Chris baking into the wee hours.
Soups have always been important to Thomas. A child of immigrants, raised in Detroit and California, she grew up eating the soups of Eastern Europe and in her first book wrote that making soup and bread gives a kitchen a soul. "The Vegetarian Epicure" included barszcz, a borscht her mother made; pea soup with butter dumplings; minestrone; chestnut and lentil soups.
The soups she makes today have less cream, and plenty are vegan. Cheese might be a garnish; butter gets browned to intensify its flavor so less is needed. Onion soup in the first book called for 10 tablespoons of butter plus "ample" grated Gruyere cheese. In the new book, fennel and onion soup gets 4 tablespoons of olive oil.
It's a small example of Thomas' soup philosophy: "Your history is in that pot of soup."
As the day ends, Thomas' guests start to arrive, good friends who care about food and wine and are part of her close-knit community, many of them also transplants from city life. They're among the people Thomas thanks in "Love Soup" for sharing produce, tasting food, offering ideas.
Steve Fields and Sims Brannon show up first, bringing a plastic container of pear sauce, homemade with Warren pears from one of the 60 heirloom fruit trees they've planted. It turns out to be a heavenly, serendipitous companion to the gingerbread.
"This is what happens. Everybody brings things," says Robertson, who did repossess the quince paste, which tastes great with the cheese on some walnut bread Thomas had made another day.
Bruce and Marie Botnick, a music producer and designer who are growing olives and grapes, arrive soon, and Marie sets the table, cutting flowers and arranging them along the long wood table.
"She's really much better at that than I am," Thomas says.
Everyone eats appreciatively; even the kitchen help gets praised. The guests talk about wine and restaurants, school food and the news of the day, a friend who is sick.
"What I loved when I started coming to Ojai, it wasn't a restaurant culture, it was about feeding each other," Robertson says.
That, it seems, hasn't changed.
Get our L.A. Goes Out newsletter, with the week's best events, to help you explore and experience our city.
You may occasionally receive promotional content from the Los Angeles Times.