Recipe: Sliced avocado with poppy seed vinaigrette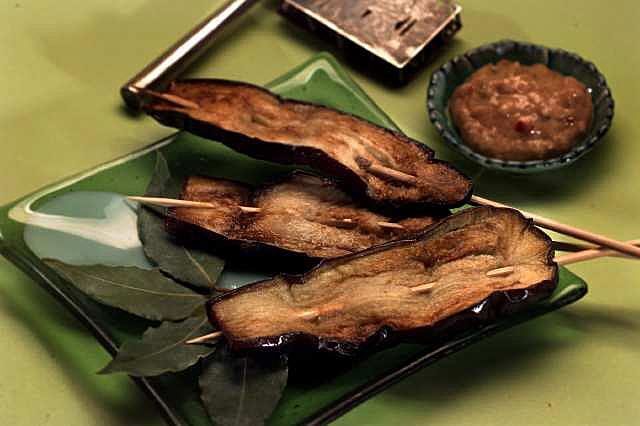 Recipe: Filo hamantaschen
Recipe: Chocolate hamantaschen with caramel pecan filling
Recipe: Purim seed cookies
Recipe: Skewered Japanese eggplant with peanut sauce
Recipe: Hearty bean and kale soup, served with Parmesan-sesame and poppy seed crisps
Recipe: Layered poppy seed pastries
Recipe: Sliced avocado with poppy seed vinaigrette
Recipe: Caraway Bundt Cake
Sliced avocado with poppy seed vinaigrette
Active Work and Total Preparation Time: 15 minutes
Sliced avocado in a sweet-and-sour vinaigrette tastes delicious as is, served on a bed of lettuce or mixed with other fruit, like sliced bananas, seedless grapes, star fruit or ripe pear.
1/4 cup honey or raw sugar
1/2 cup sunflower or safflower oil
5 1/2 tablespoons white wine vinegar
1 green onion, minced
1/2 teaspoon whole-grain Dijon mustard
Salt
2 teaspoons poppy seeds
4 large avocados, peeled and sliced lengthwise
Whip the honey, oil, vinegar, onion, mustard and salt to taste in a blender until emulsified. Stir in the poppy seeds.
Arrange the avocado slices on a serving platter and pour the dressing over.
6 servings. Each serving: 292 calories; 60 mg sodium; 0 cholesterol; 26 grams fat; 3 grams saturated fat; 16 grams carbohydrates; 1 gram protein; 2.67 grams fiber.
---
Get our weekly Tasting Notes newsletter for reviews, news and more.
You may occasionally receive promotional content from the Los Angeles Times.