Batali shows Vegas how it's done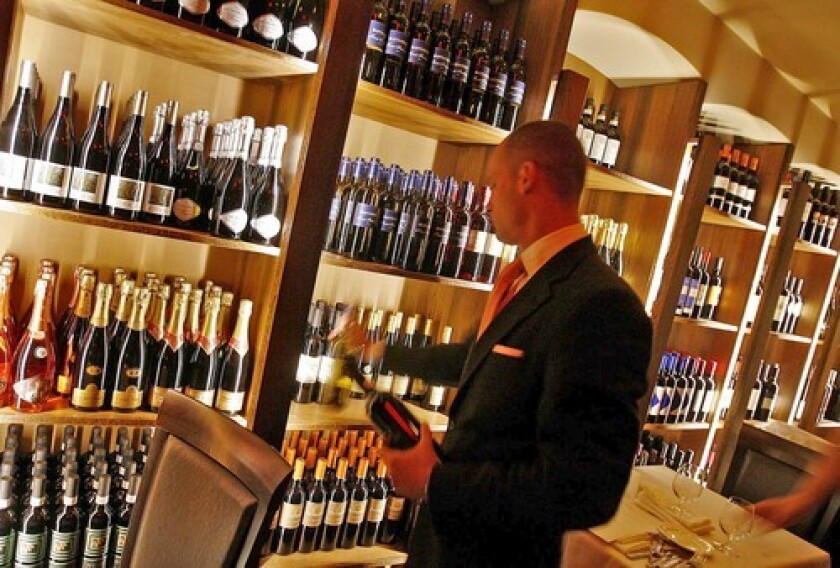 Los Angeles Times Staff Writer
It takes a blessedly brief two minutes to realize that the sommelier -- one of several -- at B&B Ristorante, Mario Batali's new restaurant in Las Vegas, knows his stuff. Our first order of business as we settle in at the restaurant in the Venetian Resort is a cool, uncomplicated wine. We're parched. It's 109 outside, and we've just come from the sweltering underground valet station, where it's who-knows-how-many degrees hotter.
We discuss several options in our price range from B&B's extravagantly long Italian list and decide on a Verdicchio dei Castelli di Jesi from Bucci in the Marche. It's a good call. The Verdicchio is ripe and golden but with a firm acidity and an earthiness that puts you in the middle of an Italian piazza. Before we four finish that first bottle, we pore over the wine list again, on the hunt for something unusual and exciting.
We consider something from Friuli, an Arneis from Piedmont, or possibly a Pigato from Liguria. But just then the sommelier pulls a rabbit out of his hat: How about the 2005 Ribolla Gialla "Lunar" from Movia, an estate in Slovenia that makes what he calls a baby Gravner (referring to the brilliant and eccentric Friuli winemaker). Even though it's officially not Italian, it might as well be, as the vineyards straddle the border between Friuli and Slovenia. He shows us the bottle, then whisks it away to open it, tasting to make sure it's everything it should be. When he brings larger glasses for the Ribolla, I see he's rinsed them in a little of the wine beforehand, the way they do at the top restaurants in Italy. It's an elegant touch. And the wine is haunting and utterly unique.
But there are so many great bottles on B&B's list -- the first B stands for Mario (you know, the big guy in shorts and orange clogs), the second for his partner Joe Bastianich -- that it becomes a wonderful dilemma finding something you'd love to drink at a price you can live with. Which means all those old Gaja Barbarescos are out. His 2001 Sorì Tildin is $875, the normal Barbaresco from the same year, $475. Heavy hitters from Brunello di Montalcino are in the hundreds of dollars too. But we can dream. And we do.
Leisurely approach
MEANWHILE, there's the menu to attend to, covered, like the wine list, in buttery mahogany leather stamped with the B&B logo. It's not physically imposing in size but packs in so much that sounds tempting that we're stuck deciding. Again. Our server doesn't rush us, coming back to the table a couple of times in case we have any questions. "Take your time," she says. "Have fun." And we do. She also gives a terrific explication of how B&B's menu works, suggesting each of the four of us order an antipasti, and then maybe two pastas for the table, followed by a main course for each person.
"We encourage you to pass plates. That way you'll taste everything the way it was intended," she says, "but if you want share plates, we'll certainly bring them." Fantastic. How sensible. And what a relief. We won't have waiters frowning at us and rushing over to try and help us pass plates.
"You've got to taste this!" one friend urges, passing me his plate of silvery marinated fresh anchovies. The anchovies are firm and cool, tasting of sea and vinegar. Underneath is a lovely giardiniera, lightly pickled vegetables from the garden -- cauliflower florets, julienned fennel and carrots and more. It's a perfect dish for the sizzling temperature. Those dainty cauliflower florets appear in my fritte of calamari and seppie too. The fried squid and cuttlefish are a pale ivory, so that with the cauliflower, the only real color on the plate is a brilliant touch of chopped pickled hot peppers scattered over the top. Kaboom! That vinegary hot note against the sweet, subtle taste of the calamari and seppie wakes up the entire dish. Grilled octopus is another delicious antipasto. The tentacles are sweet and meaty, with a beautiful char on the outside, and are served with earthy, marinated borlotti, or cranberry, beans.
Nothing is fussy. Flavors are direct and vibrant. Batali knows regional Italian cuisine from years of working and traveling in Italy, before he became the Molto Mario we know today. Though his background is Italian American, his cooking is a riff on Italian cuisine. And he's got the volume turned way up. Just like the rock soundtrack playing over the restaurant's iPod.
Braised tripe alla Parmigiana is cranked up with a potent dose of hot pepper. Beneath the fiery overlay, the tomato sauce is smooth and sweet, the pieces of tripe tender and delicious. Prosciutto di San Daniele, a sumptuous riserva that's aged a little longer than the norm, is perfectly cut -- not too thick, not too thin -- so that you get every nuance of flavor. In a departure from tradition, it's served with black pepper fettunta, 2-inch-thick slices of crusty, grilled bread doused with olive oil and seasoned with lots of freshly ground black pepper. Normally, prosciutto is about the least interesting item on an Italian menu, but here the combination of the high quality of this ham, the way it's cut and the black pepper toast make it memorable.
All around us, people are swirling wine glasses and spaghetti, talking, laughing, deep into the moment. Is this Italy? Is it Vegas? Hard to tell from the scene. A first guess would not be Vegas though. The casino and the Blue Man Theater next door are a mere memory. If you step upstairs to the partners' wine bar, Enoteca San Marco, it's blazing (faux) daylight at 11 p.m., and the carnival atmosphere spells Vegas in big letters. Small wonder the enoteca on this cheesy fake piazza doesn't have Mario's name emblazoned over the front. Meanwhile, at B&B, he's managed to create a serious restaurant that's also fun.
OK, now let's get down to pasta, which is where the Batali phenom gets creative. My friends immediately zero in on the foie gras ravioli. I'm not so enthused, until I taste the tender ravioli filled with duck liver and napped in butter and aceto balsamico. We're not talking the cheap caramel-colored stuff that passes for balsamic vinegar, but the real thing, dark and nuanced, which makes a beautiful foil for the richness of the foie gras. Francobolli -- "postage stamp" in Italian -- are miniature rectangular ravioli with a delicate lamb's brain stuffing and a lemon and sage sauce. The sauce is very lemony, but I like it.
Stinging nettle pasta, a dark olive green, comes with wild boar ragù, just the thing to set any foodie's heart racing. But it's heavy and over-sauced -- and talk about a dish that doesn't seem appropriate for the season! What's most impressive, though, is an ordinary-sounding pasta: spaghettini with lobster. It's the meat of a fresh, 1-pound lobster, tossed with perfectly al dente pasta, sweet garlic and "spicy bussing chives." It tastes like something you'd eat at a restaurant on the beach somewhere on the Amalfi Coast, and I do not want to pass my plate.
Served as you like it
For those with a pasta fixation, Batali offers a seven-course pasta tasting menu, along with a traditional six-course tasting menu. Both are served only to the entire table. But, if you want to switch out one course, you can. You can also order anything on any of the tasting menus a la carte. In other words, B&B is about giving diners what want they want. What a concept. And it's one of the many reasons why the Batali-Bastianich restaurant machine is running rings around other Italian restaurants in New York -- and now Las Vegas.
Putting tripe and octopus and lamb's tongue on the menu -- and those are just from the antipasti section -- is a bold move for Vegas (or anywhere else for that matter). B&B is really more like a Babbo Las Vegas than like any of Batali's other New York restaurants. Still, plenty of main courses aren't as challenging. Well, there is rabbit four ways, but that's such a normal part of the Italian menu, I'd be hard pressed to call it exotic. Here, it's just delightful and includes a little rabbit confit, the miniature drumstick cooked like fried chicken. Sweetbreads are dusted with fennel pollen in a sweet and sour preparation made with membrillo (quince paste) vinegar. As baroque as it sounds, it's terrific. But brasato al barolo trumps practically everything else. This is brasato in the most classic sense: a single impressively high chunk of fine beef braised to an ideal temperature, suffused with the flavor of the wine, but not swimming in sauce. In fact there's hardly any sauce, just a fine shaving of fresh horseradish over the top, like the first snowflakes. And it's beautiful with a bottle of Ca' Viola "Bric du Luv" Langhe Rosso, a blend of Nebbiolo and Barbera from Piedmont.
Tables have changed occupants all around us, and I notice that people, particularly couples alone, end up talking to the table next to them, asking advice on what to order, sharing a taste of wine. The service, which is so professional and at the same time so natural (nobody talks waiterspeak) sets the tone, and everyone in the dining room relaxes into the experience. B&B may be a big-deal restaurant, but it's not intimidating or stiff. And as for dress code: Would a chef who is known for wearing shorts to every occasion have one? At B&B, it's strictly come as you are.
By dessert time each time I've eaten at B&B, sharing one or two sweets for the table begins to sound like a brilliant idea. I have a couple of recommendations: the cherry torta, which is something like a pound cake with smashed fresh cherries, and the warm chocolate budino, a divine version of molten chocolate cake, here served with a mint sorbet. But if you can have just one, go with the bomboloni, a bowl of fried, warm sheep's-milk ricotta fritters laced with cinnamon and served with a dark delicious chocolate sauce.
In a city where ersatz is celebrated, in a hotel and casino where gondoliers float revelers down "canals" filled with chlorine-puffing water, Batali and Bastianich have installed a restaurant that exudes Italian soul. That's something worth celebrating. And worth a detour.
B&B Ristorante
Rating: ***
Location: Venetian Resort Hotel Casino, 3355 Las Vegas Blvd. S., Las Vegas; (702) 266-9977; www.mariobatali.com/ restaurants_bb.html
Ambience: Clubby Italian restaurant tucked at the back of the Venetian's restaurant row next to the Blue Man theater. The understated decor features warm cream walls, lots of dark wood and soft lighting. In fact, it's so unglitzy, it's hard to remember you're in Vegas when you're dining here. Rock music playing off an iPod revs up the noise level, but it's never so loud you can't talk. From Mario Batali and Joe Bastianich: A serious restaurant that's fun.
Service: Spot on.
Price: Antipasti, $13 to $19; primi, $19 to $31; secondi, $29 to $49; contorni (vegetable sides), $9; seven-course pasta tasting menu, $85 per person; six-course traditional tasting menu, $85 per person; wine pairings for tasting menus, $65 per person.
Best dishes: Marinated fresh anchovies Giardiniera, grilled octopus with borlotti beans, prosciutto San Daniele riserva, tagliatelle with butter and summer truffles, goose liver ravioli with balsamic vinegar and brown butter, spaghettini with spicy budding chives and lobster, brasato al barolo with horseradish gremolata, fennel-dusted sweetbreads, roasted potatoes with rosemary, cherry torta with clover honey ricotta, bomboloni.
Wine list: Impressive for its breadth of Italian labels and vintages. Markups are high, though you can still find some bottles under $50, as well as vino al quartino -- wines by the quarter liter (250 ml). No outside wine permitted.
Best table: In the back corner.
Details: Open for dinner only, 5 to 11 p.m. daily. Full bar. Free valet parking at the Venetian.
Rating is based on food, service and ambience, with price taken into account in relation to quality. ****: Outstanding on every level. ***: Excellent. **: Very good. *: Good. No star: Poor to satisfactory.
---
Get our weekly Tasting Notes newsletter for reviews, news and more.
You may occasionally receive promotional content from the Los Angeles Times.