Bigmista's Barbecue: Fire it up!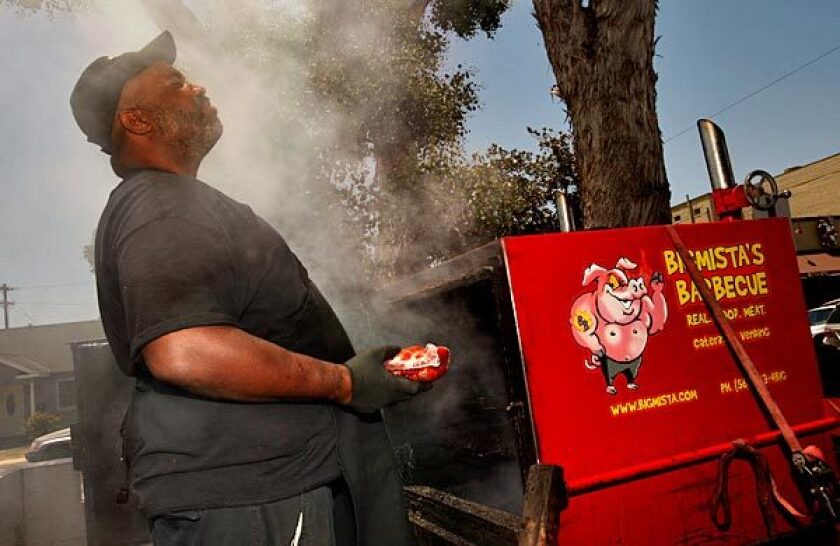 The Torrance farmers market is in full bloom: pluots mottled with patches of red and green, bottles of fresh-pressed pomegranate juice, eggplants as thick as tree trunks. Weekenders huddle under canopies clutching pupusas and plates of pad Thai, the electric hum of a blues man's guitar and the distant patter of steel drums colliding in the air above. The market's meat seekers, however, are unfazed by the clamor, eyes affixed to the brisket being carved at Bigmista's Barbecue.
Pounds of that blackened brisket — beef massaged with a spice rub and then smoked into submission for about 12 hours — are dispensed until there's nothing but scraps left. Some diners opt for racks of ribs and overloaded sandwiches. Regulars are drawn to one of the day's sybaritic specials, pulled-pork nachos.
Bigmista's is a farmers market force, propelled to the upper stratum of Los Angeles barbecue by husband-and-wife team Neil and Phyllis Strawder. They've earned the adulation of every local magazine, talk show and website with an appetite. In May, Bigmista's was a finalist at the inaugural Vendy Awards, which celebrated the city's best street and otherwise itinerant food vendors. Recently, Neil has been bouncing between TV appearances and cooking demos for Fresh & Easy markets in California, Nevada and Arizona. And now, the Strawders are making their basic cable debut on "Over Your Head," an HGTV home improvement show.
They've built this burgeoning barbecue empire in just under two years, a mobile meat paradise that currently encamps at the Torrance (Saturday and Tuesday), El Segundo (Thursday) and Atwater Village (Sunday) farmers markets. It's a business built as much on Neil's wide smile and masterful slow smoking as Phyllis' irresistible laugh and financial know-how.
Here in Torrance, customers are eager to chat with them ("I wish I worked here," one woman says wistfully) while the team, which today also includes Phyllis' father, Glenn Croxton, and family friend Chase Anderson, rides out the stop-start rhythms of service. Another woman engages in a familiar bit of banter while ordering "moink" balls, where "moo" meets "oink" in beef meatballs wrapped in bacon, dusted in spices, smoked and served with blueberry-chipotle sauce.
"I read about them on the Internet," she says, her voice swelling with excitement.
Bigmista's is barbecue not just in the age of the Internet but born of the Internet. Neil credits an online message board with teaching him barbecue, he formed his competition team through its members' shared admiration for each other's blogs and he even met Phyllis on a social networking site. It's digital nativism beyond that of the city's Twitter-happy food trucks, barbecue with a broadband connection and a smart phone on the side.
Although he grew up in Texas, Neil didn't learn barbecue in the Lone Star State. He instead zigzagged through a series of careers, most recently in financial management. It wasn't until six years ago that he was taught the slow-smoked arts by BBQ Brethren, the online home of a fraternity of backyard enthusiasts, caterers and competition judges from around the country and the globe.
Neil credits the Brethren forum with teaching him the fundamentals: how to smoke, how to maintain your fire, how to make adjustments to your rig. But it's more than that. The BBQ Brethren is a community of dedicated meat mavens all eager to give advice, share recipes and adapt those of their cross-country friends. Knowledge that traditionally has been passed down at neighborhood cookouts and church socials is here being digitized and disseminated for a worldwide audience.
"It's hard when people ask us what style of barbecue we make because we've learned from everybody," Phyllis says of the Brethren's influence. "I can't tell them what style it is — it's Bigmista's style."
For Neil and indeed for many of the Brethren, the site is also something of a scrapbook. Do enough digging and you can find posts detailing the day Bigmista's was approved by the health department as well as Neil's forays into contest barbecue. But don't go looking for any self-editing.
"There's an old thread on there where I actually said I was scared to cook a brisket because I didn't want to mess up an expensive piece of meat," Neil laughs. "The first time I endeavored to cook a brisket, I had three guys calling me every hour to walk me through the cooking process: one in Kansas City, one in Chicago and one in New York. Now that I cook 20 to 30 briskets a week, every now and then someone will go back and find that thread to tease me and re-post it."
Since that outpouring of support, Neil has been determined to give back what he can to the forum that has given him much more than just barbecue guidance. When the Strawders' daughter was born, members took up a collection for baby Morgan, sending $1,000 for a college fund.
"They're the nicest guys I'll probably never meet," Phyllis says. "But I'll make sure that when Morgan's old enough to write that she thanks all of them."
Typical online discourse — snide and spiteful attacks protected by the Web's veil of anonymity — doesn't exist among the Brethren. Forum founder Phil Rizzardi has a name for that phenomenon: the "Spirit of the Brethren."
"What we encouraged was camaraderie, respect and brotherhood," Rizzardi says of the BBQ Brethren's code of conduct. "We would look out for one another and be there when someone needed our help."
The birth of Bigmista's isn't owed just to the Brethren. Neil also developed his skills with his competition team, Four Q BBQ. Like the Brethren, Four Q is a product of the Internet: Neil and teammates Sylvie Curry, Luis Ramirez and Shuji Sakai banded together over mutual respect for each other's blogs. Apropos of its online origins, the team's slogan is "Where the Blog Meets the Hog."
But even as plans were being hatched between online friends, Four Q never met in person until two weeks before the team's first competition.
"It was like the first day of junior high school, and we were making friends with new kids," says Sakai, also known by his nom de plume, Professor Salt. "We all were a little clueless about what target we were aiming for, since most of us hadn't competed or judged a contest. Looking back, it's hilarious how little we knew about contest barbecue. Still, we got a top-five finish in pork ribs, and we were hooked on competing."
To pay for all the competitions that soon began crowding Neil's calendar, the Strawders founded Bigmista's Barbecue in November 2008. Catering gigs were a start, but Bigmista's truly took off at the Watts farmers market. By February 2009, the business was making enough money at enough markets that Neil was able to quit his job.
Just as central to that success is Phyllis, the business mind behind Bigmista's. Together, she and Neil have forged a partnership strong enough to temper the frustrations of entrepreneurship and survive the torrent of Twitter dispatches and Facebook posts. But Phyllis isn't without a release of her own — she also maintains a blog, Journey of a BBQ Widow.
"My blog was supposed to be about all the wives whose husbands are putting smokers in their backyards and making the family eat nothing but barbecue. But it kind of took a left turn to me being annoyed about certain parts of the business," she says.
"It's funny, because my mother got so upset about that," Neil adds. "She thought we were putting our dirty laundry out there for everyone. I told her, 'Do you realize we actually met on the Internet? Our dirty laundry has been out there for years!' "
For the Strawders, living digitally isn't so much about second thoughts as it is second nature — they've even found themselves instant messaging each other from their respective home offices. But Bigmista's hasn't risen through the ranks on tech savvy alone.
"Neil is up at the butt-crack of dawn to get that meat on," Phyllis says.
"A lot of nights, I might go to bed at 11, but I'm back up at 1, I'm back up at 3 and I'm back up at 5," Neil says.
"Trust me, if I threatened him with a 9-to-5, he'd be out there at 1, 2, 3, 4 and 5," she laughs.
"There is no way I'd go back to a 9-to-5," he emphasizes. "I really, really love what I do."
Even as the Internet has placed Bigmista's in the purview of every pixel-pushing barbecue lover, it's the Strawders' outsize personalities that continue to expand the business.
At the Torrance farmers market, with gusts threatening to tear down vendors' tents, one man finally gets his chance to order a mountainous pulled-pork sandwich.
"Regular, large or perfect?" Neil asks.
"What makes it perfect?"
"Well, that's how I eat it," he answers, "so it seems perfect to me."
The entire line cracks a smile.
---
Get our weekly Tasting Notes newsletter for reviews, news and more.
You may occasionally receive promotional content from the Los Angeles Times.