Review: At Dolan's Uyghur Cuisine, a taste of northwest China's cultural crossroads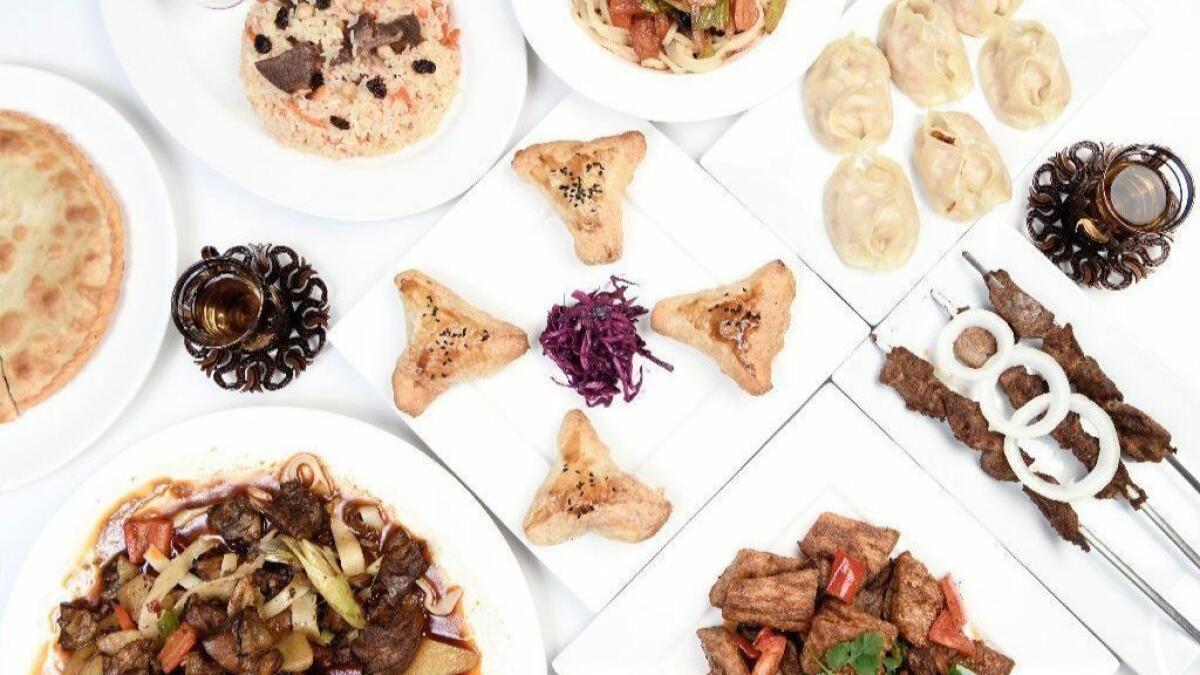 Restaurant Critic
Every few minutes at Dolan's Uyghur Cuisine in Alhambra, a server blasts out of the kitchen with his arms outstretched, lugging a round platter with both hands. He's delivering the next order of da pan ji, or "big plate chicken." Nearly everyone in the dining room requests the dish, rightly. It's one of the restaurant's most enthralling specialties, with its tingling confluence of spices, and it showcases the uniqueness of the crossroads cooking from the Xinjiang province in northwest China, where the cuisine of the Uighurs, the region's Turkic-speaking Muslims, culls a millennium of influences, including from the areas that are now India, Tibet, Afghanistan and Iran.
Da pan ji can be ordered with the hunks of meat on the bone or off; regardless, the heap involves potatoes, chopped red and green peppers, stray slivers of garlic and ruddy dried chiles. Hand-pulled noodles emerge from the mass; their wide twists and loops resemble a roller coaster winding through craggy mountains. The brothy sauce teems with star anise, though whole Sichuan peppercorns lurk in the stew as well, unleashing their electric currents through every second or third bite.
Review: Laotian-style barbecue seizes the spotlight at Kra Z Kai's in Corona »
Uighur cuisine's presence, here and elsewhere in America, in part reflects an uptick in immigration from Xinjiang; media reports frequently recount tensions between the Chinese government and the region's indigenous population. Several Uighur restaurants exist around Los Angeles, including San Gabriel's Omar, a local standard-bearer since it opened in 2010.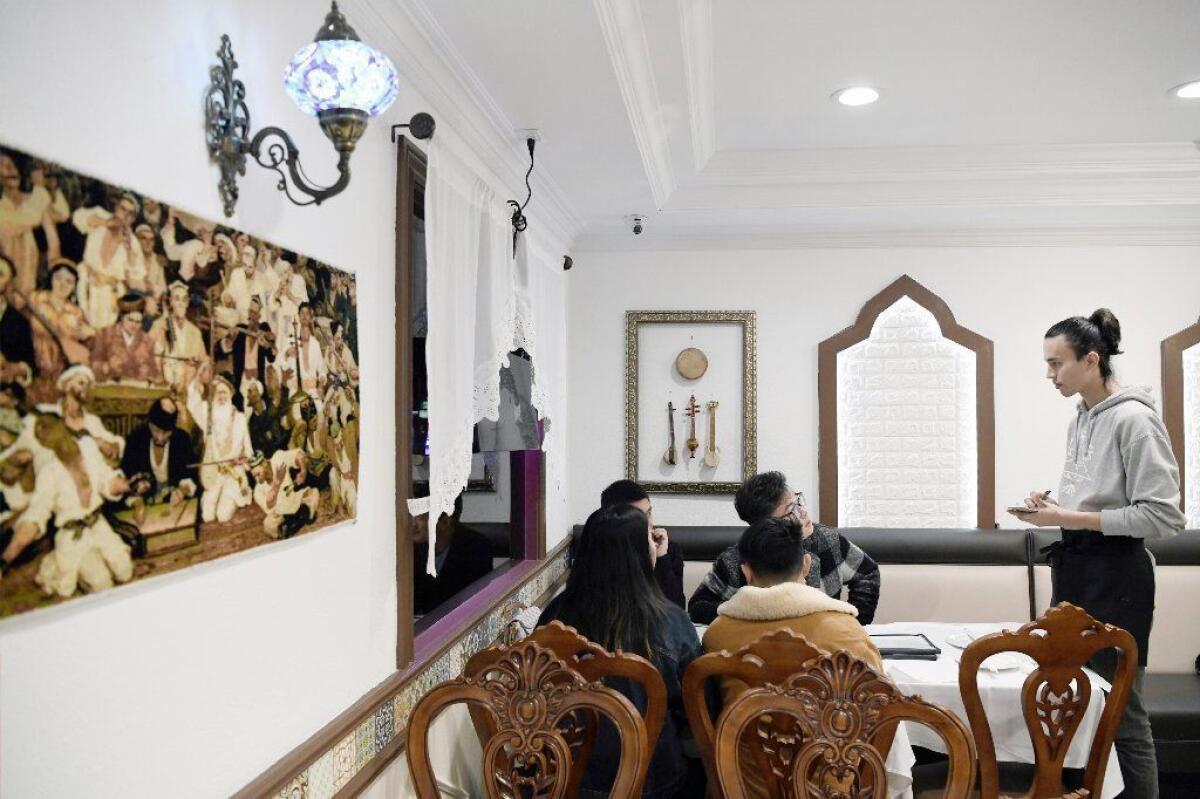 Dolan's owner, Bughra Arkin, came to the United States to study international public policy and management at USC before veering into the restaurant business. He strives to evoke his culture as much in the dining room's aesthetics as in the food he serves. Adjust to the high-wattage lighting and blazing white walls and then absorb the details, starting with the mesmerizing globe-shaped glass lamps patterned in starbursts and other geometries. A mounted television plays videos of groups staging folk dances, spinning in colorful costumes. A print of artist Ghazi Ahmet's "Uyghur Muqam" hangs in two places, depicting a group of musicians entranced in the rapture of performance. (It's one of the most replicated paintings in Xinjiang; Omar also displays a reproduction in its dining room.)
When I ask Arkin to direct me toward a dish particularly loved by Dolans (a designation he uses interchangeably with Uighurs), he suggests laghman — long noodles, nearly as thick as taffy, that are rounder and ropier than the flat da pan ji variations. At Dolan's, the noodles hide under a cloak of stir-fried vegetables and tender strips of beef. Copious chile flakes add flickers of heat. This is not an easy dish to share; the sauce splatters everything in range as you attempt to pluck out the endless strands.
Rolled thin, the noodle dough becomes wrappers for squat, crimped dumplings called manti. I like the earthiness of a vegetarian version plump with diced pumpkin and minced onion. A variant filled with ground beef and plenty of onion often arrive at the table with rips at their base; the juice seeps from the bundles, spoiling some of their savor.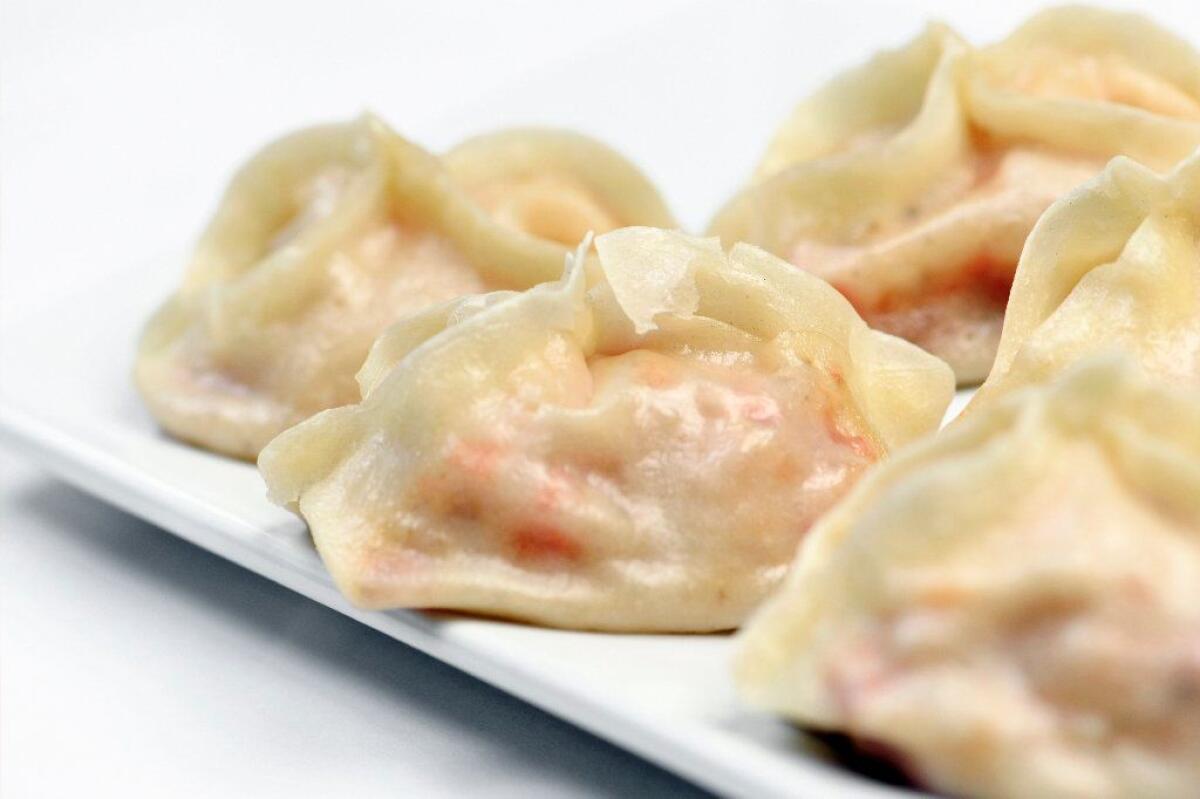 The meat-onion stuffing appears in other wheaty packages — in baked samsas, puff-pastry cousins to the samosa, and in a mixture of ground lamb and green pepper in goshnaan, a sheer, pie-shaped bread with carefully pleated edges. Black pepper recurs as the salient, skillfully employed seasoning, a potent reminder of how "black gold" was once a luxury spice that fueled commerce along trade routes.
Cumin, so essential in Chinese Islamic cuisines, also rumbles through plenty of dishes: I'm keen on a straightforward dish of stir-fried lamb freckled with cumin seeds. A can't-stop-eating jumble of fried cubes of naan with beef and cumin is likely the source of the enveloping aroma that wafts through the restaurant. I prefer these to the kebabs. Dolan's opened in January; the bland chewiness of their skewered meats, so prominent in Uighur cooking, is one of the kitchen's few early growth edges. Service is still finding its flow too: Serving spoons can be forgotten, the pacing of the meal can sometimes lag.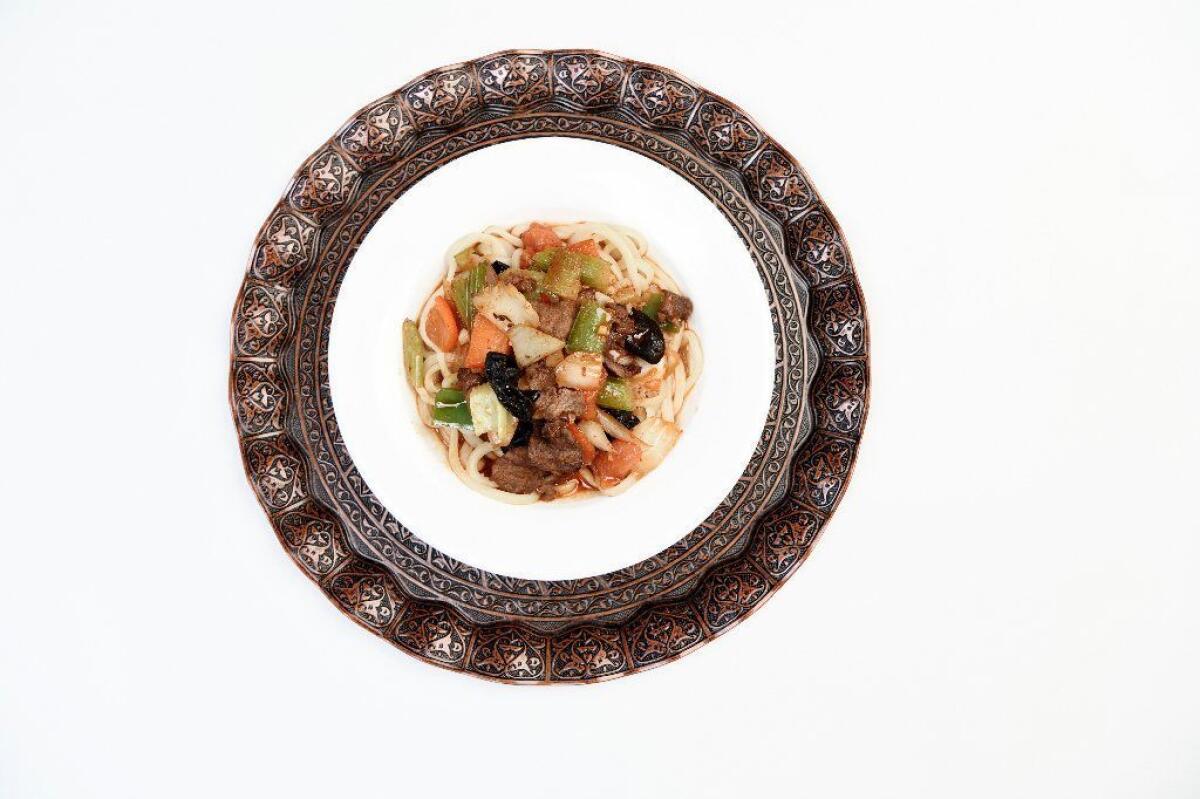 A handful of menu items reach beyond Uighur recipes: Cantonese riffs like tomato with scrambled egg show up, as do Western finales such as chocolate mousse cake. Stay focused on the gems of Arkin's homeland. Better to finish a meal with homemade yogurt, which also comes alongside the mild polo, a rice dish in the family of pulao and plov in which meat (lamb or beef or chicken) features more as a flavoring than a marquee ingredient.
In dessert form, the tart yogurt arrives in a small bowl covered in honey, raisins, crushed walnuts and sesame seeds. Its simple rightness speaks to the Uighur appetite for sweets. It speaks to a diet staple that bridges centuries and civilizations. It speaks, as does so much of the food, to a welcome new bright star in the San Gabriel Valley's constellation of cuisines.
Dolan's Uyghur Cuisine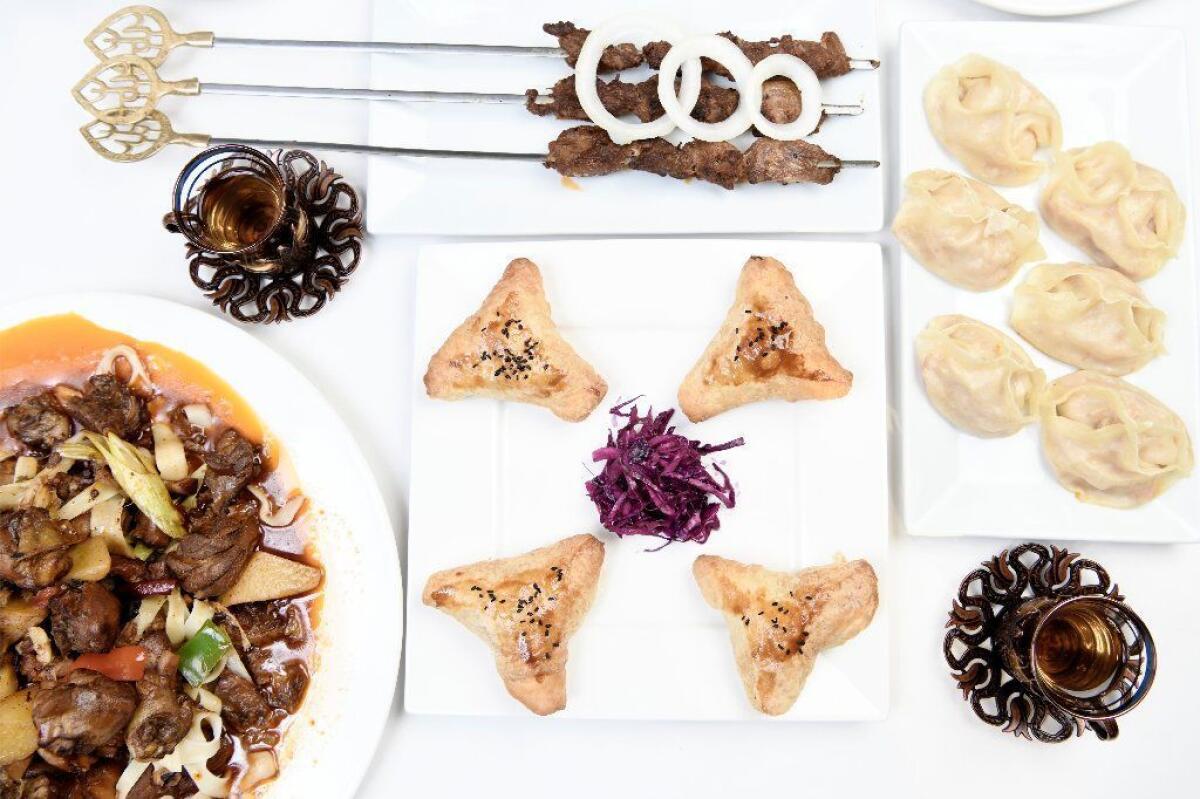 Owner Bughra Arkin serves his native Silk Road-influenced cuisine, featuring hand-pulled noodles, cumin-scented meats and expertly spiced "big plate chicken."
LOCATION
742 W. Valley Blvd., Alhambra, (626) 782-7555, dolansuyghurcuisine.business.site
PRICES
Appetizers $7.75-$11.95, entrees $10.95-$27.95, desserts $3.75-$7.25
DETAILS
Some credit cards accepted. No alcohol. Parking lot.
RECOMMENDED DISHES
Big plate chicken; laghman, pumpkin manti, goshnaan, dessert yogurt
Instagram: @bill_addison
Twitter: @billaddison
Get our L.A. Goes Out newsletter, with the week's best events, to help you explore and experience our city.
You may occasionally receive promotional content from the Los Angeles Times.