Recipe: Focaccia recipe from Genoa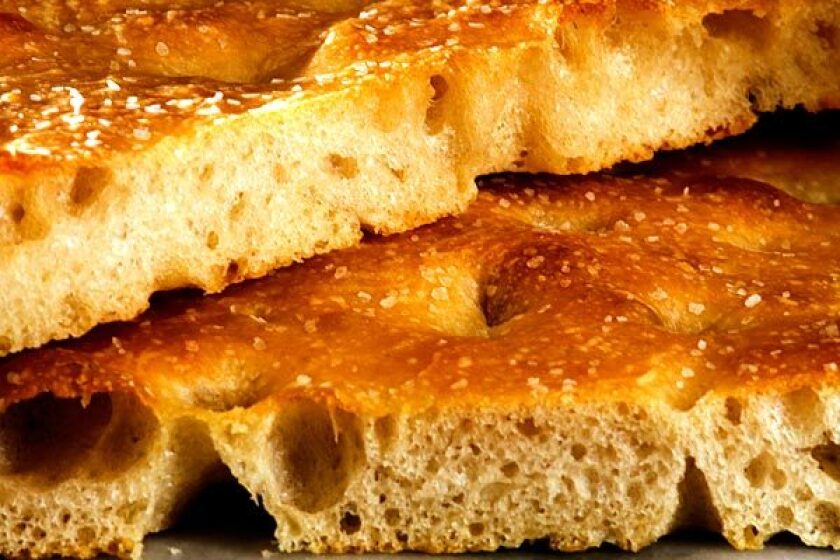 Focaccia from Genoa
Total time: 1 hour, 15 minutes, plus rising times
Servings: Makes 1 loaf, 10 to 12 servings
Note: Adapted from "Focaccia" by Carol Field.
---
Our recipes, your kitchen: If you try any of the L.A. Times Test Kitchen recipes from this week's Food section, please share it with us: Click here to upload pictures of the finished dish.
---
Sponge
2 1/2 teaspoons (1 package) active dry yeast
2/3 cup warm water
VIDEO: Click here to watch focaccia bread being made in the L.A. Times Test Kitchen.
1 cup (4.9 ounces, or 140 grams) unbleached flour
Sprinkle the yeast over the warm water in a large mixing bowl, stir it in and set aside until creamy, about 10 minutes. Stir in the flour and beat until smooth. Cover tightly with plastic wrap and set aside to rise until puffy and bubbling, about 30 minutes.
Dough and assembly
Sponge
1/2 cup water
1/3 cup dry white wine
1/3 cup extra-virgin olive oil, plus about 2 tablespoons for drizzling
2 1/2 cups plus 2 teaspoons (12.7 ounces, or 360 grams) unbleached flour plus 1 to 2 tablespoons as needed
2 teaspoons coarse salt, plus ¾ to 1 teaspoon for sprinkling
1. To the sponge in the large bowl, add the water, wine and one-third cup olive oil, and stir to combine.
2. If mixing by hand, whisk in 1 cup of flour and 2 teaspoons salt, then beat in the rest of the flour until you have a dough that is very soft and very sticky. Knead on a lightly floured board with the help of a dough scraper and 1 to 2 additional tablespoons of flour until the dough comes together nicely and is silky and shiny, 6 to 8 minutes; it should remain soft but not wet.
If mixing with a mixer, using the paddle attachment beat together the water, wine, one-third cup olive oil and sponge. Add the flour and 2 teaspoons salt and mix until the dough comes together (it will be very soft). Change to the dough hook and knead for 3 minutes at medium speed, stopping once or twice to press the dough into a ball to aid in the kneading. Remove the dough from the bowl and knead by hand using the 1 to 2 additional tablespoons of flour to finish, 6 to 8 turns at most. It should remain soft but not wet.
3. Place the dough in a large, lightly oiled container, cover it tightly with plastic wrap, and set aside until doubled, about 1 hour.
4. The dough should be soft and full of air bubbles and should stretch easily. Press it into a well-oiled (17-by-12-inch) jelly roll pan, dimple it well with your fingertips or knuckles, cover with a towel and let rise until puffy and doubled, about 45 minutes. If the dough springs back before it is completely stretched, set it aside to "relax" the dough for a few minutes, then stretch again; the dough will stretch more easily after it is rested.
5. At least 30 minutes before you plan to bake, heat the oven to 425 degrees with a baking stone inside on the lowest shelf. Once again, dimple the top of the dough with your fingertips or knuckles, drizzle the remaining 2 tablespoons of olive oil so it pools in the little indentations and sprinkle with the remaining salt.
6. Place the pan directly on the stone and immediately reduce the temperature to 400 degrees. Place a shallow metal container of water on the floor of the oven to make steam.
7. Bake until the focaccia is golden (lift the bread to check underneath as well), 25 to 30 minutes. Immediately remove from the oven and cool briefly on a rack. Serve warm or at room temperature.
Each of 12 servings: 231 calories; 5 grams protein; 32 grams carbohydrates; 1 gram fiber; 9 grams fat; 1 gram saturated fat; 0 cholesterol; 0 sugar; 420 mg sodium.
---
Get our weekly Tasting Notes newsletter for reviews, news and more.
You may occasionally receive promotional content from the Los Angeles Times.