Recipe: Cucumber and yogurt soup with barley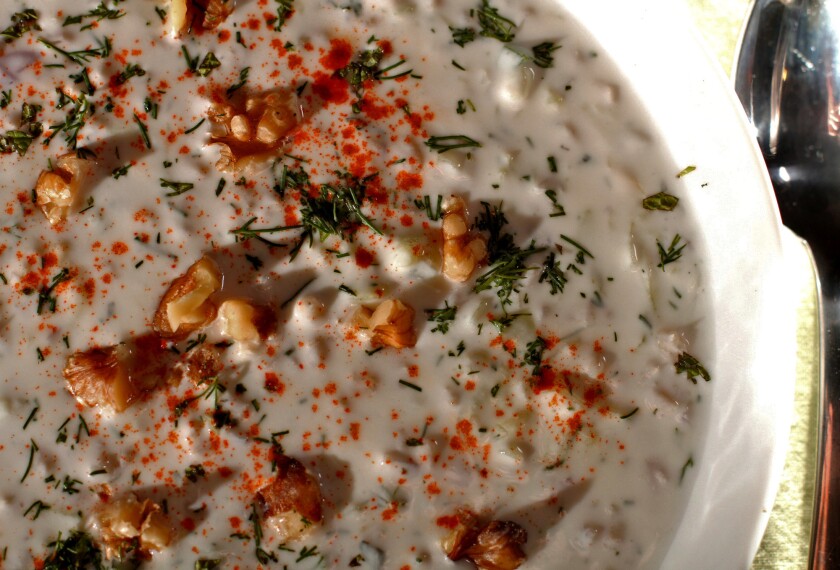 Cucumber and yogurt soup with barley
Serves 6. 45 minutes, plus cooling and chilling times
1 cup pearl barley
3 cups water
Salt
1 pound small cucumbers
4 cups yogurt
2 cloves garlic, minced
2 to 3 tablespoons finely diced, seeded jalapeño pepper
1/3 cup finely diced red onion
1 tablespoon chopped mint, divided
3 tablespoons chopped dill, divided
1 to 1 1/2 cups milk
1/2 cup walnuts, chopped
Paprika
1. Cook the barley: Toast it in a dry 1-quart saucepan over medium heat until it smells browned. Remove the pan from the heat to avoid spattering and add the water and 1/2 teaspoon salt. Simmer until tender, about 35 minutes. Drain and cool to room temperature.
2. If the cucumbers have been waxed, peel them. Cut the cucumbers in half lengthwise and scrape the center with a spoon to remove the seeds. Grate the cucumber into a large bowl and add the garlic, jalapeño, red onion, 2 teaspoons mint and 2 tablespoons dill. Add the yogurt and cooked barley, season aggressively with salt, and chill for a couple of hours.
3. To serve, add just enough milk to thin to the consistency of heavy cream (the cucumber will release some liquid, and the barley will absorb some, so the amount might vary). Add more salt to taste. Divide the soup among 6 chilled soup bowls. Top with the remaining 1 teaspoon mint, 2 teaspoons dill, a sprinkling of chopped walnuts and a dash of paprika.
EACH OF 6 SERVINGS
Calories 323
Protein 15 grams
Carbohydrates 45 grams
Fiber 6 grams
Fat 10 grams
Saturated fat 3 grams
Cholesterol 15 mgp
Sugar 16 grams
Sodium 142 mg
---
Get our weekly Tasting Notes newsletter for reviews, news and more.
You may occasionally receive promotional content from the Los Angeles Times.