Recipe: Carrots with honey, lemon zest and thyme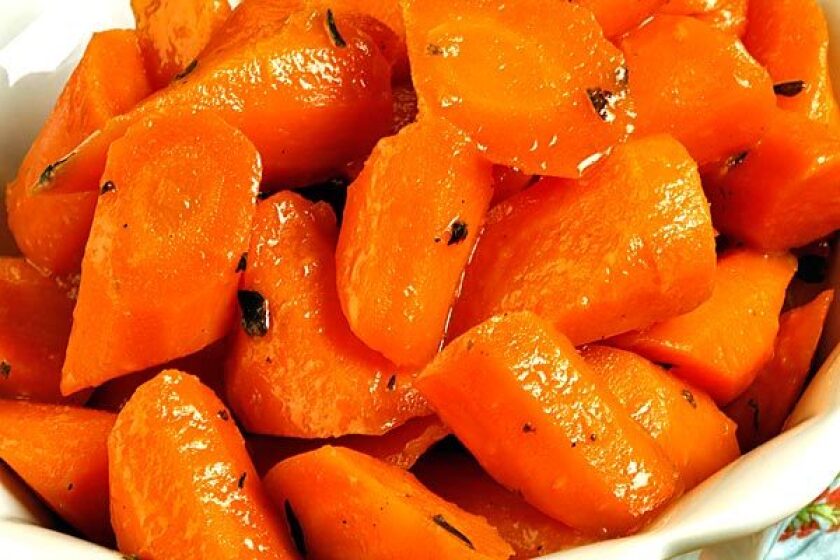 Carrots with honey, lemon zest and thyme
Total time: 35 minutes
Servings: 4
Note: Adapted from "A Year in My Kitchen" by Skye Gyngell
---
Our recipes, your kitchen: If you try this or any other recipe from the L.A. Times Test Kitchen, we would like to know about it so we can showcase it on our food blog and occasionally in print. Upload pictures of the finished dish here.
---
8 carrots
1 1/2 tablespoons honey
1/4 cup butter
6 thyme sprigs
Salt and freshly ground black pepper
Grated zest and juice of ½ lemon
1. Peel the carrots and cut them into chunky slices on the diagonal. Place in a large sauté pan and pour over enough cold water to just cover. Add the honey, butter, thyme and a generous pinch of salt. Place over medium heat and bring to a boil, then lower the heat to a simmer. Cook until the carrots are almost tender, about 15 minutes.
2. Now, turn up the heat to boil the liquid rapidly until reduced to a shiny, sweet glaze — there should be 1 to 2 tablespoons of intensely flavored cooking liquor coating the carrots, nothing more. Squeeze over the lemon juice and check the seasoning. You'll need a turn of the pepper mill and a pinch or two of salt, but no more.
3. Just before serving, sprinkle over the lemon zest.
Each serving: 178 calories; 1 gram protein; 19 grams carbohydrates; 4 grams fiber; 12 grams fat; 7 grams saturated fat; 31 mg cholesterol; 12 grams sugar; 86 mg sodium.
---
Get our weekly Tasting Notes newsletter for reviews, news and more.
You may occasionally receive promotional content from the Los Angeles Times.