Recipe: Spaghetti with tuna and cherry tomatoes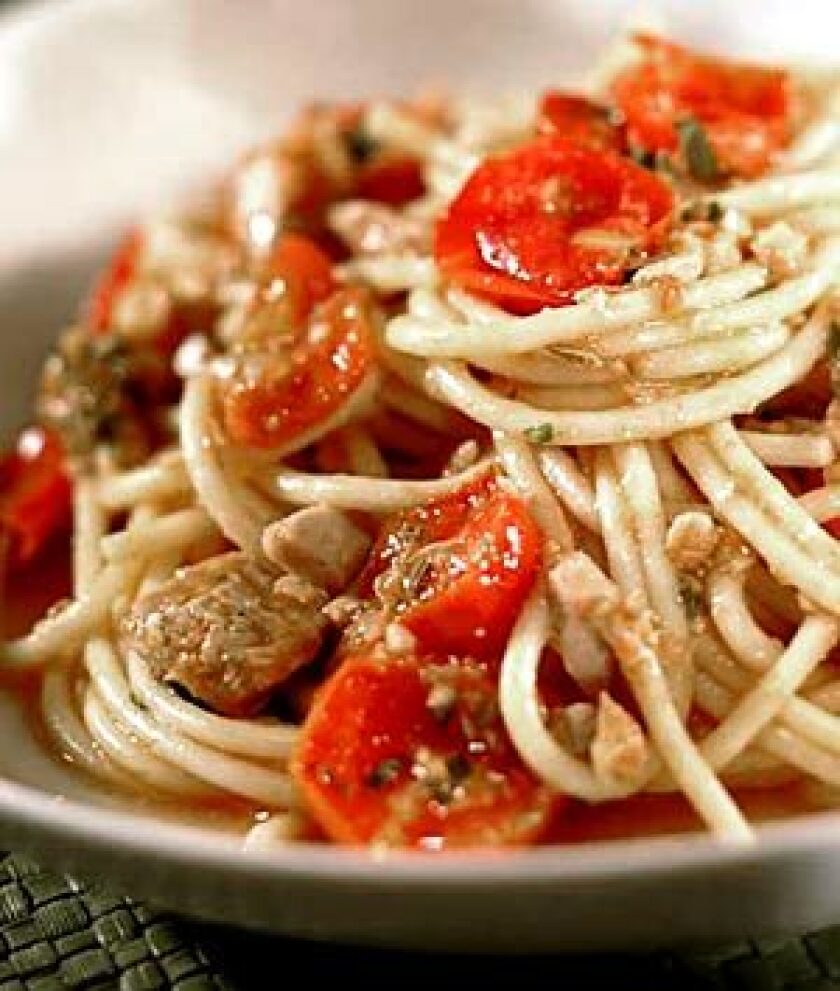 Canned tuna is so commonplace you might think it's crazy to make your own. OK, so call this tuna "conserved" instead. It's not just a change of names. Following Food editor Russ Parsons' recipe, take chunks of good albacore tuna and slowly poach it in warm, flavored olive oil and you've got a fish that's as close to canned tuna as a Bentley is to a Kia. It's incredibly easy to make and when you're done, you can use it in all kinds of dishes, from a salad with white beans and arugula, to this spicy pasta with cherry tomatoes.
Total time: 30 minutes
Servings: 4 to 6 as a main course, 6 to 8 as a pasta course
Salt
1 pound spaghetti
1/2 pound conserved tuna, plus 2 tablespoons of its oil, at room temperature
3 tablespoons olive oil
3 cloves garlic, minced
4 whole, small, dried red chiles (such as chile de arbol)
1/2 teaspoon fennel seeds, crushed
1 pound cherry tomatoes, cut in half (about 2 cups)
4 anchovy fillets, chopped
1 teaspoon red wine vinegar, or to taste
2 tablespoons minced fresh basil
1. Bring a large pot of liberally salted water to a rolling boil and add the spaghetti. Meanwhile, chop the tuna (you should have about 1 cup); set aside.
2. Heat the fresh olive oil in a large skillet over medium heat. When the oil is hot, add the garlic, chiles and fennel. Sauté, stirring frequently, until the garlic is lightly golden and the spices are fragrant, 2 to 3 minutes.
3. Add the cherry tomatoes and the anchovies and cook for about a minute to break down the anchovies. Add the tuna and use a wooden spoon to break up the tuna and the tomatoes into a chunky mixture. Add the reserved tuna oil, red wine vinegar and salt to taste. The flavor should be sweet, fragrant and bright. Keep warm over low heat until the pasta is done.
4. When the spaghetti is done, drain it, reserving about 1 cup of the cooking water, and add the noodles to the skillet. Turn the heat to high, add the reserved pasta cooking water and cook, tossing the noodles to coat lightly with the sauce. Toss in the basil, season to taste with salt and serve immediately.
Each of 6 servings: 494 calories; 21 grams protein; 62 grams carbohydrates; 3 grams fiber; 18 grams fat; 2 grams saturated fat; 19 mg. cholesterol; 317 mg. sodium.
---
Get our weekly Tasting Notes newsletter for reviews, news and more.
You may occasionally receive promotional content from the Los Angeles Times.