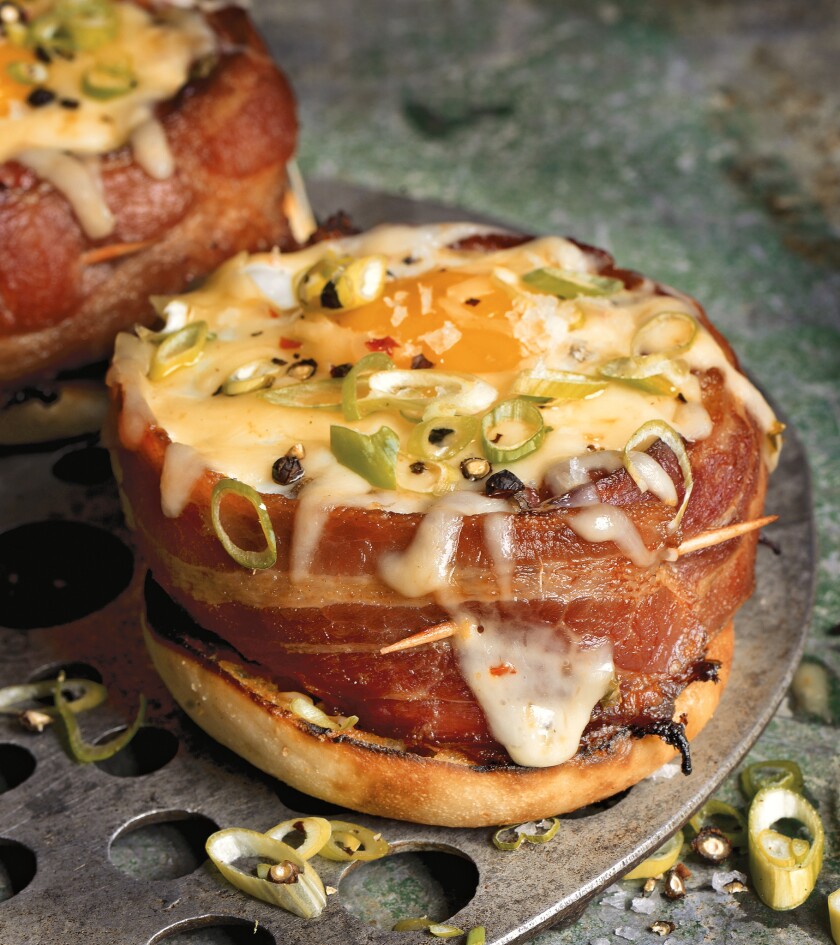 When barbecue expert Steven Raichlen began writing about live-fire cooking, most weekend warriors limited their repertoire to simple items such as burgers, hot dogs and steaks. In the 20 years since his signature tome, "The Barbecue Bible," first hit the shelves, Raichlen has noticed a growing sophistication and excitement when it comes to the grill.
Arguably the Julia Child of barbecue, Raichlen just published his 31st book, "Project Fire," which explores traditional techniques and traditions in addition to emerging live-fire cooking trends. Even if you've never heard of Raichlen, you've no doubt encountered his brand. He helms a barbecue empire that spans dozens of cookbooks, countless barbecue and grilling gadgets, and numerous television series that have aired around the world. His books, including the multimillion bestselling and award-winning "Barbecue Bible" and "How to Grill," have been translated into 17 languages. For hardcore fans, he holds Barbecue University courses, currently held at the Broadmoor resort in Colorado Springs, Colo.
"Today, people want to know about grilling styles and smoke rings," Raichlen says. "Most of my students own more than one grill, and I'd say a third of the class now owns smokers. We knew a tiny bit 20 years ago, and now it's just enormous.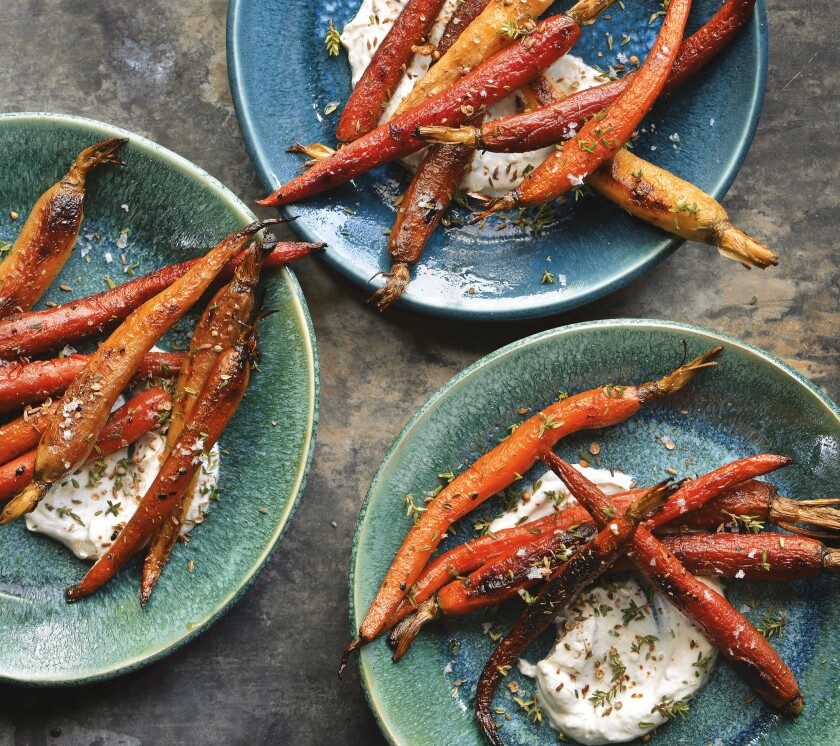 Recipe: Smoke-roasted carrots with spice-scented yogurt »
"Take wood grilling," he continues. "More and more restaurants are installing wood-burning grills, everywhere you look, in every city in the country. And I think people are going to start doing more and more wood grilling at home."
Raichlen rattles off a list of Los Angeles restaurants featured in an episode of his new television show, also called "Project Fire": there's Curtis Stone's Gwen; Odys + Penelope from Karen and Quinn Hatfield; Chi Spacca from Nancy Silverton and Joe Bastianich; Josiah Citrin's Charcoal Venice; and Koreatown's Park's Barbecue, the first franchise of the restaurant to open outside of South Korea.
"These are places where I draw my inspiration," Raichlen says.
Raichlen didn't set out to become a barbecue master. Born in Japan, he received a degree in French literature from Reed College and turned down a Fulbright scholarship so that he could pursue a Watson Foundation fellowship to research medieval cooking in Europe. During this time, he also studied at Le Cordon Bleu and La Varenne cooking schools. Back in the States, after writing about restaurants for Boston magazine and wine and spirits for GQ magazine, "I had this idea. It was an epiphany of sorts that said, 'Follow the fire.' And that was the impetus for 'The Barbecue Bible.' I'd travel the world documenting how people grill in different countries and cultures," Raichlen says. "And grilling is universal, right?"
"Virtually every culture in the world grills. But in every culture in the world it's different. And what people grill says a lot about their culture."
Steven Raichlen, author of "Project Fire"
What attracted Raichlen to barbecue was the broadness and depth of the field. There's the anthropology of where it fits in a culture, as well as the critical eye, looking for emerging trends, such as wood-fire cooking. "I guarantee, if you put a Serbian grill master — who is most likely a grill mistress — next to a pit boss from Texas, even if they didn't speak the same language, they'd be communicating very quickly," Raichlen says.
Raichlen is quick to note global influences on American live-fire cooking. "In America we have a wonderful ability to admire, borrow and appropriate foreign cooking styles of all sorts," Raichlen says. In particular, in the field of grilling, he notes how we make our own Japanese yakitori, Jamaican jerk, Argentine asado, Brazilian churrasco, Mexican carne asada and Greek souvlaki. "I guess you used to call us a melting pot. Maybe we need to call ourselves a melting kettle grill or something," he says.
Recipe: First-timer's pork shoulder sandwiches »
At the same time, he argues how amazing it is that America has exported one cuisine it can truly call its own: barbecue. "Two years ago I was a judge and guest of honor at an Italian barbecue contest," Raichlen notes. It was American-style barbecue, done on Weber grills and offset barrel smokers. "And it was in Italy. How amazing is that?"
In America, "I think barbecue is hard-wired into us from a very early age," Raichlen says. The word barbacoa, he notes, comes from a Taino Indian word for a wooden frame put over a fire. The origins of barbecue can be traced to Native American, African American and early Colonial cooking. "George Washington wrote about barbecues extensively in his diaries," Raichlen says. "Including one that lasted for three days when the cornerstone for the Capitol building in Washington was laid.
"This was Americana even to the point where English cookbooks would give recipes for the American-style of barbecue, in a nod and wink to the Colonies," he states. "Baked beans developed with the Native Americans, along with clam bakes, and Northwest salmon bakes, where they put salmon on vertical stakes around a bonfire."
"Barbecue is hard-wired into our DNA."
Steven Raichlen
Raichlen is excited about the evolution of America's love for live-fire cooking since "The Barbecue Bible" was released. "Twenty years ago the concept of indirect grilling [food cooked next to, but not directly over a fire] was new," he says. "Everybody was used to grilling directly over the flame." Other types of live-fire cooking, such as smoking, rotisserie grilling and what Raichlen calls "caveman grilling" (where food is cooked directly in the embers), were almost unheard-of.
Grilling and barbecues were reserved for special occasions. "Today the grill in the backyard has become an extension of the kitchen," Raichlen notes. "We grill seven days a week, and not just for special occasions."
And we don't limit the grill to proteins. "When I started, you never grilled vegetables. You never grilled appetizers or desserts," he says. One recipe in Raichlen's latest book, for smoke-roasted carrots, is one he makes at least once a week. "I think the high dry heat of the grill is the best way to cook most vegetables."
And, much like an extension of the kitchen, he uses the grill at all times of the day, even to cook breakfast. One recipe, for breakfast burgers, consists of constructing burger patties out of breakfast sausage and wrapping the patties in bacon. After the patties are partially cooked, Raichlen tops them with eggs, cheese and chopped green onion. "Smoke gives such an interesting dimension to eggs," Raichlen says.
Perhaps, ultimately, it's communal fun that's at the root of our love for the grill. "No one ever gathers around a stove to watch a pot of soup boil," Raichlen says. "When you fire up the grill, it's an instant party. And you're the center of attention."
Raichlen's tips for grilling and summer entertaining:
Control the fire rather than having it control you. One way to do this is to build a tiered fire, meaning that you have more coals in the back of your grill for a hotter fire, fewer in the center for cooking, and no coals in the front — to act as a safety zone.
When cooking indoors, you control the heat by raising and lowering the flame. When grilling, you move the food closer to, or farther from, the hot fire.
Always grill with a safety zone. That's the portion of your grill that is fire-free, so if you get flare-ups, you can move your food to the safety zone.
Practice real good hygiene. "I say, 'Keep it hot, keep it clean, keep it lubricated,'" Raichlen advises. "Start with a hot grill grate, clean with either a stiff wire brush or with a scraper, and lubricate or oil it. Not only will this keep your food from sticking, but it gives you what I call 'killer' grill marks."
When the Raichlen household entertains, the entire meal will be cooked on the grill. "We'll do a combination of foods that must be cooked at the last minute and foods that can be grilled ahead," he says. "Vegetables are great because they're colorful and can be done ahead and served at room temperature. We'll have a big protein, maybe a Wagyu brisket, that can be smoked ahead, so you don't have to worry about split-second timing. And there will always be something served hot off the grill, both at the start and end. Dessert is almost always cooked a la minute. You wow them when they come in, because you're all gathered around the grill taking in the rite of fire and food, and then you do the same thing at the end."
---