Critic's Choice: Three top mole restaurants: Guelaguetza, La Casita Mexicana, Rocio's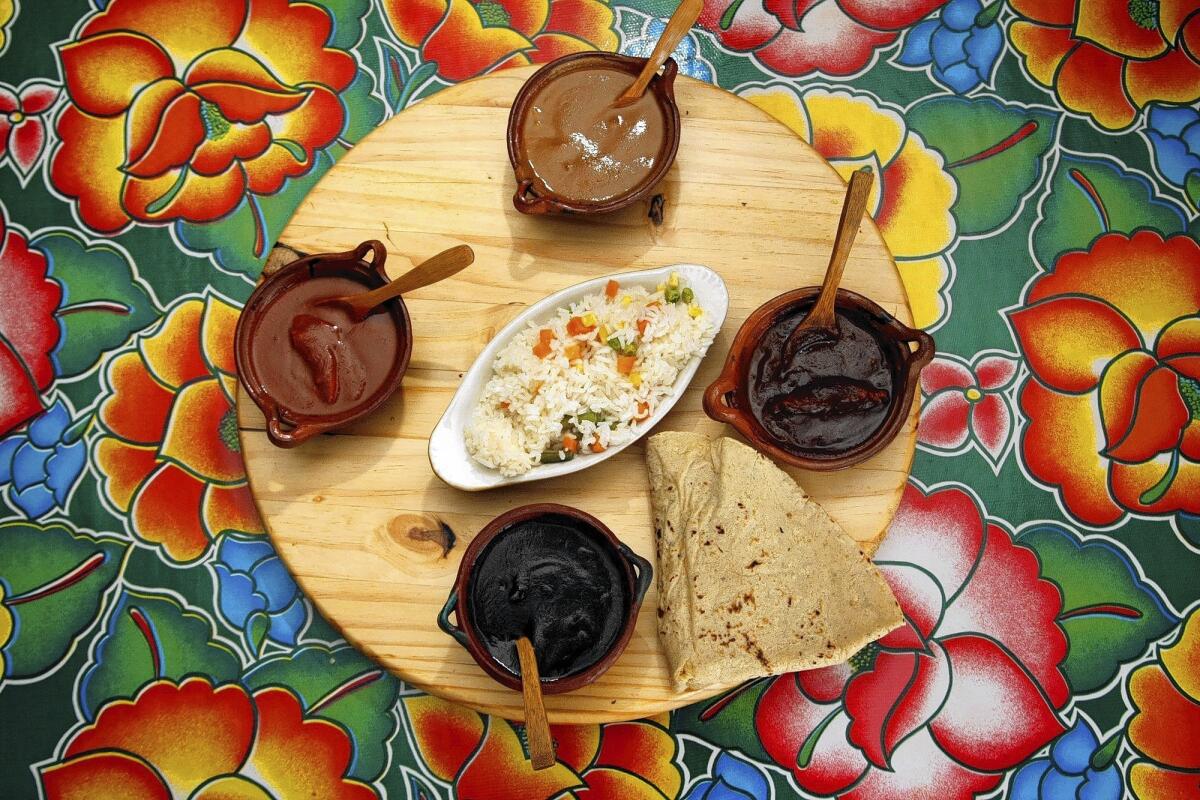 The next time you get a longing for mole, you don't have to start shopping for the couple dozen ingredients it can take to make one. You don't even have to hop on the next plane to Oaxaca or Puebla. In Los Angeles, we've got restaurants that specialize in bringing mole negro, mole poblano, mole verde and myriad other moles to the table. Served over chicken or pork, moles can turn what would have been a simple dish into something wonderful. In a good mole, the flavors are so closely woven you can't pull them apart.
Guelaguetza
The Oaxacan restaurant in Koreatown just celebrated its 20th anniversary as the heart of Oaxacan life in Los Angeles. Founded by Oaxaca native Fernando Lopez, it's now run by his four children, including the irrepressible Bricia. The big, raucous restaurant with live music in the front room serves up homey Oaxacan food all day long and well into the night. Go for the banana leaf-wrapped tamale in a black velvet mole negro or the enchiladas in a subtle but fiery mole rojo or coloradito. You can also order any of the moles over a chicken breast or leg. Be sure to sneak in an order of the empanada with yellow mole or a bowl of the fantastic tender young goat in broth flavored with chile and avocado leaf.
3014 W. Olympic Blvd., Los Angeles, (213) 427-0608, ilovemole.com. Mole dishes, $10 to $14.
La Casita Mexicana
Now that chef-owners Jaime Martin Del Campo and Ramiro Arvizu have expanded their popular restaurant in Bell, you can actually get a table on a Sunday. The staff is wonderful, ready to explain any of the dishes. Try a trio of moles — poblano, rojo and verde — ladled over enchiladas or crisp golden flautas. Die-hard mole fans will order chicken napped in a lake of the dramatic, velvety mole poblano made with an astonishing 46 ingredients. Before the mole, though, you'll want to order the gooey, delicious Azteca cheese fondue: that's four Mexican cheeses wrapped in plantain leaves with poblano chile, cactus, mushrooms and herbs.
4030 E. Gage Ave., Bell, (323) 773-1898, casitamex.com. Mole dishes, $11.50 to $15.
Rocio's Mole de los Dioses
Oaxacan chef Rocio Camacho is crazy about mole and at her modest restaurant in Sun Valley makes not only old-school moles but also her own inventive variations. Her mole Oaxaqueña is tremendous (like any of her eight moles, served over chicken or pork or salmon, even over grilled portobello mushroom). But you can also try the smoky manchamantele (tablecloth stainer), one dosed with tequila and lemon, or another made with toasted coffee beans. On the rich side: her pale green pistachio mole. Can't decide? Get her traditional mole Oaxaqueña plus a three- or five-mole sampler on the side just so you can taste how wide her range really is.
8255 Sunland Blvd., Sun Valley, (818) 252-6415, www.moleofthegods.com. Mole dishes, $14 to $19.
Follow me @sirenevirbila
Get our L.A. Goes Out newsletter, with the week's best events, to help you explore and experience our city.
You may occasionally receive promotional content from the Los Angeles Times.