Chile-spiked breadcrumbs bring the heat to cold, crunchy cucumbers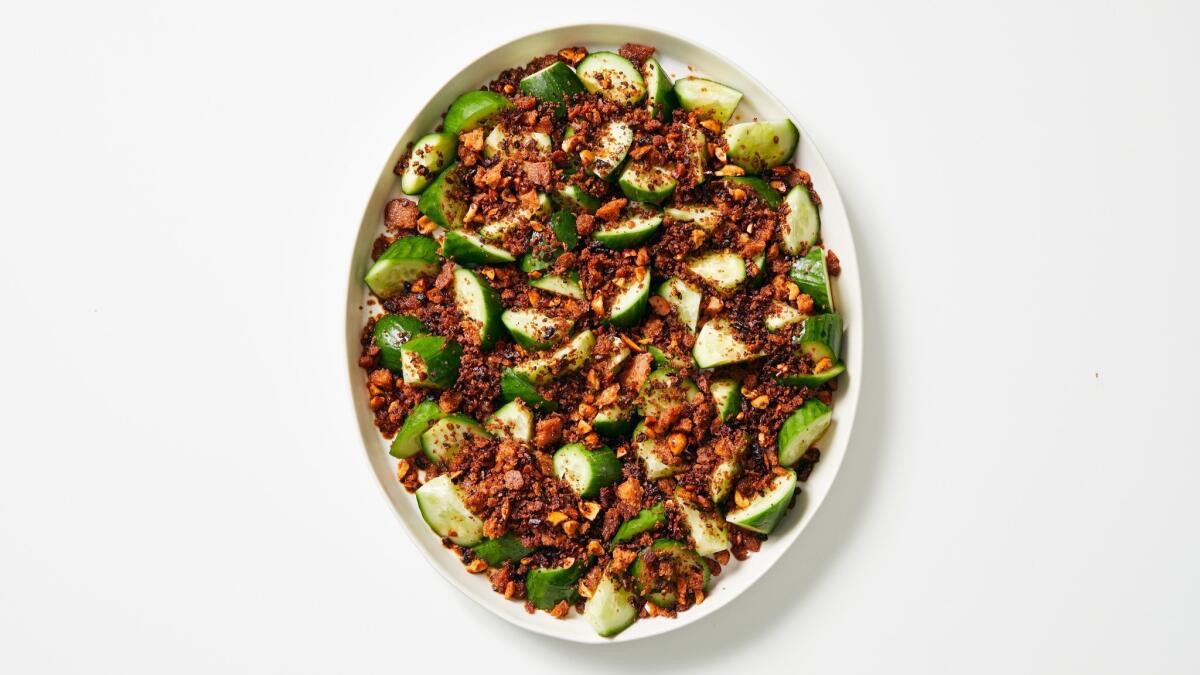 When temperatures rise into the 90s, becoming an unbearable and inescapable evil, I want to eat only "crunchy water foods," as a friend calls them. Iceberg lettuce, radishes and celery are vegetables with a distinct, snappy crunch, refreshing you with as much water as their edible parts.
The king of the crunchy water foods in summer is the cucumber — particularly the small and sweet Persian variety — and, like Bubba Blue in "Forrest Gump," I never tire of ways to eat them. Raw, salted, smashed or dressed. Sliced, chopped, chunked or sticks. Tarted up with vinegar, bathed in garlic oil or spiked with white pepper and ginger. There's cucumber in salads, shaved cucumber and noodle salad, thick coins of cucumber for dipping into ranch, even buffalo-style cucumber tossed with hot sauce and blue cheese. My favorite, though, is chunks of cucumbers tossed with a spoonful or two of spicy chile crisp, the fragrant, zingy condiment used in China and, more and more here, as the new sriracha because it tastes good on everything.
Made with loads of fried garlic and shallots that are mixed with chopped red chiles, Szechuan peppercorns and oil, the gravelly goop — not a smooth sauce, yet not a compote — enlivens the cucumbers with a lip-numbing, chile-tingling quality that's deeply umami in flavor, thanks to some added MSG. There's absolutely nothing wrong with spicy chile crisp as it is, but I wanted to make my own homemade version to mix with fried breadcrumbs for an even crunchier topping to sprinkle over ice-cold cucumbers.
I start by frying fresh breadcrumbs in more oil than seems necessary, but it's just enough to evenly infiltrate every nook and crumby cranny to fry it to maximum crispness. Once the breadcrumbs are half-fried, I load in the rest of the aromatics: garlic, shallots and peanuts, as well as crushed red chile flakes and Szechuan peppercorns for, respectively, their blatant heat and menthol-like cooling spice. It's a condiment that adds bready heft and intense flavor to the refreshingly water-packed cucumbers, which help dilute the chile concentration perfectly. Like the cucumber itself, you'll never tire of ways to eat it.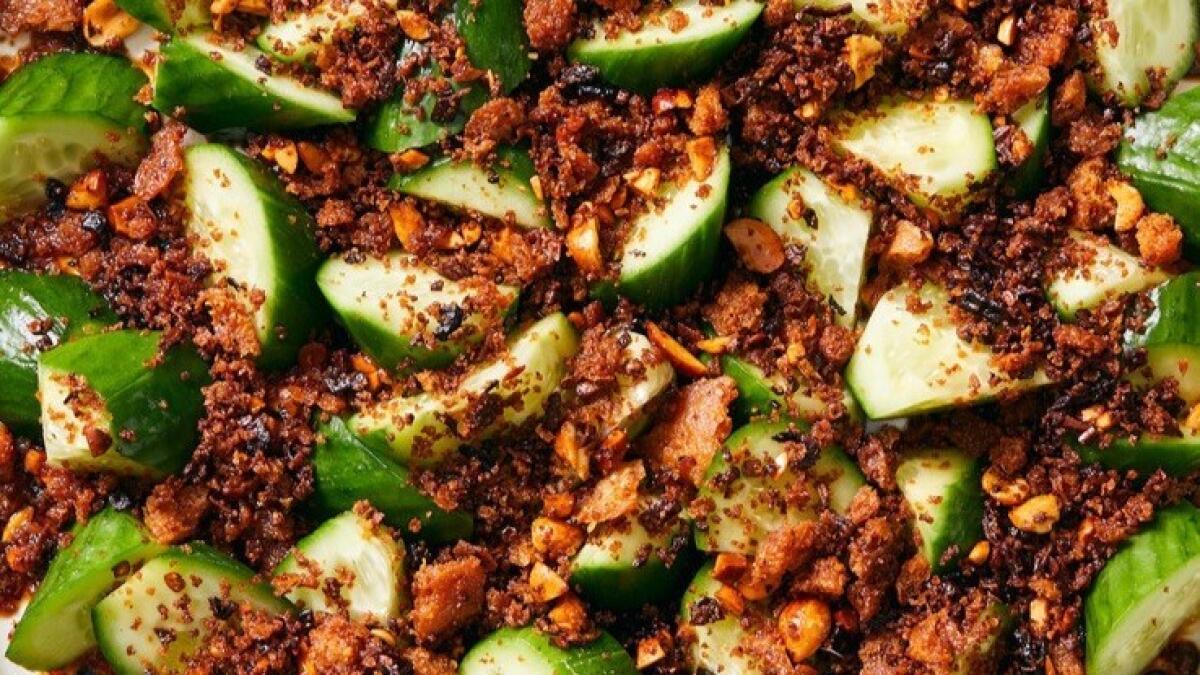 Chilled Cucumbers With Chile Crisp Breadcrumbs
25 minutes. Serves 6 to 8 as a side dish.
Although the amount of oil in this recipe may seem egregious, it's necessary to achieve an even, golden-brown "fry" on the breadcrumbs so they all get super-crisp. Don't worry; you will drain off virtually all the oil afterward. Use these crumbs as a topping for salad, creamy dips or cooked fish fillets.
3 ounces sourdough bread, roughly torn into bite-size pieces
1/2 cup vegetable oil
1/4 cup minced shallots
1/4 cup chopped peanuts
1 1/2 tablespoons minced ginger
1 1/2 tablespoons minced garlic
1 teaspoon kosher salt
1 teaspoon ground Szechuan peppercorns
3/4 teaspoon crushed red chile flakes
1/4 teaspoon granulated sugar
1 pound (about 4) Persian cucumbers, cut into 1-inch chunks, chilled
2 tablespoons soy sauce
2 tablespoons brown rice vinegar (or regular rice vinegar)
1 Place the bread in a food processor and pulse until it forms rough crumbs, some fine and some the size of peas. You should get about 1 1/2 cups. Place a quadruple-thick layer of paper towels on a plate and keep nearby.
2 Heat the oil in a large skillet over medium-high heat until the oil begins to shimmer. Add the crumbs (they will look sodden in the oil; it's OK) and cook, stirring, until light brown, 3 to 4 minutes. Add the shallots, peanuts, ginger, garlic, salt, ground peppercorns, chile flakes and sugar, and continue cooking, stirring, until everything is golden brown and crisp, 4 to 5 minutes more. Immediately scrape everything in the skillet onto the paper-towel-lined plate and spread out in an even layer to cool.
3 While the crumbs cool, arrange the cucumbers in on a platter large enough to fit them in a single-ish layer. Drizzle the cucumbers with the soy sauce and vinegar, then cover them with the breadcrumbs, letting a few of the points and peaks stick out on top. This is best served when the cucumbers are still cold from the fridge and the crumbs are warm, but it will still taste great as it sits and comes to room temperature.
Make ahead: The drained breadcrumbs can be stored in an airtight container in the refrigerator for up to 1 week. Reheat, if you like, by tossing in a skillet over medium heat until warmed through.
Get our weekly Tasting Notes newsletter for reviews, news and more.
You may occasionally receive promotional content from the Los Angeles Times.