Dark days for Cult Cabs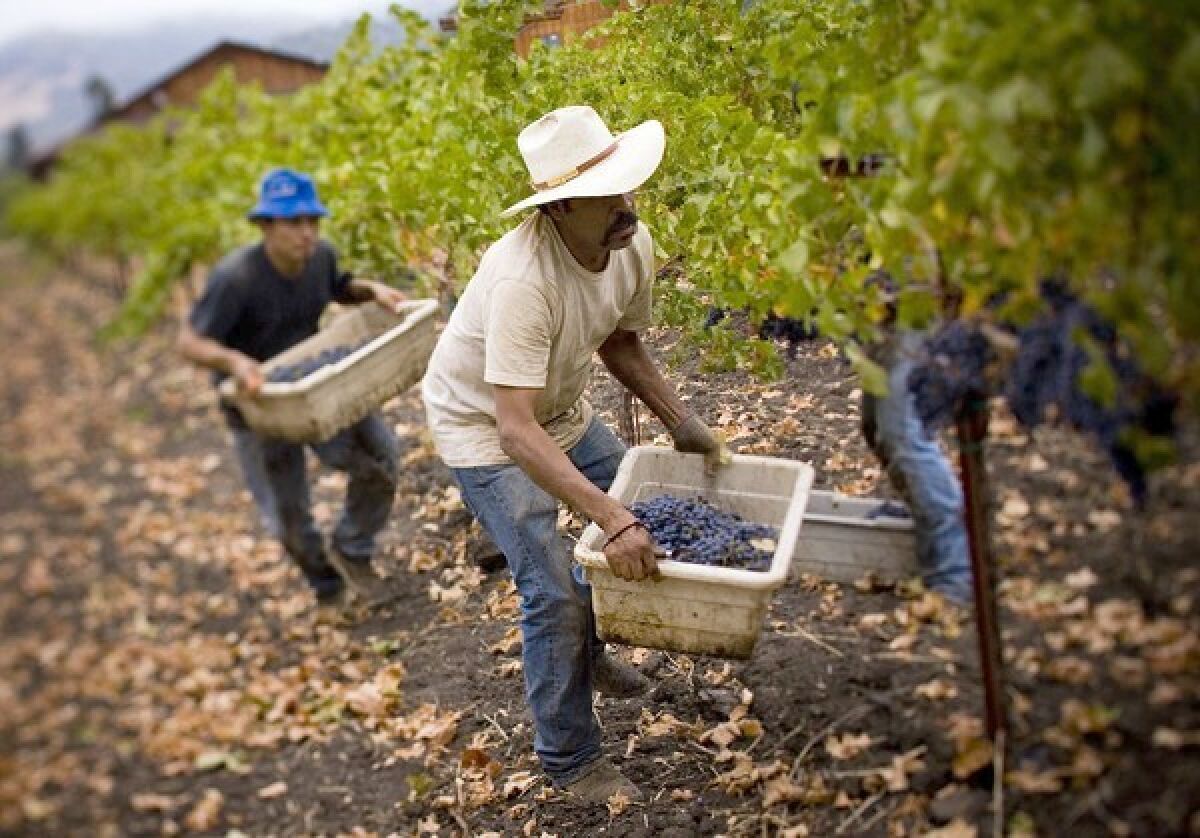 Is the Cult Cab dead?
The current economy has created ominous rumblings in the market for Napa Valley wine. Demand for high-end super-premium Cabs, even so-called cult wines, has weakened considerably with the recession. Sales are stagnant, inventories are high, and direct-mail customers -- a vital piece of the high-end model -- are abandoning once-coveted positions on mailing lists, while those who have waited years for the opportunity to buy in are overwhelmed with offers.
And for those wineries whose flagship productions climb above 5,000 cases, the forecast is even more challenging. Such formerly untouchable wines as Rubicon Estate, Caymus "Special Select," Pine Ridge "Fortis" and Joseph Phelps "Insignia" have made appearances at "back-channel" quick-sale retail websites, such as Cinderella Wine and WTSO (Wines 'Til Sold Out), at substantial discounts. The law of supply and demand suggests that the days of stratospheric pricing for Napa Cabernet may be numbered.
Even wine critic and Cult Cab kingmaker Robert M. Parker has issued warnings: "Wines priced over $300 have encountered considerable resistance, with their mailing list customers dropping off, or taking much smaller allocations," he wrote in the December issue of his widely read newsletter, the Wine Advocate.
"Sadly, far too many proprietors of high-end Napa wines are in denial, and have failed to recognize the dramatically changing parameters in the wine world of the consumer."
Slowing of sales is not restricted just to expensive wines. California wine shipments fell in 2009 for the first time in 16 years, by a whopping 4%, or 4 million cases, according to wine industry analyst Jon Fredrikson of Gomberg-Fredrikson & Associates. No winery executives would speak on the record about specifics of their sales numbers, though they all acknowledged that the industry in general was going through a hard time.
Despite the shift in the market, some producers are defiant. "I'm not dropping my price," says Ron Wornick, owner of Seven Stones Winery in St. Helena, "and you can put that in writing." That price is $175 a bottle, to which Wornick feels entitled, comparing his wines to other luxury goods, like fine watches and diamonds. "A hard-to-find, precious, high-end product, whether it's from Ferrari or from a tiny vineyard in Napa, is still fine and precious," he says.
Perhaps. But such swagger may prove to be hard to sustain as collectors shy away from the Next Big Thing. "This used to be a game about discovery; what's the next great wine to try?" says Jim Weinrott, founder of the online wine merchant Wineaccess.com. "Now all consumers want is value."
Big spenders scarce
At Twenty-Twenty Wine Co. in West Los Angeles, owner Bob Golbahar sees the same trend among former big spenders. The market, he says, is "over-culted. Our average bottle sale used to be $100; now it's $50. Unless you're giving it away, they're not interested."
As a case in point, Golbahar cites the posh Napa standard Opus One, which usually sells briskly during the holidays, when it's frequently employed as a business gift. In past seasons, he's sold as many as 150 bottles of the wine, which retails for $140 to $170 a bottle. This year he sold six. "It's a whole different world out there," he says.
Nowhere is this more evident than in the attrition rates on wineries' direct-mail customer lists, an important segment of the business for many cult wineries, which not only receive full retail markup on direct sales but have enjoyed a virtually guaranteed purchase among dedicated customers.
In flush years, wineries had hundreds of customers clamoring for a chance to buy a few precious allocated bottles. That demand, however, has shrunk considerably, and wineries are, in the words of one poten- tial customer, practically "spamming" the in-boxes of wait-listed candidates with offers.
"Four years ago [customers would] buy from 10 different mailing lists," says Heidi Barrett, who owns La Sirena Winery and who has made many of Napa's most coveted Cabs, including Screaming Eagle, Dalla Valle and Vineyard 29. "Now they're going to pick their top three. And you want to be in that top three."
On wine bulletin boards like erobertparker.com, collectors herald new opportunities to each other daily, even as interest wanes: "I am on a bunch of lists, but have come to the conclusion that I don't actually need any of them," wrote one collector in a typical post. "There is so much great wine out there that lists are kinda silly."
In the same thread, another collector was considerably more blunt: "Cults," he wrote, "are dead."
Not all of Napa's Cult Cabs are dead, of course. Wines still in the good graces of critics like Robert Parker and James Laube of the Wine Spectator are weathering the storm well, including Shrader, Screaming Eagle and Harlan, as well as the more recently anointed, such as Scarecrow, Maybach and Kapcsandy.
But many more may be out of luck. "For a winery with no track record, this is a nightmare," Barrett says. "If they came into the market thinking they could start in at a $200 price point, they have no chance."
Even before the economic downturn, Tim Mondavi knew the challenges in establishing his new brand, Continuum. As the former winemaker for Robert Mondavi Winery, whose troubled final years as an independent winery forced its sale in 2004 to the wine business giant Constellation Brands, he had a wealth of lessons to draw from on what not to do, such as overextending himself.
Continuum makes just one wine, a Bordeaux blend. At $150, it's priced slightly below the stratosphere as cult wines go but is still a significant piece of pocket change. "We know that nobody's going to be asking for Continuum with just two vintages," he says.
So he has personalized his message, employing members of his famous family, including sister Marcia and daughter Carissa, on sales calls and as spokeswomen; though it's not on the bottle, the Mondavi name is an integral part of the brand message.
Internet boosts Ovid
Practically next door to the Continuum vineyard on Pritchard Hill lies Ovid, a super-premium venture whose debut 2005 vintage was first offered in 2008. Interest has been high for this $200 Cabernet blend, though it hasn't been helped by recent assessments from Parker. Though his tasting note was full of flattering prose ("opulence," "purity," "burgeoning complexity"), the all-important score was merely a fairly pedestrian 93 points -- far from a knockout by Parker's standards.
And yet, according to managing partner Janet Pagano, the brand has received persistent attention on bulletin boards and blog sites, which has kept the brand in play. In fact, she says it was early buzz on wine boards that generated brisk sales for Ovid's first vintage and obliged critics like Laube to review the wine. "The people evaluated the wine before the critics, in a manner of speaking," Pagano says.
Perhaps one of the most interesting cases is Bond Estates, a high-minded project established in the late '90s to showcase some of what the winemaking team believed were "Grand Cru" Napa Valley sites. Until this year, the winery sold boxed sets of five wines, each with the price tag of $275 per bottle. For its first few vintages, those boxes flew out the door.
The last two years, says managing director Paul Roberts, have been more difficult. Roberts has recently "unbundled" its offering, giving buyer and seller greater flexibility. And they are actively trying to sell in regional markets that weren't initially being considered, both here and abroad. With wine on hand and an interested, untapped clientele, suddenly Kansas doesn't seem like such a bad place to sell wine -- Bond's recent offering to that state's wine shops sold out in a matter of weeks.
None of these wineries has yet taken the final, inexorable step of officially reducing their suggested retail prices. Instead, they are trying, even in such a soft market, to convince people that their wine is worth the money they're asking -- an increasingly difficult task as inventories rise and consumer thinking shifts, perhaps for good.
"As much as I hate this recession," says Jim Weinrott of online merchant Wineaccess, "it's going to make people turn around and say, 'I'm going to buy things I value; I'm going to drink wines that have an intrinsic worth to me.' "
---
Get our L.A. Goes Out newsletter, with the week's best events, to help you explore and experience our city.
You may occasionally receive promotional content from the Los Angeles Times.