Review: Sinatra hangout Dear John's is going out in style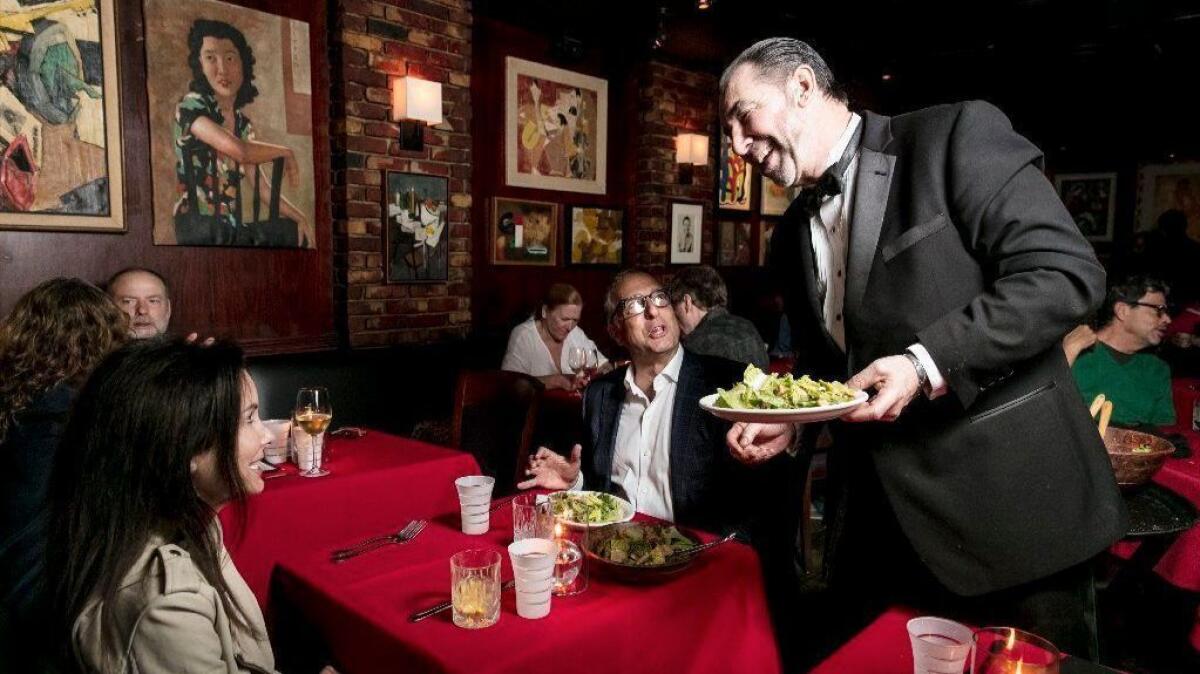 Restaurant Critic
Stepping into Dear John's in Culver City, my pupils dilate as far as they can. The dining room is as dark as a planetarium simulating deep space; the sparkle-coated drop ceiling above the bar glints like a far-off star system. As my eyes adjust, I can make out a panorama of midcentury kitsch-splendor: wood paneling, distressed brick, red tablecloths, enveloping leather booths. The jubilant crowd looks remarkably dressed up.
It's a tableau from another time, and it won't be around for much longer. In April 2021 the building will be razed to make way for a new development. In its time left, three new owners are throwing Dear John's an extended farewell. For a trippy time-capsule romp featuring tuxedoed servers, heavy-pour martinis and continental cooking that's better than it needs to be, it is a party worth attending.
Actor Johnny Harlowe opened Dear John's in 1962 — at the urging, so goes the story, of his buddy Frank Sinatra. Frequented by the legend, and with two movie studio complexes nearby, the restaurant was a fixture for celebrities and other entertainment-industry types. Harlowe sold the restaurant in the '80s; the glitterati moved on and Dear John's languished. Last year it briefly incarnated as a place called Lucky's that served quesadillas, nachos and cheeseburgers.
After Lucky's folded, chef Hans Röckenwagner and his wife, Patti Röckenwagner, toured the space and felt called to resuscitate it; they partnered with Josiah Citrin, the chef-restaurateur whose many current projects include Charcoal in Venice and the retooling of his flagship Mélisse in Santa Monica.
Patti Röckenwagner — an entertainment executive, a detail that brings full-circle poetry to the restaurant's fate — brought an art collector's eye to the project. With the help of gallery owner Robert Berman, she culled 80 paintings from the 1950s and '60s to cover the walls of the 50-seat space. She sidestepped big-name artists, selecting pieces that evoke an era: neon abstracts, an earnest landscape or food-themed still life here and there, portraits of women (many of them Elizabeth Taylor lookalikes) in tasteful states of dress and undress.
Server Hank Kelly is an art piece unto himself. Dapper in his penguin suit, with gray streaking through his dark hair, he's the house ace with tableside Caesar salads. The restaurant's partners recruited him from Vito in Santa Monica, where for years he made a show of marrying olive oil and lemon juice in a wooden bowl, flurried with parm, united with romaine and croutons. His suave moves now set the perfect mood at Dear John's. I like a very potent Caesar; Kelly happily delivers extra anchovies.
Review: At Bulgarini in Altadena, a gelato master tries his hand at pasta »
Röckenwagner and Citrin said they brainstormed the basics of the menu in about half an hour. If you're at all a fan of this kind of throwback dining, you could have done the same: shrimp cocktail blasted with horseradish; oysters Rockefeller; the greatest hits of steak cuts (though no gut-busting slabs of prime rib, a wise choice); sides of brandied peppercorn sauce and Béarnaise to punctuate the meats; lobster Thermidor nipped with tarragon and creamed corn that, in the best possible way, tastes like caramel popcorn. "Frank's Spaghetti and Clams" stained richly with marinara, pays the required homage to Sinatra. The wedge salad could use more dressing.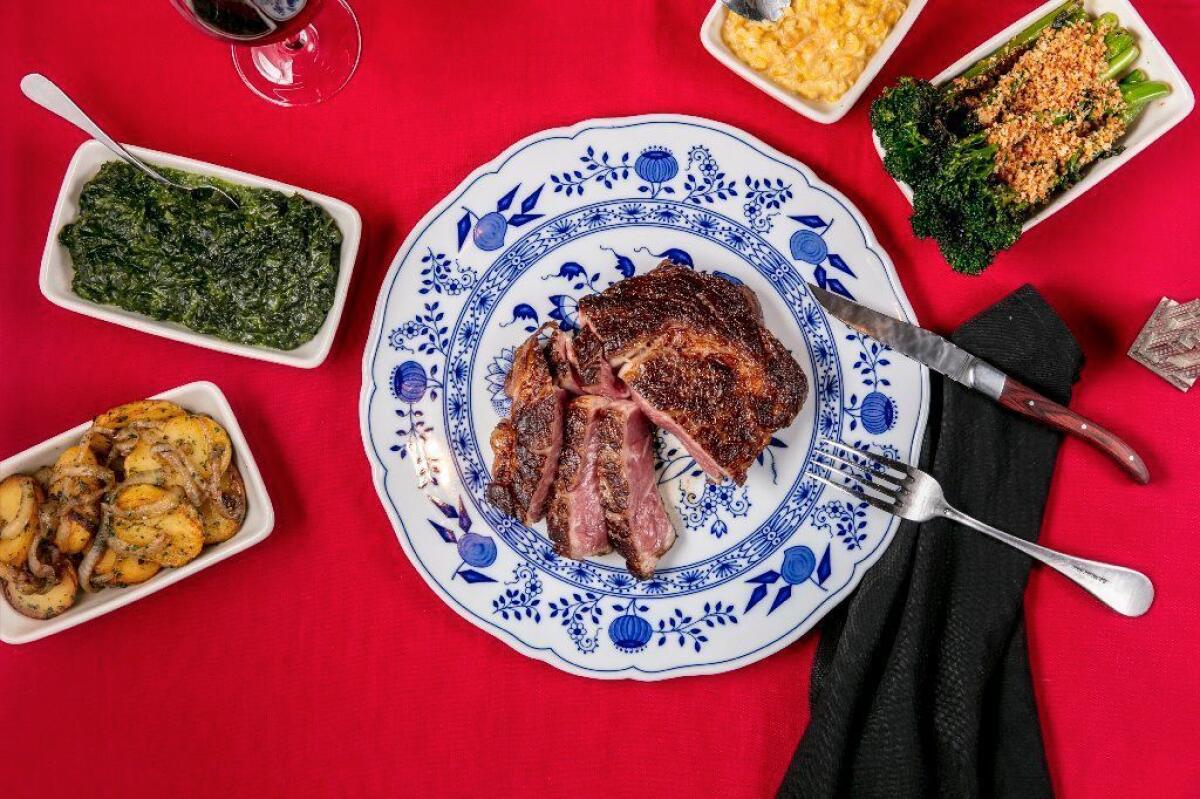 The chicken parmesan achieves some impressive time traveling: Rather than a smothered hubcap of pounded meat, Dear John's employs the "airline cut" — a boneless breast with first wing joint still attached, very Pan Am business class. Cut into the breaded mass and its filling of mozzarella and red sauce gushes like chicken Kiev from a bygone dinner party.
Respect for classic California comes in a crab Louie salad arranged over half an avocado and, most wonderfully, a plate of delicate, fileted sand dabs — a Pacific flatfish that should be on more menus — nudged with lemon juice and capers. They pair well with Dear John's appealingly mulchy creamed spinach.
Desserts, modeled after steakhouses of yore, swerve rich to the point of silliness: a hunk of citrus-kissed cheesecake, a bombastic sundae finished with colored sprinkles and one radiant maraschino cherry. Have another cocktail instead — a rummy Hemingway, maybe, or a potent Vieux Carre. This team doesn't give in to camp; none of the drinks will leave you with a sugar headache.
The bar might be where you wind up having your meal: It's the easiest place to find a walk-in seat. You'll miss the tableside Caesar action but the bartenders will make you feel welcome. Reservations, particularly earlier in the evening, have been tough to secure since the new partners took over.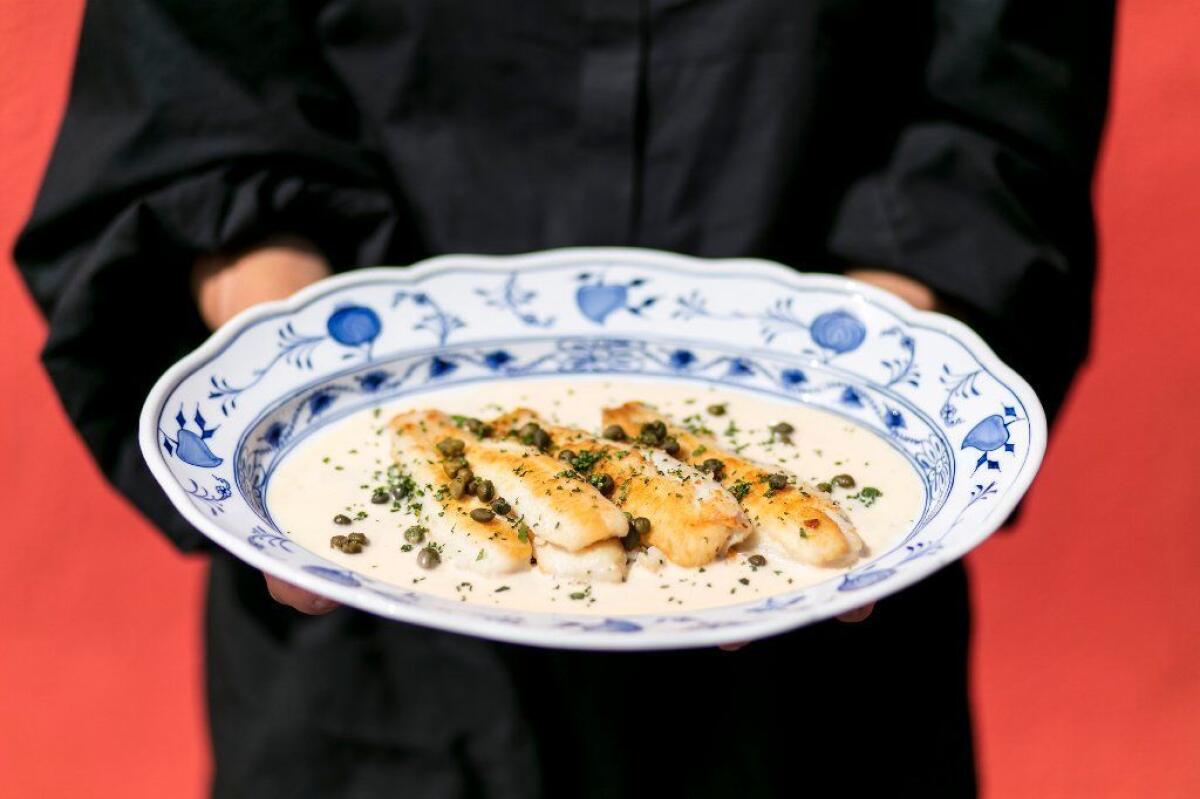 Certainly, the bump in business can be credited to the acumen and dignity that Citrin and the Röckenwagners are bringing to Dear John's sendoff. The human psyche also loves the ephemeral: We want in on a hot scene before it's over forever.
But this kind of institution is also an ingrained part of Los Angeles; entrenched ideas around power and privilege are uniquely linked to the ways Hollywood has shaped the city. Musso and Frank, Dan Tana's in West Hollywood, Lawry's The Prime Rib in Beverly Hills, Dal Rae in Pico Rivera (a bonanza for tableside service if you love that shtick as much as I do): Their cocooned glamour and formal air of service retain a certain vitality — a stubborn counterbalance to our pervasive Southern California casualness. Indulgent ribeyes and James Bond vespers and the odd ritual of the made-to-order Caesar may seem out of step with the pluralism that defines modern Los Angeles dining, but their orbit is still awfully hard to resist once you enter it.
Let Dear John's pull you in, then, for the first or last time, before its timeless, dimly lighted charms go dark for good.
Dear John's
Under new owners, a 1960s-era celebrity hangout hosts a farewell pop-up bash until the lease expires in spring 2021. Go join the party.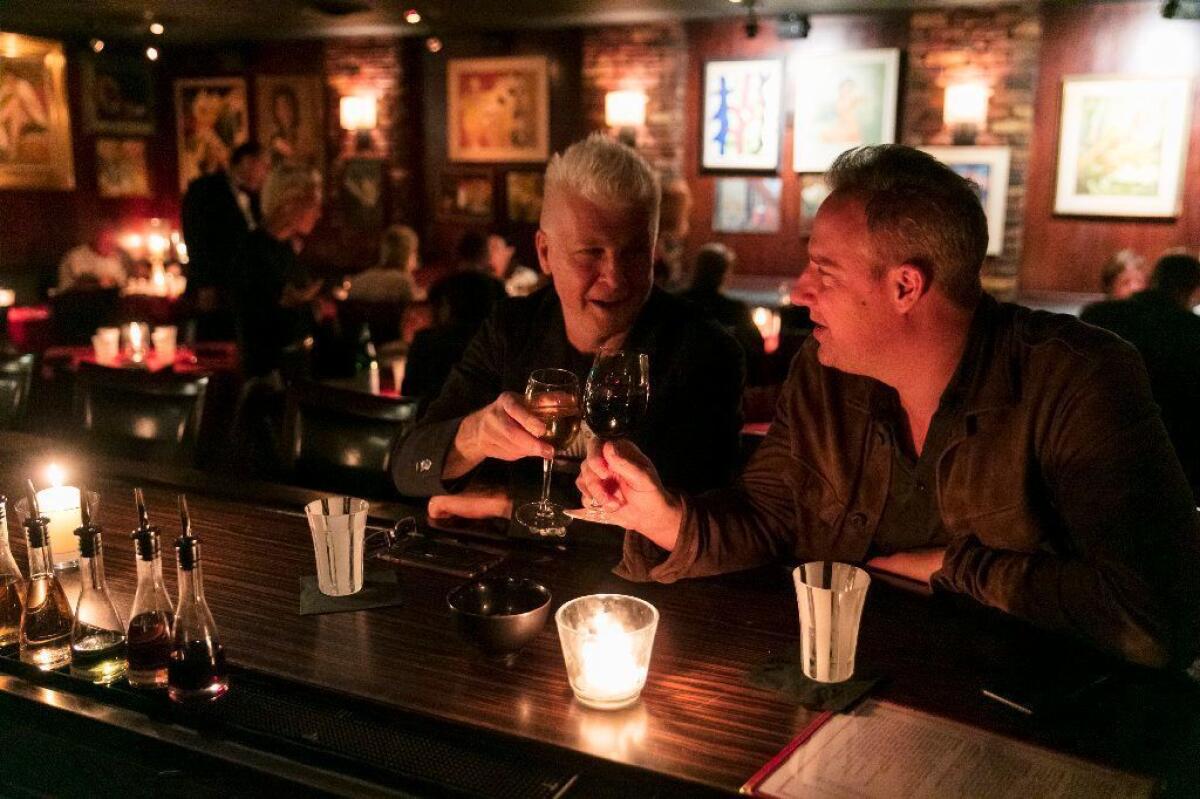 LOCATION
11208 Culver Blvd., Culver City, (310) 881-9288, dearjohnsbar.com
PRICES
Starters $6-$24; entrees $26-$58; sides $9; desserts $12.
DETAILS
Credit cards accepted. Full bar. Lot and street parking. Wheelchair accessible.
RECOMMENDED DISHES
Caesar salad for two; chicken parmesan; sand dabs; creamed spinach; creamed corn.
Instagram: @bill_addison
Twitter: @billaddison
Get our weekly Tasting Notes newsletter for reviews, news and more.
You may occasionally receive promotional content from the Los Angeles Times.