Review: At Bulgarini in Altadena, a gelato master tries his hand at pasta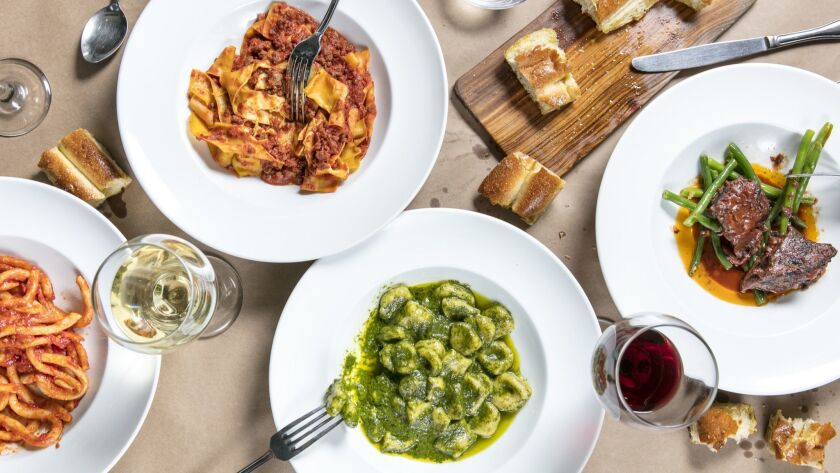 Restaurant Critic
A year ago, Leo Bulgarini started serving a small menu of pasta dishes at Bulgarini Gelato Artigianale, his small gelateria and restaurant in Altadena.
Five nights a week, Wednesday through Sunday, the gelato shop offers a $45 dinner special, featuring two pasta dishes and a dessert gelato, and a $75 four-course "sampler." If you have the patience for seven or eight courses stretched over three or four hours, and the resources to reckon with the $150 price tag, his "Chef's Table" dinner is perhaps the most pleasantly eccentric meal in this corner of Greater Los Angeles.
If you ask Bulgarini how he got started making gelato — conversation with Bulgarini is always part of visiting his shop, whether you're buying a single scoop of gelato or sitting for a tasting menu — he will retrieve the poster-size photograph that he keeps stored inside the kitchen.
Read: How many pistachios are there in that cup of Bulgarini gelato? »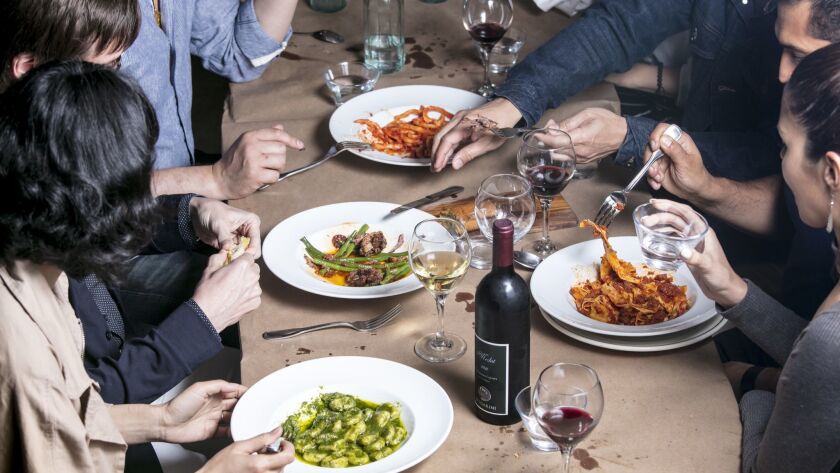 The photo, taken several years ago during a trip to Sicily, shows Bulgarini standing outside the corporate headquarters of Elenka, an Italian company known for its mass-produced semi-lavorati (semi-processed) gelato quick mixes. There is a weary smirk on his face, and he is making a profane gesture — the classic bras d'honneur — squarely in the direction of the building.
"This photo tells my whole story," he laughs.
Bulgarini, a native of Rome, was in Southern Italy at the time to study pastry making when he became obsessed with a question: Why did every pistachio gelato he ate on the island taste the same as the one before? He began to interview local gelato makers, trying to decipher why there was such little variance in the flavor and texture of a product routinely touted as "artisanal."
According to Bulgarini, somebody from Elenka caught wind to him "asking too many questions" and he was summoned to a tête-à-tête at the company's Palermo offices. He remembers sitting at the end of a long conference table ("cornered like a wild animal"), nervously explaining his interest in learning to make gelato from scratch.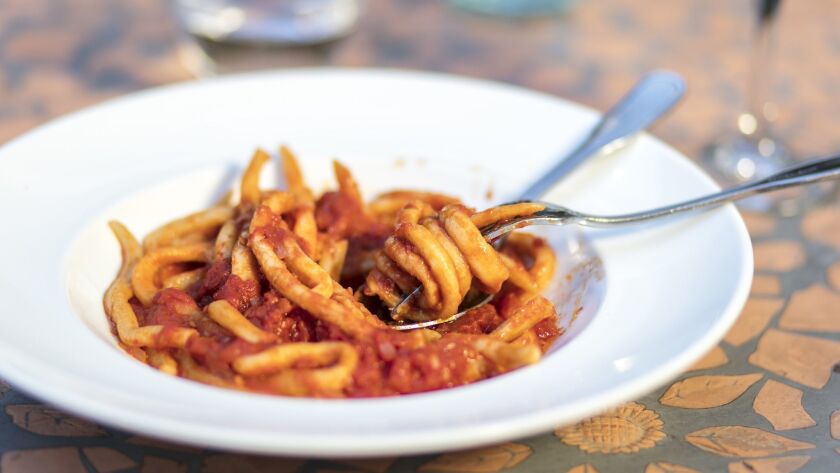 Review: Does Jiang Nan Spring have the SGV's best Shanghainese food? »
Gelato makers using semi-lavorati powdered mixes are allowed to advertise their products as "artisanal," he was told.
"You should go back to the States and use our products," a corporate rep scolded. "It's too hard to make gelato from scratch."
After the meeting, Bulgarini's wife, Elizabeth, took the picture of Bulgarini outside the Elenka building, an image that has become something of a personal totem.
"I'm not against technology," he says. "What I have a problem with is lying to the public."
In Bulgarini's world, "artisanal" is not a buzzword but an operating philosophy. In the past decade, he's built a reputation on obsessively crafted gelato made using the best ingredients he can get his hands on — Bronte pistachios from Sicily, macadamia nuts from Hawaii, Vestri chocolate from Florence. A sommelier by training, Bulgarini's careful sourcing is rooted in a natural fascination with geography, climate and history. He can speak at length about the history of ancient Cretan wines.
Review: At Forn Al Hara in Anaheim, it's all about the flatbreads and cheese boats »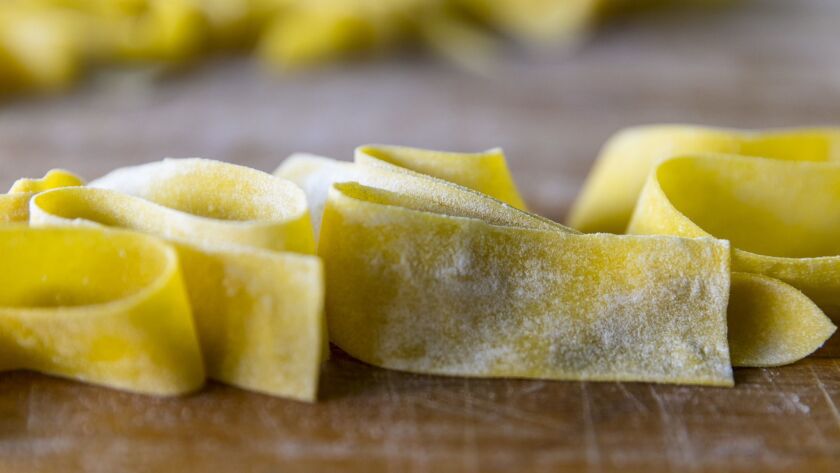 And he will speak to you about them in a space tucked behind a Rite Aid drugstore in an obscure strip mall alleyway; the shop is a dim, shoe box-shaped space, a kitchen workshop more than a traditional dining room. You will sit on a stool at a tall communal table, an arm's length away from an industrial refrigerator filled with imported chocolates, jars of homemade pesto and chilled wine. You will dine in view of assorted kitchen equipment — a meat slicer, a coffee grinder, an espresso machine — scattered across cluttered counters. Laminated wine maps are tacked onto the walls, and there are trays of fresh pasta drying by the front door.
The room hums with the ambient sounds of refrigerators and freezers, including the seldom-lonely gelato case at the front of the room. Even late on a Sunday night, people walk up to the counter at regular intervals, waiting patiently for a cup.
You will want to make a reservation. Bulgarini makes a limited amount of pasta every day, and you don't want to schlep all the way to the San Gabriel foothills only to find the tagliatelle has sold out for the day. With a reservation in hand, Bulgarini is waiting for you. He shakes your hand and pours you a glass of the dark red Zinfandel that he makes himself in Santa Barbara — smooth, deeply flavored, with a hint of dead-ripe cherries.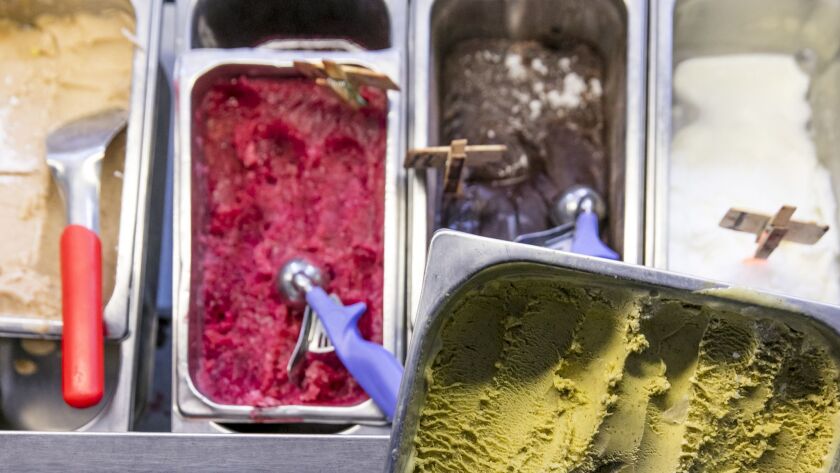 His cooking is centered around clean, classic Tuscan-style pasta dishes, made with ingredients that are neither magnified nor perfected but simply allowed to exist. There is a lovely pici all'aglione, a swirl of long, plump, hand-rolled noodles served in a tangy tomato-garlic sauce. There is what Bulgarini calls his signature dish: pappardelle al cinghiale, a mild egg noodle pasta bolstered by an earthy ragu of wild boar. There are very tender potato gnocchi, super-saturated in a thin, bracingly fresh basil pesto; a bowl of spaghettini in a brilliant lemon-butter sauce; and tagliatelle, smooth and wide as a belt, lathered in a basic yet satisfying red-sauce sugo.
In between savory courses, Bulgarini's obsession with flavor pairings reveals itself in a curious parade of wine-splashed gelati. He serves you a cup of sublime peach gelato with a slosh of aged Spanish Grenache, a combo that teases out the sweetness in both; the pistachio gelato, dribbled with a little Bordeaux, helps tame the natural sweetness of the nut; a little Civitella d'Agliano white wine over a sea salt chocolate gelato levels off the sodium and deepens the nuances of the dark chocolate. The whole thing has the air of a fascinating, delicious science experiment.
Sometimes dinner will end with a braised, heavily sauced short rib served over crisp green beans; other times there is an out-of-left-field dish like seared ahi tuna in a puddle of soy-ginger sauce. Dinner at Bulgarini's, more than almost any other restaurant I can think of, swivels at the whim of the chef. When dinner is over, if you're lucky, Bulgarini will spring one more surprise on you: a small, heavy carton of gelato, which you carry out to the car like a precious ingot of solid gold.
Bulgarini Gelato Artigianale
Gelato chef Leo Bulgarini serves an unconventional pasta and gelato tasting menu in Altadena.
LOCATION
749 E. Altadena Drive, Altadena, (626) 791-6174, bulgarinigelato.com
PRICES
Two-course dinner special $45; four-course tasting menu $75; Chef's Table tasting menu $150; pasta à la carte $20-$26
DETAILS
Credit cards accepted. No bar. Lot parking. Dining room and restroom are wheelchair-accessible.
RECOMMENDED DISHES
Pici all'aglione; pappardelle al cinghiale; pistachio gelato; Chef's Table tasting menu
patricia.escarcega@latimes.com
Twitter: @piescarcega
Instagram: @holynopales
---
Get our weekly Tasting Notes newsletter for reviews, news and more.
You may occasionally receive promotional content from the Los Angeles Times.