Recipe: Fuyu persimmon salad with cumin-lime vinaigrette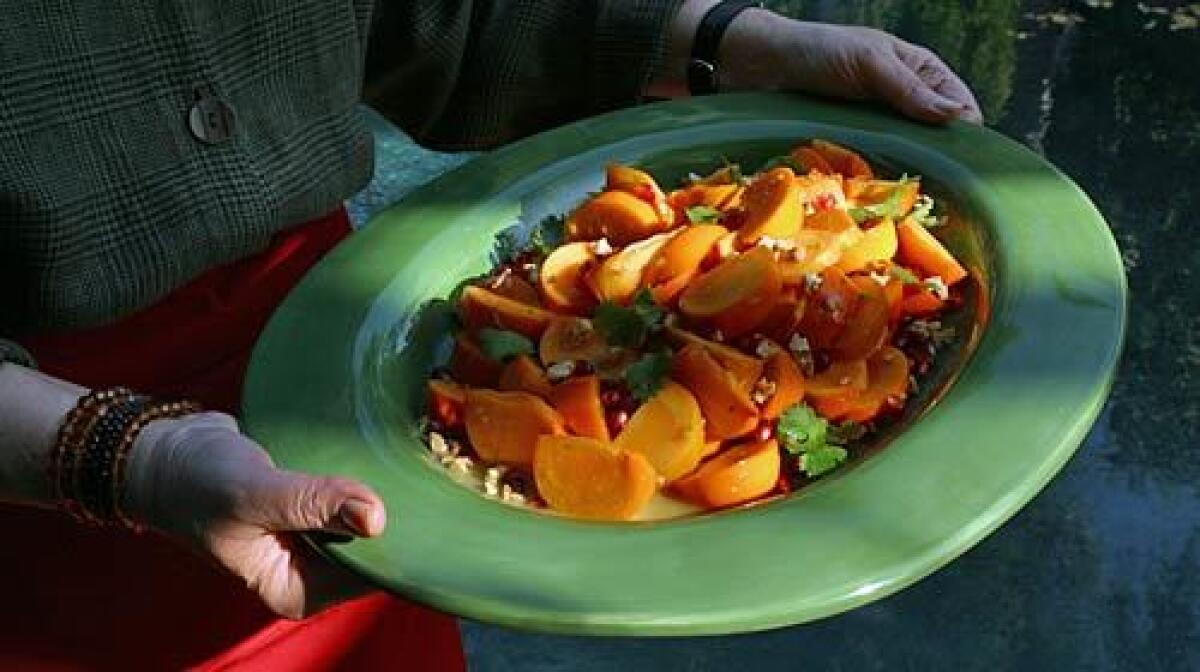 Los Angeles Times Staff Writer
Total time: 40 minutes
Servings: 8 servings
Note: By Russ Parsons. Fuyus are only slightly sweet, so when paired with an assertive vinaigrette, they make a refreshing salad.
2 pounds Fuyu persimmons
Juice of 1 lime
1/2 teaspoon ground cumin
1/2 serrano chile, seeded and minced
Salt
1 tablespoon walnut oil
1/4 cup pomegranate seeds (about 1/4 pomegranate)
3 tablespoons chopped walnuts, toasted
2 tablespoons chopped cilantro
1. Cut off the tough green calyxes and slice each persimmon in 10 to 12 wedges.
2. In a small lidded jar, combine the lime juice, cumin, about half of the chile, a dash of salt and the walnut oil. Tightly cover and shake hard to mix well. Taste the dressing on a small piece of persimmon. There should be just enough chile to add a suggestion of heat. If you'd like it hotter, add more and shake again.
3. Combine the persimmons and the dressing in a work bowl and toss to coat well. Turn the salad out into a decorative bowl and sprinkle with the pomegranate seeds, walnuts and cilantro. Taste and add more salt or lime juice if necessary.
Each of 8 servings: 185 calories; 39 mg. sodium; 0 cholesterol; 4 grams fat; 0 saturated fat; 40 grams carbohydrates; 2 grams protein; 0.30 gram fiber.
Get our L.A. Goes Out newsletter, with the week's best events, to help you explore and experience our city.
You may occasionally receive promotional content from the Los Angeles Times.