Find <i>carne asada ranchera</i>, <i>zabihah</i> halal meat and more at these family-run butcher shops
Traditional meat shops, where the butcher knows your name and cuts steaks exactly to your liking, may be tough to come by these days, but they are by no means extinct. Need proof? Visit the following family-owned butcher shops in Los Angeles. Each has been operated by multiple generations, and more than one likened itself to the bar in the sitcom "Cheers."
Hacienda Village Meats & Italian Deli
"I fell in love with him when I was 10," Silvia Viola said about her husband, George Viola, then a 21-year-old butcher in Hacienda Heights. She used to go to his shop with her mom, who clipped his coupons from the PennySaver and used them to buy steaks, cold cuts and daily specials.
Thirty-four years ago, George made Silvia ham-and-cheese sandwiches and didn't tell on her and her friends when they skipped school to buy pickles from the deli.
Today, he runs Hacienda Village Meats & Italian Deli the same way he always has — homemade sausages and pasta sauces and all — but he does it with the help of Silvia and their three kids: Rafael, 27, Chris, 25, and Giovanna, 10.
George's shop is best known for beef, specializing in rib-eyes, New York strips and porterhouses and offering a dozen other cuts, plus about 15 pre-marinated options. If you want something more unusual, such as sweetbreads or a special-occasion crown roast, he can get it for you with a few days' notice. And if you're making Italian for dinner, you can buy pasta, olives, wine and other groceries while you're waiting for your meat.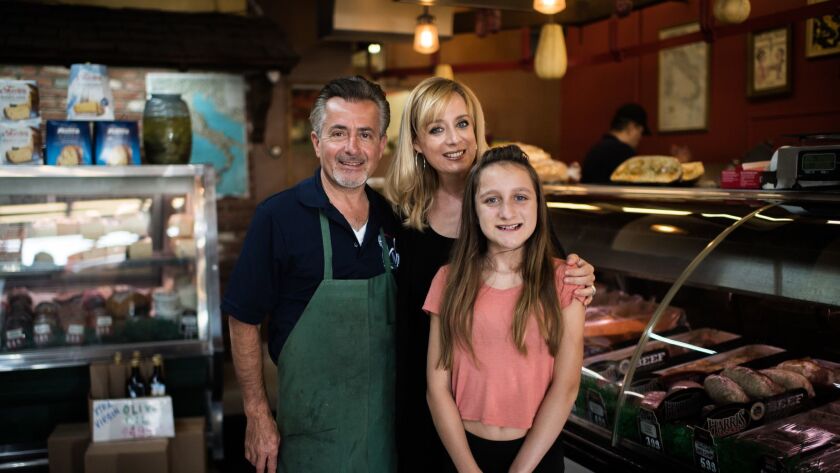 "We could go somewhere more modern," said customer Gary Smith, referring to the shop's no-frills decor and location in a strip mall. He was eating lunch at the deli with co-worker Garry Frost, just as they have about twice a week for more than 20 years.
"But this is more comfortable," Smith said. "It feels like we're connected."
Some customers feel so comfortable with George that they call his personal phone number to ask him about anything from storing meat to cooking chicken cordon bleu.
"It's like opening a door to your house, and everybody comes in and out to the point where you get to learn their problems," Silvia said.
The Viola family revolves around meat. George arrives at the deli at 6:45 a.m. six days a week to cook lasagna, seafood salad and other prepared foods. He spends the rest of the day behind the butcher counter with his son Chris' help. From time to time, Silvia makes sandwiches and works the cash register, and Giovanna cleans the trays.
They vary in age, but each Viola talks about meat in the same adoring way. Silvia calls her husband's cuts the "Dolce & Gabbana of meat." George constantly goes to the supermarket to make sure that what he's offering is better. And Chris has forged a career path based on his father's business; his dream is to open his own butcher shop.
Info: Hacienda Village Meats & Italian Deli, 2021 Hacienda Blvd., Hacienda Heights, (626) 330-5555, haciendavillagemeatsanditaliandeli.com.
Catalina's Market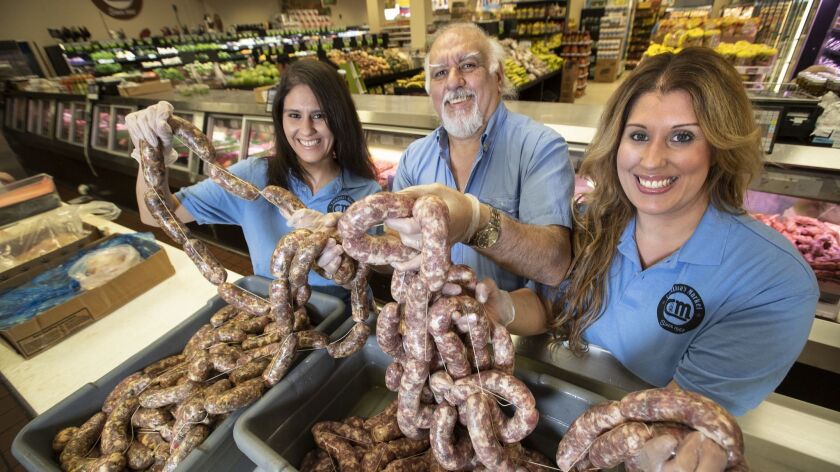 Catalina's Market is where you go when you're in Hollywood but would rather be in Argentina. It's where you stock up on meats that taste just like the asados (barbecues) you used to have with your Argentine extended family and where you hunt for alfajores (sandwich cookies) to be reminded of the dulce-de-leche-fueled adventures you had during a trip to South America.
The Hollywood market is owned and operated by the second- and third-generation descendants of Catalina and Felipe Corrado Sr., Argentine immigrants who decided to pursue in the United States what they knew best at home: butchery and the delicatessen business.
The Corrados opened a small meat shop and deli in Pasadena in 1967, selling hand-folded empanadas and family-recipe Argentine sausages. It soon became a staple among the city's South and Central American communities. It moved to its current spot on Santa Monica Boulevard and Western Avenue in 1982, and now it's a full-blown Argentine grocery store, still in the family and still making the same empanadas and sausages.
The butcher counter, specializing in Argentine-style short ribs, skirt steaks and sausages, complements the market's imported South American products. Customers browse the aisles for groceries from their home countries, and everyone stops by the meat counter to find cuts of meat they've enjoyed in Argentina.
The fact that Brazilians can find their Guaraná acai soda, Peruvians their Inca Kola and Argentines their membrillo (quince paste) also keeps them loyal to the store, said Diana Corrado, Felipe's daughter and the kitchen manager.
"To see people's faces when we carry something that they don't think we carry, it's amazing, it's like a kid on Christmas," she said.
Felipe, now 66, half-joked about being ready to retire. He reminisced on the old days, when he paid high school girls to fold empanadas by hand for 2 cents apiece.
"Now we have the machine. It's OK, but I still like the old-fashioned way," he said.
Info: Catalina's Market, 1070 N. Western Ave., Hollywood, (323) 464-1064, catalinasmarket.com.
Carniceria Don Juan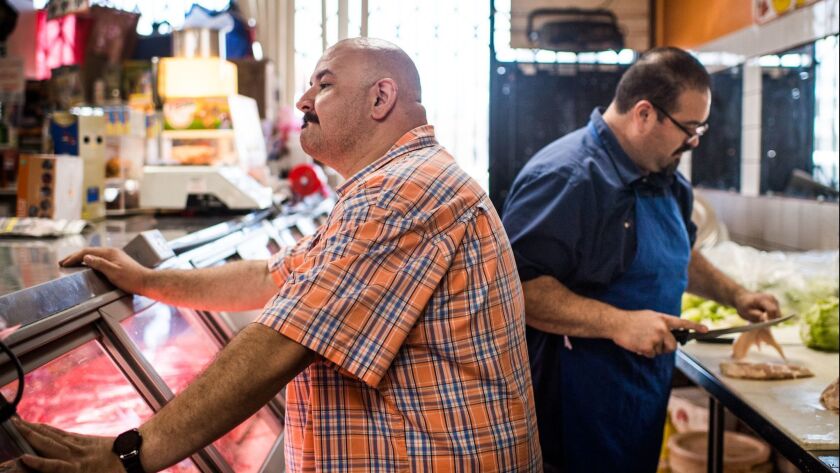 Brothers Juan and Isaac Gonzalez eat, sleep and breathe Carniceria Don Juan, the butcher shop and small grocery store chain they co-own in Van Nuys and North Hollywood.
"This was actually our honeymoon," said Juan, gesturing to his wife, Lisa Gonzalez, about opening the business' second location the day after they got married.
"I didn't see him for a few months," Lisa laughed.
Isaac runs the original store in Van Nuys, opened by their father in 1991, and Juan runs the other in North Hollywood. They both have children, and the ones who are old enough to work earn a few extra bucks by stocking shelves.
The brothers share the same business philosophy:
"If you can't serve it to your family, don't serve it to my customers," Juan said.
They hold their meat, including specialties such as marinated carne asada ranchera, carnitas and milanesa-ready cuts, to high standards and have to price it accordingly.
The shops are flexible with customers. If someone wants an off-menu item, such as pork chops or shrimp fajitas, the cooks will make it. If nearby middle schoolers want tacos during their half-hour lunch period, Juan will take their orders via text. He usually works 12 hours a day.
"You miss a lot of Little League games, and you wonder why," Juan said, wiping tears from his eyes. "It's a blessing to be able to feed your family."
When asked if they wanted their kids to take over the business one day, both brothers said they would support whatever they want to do.
"It's an option," Juan said. "But I don't want it to be the first option."
Info: Carniceria Don Juan Van Nuys, 14103 Victory Blvd. No. 1, (818) 901-8971; Carniceria Don Juan North Hollywood, 12922 Vanowen St., (818) 759-4838, carniceriadonjuanca.com.
Family Halal Meat Market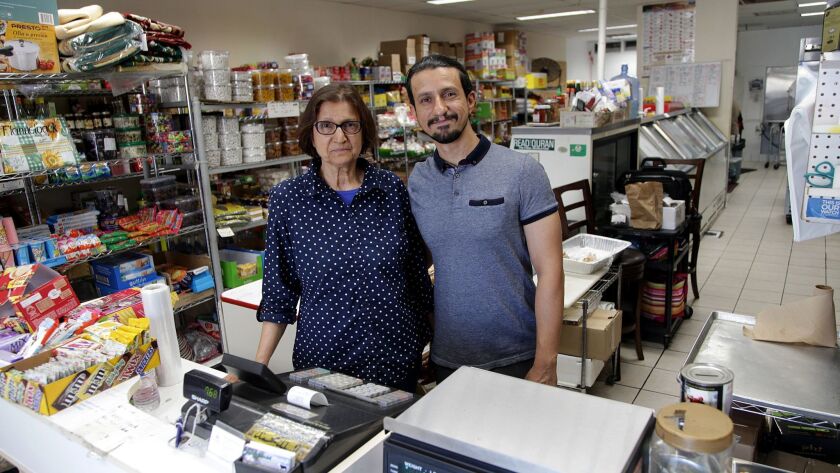 Karima Widaa said she had the best job. In the 1970s, she was one of very few female newscasters in Kabul, Afghanistan. She never would have guessed that she'd soon be fleeing the Soviet-Afghan war, moving to the U.S. as a single mother of two children.
In a new country, she opened a hot dog cart, an ice cream truck, a stall at a swap meet and then Family Halal Meat Market in 2000 — not out of any particular passion, but to survive.
"The beginning was very hard to cope. I didn't know how to run this business," she said about buying the halal butcher shop.
With her son, Otto Tahouri, and her brother, Najibullah Ahmadian, she made the Northridge shop what it is today: a storefront and delivery service specializing in zabihah halal meat and Middle Eastern goods.
Family Halal's most popular meats are organic chicken and lamb, which can easily be turned into meals with groceries like samosas, dal and hard-to-find halal goods, including marshmallows and gelatin.
Most customers are Muslim, Tahouri said, but he also sees a lot of Jewish people because halal and kosher laws are relatively similar. On Thursdays, he said, Indian customers come for goat, lamb and veal, slaughtered the day before.
"It's nice to meet actually different people," Widaa said. She retired a year ago, but she still spends a few hours at the store every weekend.
"Then you find out the way they eat, the way they celebrate some religious celebrations, is mostly the same."
Info: Family Halal Meat Market, 8363 Reseda Blvd. No. 4, Northridge, (818) 349-2222, halalzabihahmeat.com.
Editor's note: Do you have a favorite neighborhood butcher in Southern California? Use the comments section to tell us what we might have missed.
---
Get our weekly Tasting Notes newsletter for reviews, news and more.
You may occasionally receive promotional content from the Los Angeles Times.