Review: The Farmhouse at Roger's Gardens suffers from convoluted cooking
Restaurant Critic
The Farmhouse is the high temple of alfresco dining in Corona del Mar, where the streets are named after flowers and patio life is practically a sacrament.
Chef Rich Mead's popular "field-to-fork" restaurant opened almost three years ago inside Roger's Gardens, the seven-acre luxury nursery whose grounds more closely resemble a well-groomed botanical garden than the sort of place you go to buy potting soil and grass seed.
The restaurant is tucked in the rear of the nursery, through a grape arbor entrance and down a long, elegantly rustic wooden walkway that opens up to a buzzy, wine-soaked open-air dining room that's designed to transport you to wine country. You can't turn around without bumping into a sweet-smelling box hedge or herb garden or a repurposed wine barrel exploding with flowering plants; even the parking lot smells of fresh roses. Early in the evening, on the cusp of summer, there may not be a lovelier patio in Orange County.
Review: Sinatra hangout Dear John's is going out in style »
The restaurant's most distinguishing virtue is an all-encompassing dedication to comfort. There are heaters built into the rafters. Soft, woolly blankets are draped over every bistro chair, lest you still get chilly. Service is amenable, earnest and responsive. A half-filled water glass is refilled within seconds. A clean fork promptly replaces a dropped one. The slightest intimation of discomfort sends someone scurrying to your table.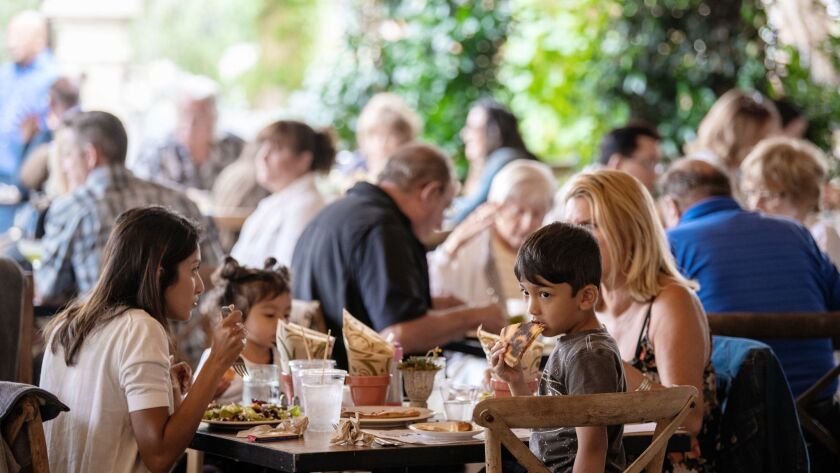 The kitchen is led by Mead, widely regarded as a key supporter of local growers and sustainability. He is probably best known for the now-closed Sage and Sage on the Coast, two long-running Newport Beach restaurants whose menus hinged on the chef's weekly runs to the Santa Monica farmers market.
At the Farmhouse, Mead's menu is willfully eclectic ⁠— there are complicated salads, creative Asian-inspired small plates and oversize bowls full of chewy grains and vegetables. The restaurant's close allegiance to farm-to-table sourcing raises a sobering real-world question: What happens when prized ingredients are matched with poor design and execution? Too many dishes falter in similar ways — indifferently cooked, bluntly flavored or overpowered by too many ingredients.
Review: At Bulgarini in Altadena, a gelato master tries his hand at pasta »
Case in point: a convoluted bowl of sliced Chinese sausage tossed with dried shrimp, kimchi, caramelized onions, sprouting broccoli and green onions served over a base of fish sauce-deluged rye berries. The bowl, crowned with a rubbery fried egg, quickly slips into a brown, salty torpor. A chicken liver pâté is whipped to a thick, silken pudding, but the flavor is musty and oppressively organy.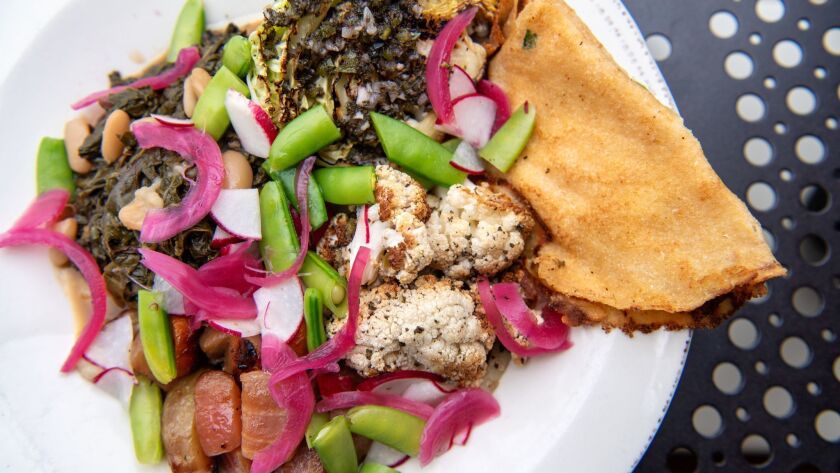 Soy sauce-slathered "Asian" short ribs are nicely grilled and charred, but they're paired halfheartedly with thick leaves of butter lettuce and a drab green papaya salad; the combination registers as fast-casual fodder.
The most satisfying starter is the daily wood-fired pizza: a puffy, blistery pie blanketed in sweet tomato sauce, studded with elegant rounds of salty soppressata, with a wet center radiating to a satisfyingly crisp crust.
The restaurant's signature entree is the Farmhouse vegetable bowl, a dish whose ingredients are lightly revised according to the season. On a recent visit, it was plumped out with a bulky wedge of roasted savoy cabbage; cauliflower sauced with a vinegary chimichurri; a heavy puree of satsumaimo sweet potatoes and cauliflower; and braised greens spiked with undercooked cannellini beans. Sugar snap peas, bits of radish and pickled red onion relish were squeezed in there too, and it was served with two slightly oily cauliflower tortillas. The bowl⁠ — a dense, sluggish welter of fibrous things⁠ — is a slog.
Grilled pork tenderloin is slightly more compelling, although it's slathered in an unappealingly tangy port-dried cherry sauce. Homemade pappardelle in a tomato Pernod cream, served with sea scallops, shrimp and mussels, is solid yet passionless. Icelandic cod crusted in a Dijon and citrus panko batter is conspicuously underseasoned, as is the grilled Moroccan-spiced swordfish served over a dull English pea puree. The dish relies heavily on a tangy-sweet Mandarin orange gastrique for a jolt of flavor. But the effect is as inelegant and overpowering as dousing white bread with ketchup.
How far can beauty, service and farm-to-table credentials carry a restaurant? Pretty far. But even the most beautiful temples need level ground to stand on.
Farmhouse at Roger's Gardens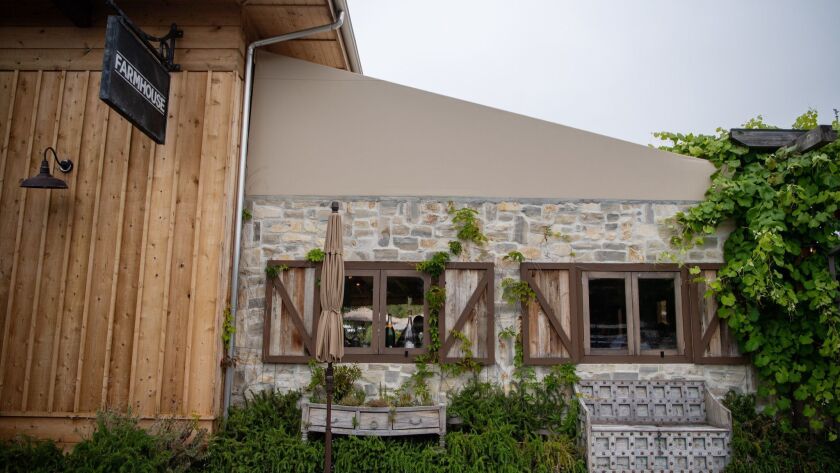 At chef Rich Mead's "field-to-fork" restaurant in Corona del Mar, the bucolic alfresco dining room is a destination for ambience and service — though the menu doesn't always live up to expectations.
LOCATION
2301 San Joaquin Hills Road, Corona Del Mar, (949) 640-1415, farmhouserg.com
PRICES
Salads $12-$17; starters $15-$17; entrees $17.5-$62
DETAILS
Credit cards accepted. Full bar. Lot parking. Dining room and restroom are wheelchair-accessible.
RECOMMENDED DISHES
Pizza of the day; pappardelle with sea scallops, shrimp and mussels; grilled Asian-style beef short ribs
patricia.escarcega@latimes.com
Twitter: @piescarcega
---
Get our weekly Tasting Notes newsletter for reviews, news and more.
You may occasionally receive promotional content from the Los Angeles Times.