The Find: Cafecito Organico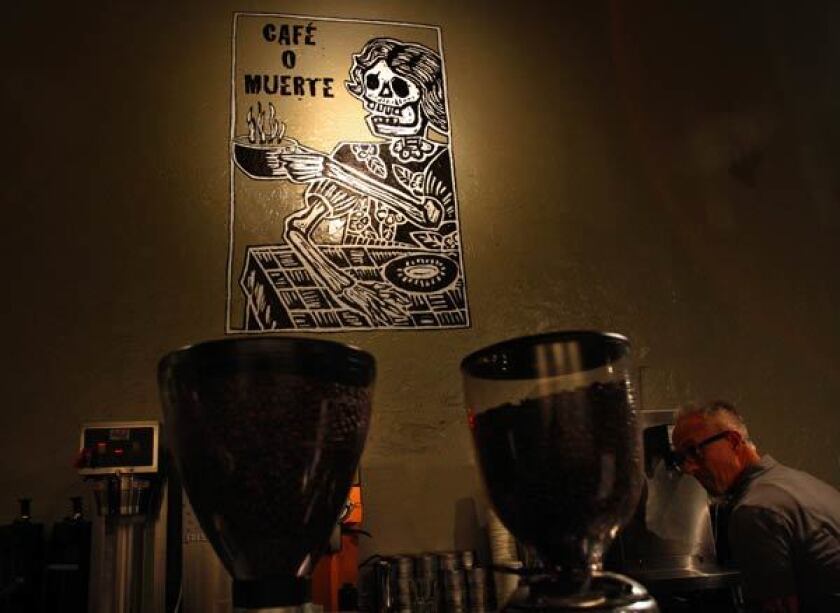 The corner of Heliotrope and Melrose might be the new cutting edge for bargain-basement culinary delights. Right next to avant-garde ice creamery Scoops is the second branch of Cafecito Organico. You can get your two scoops of experimental beet-cashew and salty mascarpone ice cream for $3, then walk next door and get an individually dripped, single-origin mug of coffee for $2.50. It's complete gustatory bliss for not that much more than the price of a Happy Meal.
The Heliotrope Cafecito is a sweet little place. It's down the block from Los Angeles City College and it's built for students: lots of inside seating, big communal tables. Music is an iPod running through a guitar amp. There aren't any fancy barista uniforms, just some chilled-out youngsters behind the counter — though there's a gleam of fanaticism in their eye when they take up their coffee-making implements.
Angel Orozco — founder, roaster and co-owner — started on the supply side of the coffee business. He became a roaster, then a farmers market vendor and finally opened the first retail location of Cafecito on Hoover Avenue earlier this year, and the second location on Heliotrope a little more than a month ago. They'll do you all the perfect foamed little espresso drinks you want, but if you chat for a while with the folks behind the counter, you'll figure out where the shop's heart is at: single-origin, Central American coffees, roasted light and individually dripped, to show off the peculiar soul of each bean.
Individual preparation is an intricate process that takes about five minutes a cup. Baristas carefully weigh the coffee grounds; some of the more obsessive baristas weigh the water. They have various drip devices (the Hario V60 pour-over and the Clever, a hybrid between the V60 and a French press), and they have opinions about which device better shows off which bean. There's pre-wetting and pre-warming and the sort of intense attention to detail that you might expect during an all-out tea ceremony but not for a $2.50 mug of coffee. During the rushes they'll resort to brewing bigger batches of coffee, but you can always get any origin you like individually dripped for the same price, just by asking.
The affordability is part of the point. Orozco's beans are organic, his roasting process is green and the disposables are all soy-based, but he doesn't want to price out people in the community.
He also happens to make some of the best drip coffee in Los Angeles. The Nicaraguan drip is full of complex chocolate and mushroom notes and the tiniest bit of ginger burn. Guatemalan drip is luminous, with subtly glowing orange rind and dense nutty flavors, and a wild pepperiness. And Costa Rican is like drinking dark wine made from nuts. Orozco plans to start guided tastings and brewing seminars.
Espresso shots are all ristretto — short and intense. The aesthetic here leans toward the complex, dark and spiky. It's Joan Jett punching you in the nose. The iced coffee is unexpectedly wonderful, made from cold-brewed coffee concentrate, brewed for almost a day. The process gets you brilliantly etched, live-wire coffee, worth checking out, even by coffee snobs.
The Heliotrope branch is set up for hot food; there's a pleasant bison sandwich (sort of a progressive hippie California version of a pulled-pork sandwich) and hot skillets full of egg and potato. The original branch, on Hoover Avenue, is a bright orange triangle stuck in a residential neighborhood. That one has a slightly larger variety of coffees, a comfy patio and, if possible, an even chiller vibe than the Heliotrope branch. People tap away at laptops; punker girls in argyle leggings pass around headphones.
The coffee brewing is a strange sort of art; perfection varies with each bean, with each roast, with each day's weather. Sometimes the coffee's just pretty good. But on a good brew, you might manage to get a mug of quietly mind-bending, hot, singing, black joy. What else do you want for $2.50?
LOCATIONS: 534 N. Hoover St., Los Angeles, (213) 537-8367; and 710 N. Heliotrope Drive, Los Angeles, (213) 537-8367; https://www.cafecitoorganico.com.
PRICE: Coffee drinks $2.50 to $5; pastries $2 to $2.50; entrees $6 to $11.
DETAILS: Hoover shop: 6 a.m. to 7 p.m. Monday to Friday; 7 a.m. to 6 p.m. Saturday and Sunday. Heliotrope shop: 6:30 a.m. to 6 p.m. Monday; 6:30 a.m. to 10 p.m. Tuesday to Friday; 9 a.m. to 10 p.m. Saturday; 9 a.m. to 8 p.m. Sunday. Both locations: credit cards accepted. Street parking.
---
Get our weekly Tasting Notes newsletter for reviews, news and more.
You may occasionally receive promotional content from the Los Angeles Times.