The Find: Taco María truck survives the downturn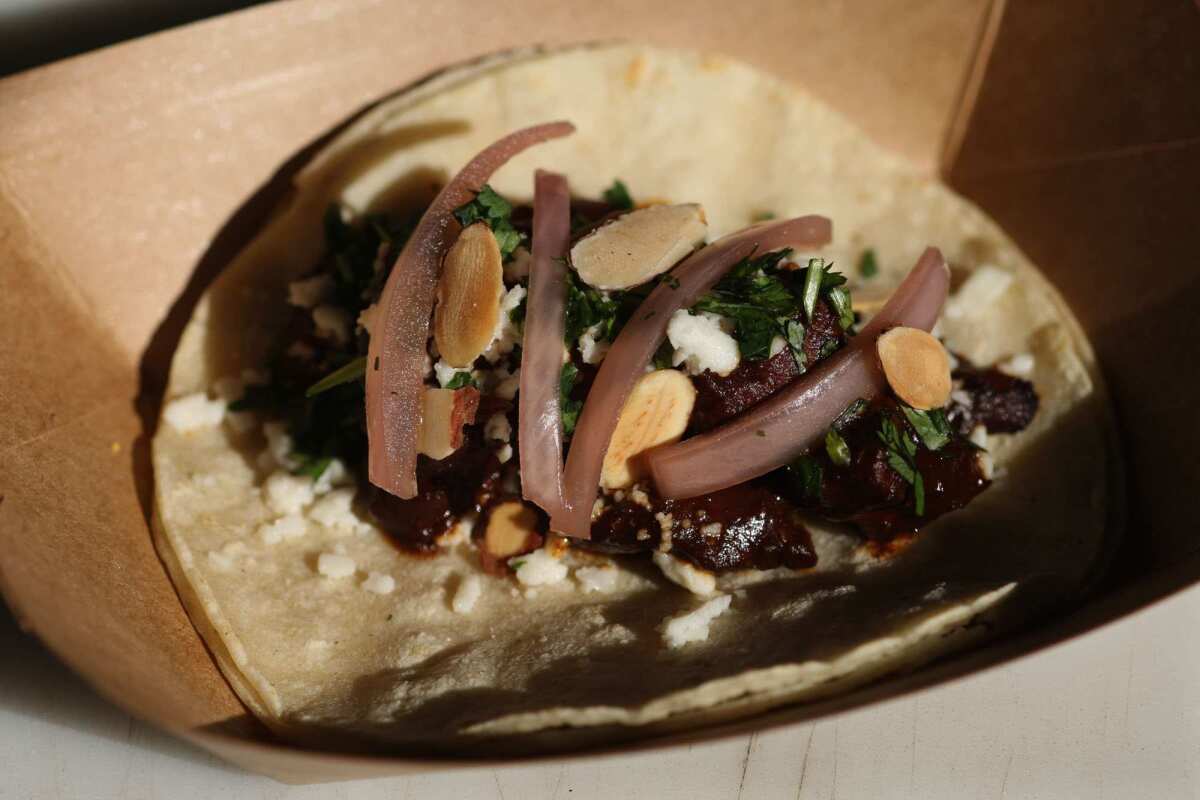 Special to The Los Angeles Times
When food truck fatigue finally set in among the Twitter-equipped some time last year, the mobile movement all but stalled. Gone were the throngs that waited for hours, their attentions shifted instead to newly minted food artisans and itinerant pop-up restaurants. But in a Darwinian twist, only the strongest trucks have survived. And though the thrill of the chase may be gone for some, what remains are by and large the best meals on wheels.
Taco María is a product of that natural selection. The truck is helmed by Carlos Salgado, whose culinary pedigree instantly drove Taco María onto the radar screen of every serious Orange County eater. His has indeed an impressive résumé: Salgado served as pastry chef in some of the Bay Area's top restaurants, including Daniel Patterson's Coi and Oakland's Commis. He returned home to Orange County to help his parents transform the family's taquería. Taco María is what emerged from that reinvention, a truck that's constantly re-imagining lonchera traditions with the techniques and style of Mexican alta cocina.
"My parents' restaurant, La Siesta [in Orange], has been in business for over 25 years," Salgado says. "It was when they started talking about selling a few years ago that I began pointing myself back toward my hometown. Taco María was to be an extension of the restaurant and a flagship for our catering operations.
"Coming to work for a different audience, at a different price point, I've had to simplify my approach and distill the cooking ethics that are most important to me into a method that works within the food truck model. And while I may not have a kitchen full of highly trained, Michelin-quality cooks, a Pacojet, Cryovac machine or a dozen immersion circulators, I do have my family to support me and keep me grounded. My dad is the best sous-chef I could imagine having."
Those at the truck inevitably start with the aracherra taco, made with grilled hanger steak, a blistered shisito pepper, caramelized onion and bacon's smoky quintessence. The taco has both the humble charm of a backyard barbecue and the finesse of a fine steakhouse.
Yet even the most hard-core carnivores ultimately end up ordering the jardineros taco as well: knobs of roasted pumpkin, black beans, cotija cheese and a pumpkin seed salsa de semillas. There's no need for meat — this is a vegetarian taco built not on the artifice of mock meat or incongruous fusion but on the simple rhythms of the market.
If the aracherra doesn't sway you, there's always the carnitas. The slow-cooked pork shoulder is lashed with a bit of citrus and enlivened by the noticeable warmth of cinnamon. The mole de pollo is even more richly spiced — the mahogany mole is as complex as an Indian curry.
But Taco María's ever-changing specials are its signature. The truck's quesadilla de tuétano triggers Pavlovian devotion. It's a dish already cemented in food truck lore: crisp nuggets of bone marrow, stringy queso Oaxaca and a garlic-and-herb paste pulverized in a molcajete. It's predictably rich but powerfully addictive.
Salgado's rendition of esquites is similarly good, chile- and lime-laced corn sautéed with garlic, thyme and epazote in a butter flavored with blackened corncobs and toasty husks.
"I was telling [my] mom about some of my favorite foods and struggling to find a translation for bone marrow," Salgado explains. "She said something like, 'I think we used to make quesadillas [with that].' I was floored and immediately wrote it into our opening menu. What I assumed would be a fringe dish for the adventurous actually turned out to be incredibly popular. My whole staff has cuts and scrapes on their hands from pushing marrow every day just to meet demand."
It isn't brunch without the truck's excellent chilaquiles: freshly fried tortilla chips enrobed in a cascabel chile sauce and topped with pickled onions, queso fresco and a fried egg. Taco María isn't all about masa, either — any taco can be turned into a burrito. And you've really got to try the beet salad dressed with avocado, orange, almonds and charred scallion vinaigrette.
There may be a melon-lemon grass agua fresca to drink, or perhaps one flush with hibiscus and Concord grape. Salgado's almond horchata, however, is what you'll want a jug of, almond milk perfumed with coriander seeds. It's a brilliant addition: fragrant and floral, the coriander is at once unmistakable and ingeniously subtle.
Whether it's by an obsessive need for completion or sheer force of will, you will find room for dessert. Salgado's sweets are every bit as good as his pastry training portends, like the steamed chocolate bread pudding strewn with fried peanuts and glazed with milky caramel. When there isn't dense rice pudding scented with star anise and cinnamon, there's a glorious ricotta flan of homemade ricotta, caramel and a few sangria-soaked raspberries.
Witness the truck's crowds at Orange County's farmers markets and business parks and you begin to understand Taco María's growing cult, a purveyor of precisely the kind of modern Mexican cooking that's destined not for disposable cardboard containers but fine porcelain.
Salgado hints at that future. "It's still too early for us to share details, but we're excited about creating a unique type of Mexican restaurant here in Orange County, where Mexican food is such a large part of our shared experience. Exactly where and when depend on how far our truck, Frida, can take us. What I can say is that the restaurant will remain local, honest and accessible, with a menu that is recognizably Mexican in soul, in a space that is central, warm and inviting and will hopefully become a fixture in our own community."
---
Get our weekly Tasting Notes newsletter for reviews, news and more.
You may occasionally receive promotional content from the Los Angeles Times.