The Find: Del Tomate, a tasty Argentina-Italy hybrid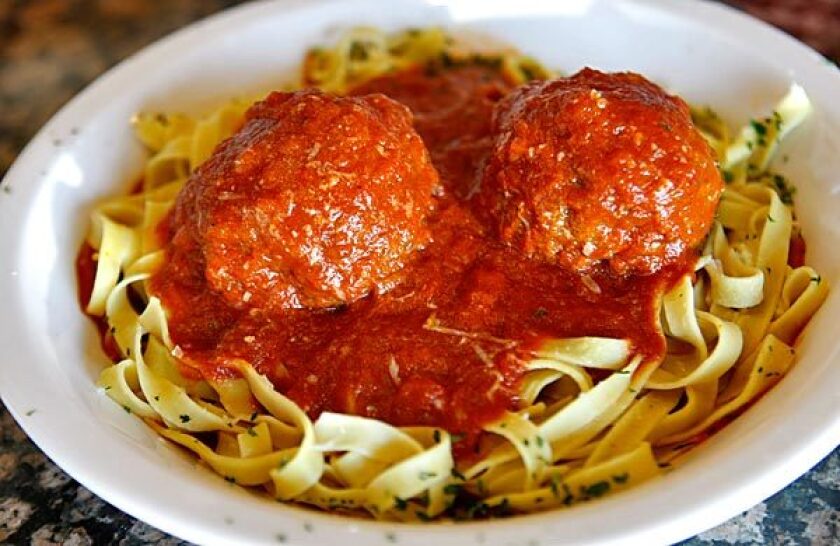 There's a kind of heartland excess at many Argentine restaurants, palaces of meat that offer as good a lesson in bovine anatomy as any abattoir. But Del Tomate doesn't indulge in steakhouse gluttony. Instead, the 2-month-old Tustin restaurant busies itself draping ribbons of prosciutto and kneading handmade pastas, the essentials of a streamlined and simplified Argentine-Italian cafe.
Del Tomate's cooking is a South American invention, a hybrid cuisine that evolved after waves of Italian immigration to Argentina. It's a cross-cultural heritage shared by owners Guillermo and Susana Giacobbe, the husband-and-wife team who one minute might be streaking butter across spongy Argentine white bread and the next piping dulce de leche mousse into delicate profiteroles.
The restaurant is an all-day affair. Warm your morning first with a cortado (an eye-widening espresso cut with a measure of milk) or mate cocido (toasted yerba mate steeped like herbal tea). Those who start sweet can linger over one of Susana's wonderful pastries while others fill up on Del Tomate's substantial tortilla Argentina, the egg and potato frittata localized and assimilated into the Argentine diet.
Of course, there are always empanadas. They're objects of admiration here: Shells that shine with the luster of burnished pine, braided edges that barely contain their contents. Del Tomate sticks to the staples, filling its empanadas with beef, chicken, ham and cheese, spinach or creamed corn. Each has its own adherents, though the spinach is particularly good, shocked to life by an extra dab of garlicky chimichurri.
DINING GUIDE: Looking for a good place to eat? We've mapped more than 300 of our latest restaurant Reviews and Finds, so a great recommendation is always nearby.
Those committed to a light lunch are drawn to the ever-changing roster of soups — perhaps creamy butternut squash for a gloomy afternoon or an all-weather chicken and vegetable. Serious snackers, however, should seek out the picatablin, a platter of olives, cured meats, cheeses, house-made focaccia and pickled vegetables that will be even better with the restaurant's upcoming beer and wine license.
Loaves of bread are baked on site for a lineup of sandwiches. Crusty loaves of French bread come still steaming from the oven. Anchoring the sandwich offerings is the entraña: seared skirt steak, lettuce, tomato and chimichurri. It's Argentina in a few meaty, vinegary bites. The milanesa, meanwhile, is a marvel of construction, nearly toppling from such a tower of fried veal.
Pork authorities find comfort in the cold sandwiches. The restaurant's Italian-inspired hoagie packs in maximum meat, layers of capicola, mortadella, salame, ham and provolone. The miga especial, however, is a traditional teatime indulgence: Argentine white bread, prosciutto and provolone all held together with a bit of butter.
Dinner demands a hearty plate of pasta. The Giacobbes make all theirs in-house, not just the flat strands of tagliatelle but the rippled sheets of lasagna too. That tagliatelle is a highlight, optionally available in spinach or red pepper varieties and topped best with a couple of hulking meatballs. Ravioli are rightfully revered here, taut, tender pouches of beef, chicken or cheese swollen like overstuffed pillows.
Whatever the hour, meals always end at the dessert case. There are the requisite alfajores, buttery cornstarch cookies sandwiching a smear of dulce de leche, as well as a fine isla flotante, an island of fluffy meringue rising from a pool of caramel. Argentine-style cannoli are piled in a neat, cream-stuffed stack, but don't overlook the excellent strawberry cheesecake. Each airy slice is slicked with fresh strawberry preserves, as much a simple celebration of the season as it is an ode to the restaurant's hybrid heritage.
Del Tomate
LOCATION: 137 W. 1st St., Suite A, Tustin, (714) 731-1738, del-tomate.com.
PRICES: Appetizers, $1.60 to $13; sandwiches, $5 to $9; pastas and entrees, $9.50 to $13; desserts and drinks, $1.50 to $5.
DETAILS: Open 7 a.m. to 9 p.m Monday through Saturday and 8 a.m. to 3 p.m. Sunday. Lot parking. Credit cards accepted.
---
Get our weekly Tasting Notes newsletter for reviews, news and more.
You may occasionally receive promotional content from the Los Angeles Times.