The Find: Toni's Soul Burgers, Otis Jackson's Soul Dog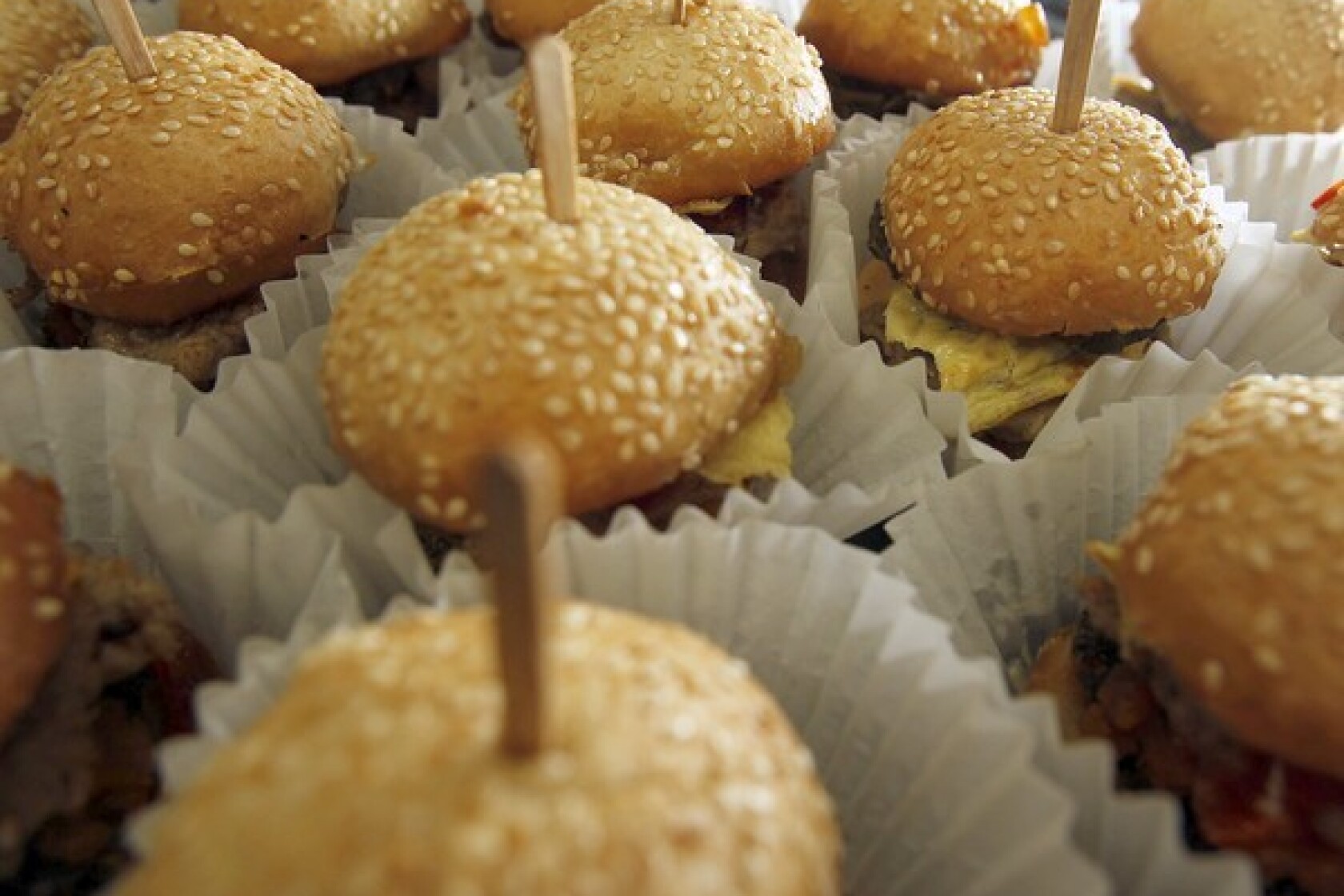 A platter of sliders at Toni's Soul Burgers in Inglewood.
(Luis Sinco / Los Angeles Times)
Javon Malone and his mother, Toni, are the proprietors of Toni's Soul Burgers. They specialize in turkey patty burgers.
(Luis Sinco / Los Angeles Times)
Erica Jones serves up a BBQ Soul Burger at Soul Burger in Inglewood.
(Luis Sinco / Los Angeles Times)
Chef Q makes a Soul Dog for a customer at Otis Jackson's Soul Dog in North Hollywood.
(Genaro Molina / Los Angeles Times)
The Soul Dog is made with a beef hot dog, bacon crumbles, a collard greens-and-cucumber relish, and sweet potato puree on an artisan bun.
(Genaro Molina / Los Angeles Times)
Don Scott, co-owner of Otis Jackson's Soul Dog, bags an order to go for a pair of customers.
(Genaro Molina / Los Angeles Times)
A portion of a mural at Soul Dog by artist Steve Engel and Michaela Tomassini, "Ode to Ernie," features a sign that reads, "No mystery in our Meat." The restaurant uses no nitrates or artificial preservatives in its food. The painting is a tribute to artist Ernie Barnes and features people who live in North Hollywood.
(Genaro Molina / Los Angeles Times)
Special to the Los Angeles Times
For every restaurant whose menu reads like a doctoral thesis on globalization, there are those that still consider a kind of insular Americana the noblest pursuit. These are the dens of hard-line pit masters and down-home confectioners, restaurants where the American culinary heritage provides incubation for innovation.
At the similarly minded but altogether unaffiliated Toni's Soul Burgers in Inglewood and Otis Jackson's Soul Dog in North Hollywood, that American ingenuity takes the form of a double dose of comfort: hybridized hamburgers and hot dogs fused with soul food.
Toni Malone's towering burgers may be the most ambitious in all of Los Angeles. Yet there are no contrivances here: no custom-ground meat blends, no willful denial of ketchup and no flavors fortified by what might otherwise amount to a chemistry experiment. Instead, the restaurant's signature burger is a tender, hand-formed turkey patty, a crispy lattice of turkey bacon, a firmly fried egg, a single slice of cheese, sweet mashed yams and wilted collard greens on a gently toasted sesame-seed bun. It's a triumph of maximalism, a burger in expert balance despite its seeming overabundance of ingredients.
Each soul burger is constructed in a tiny storefront so close to Hollywood Park that you can nearly hear hooves hitting dirt. What scarce space there is has been decorated with framed photos of soul and R&B legends, a nod to Malone's own powerful voice. Neighborhood kids and young families crowd in for takeout while Malone, earnest and effervescent, explains the intricacies of her burgers to those here for the first time.
Emerging from some sort of feverish, tryptophan-induced haze is the Down-Home Burger. It's Thanksgiving on a bun: a juicy turkey patty, a few strips of turkey bacon, peppery stuffing, tart cranberry sauce, an egg, cheese and a thin layer of greens. It's festive and delicious, like something you might have fantasized about while staring at tubs of holiday leftovers but were never brave enough to build.
There are about a dozen burgers in all — some doused with barbecue sauce, others slicked with gravy. There are others too that skip those glorious turkey patties for fried chicken breasts and fillets of sole. Each has a certain novelty, but all are legitimately excellent — these are thoroughly unique burgers with as much heart as flavor.
Otis Jackson's Soul Dog is cast from a similarly soulful mold. The restaurant is at the nexus of North Hollywood's Arts District, a few blocks of bars and galleries where you're just as likely to find students clutching canvases as you are office dwellers poking at their smartphones. Apropos of its location, Soul Dog cooks what it calls "conscious comfort food" — its hot dogs are nitrate- and preservative-free, its fried chicken is free-range and all its soul food toppings and sides are prepared in-house.
Those about to snap through a soul dog for the first time inevitably order the restaurant's signature, an all-beef frank topped with a few spoonfuls of collard green-cucumber relish, streaks of sweet potato purée and crumbled bacon. It's a complementary collection of flavors: The shards of salty bacon temper the relatively sugary sweet potato purée; the clever collard green-cucumber relish cools the still-steaming hot dog.
The Country Dog has a bit more bite. A crisp-skinned beef dog is showered with nuggets of fried okra and pickled chiles and smeared with a chipotle mayo that's enriched with black-eyed peas. It packs just the right amount of heat — even the wonderful fried okra stings with spice.
Soul Dog also stocks sausages — perhaps the chicken andouille or vegetarian apple-sage — and you can build your own dog too. But not every meat here has to be tubed. Consider instead a basket of fried chicken, a few crunchy, deeply golden pieces that speak to the kitchen's skill beyond the bun.
---
Get our new Cooking newsletter.
You may occasionally receive promotional content from the Los Angeles Times.