The Find: Magic Wok in Artesia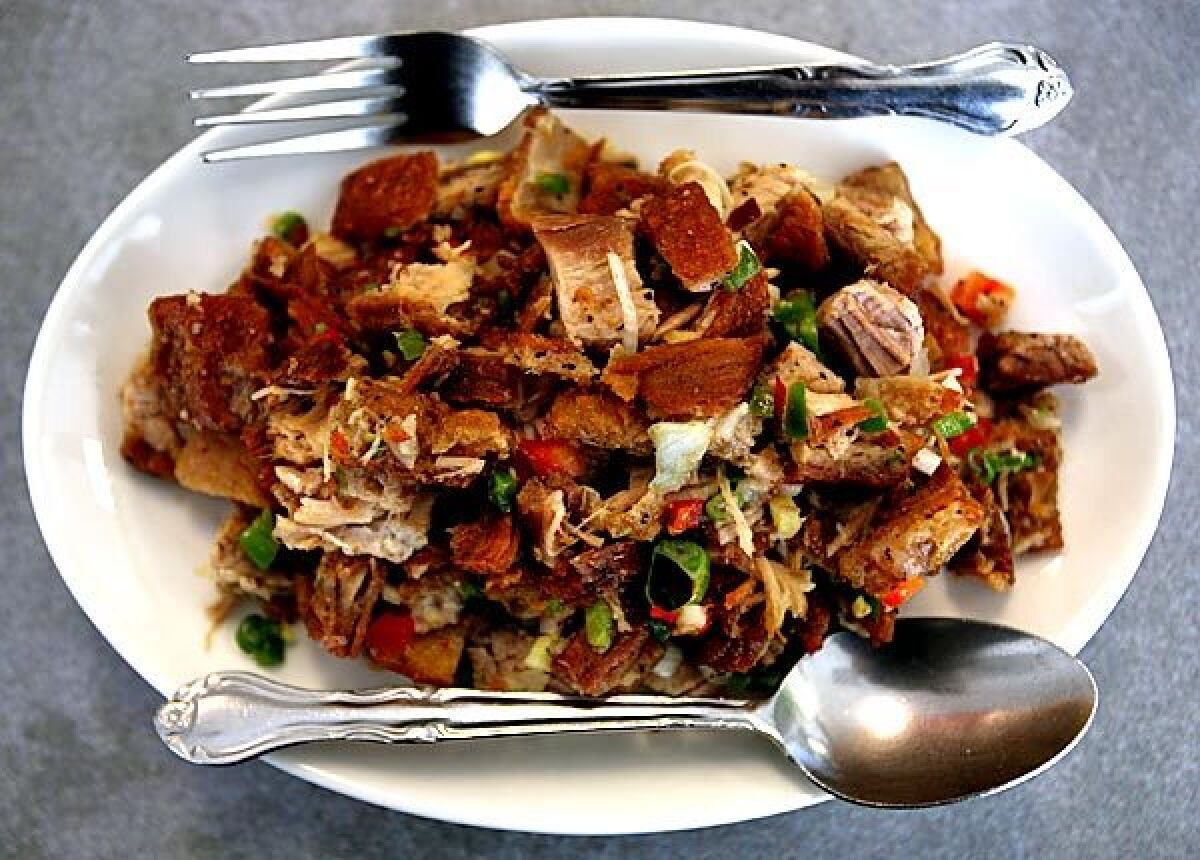 Magic Wok is a porcine palace, a restaurant where the pillars of Filipino cooking are fortified by all things pork. Kids chomp on shards of pig skin as crisp as potato chips, grandparents leisurely ladle hunks of pork from sour tamarind soups — the homey restaurant went whole hog long before quivering cubes of pork belly cropped up on happy-hour menus and bacon became an almost de rigueur dessert.
Perhaps even more than most, Filipino cooking is a tradition that you'll be told time and again is best experienced in the home. Restaurants, it's often said, simply can't replicate the custardy feel of an aunt's cassava cake or the loving, peanut butter-rich base of a mother's kare kare. But out on the periphery of Artesia's Little India, Magic Wok has been making this familial food for decades.
The restaurant has never been one to be bothered by timeworn trappings — its drop ceiling, wood paneling and even its name (a holdover from when the space once housed a Chinese fast-food chain) all came with the place. Nor is it now concerned with visibility, as after a recent strip-mall remodel, Magic Wok is without a sign. Those searching out this hog heaven for the first time need only look for the constant crowds to find it.
Crispy pata is the masterwork of Magic Wok's pork oeuvre. When a fire temporarily closed down the restaurant a few years ago, crispy pata was the dish for which everyone's appetites began to ache. And crispy pata is still the entrée you see on every table: a bone-in leg of pork fried to a beautiful brown.
First, the leg is brined, then boiled and finally fried. The delicate process ends with the skin annealing just long enough for patches of blistery bubbles to cool into a crisp golden armor. The skin has an allure all its own — its addictive crunch is so powerful you can feel each bite reverberate through your brain. Underneath is a stratum of slightly gamey, supremely tender meat that falls off the bone on its own accord. Using a fork is futile — crispy pata mandates that you get your hands dirty.
Sisig is a more manageable option. It isn't served in the typical sizzling skillet, but Magic Wok's version is still excellent. Fatty bits of fried pork are chopped into dice-sized bites, tossed with flecks of ginger, scallion and peppers and united by a tart squeeze of citrus. But sisig can be dangerous. Whereas your crispy pata consumption naturally slows as your fingers work around the bone, there's no such speed bump to stop you from scooping up the entire plate of sisig.
Pork doesn't hog every meal. Bistek Tagalog is a fine alternative, strips of steak varnished with soy sauce and vinegar, as is the classic chicken adobo. Still, if you prefer, there's a vast pork world to explore here, one in which dinuguan, an oil-black pork blood stew, represents the outer limits.
You can allay potential cardiological concerns with one of the restaurant's lighter dishes. Pinakbet, a stir-fry of bitter melon, squash, okra, eggplant and string beans, yields a bounty of produce. It's held together with bagoong alamang, a funky, purplish fermented shrimp paste that is the dish's defining flavor but not an overwhelming one. There's also the palate-cleansing sinigang na baboy, a sour tamarind soup that can wipe away all traces of crispy pata with one spoonful.
Halo-halo — a sundae of shaved ice, jackfruit, gelatinous agar-agar, sweet red beans, ube ice cream and more — is a reliable dessert, though you can also make do with a finishing sip of calamansi juice, which refreshes like a tangerine-sweetened limeade.
Regardless of the hour, a crowd is assured at Magic Wok. You can call ahead for takeout, but there's no to-go menu here. Orders must instead be recited by rote. Diners calling in their orders decide by cycling through all the memories they've accrued here, often as complete an edible history as any whipped up in a family kitchen.
Magic WokLocation: 11869 Artesia Blvd., Artesia, (562) 865-7340
Price: Entrees, $4.99 to $8.99; soups, vegetable and noodle dishes, $4.99 to $5.75; drinks and dessert, $1.75 to $3.55
Best dishes: Crispy pata, sisig, sinigang na baboy, pinakbet
Details: Open 10 a.m. to 9 p.m. Tuesday through Saturday and 10 a.m. to 8 p.m. Sunday. Lot parking. Credit cards accepted.
For The Record: In an earlier version of this story, the headline incorrectly referred to the restaurant as Happy Wok. It is the Magic Wok.
Get our L.A. Goes Out newsletter, with the week's best events, to help you explore and experience our city.
You may occasionally receive promotional content from the Los Angeles Times.