Bryant Ng and Kim Luu-Ng of Cassia receive The Times' third Gold Award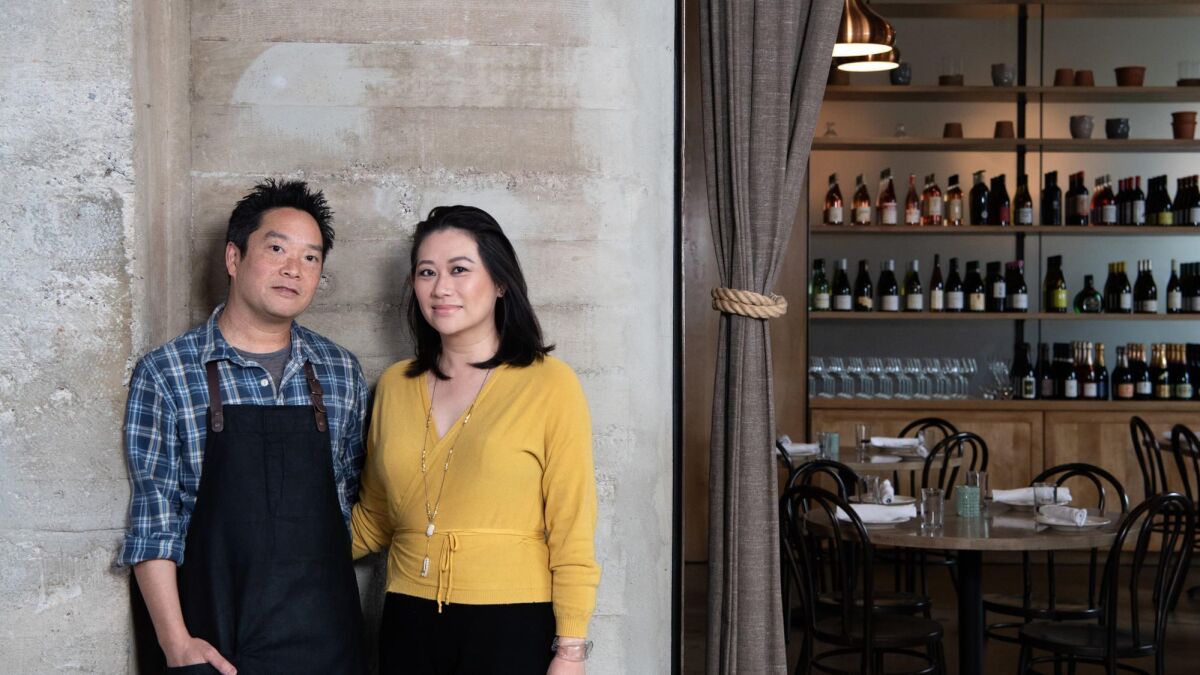 As part of Food Bowl, May's monthlong festival of food, dining and sustainability, the Los Angeles Times is presenting the third annual Gold Award to Bryant Ng and Kim Luu-Ng of Cassia.
The Gold Award is given to a California chef annually, with the idea of honoring culinary excellence and expanding the notion of Southern California cooking. The award, which last year was given to Susan Feniger and Mary Sue Milliken and the first year to Wolfgang Puck, celebrates intelligence, innovation and brilliance as well as sensitivity to aesthetics, culture and the environment.
The Gold Award was picked by Jonathan Gold in the past; this year Laurie Ochoa, Jonathan's wife and a Los Angeles Times editor whose duties have included overseeing food coverage, chose the Ngs.
At Cassia, which the Ngs opened in Santa Monica in 2015 in partnership with Josh Loeb and Zoe Nathan, the menu is a sophisticated and inventive blend of Vietnamese and French cooking. Bryant Ng was the opening chef at Mozza and one of Food & Wine's Best New Chefs in 2012, when he ran his Singaporean-influenced restaurant the Spice Table.
Ng takes elements of his past restaurant and those he's worked in, as well as his family's history — Ng's grandparents, immigrants from China, ran a Cantonese-Polynesian restaurant in Culver City; his parents ran a Chinese restaurant in Northridge — and puts it on his plates. In so doing, his food represents the diverse culinary accomplishment of Los Angeles, fed by immigrants and their traditions.
"I love that Cassia's food isn't just Vietnamese or Asian, but Southern Californian," says Ochoa, "It embodies one of the big ideas behind the award — 'expanding the notion of Southern California cooking.' Fish sauce can be as important to the cuisine of Los Angeles as olive oil."
In 2016, Luu-Ng, an immigration lawyer whose family fled Vietnam during the war, and Ng launched L.A. Chefs for Human Rights, a fundraising platform to benefit local human rights causes. The Ngs host an annual dinner at Cassia for LACHR, with funds from the first two years going to support the Program for Torture Victims, which provides medical services and legal support to refugees seeking asylum in Los Angeles.
Last year, Cassia partnered with the People Concern to help solve L.A.'s homelessness crisis, raising nearly $200,000 to help them feed hungry folks. In the last three years, they've gathered together chefs such as Niki Nakayama, Nancy Silverton, Jessica Koslow, Carlos Salgado and Ray Garcia to help cook dinner for the cause.
"So many chefs are generous with their time, cooking for charity," Ochoa says, "but it takes extra initiative to start an organization from scratch."
As Bryant Ng put it, "I think we were trying to process the honor of such an award and at the same time felt a sense of sadness because we miss Jonathan so much. Through his writing and advocacy, Jonathan brought a deep understanding of other cultures through food, helping to break down barriers and stereotypes, and promoting a better understanding of people that are foreign to you.
"He helped those who traditionally had less and promoted them in a way that benefited them. I can't imagine a bigger champion of immigrants. Kim and I would not be where we are in life without Jonathan."
The Gold Award will be presented on May 8, at the Opening Night Collaboration Lab held on the first evening of our five-day Night Market. Food Bowl will run for the month of May, with hundreds of events happening across the city. For details on the mix of dinners, parties, tours, pop-ups, classes and films, go to lafoodbowl.com.
Instagram: @AScattergood
---
Get our L.A. Goes Out newsletter, with the week's best events, to help you explore and experience our city.
You may occasionally receive promotional content from the Los Angeles Times.