Recipe: Skirt steak carpaccio with raw asparagus and fava salad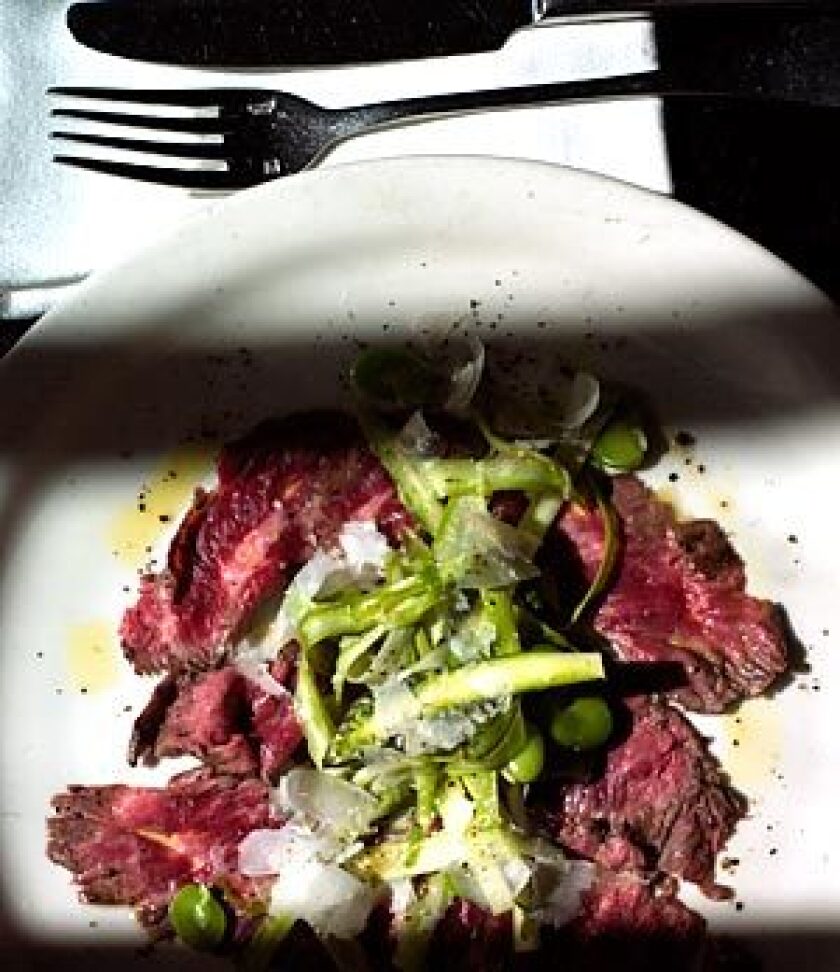 Skirt steak carpaccio with raw asparagus and fava salad
Total time: 40 minutes
Servings: 4
Note: Adapted from Travis Lett of Gjelina. Buy the skirt steak from a quality purveyor, as this steak will be served still raw in the center. Lett suggests Niman Ranch skirt steak and asparagus from Life's a Choke Farms.
---
Our recipes, your kitchen: If you try this or any other recipe from the L.A. Times Test Kitchen, we would like to know about it so we can showcase it on our food blog and occasionally in print. Upload pictures of the finished dish here.
---
1 cup fava beans, shucked and peeled (from about 1 pound whole beans)
1 (8-ounce) piece skirt steak
Salt
Freshly ground black pepper
Extra virgin olive oil
4 spears asparagus
Fresh lemon juice
Flaky sea salt, such as Maldon
Parmigiano-Reggiano
1. In a pot of boiling water, blanch the fava beans until brightly colored but still almost raw, less than 1 minute. Shock in a bowl of ice water and set aside.
2. Lightly season the skirt steak with one-half teaspoon salt and a pinch of pepper, and lightly drizzle with 1 teaspoon olive oil. Heat a cast iron skillet over high heat until very hot, about 5 minutes. Place the steak in the hot pan to get a nice, dark sear on the surface, 30 seconds to 1 minute on each side. Be careful not to cook the steak; it should remain raw inside. Slice the steak across the grain into one-half-ounce pieces (about 16 slices).
3. Place a sheet of plastic wrap on a work surface and lightly oil. Place the sliced meat on top and cover with another sheet of plastic, leaving some space between slices so that there is room for each slice to spread when you pound it. Using a meat mallet or the back of a flat sauté pan, gently pound the meat until it is thin (but not so thin it might tear when handled). Place a few slices on each of four plates.
4. Trim the tough ends off of the asparagus spears and slice off the very tips; discard the tough ends and save the tips. On a flat surface, shave the raw asparagus into thin lengthwise strips (it will look like strips of pasta) using a vegetable peeler. Place the shaved asparagus and tips into a medium bowl and add the fava beans. Drizzle over 2 teaspoons each lemon juice and olive oil, and season with one-fourth teaspoon salt and a pinch of pepper. Taste and adjust the lemon juice and seasonings as desired. The salad should be bright and fresh, without being too acidic or oily.
5. Lightly season the carpaccio with flaky sea salt and cracked pepper and top with the asparagus salad. Thinly shave the Parmigiano-Reggiano over the top and serve.
Each serving: 168 calories; 14 grams protein; 4 grams carbohydrates; 2 grams fiber; 11 grams fat; 3 grams saturated fat; 37 mg cholesterol; 2 grams sugar; 488 mg sodium.
---
Get our weekly Tasting Notes newsletter for reviews, news and more.
You may occasionally receive promotional content from the Los Angeles Times.