Culinary SOS: Gluten-Free Buckwheat Brownies from Botanica
I recently dined at Botanica in Silver Lake and thought the meal couldn't get any better, but then came dessert, and I was bowled over by this insanely delicious chocolate cake with tahini. I would love to have the recipe.
-- Katie Kimmel, Inyokern, Calif.
That chocolate dessert at Botanica, the Silver Lake restaurant run by Emily Fiffer and Heather Sperling, is actually a simple brownie marbled with tahini, which is then broken into pieces, topped with a tahini-fortified vanilla whipped cream mousse, and sprinkled with a salted cacao nib powder for a sophisticated restaurant plating. The bitterness from the tahini, cacao nibs and buckwheat flour helps balance the sweetness of the brownies so that they eat like a chewy bar of high-quality chocolate. The mousse adds a wonderful element of fat and vanilla-sweetness to the dessert, but if you want to forgo it and the cacao powder, you can enjoy these gluten-free brownies on their own and cut into the traditional square shape.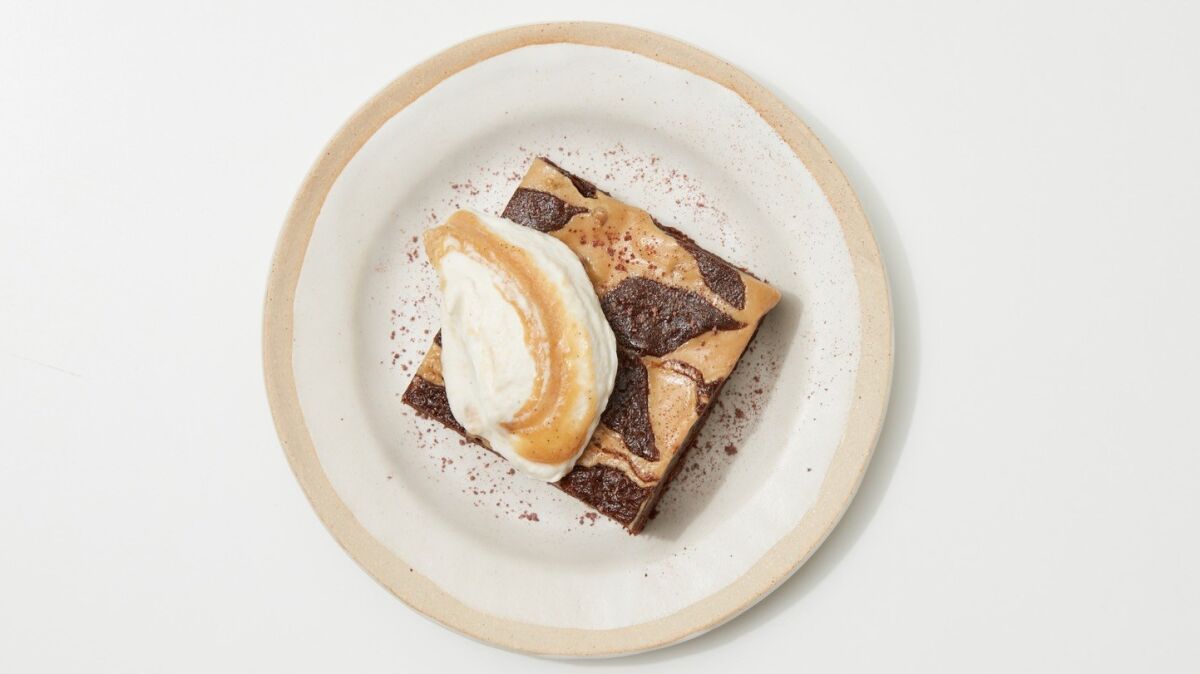 Gluten-Free Buckwheat Brownies With Tahini Whipped Cream
45 minutes. Serves 9 to 12 as a plated dessert, or makes 12 to 16 brownies.
7 tablespoons unsalted butter, preferably organic, plus more for greasing
4 ounces (70% to 85%) dark chocolate, preferably Valrhona
1/3 cup cacao nibs
3/4 cup plus 2 tablespoons coconut sugar
1/2 vanilla bean, split lengthwise, seeds scraped and reserved (use the other 1/2 vanilla bean to make the Tahini Whipped Cream, below) or 1 1/2 teaspoons vanilla extract
4 large eggs, lightly beaten
1/2 cup buckwheat flour
1 teaspoon fine sea salt
1/4 cup tahini, preferably Soom brand (Amazon.com)
Tahini Whipped Cream (see recipe below)
Cacao Nib-Sea Salt Crumble (see recipe below)
1 Heat the oven to 350 degrees. Grease the bottom and sides of an 8-inch square baking pan with butter, line the bottom and two sides with a sheet of parchment paper or foil, then grease the paper too.
2 Melt the butter in a small saucepan over low heat, then add the chocolate and cacao nibs and continue cooking, stirring occasionally, until the chocolate just melts. Remove the saucepan from the heat and whisk in the sugar and vanilla seeds, then whisk in the eggs until smooth. Add the flour and salt, stir until just combined, then scrape into the prepared pan.
3 Drizzle the tahini evenly over the top of the batter, then use a knife to lightly marble it throughout the batter. Bake for 10 minutes, then rotate the pan, and continue baking until the brownies are just set but still soft in the middle, exactly 8 minutes more. These brownies can go from just right to dry fairly quickly, so when in doubt, pull them out. You can't go wrong with a soft middle.
4 Transfer the pan to a wire rack and let the brownies cool completely in the pan. Using the overhang from the parchment paper or foil, carefully lift the brownies out of the pan and onto a cutting board. Cut into squares and store the brownies in an airtight container at room temperature for up to 3 days.
5 If serving the brownies restaurant-style, place 1 brownie on each serving plate, leaving it whole or breaking it into 4 pieces with your fingers, then top with a large dollop of the tahini whipped cream. Sprinkle with some of the cacao nib crumble before serving.
Tahini Whipped Cream
Makes about 2 1/2 cups
1/2 cup tahini, preferably Soom brand
2 1/2 tablespoons runny honey
1 cup chilled heavy cream, preferably organic
1/2 vanilla bean, split lengthwise, seeds scraped and reserved, or 1 1/2 teaspoons vanilla extract
1 In a large bowl, whisk together the tahini and honey.
2 In a medium bowl, add the vanilla seeds to the cream and use a whisk or hand mixer to whip to medium-soft peaks. Vigorously whisk one-third of the whipped cream into the tahini-honey mixture to lighten it, then add the rest in two batches, gently folding each with a rubber spatula until just a few white traces of cream remain. Cover the bowl with plastic wrap and refrigerate for at least 1 hour or up to 3 days.
Cacao Nib-Sea Salt Crumble
Makes 1/4 cup
1/4 cup cacao nibs
1/8 teaspoon fine sea salt
Combine the cacao nibs and salt in a spice grinder, small food processor or blender (or use a mortar and pestle) and process until finely ground (a few small pieces here and there are fine). Transfer to an airtight container and store for up to 2 weeks.
Get our L.A. Goes Out newsletter, with the week's best events, to help you explore and experience our city.
You may occasionally receive promotional content from the Los Angeles Times.