Review: Bludso's Bar & Que mixes smoke and swank
Michael Pollan may have spent a zillion pages examining the smoked whole hogs at North Carolina's creaky Skylight Inn in "Cooked: A Natural History of Transformation," and the legend of Kansas City's Arthur Bryant's is eternal, but the real story in barbecue in the last several years has been the gentrification of the genre: spareribs and long-smoked brisket repositioned as totems of the artisanal food movement. Before, barbecue's visionaries were the cranky old dudes poking logs at 4 a.m. At the moment, they tend to be youngish bearded guys with Twitter accounts and a taste for craft beer, carving their reputations out of pork shoulder and clod.
The most recent edition of Texas Monthly's barbecue issue, which is usually dominated by pits that your grandfather might have enjoyed, anointed Franklin Barbecue in Austin as best in the state, which started life in a trailer only four years ago. New York City, which had no acceptable barbecue when I lived there a decade or so ago, may be home to more decent barbecue restaurants than Oakland or St. Louis at the moment. The Kansas City, Mo., barbecue stand everybody is talking about now is a well-scrubbed place just across the border into Kansas City, Kan. Even in Los Angeles, the best barbecue destinations at the moment include a Van Nuys restaurant, Smoke City Market, run by a guy who used to work for Capo, a barbecue-intensive wine bistro, Boneyard Bistro run by a former haute cuisine chef, and a competition-circuit man who sets up shop amid the kohlrabi at area farmers markets.
Could barbecue be the cupcake of 2013? Squinted at in a certain way, it just might be.
So the appearance of Bludso's Bar & Que seems almost inevitable — a mash-up of Compton's well-respected Bludso's BBQ and the gastropub Golden State, a chopped and channeled, service-intensive bar a block from Melrose Avenue that just happens to serve hot links alongside the hefeweizen and rib tips with the IPA. If you have ever wondered what it might be like to have a first-rate old-fashioned with a pulled pork sandwich or a chilled shot of Fernet-Branca to ease the pain caused by an oversized serving of barbecued spareribs, Bludso's Bar & Cue may be the restaurant of your fantasies.
Barbecue pork ribs, baked beans and coleslaw are served at Bludso's BBQ on La Brea in Los Angeles.
(Anne Cusack / Los Angeles Times)
A window in the dining room gives a glimpse of the busy kitchen.
(Anne Cusack / Los Angeles Times)
Casual dining inside.
(Anne Cusack / Los Angeles Times)
Barbecued chicken and macaroni and cheese.
(Anne Cusack / Los Angeles Times)
Mint Julep cocktail.
(Anne Cusack / Los Angeles Times)
Pabst Blue Ribbon beer is on tap.
(Anne Cusack / Los Angeles Times)
Brisket and collard greens.
(Anne Cusack / Los Angeles Times)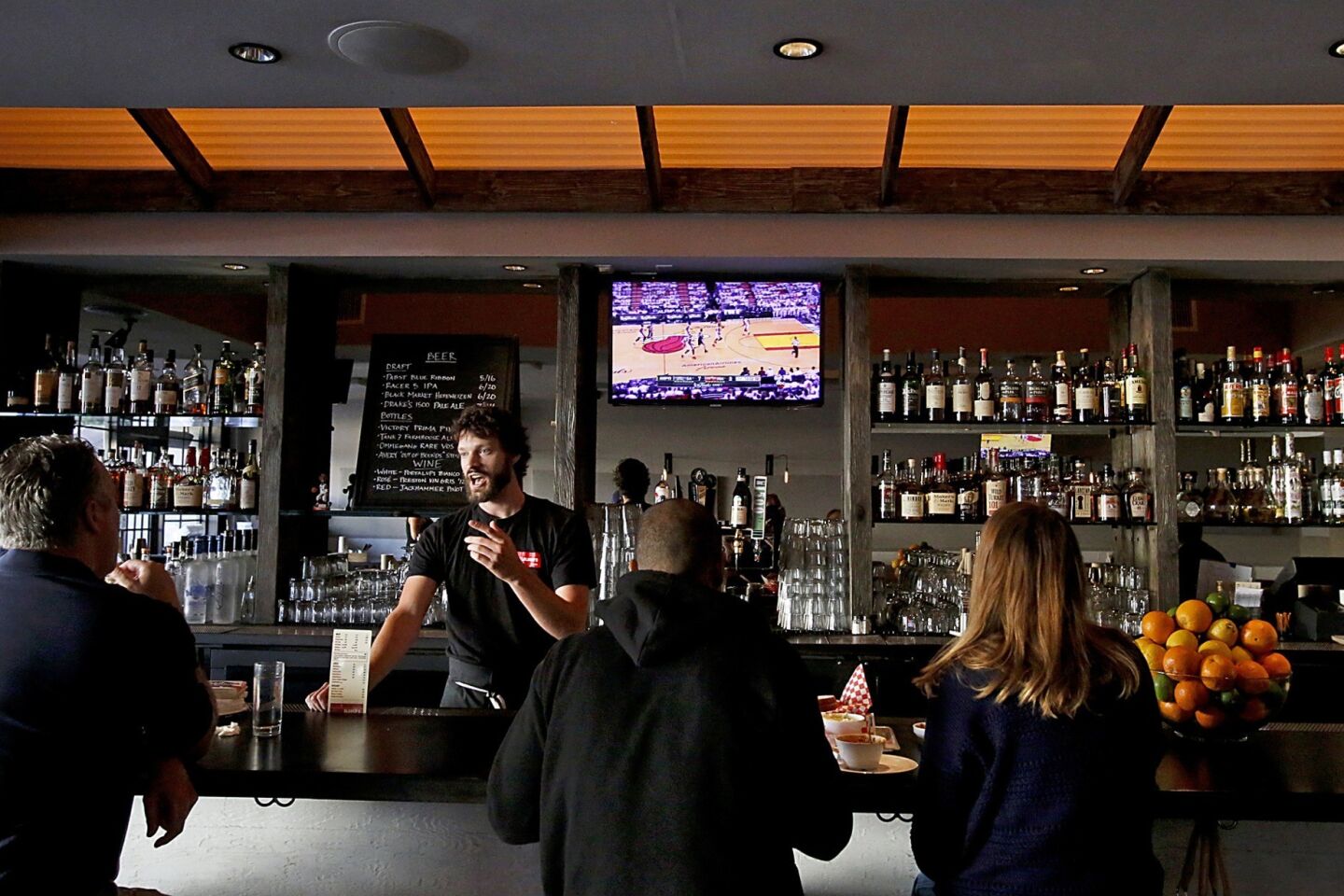 The bar scene.
(Anne Cusack / Los Angeles Times)
Harold Jones, right, and Stan Zuckerman, left, enjoy the pork ribs.
(Anne Cusack / Los Angeles Times)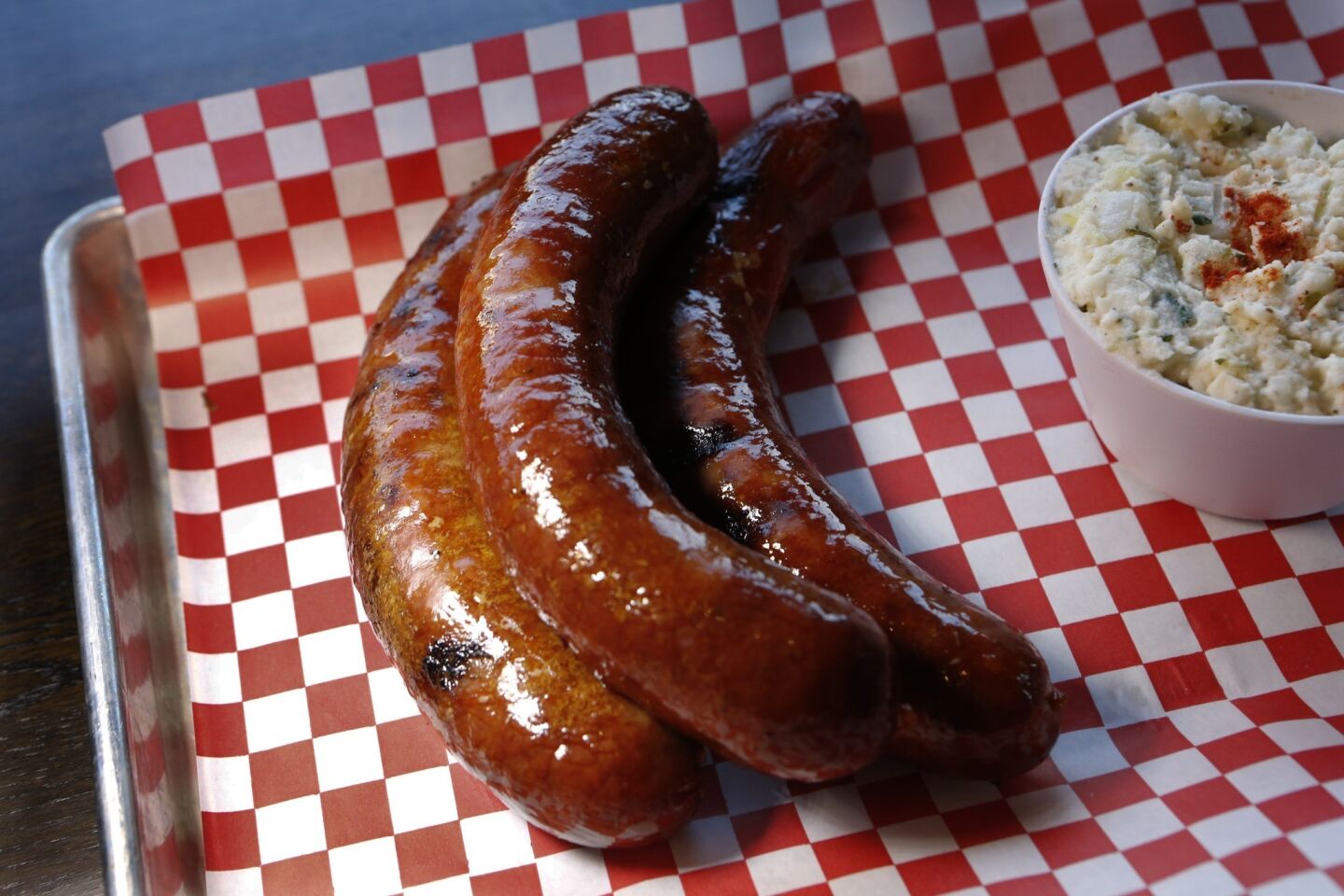 Beef hot links and potato salad.
(Anne Cusack / Los Angeles Times)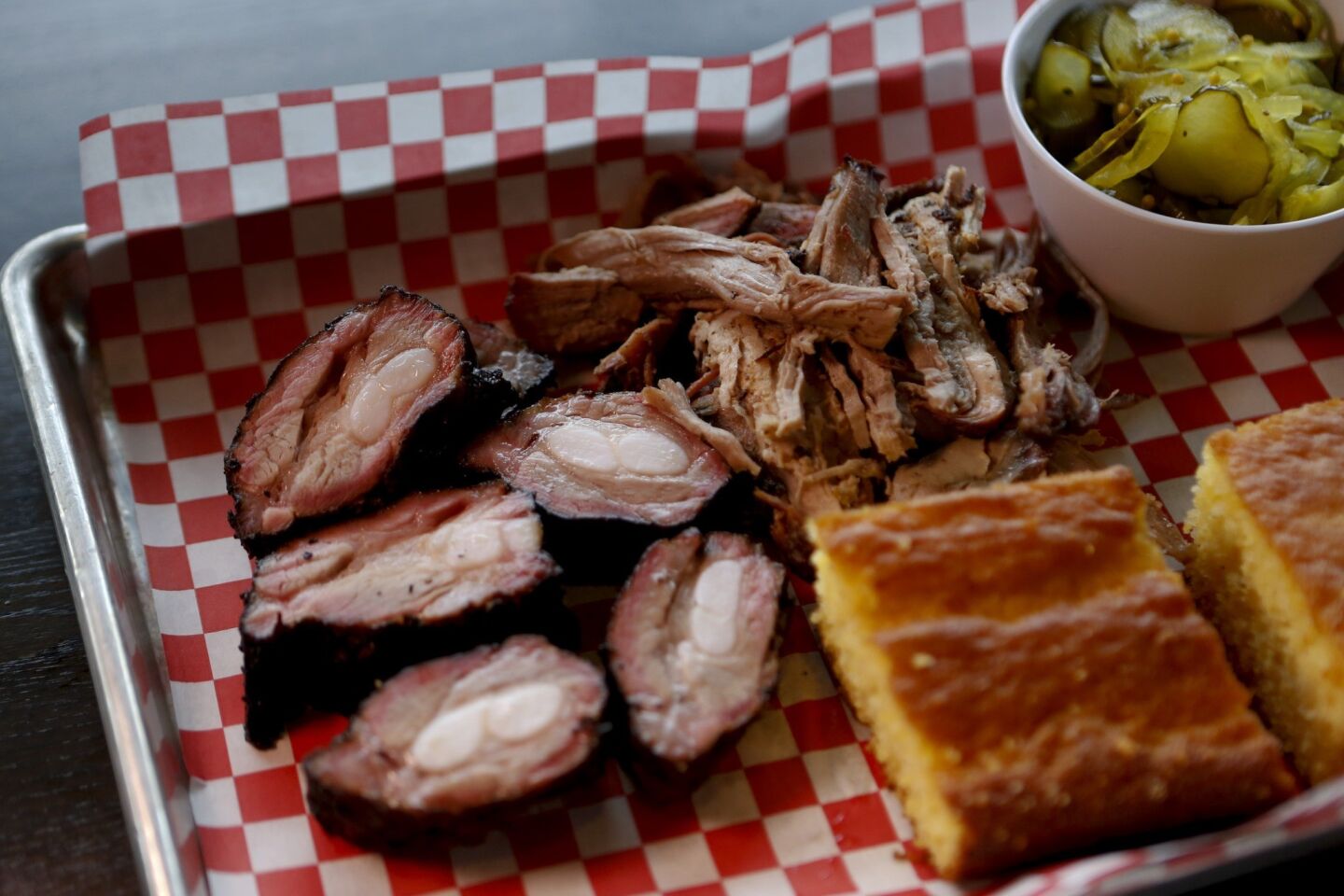 Rib tips, pulled pork, corn bread and pickles.
(Anne Cusack / Los Angeles Times)
Exterior of Bludso's BBQ.
(Anne Cusack / Los Angeles Times)
The original Bludso's is a crowded storefront near Compton's municipal center, with a handful of stools, a peck of Dallas Cowboys clippings taped to the walls and a pair of black-steel smokers in the parking lot that you can probably smell from the freeway when the breeze is blowing the right way. When Bludso's sets up some plastic tables and chairs next to the smokers so that you can enjoy lunch sitting down, it can feel like the Compton Riviera back there; just you, your half chicken and a can of strawberry pop.
I tend to think the Compton Bludso's serves the best barbecue in the Los Angeles area at the moment, just a smidge more succulent than the ribs and brisket from the estimable Bigmista, which is the concession that roams the farmers markets, and the venerable Phillips Bar-B-Que, whose tiny original takeout in Leimert Park was for so long the standard-bearer.
Like so many of L.A.'s barbecue masters, Kevin Bludso moved here from Texas, which means that he specializes in thick hunks of slow-cooked cow ringed deeply where the smoke has penetrated. There is a sweet, peppery sauce, but the beef ribs and the coarse sausage don't need it, although the relatively wan pork ribs might. The brisket that issues from those battered smokers is a paradigm of meat, beef that disappears so quickly that, if it weren't for a feeling of satisfying fullness, you might swear that you had less eaten it than dreamed it.
But does the brisket from Compton translate to Hollywood? Can cuisine that seems so much a distillation of its time and place and the desires of its clientele survive in a location with valet parking, the Dodgers on the flat-screen and Pabst Blue Ribbon on tap? As well as can be expected, I guess, although it is a completely different experience from Compton sometimes.
So you get your pitcher of Scrimshaw, you glance over at the other tables and you start to debate which options to tick off on the paper order sheet, wondering whether the gooey mac-and-cheese is a better bet than the brisket-laced barbecued beans.
Or if there are a few of you, you can go for the most satisfying menu option in town: Check the box next to the Tray, and you get literally everything on the menu, which is to say the beans and the cole slaw, the macaroni and the meaty stewed collards, the sweet pickles and the potato salad, and a few giant slabs of cornbread, in addition to the links, the ribs, the chicken, the beef ribs and the brisket. It is a lot of food for five people. It will feel like a lot of food when you contemplate splitting a fresh-peach cobbler and an order of banana pudding for dessert (you may as well). It will be a lot of food when you divvy up the leftovers and take home some chicken for tomorrow's lunch. You will probably regret that you hadn't remembered to get an extra half pound of brisket for the road.
Bludso's Bar & Que
Can great barbecue coexist with craft beer and a mixology program? It just might.
Location: 609 N. La Brea Ave., Los Angeles, (323) 931-2583, barandque.com
Prices: Meat prices range from $5 for 1/4 pound of rib tips to $20 for a pound of brisket. Sides are $4 to $5. The Tray, which serves five to six people, is $85.
Details: Open 5-10 p.m. Tuesdays to Fridays, noon to 10 p.m. Saturdays, noon to 8 p.m. Sundays. Takeout. Full bar. Valet parking. Credit cards accepted.
Recommended dishes: The Tray.
Get our L.A. Goes Out newsletter, with the week's best events, to help you explore and experience our city.
You may occasionally receive promotional content from the Los Angeles Times.