Jonathan Gold | L.A. restaurant review: Maccheroni Republic is a fine-dining trattoria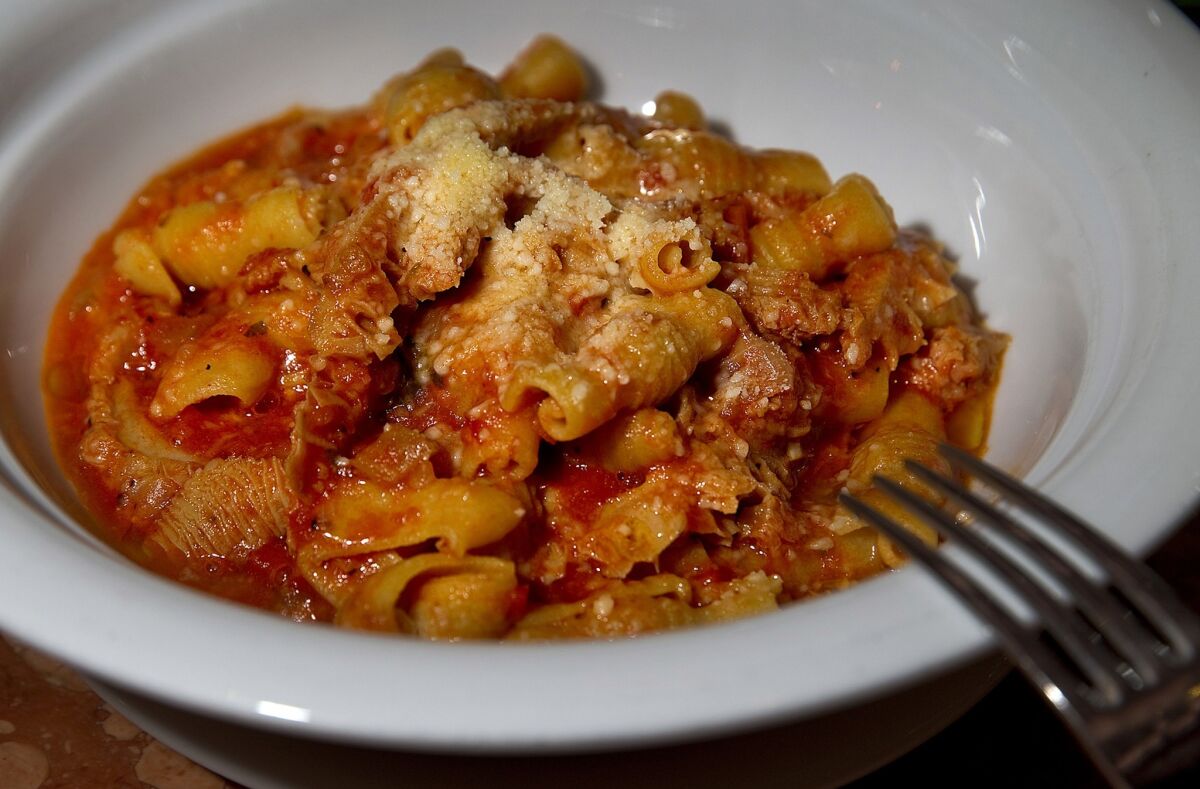 On a warm January night in Los Angeles, one of those evenings when we have trouble visualizing what the phrase "wind-chill factor" might even mean, the patio outside Maccheroni Republic is one of the most pleasant places downtown, a long, alley-narrow space, all greenery and soft air. The financial district's glass towers peeking out over the shrubbery is a distant part of the view. The restaurant is on Broadway but somehow not of Broadway, although Grand Central Market is right across the street. It opens onto a sculpture-filled pocket park named for Biddy Mason, a former slave who became one of L.A.'s earliest real-estate barons.
The downtown boom has seen a lot of Italian restaurants open in this part of the city, sleek dining rooms with wood-burning ovens, hot and cold running truffles, and rivers of expensive Super-Tuscan wine. In some parts of downtown you are never more than a few blocks from shade-grown coffee or a plate of wood-roasted pigeon. But Maccheroni Republic isn't a temple of cuisine, it's a trattoria — the kind of place where it is possible to go for both lunch and dinner on a single day, a restaurant where waitresses race down the aisle with four identical bowls of rigatoni with eggplant.
Some people never get anything but the curly boccoletti pasta with pesto and ricotta. I have gone months in which I was unable to get beyond the tripe, which is rich and soft, stewed in a bright tomato sauce and distinctly on the barnyard end of things. If there is a reason other than veganism not to get the polpettine di gamberi, flat little disks of ground shrimp crisped in oil, I'm not sure what it might be. It's as comfortable as eating at home.
Maccheroni Republic is the project of Antonio Tommasi and Jean-Louis de Mori, who ran Locanda Veneta, Ca' Brea and other fancy, well-regarded Italian restaurants and they were a fairly fancy crew. Evan Kleiman remembers Tommasi as the first chef in town to drive a Ferrari. Tommasi and De Mori never seemed much like trattoria guys.
And as a critic, I have put off writing about the place again and again, waiting for the wine license to be granted, or for the bare dining room to be decorated or for neon to appear on the façade. I was sure that Tommasi would end up expanding the menu, supplementing his bare handful of crostini and vegetable starters with the more elaborate antipasti he was famous for at Locanda Veneta, and adding substantial meat and fish dishes to the roster of pastas and Venetian-style risottos. There are no truffles here, no flashy veal chops, no branzino. The toasted bread with an ice cream scoop of 'nduja, spicy, spreadable Calabrian sausage, will do instead.
With free filtered water on every table at Maccheroni Republic, and the waiters' reluctance to push appetizers or desserts, it is possible for two people to dine nicely for $30 or $40 (plus maybe the cost of a bottle imported from the wine shop Buzz around the corner), which makes the restaurant a pleasant neighborhood amenity but not perhaps an institution built for profit.
But perhaps it is time to think of Maccheroni Republic less as a kitchen stuck in an extended soft-opening phase than as a restaurant that is what it is: a delivery system for fried calamari and for Tommasi's supple, handmade pastas, for chewy potato gnocchi in meat sauce or for a Venetian-style chicken soup so thick with shredded chicken that you could probably cut it with a knife.
There are some odd pasta shapes here you have probably never seen before, like stellari, a star-shaped extruded pasta that ends up looking like NBC's "The more you know" logo, or ridged, jet-black cuffie tossed with fish and a saffron cream. You can get agnolotti stuffed with stewed veal shank, osso buco, and served with a tart, green sauce of puréed herbs, or rather good linguine with a sharply acidic tomato sauce and a modest dose of fresh clams, shrimp and bay scallops. If it's cold out, you may see long-braised pork on billows of soft polenta, or Tommasi's signature fettuccine with lentils, spinach, tomatoes and cream. You won't pay past the mid-teens for any of it, and you will probably have room left for tiramisu.
Maccheroni Republic

Handmade pasta and as comfortable as your own dining room.
LOCATION
332 S. Broadway, Los Angeles, (213) 346-9725
PRICES
Appetizers, $6.95-$12.95; pastas and risottos, $9.25-$14.95
DETAILS
Lunch 11:30 a.m. to 3 p.m. Mondays to Fridays, dinner 5:30 to 10 p.m. Mondays to Saturdays, 4:30 to 9 p.m. Sundays. Credit cards accepted. No alcohol. Validated lot parking.
RECOMMENDED DISHES
Trippa dello chef, boccoletti al pesto, polpettini ai gamberi, agnolotti di osso buco.
Get our L.A. Goes Out newsletter, with the week's best events, to help you explore and experience our city.
You may occasionally receive promotional content from the Los Angeles Times.