Review: At Q, sushi for connoisseurs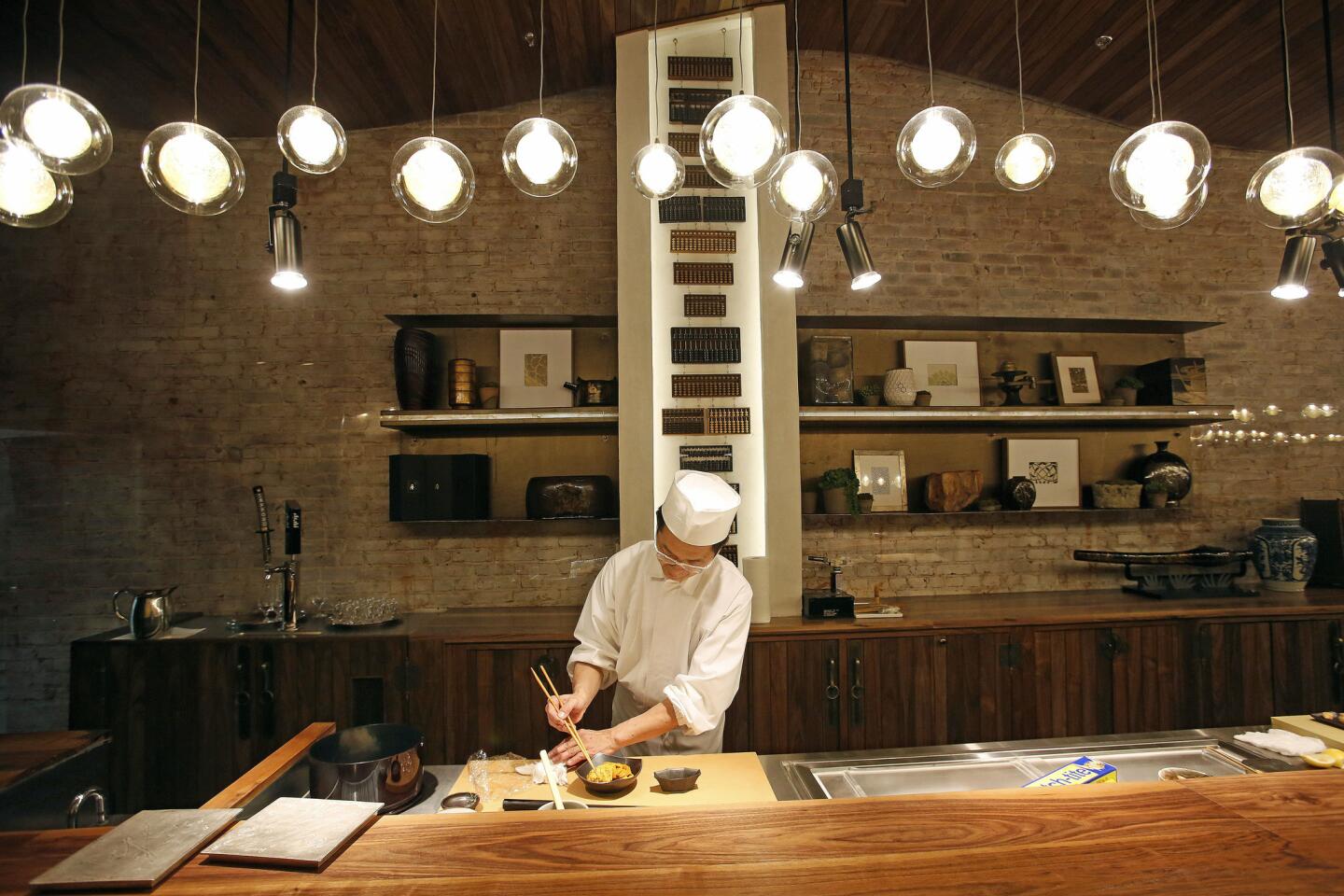 Sushi chef Hiroyuki Naruke moved from Tokyo to Los Angeles at the request of L.A. lawyers.
(Mel Melcon / Los Angeles Times)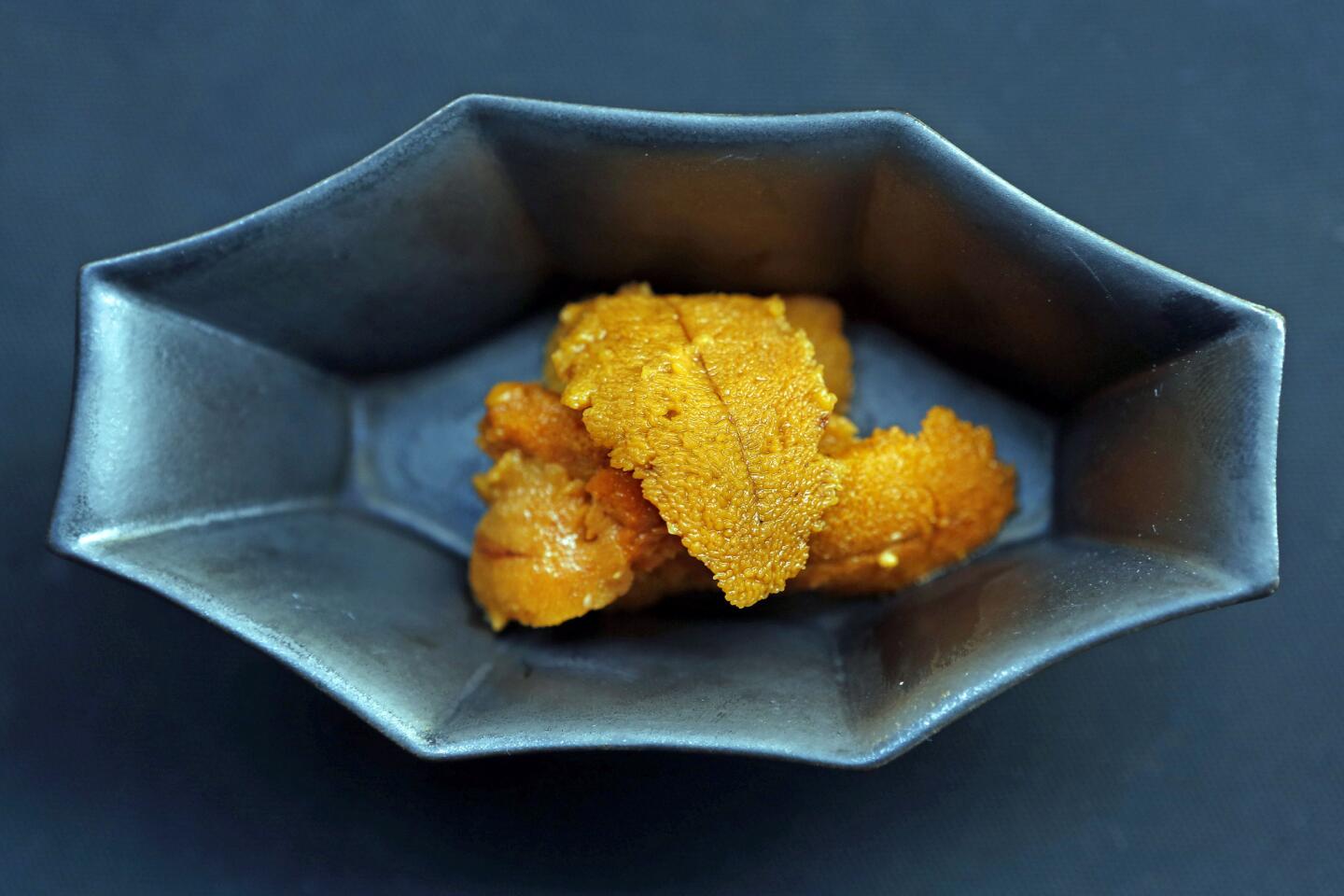 Sea urchin is marinated in sweet white miso.
(Mel Melcon / Los Angeles Times)
Fluke is sliced so thinly it is almost transparent.
(Mel Melcon / Los Angeles Times)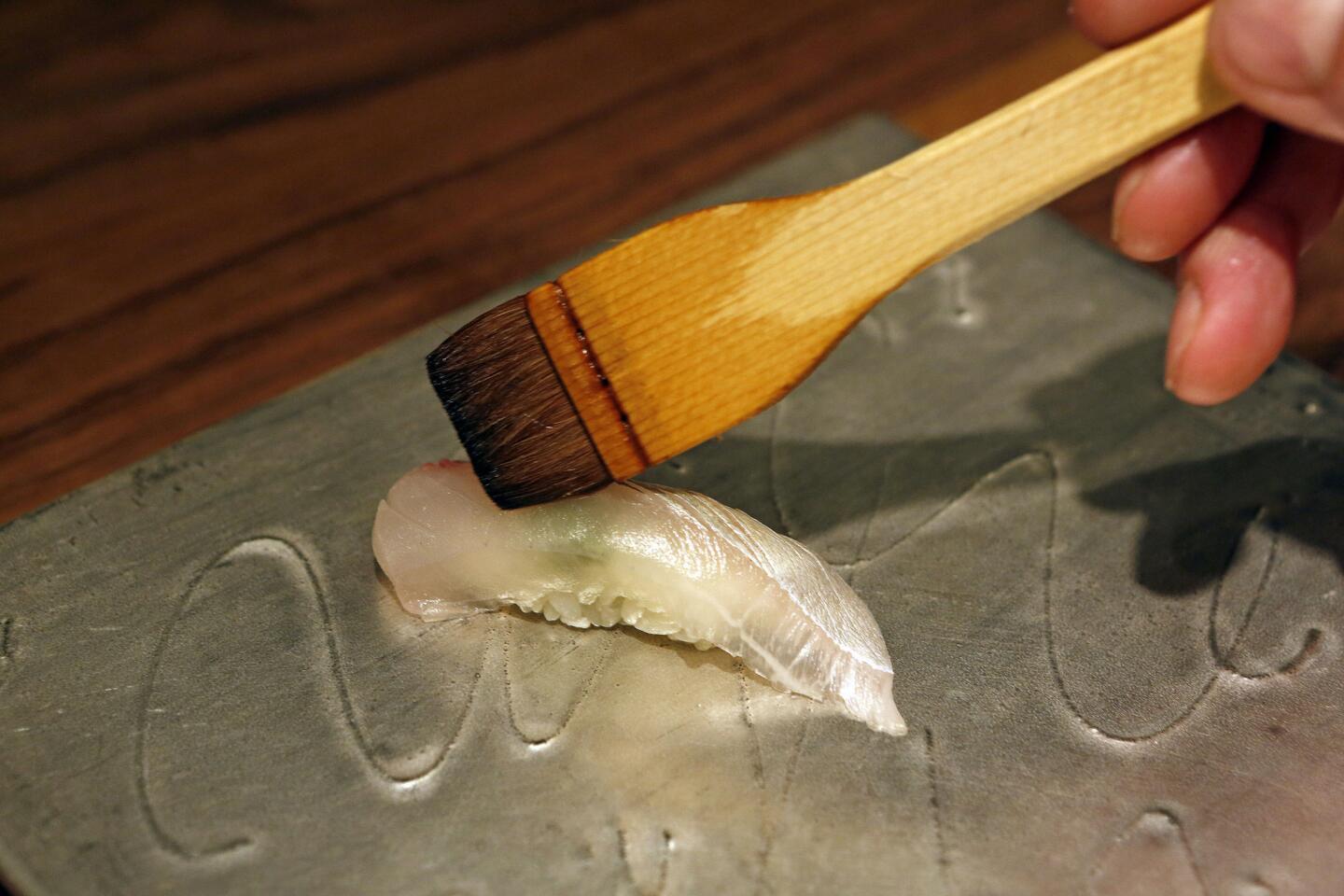 You won't get a bowl for soy sauce at Q, where the chef presents pieces of sushi exactly as he wants you to taste them.
(Mel Melcon / Los Angeles Times)
Clockwise from top left, mackerel, fatty tuna, premium mackerel and lean tuna.
(Mel Melcon / Los Angeles Times)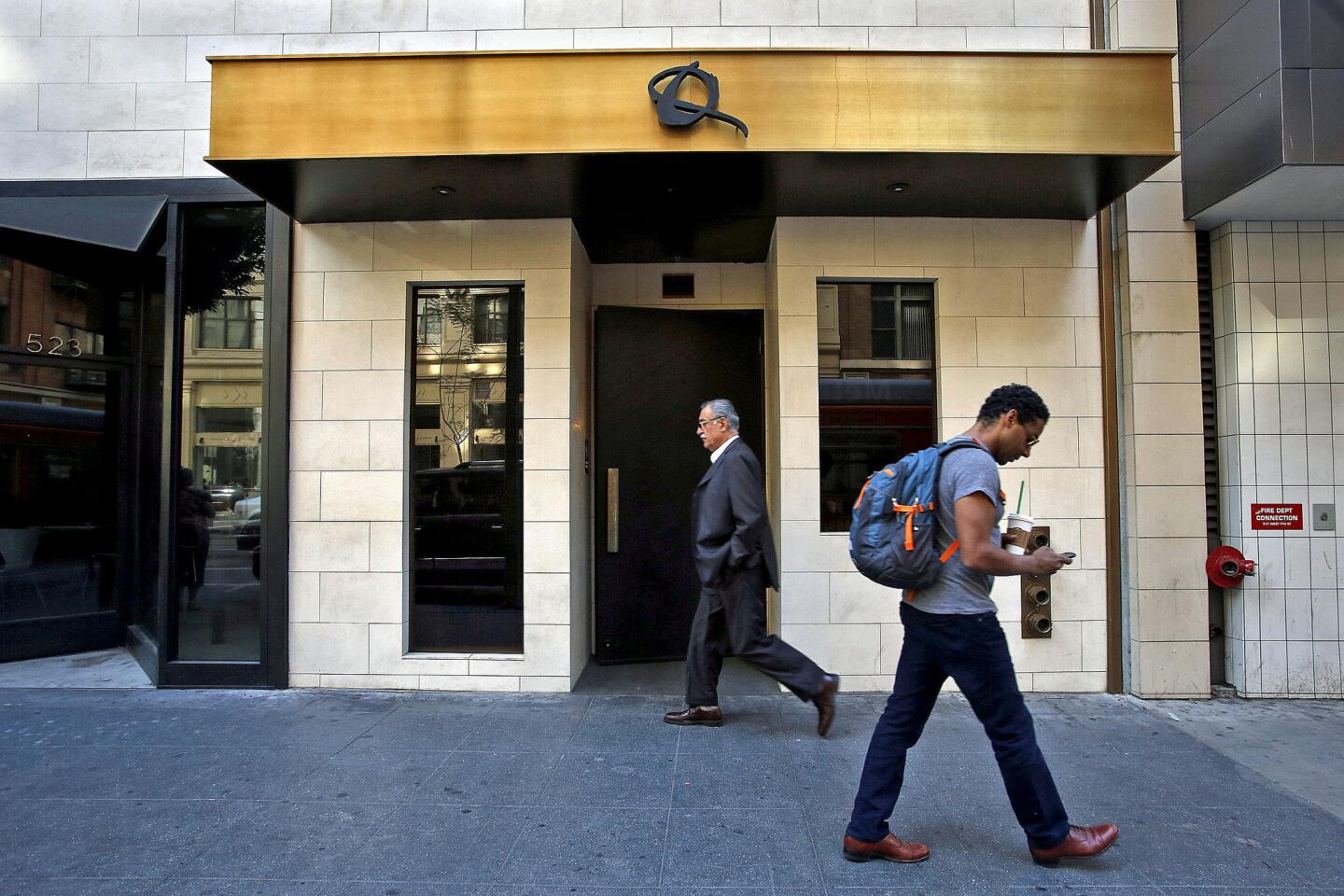 Q Sushi is on 7th Street in downtown L.A.
(Mel Melcon / Los Angeles Times)
It has never been easier to eat high-end sushi than it is now in Los Angeles — to surrender two hours and half a month's rent to the choreographed roll of the waves. You can experience the masculine crispness of Mori or the postmodern wackiness of Wa; the gentle experimentation of Kiriko or the discofied modernism of Nobu Malibu; the gold leaf and truffle oil of Go's Mart or the intellectual approach of Kiyokawa.
The idea of purist edomae sushi, or at least its rigor, is well-established here. For years, unsuspecting diners have been booted from places like Hiko, Sasabune and Nozawa for the audacity of ordering the caterpillar roll they usually have for lunch down the street, and for the regulars, the walk of fame is part of the show.
But until Q opened downtown last fall, there had been nothing like real edomae sushi in Los Angeles — plain-looking sushi that accentuates the flavor of the fish rather than of the rice or condiments, a universe of pickling and curing and aging whose culture may edge closer to a great charcuterie counter than to the sushi floor show at a place like Koi, but so subtly as to be almost imperceptible to a senior accountant stopping by for a quick expense-account lunch.
Q is a tiny, wood-paneled place on what is becoming downtown's 7th Street restaurant row, sharing a parking valet with Mas Malo and the bar 7 Grand, almost imperceptible from the sidewalk. A display of antique abacuses is mounted behind the sushi bar next to a few old prints, and someone will probably, as a conversation starter, ask you whether you know how to use one. You are handed a thick, hot towel. Hiroyuki Naruke, the chef, nods to you, and your meal has begun.
You really do have to adjust your aesthetics a little when you visit Q, which may be the least flashy sushi bar in town. Your sashimi courses may include slivered needlefish cured with soy, shigoku oyster with an unusually tart ponzu, or a tiny bowl of sliced South Korean squid drizzled with an intense puree of fermented bonito intestines — the sauce tastes like anchovies, more or less. There will be monkfish liver if it is in season. Naruke picks up a butane torch and carefully sears a few cubes of fatty tuna, just enough to caramelize the surface without warming the fish, and slicks it with a thick, oily condiment he makes with peppers and fermented rice. The waitress brings bowls of miso soup enhanced with kasu, what is left when you separate sake from its lees. The soup is thick and umami-rich, almost gravy-like in its intensity. The sushi part of the meal is about to begin.
Even if you tend to be nervous about the niceties of sushi etiquette, the details have been seen to here. You don't have to worry about saturating your sushi with soy sauce or wasabi, because you will not be given any. You are provided chopsticks but also a small hand towel and the strong suggestion to use your fingers to pick up the sushi. Nobody tells you to eat each piece in one bite, because it is scarcely imaginable that you would eat it any other way; you sense the tightly packed rice might crumble if you didn't. And you don't have to worry about ordering incorrectly, because you won't be given a choice — Q is omakase, chef's choice, about eight pieces at lunch after the first courses, maybe 16 at dinner. Although it is plenty, you may still contemplate, if only for a moment, the idea of stopping at Mas Malo next door for ground beef and pickle tacos, just to add a little yang to the yin.
Q is an odd project, a severe, expensive sushi restaurant that by all accounts should not be able to exist in Los Angeles, which is, after all, the birthplace of warm sashimi with olive oil, tuna tartare on crispy rice and the ubiquitous California roll — but here it is. Naruke ran a six-seat sushi bar in Tokyo's Roppongi district. His regular customers included partners in the Tokyo office of the Los Angeles law firm Quinn Emanuel. When business dipped after the tsunami disaster in 2011, one of the partners, Ryan Goldstein, persuaded Naruke to move to Los Angeles, and the downtown restaurant opened last fall. (The restaurant is named for the first letter of the law firm's name.)
Q is connoisseur's sushi, dazzling in its simplicity, the next level after you have mastered the more user-friendly sushi at Gen, Sushi Sushi and Zo. The fluke, marinated with a bit of the seaweed kombu, is remarkable in that it tastes more of itself than the crunchy, relatively bland flatfish tends to, and the muscular flavor of the lightly vinegared mackerel is to most saba what a four-year NBA all-star is to a skinny second-round draft pick. You may find grunt, whose meatiness has been coaxed up into the skirt-steak range; octopus braised with sake and brown sugar until it softened; and Tasmanian sea trout that somehow tastes more like salmon than salmon does itself.
There is no excuse for a chef like Naruke to serve bluefin tuna, a species hurtling toward extinction, and I am furious with myself for not sending it back. The progression from maguro to chu-toro to o-toro was spectacular, exploring every inch of the fish, but I wish he had seen fit to explore the nuances of big eye or yellowtail instead.
The last piece, inevitably, is his tamago, not the usual sweetened omelet, but a dense version fortified with minced shrimp. Like so many of the dishes here, it could have come straight from the 19th century.
Q
Sushi that accentuates the flavor of the fish rather than of the rice or condiments.
Location: 521 W. 7th St., Los Angeles, (213) 225-6285, qsushila.com
Prices: Lunch omakase, $75; dinner omakase, $165
Details: Open for lunch, noon to 2 p.m. Monday-Friday; dinner, 6-9:30 p.m. Monday-Thursday, and 6-10 p.m. Friday and Saturday. Credit cards accepted. Beer, wine and sake. Valet parking after 6:30 p.m.
Get our L.A. Goes Out newsletter, with the week's best events, to help you explore and experience our city.
You may occasionally receive promotional content from the Los Angeles Times.