Restaurant review: Bowled over by the Bashu fish at Fang's Kitchen
Customers can enjoy the braised beef with tomato at Fang's Kitchen in Monterey Park.
(Cheryl A. Guerrero / Los Angeles Times)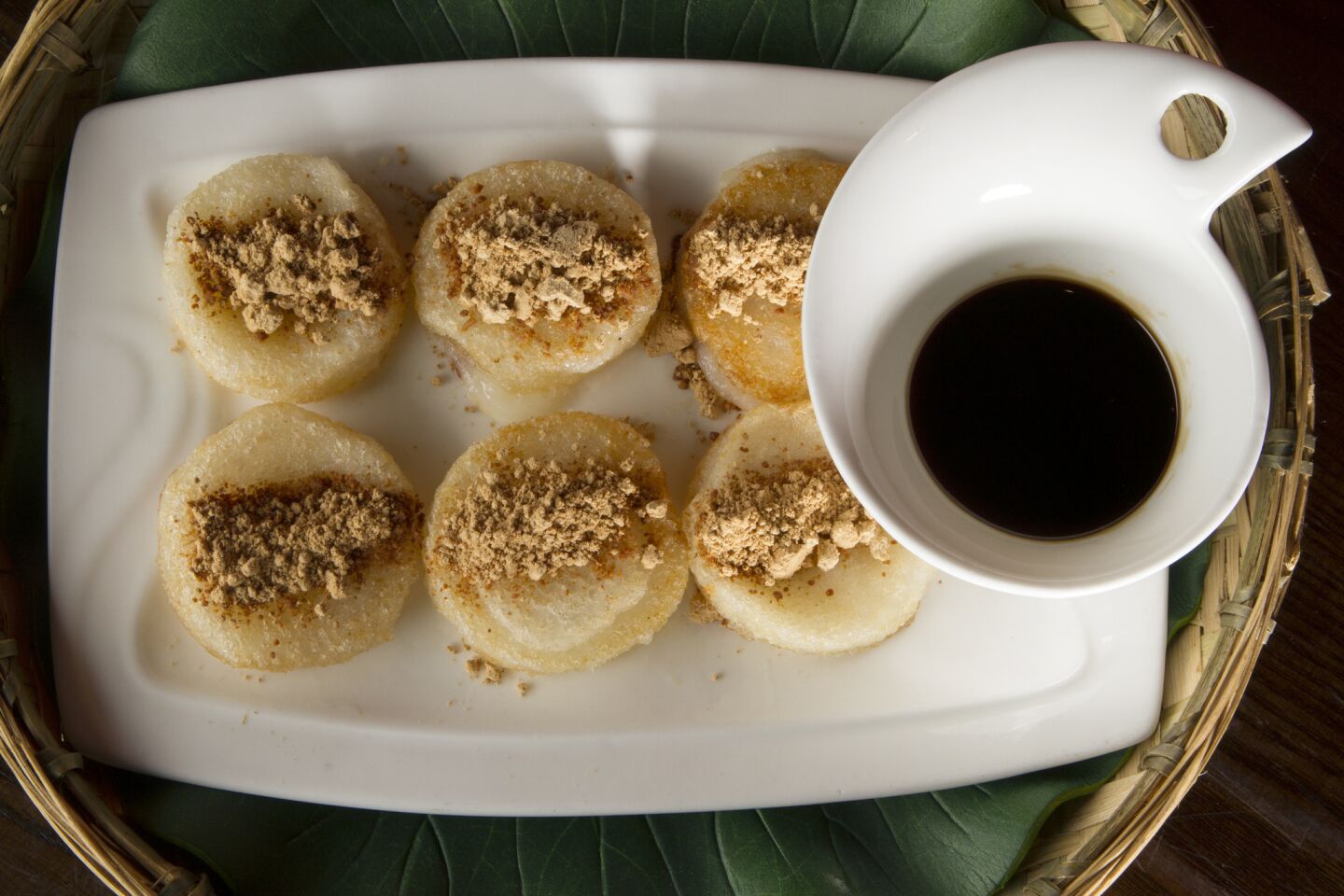 Fang's Kitchen's Chinese rice cake with black sugar dipping.
(Cheryl A. Guerrero / Los Angeles Times)
The zigong sauteed cold rabbit meat at Fang's Kitchen.
(Cheryl A. Guerrero / Los Angeles Times)
Customers can order the Bashu fish fillet with mixed vegetables in hot chili at the Monterey Park restaurant.
(Cheryl A. Guerrero / Los Angeles Times)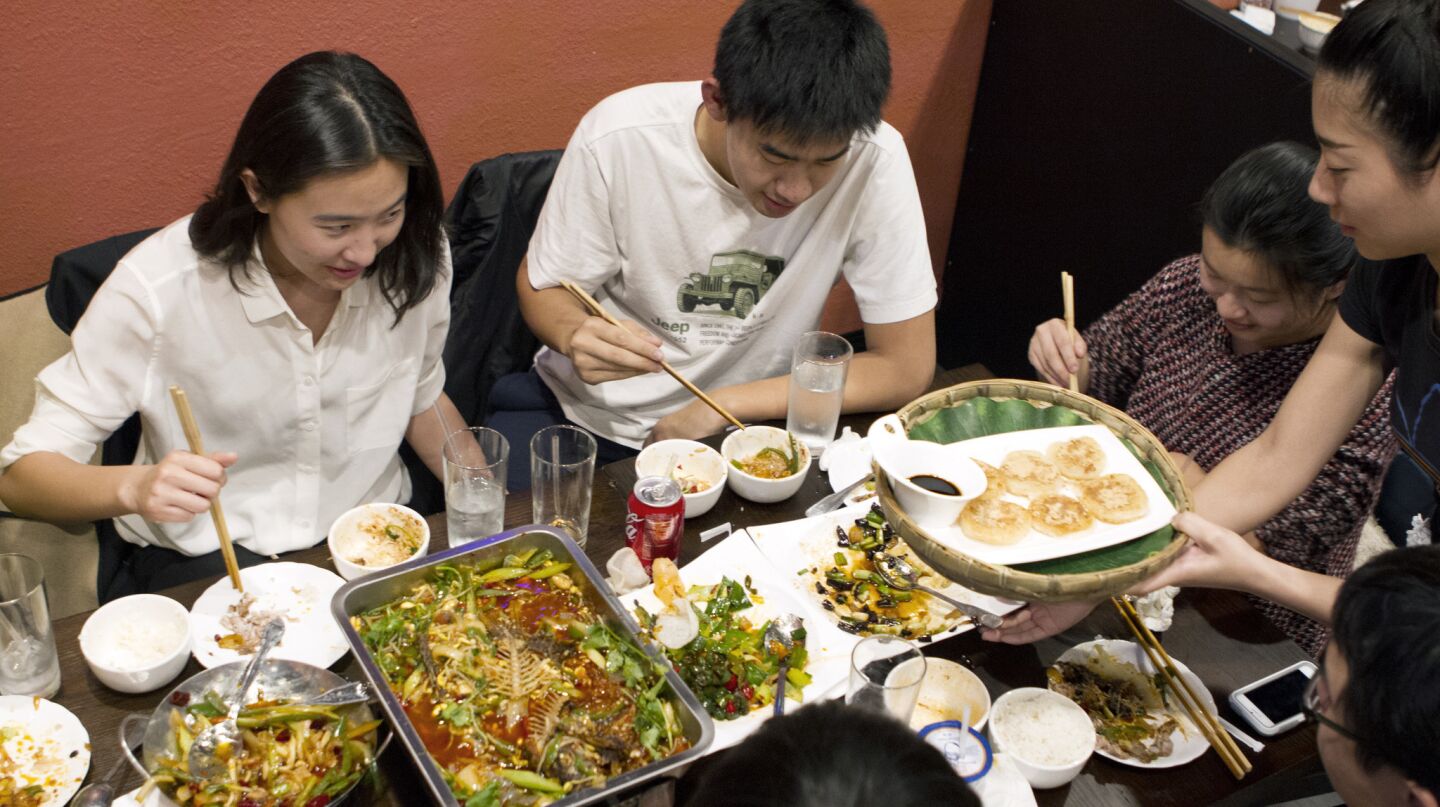 Tilly Wong, from left, her boyfriend, Jason Wong, Sally Wong and their friends order a Chinese rice cake with black sugar dipping from Jojo Jiang at Fang's Kitchen.
(Cheryl A. Guerrero / Los Angeles Times)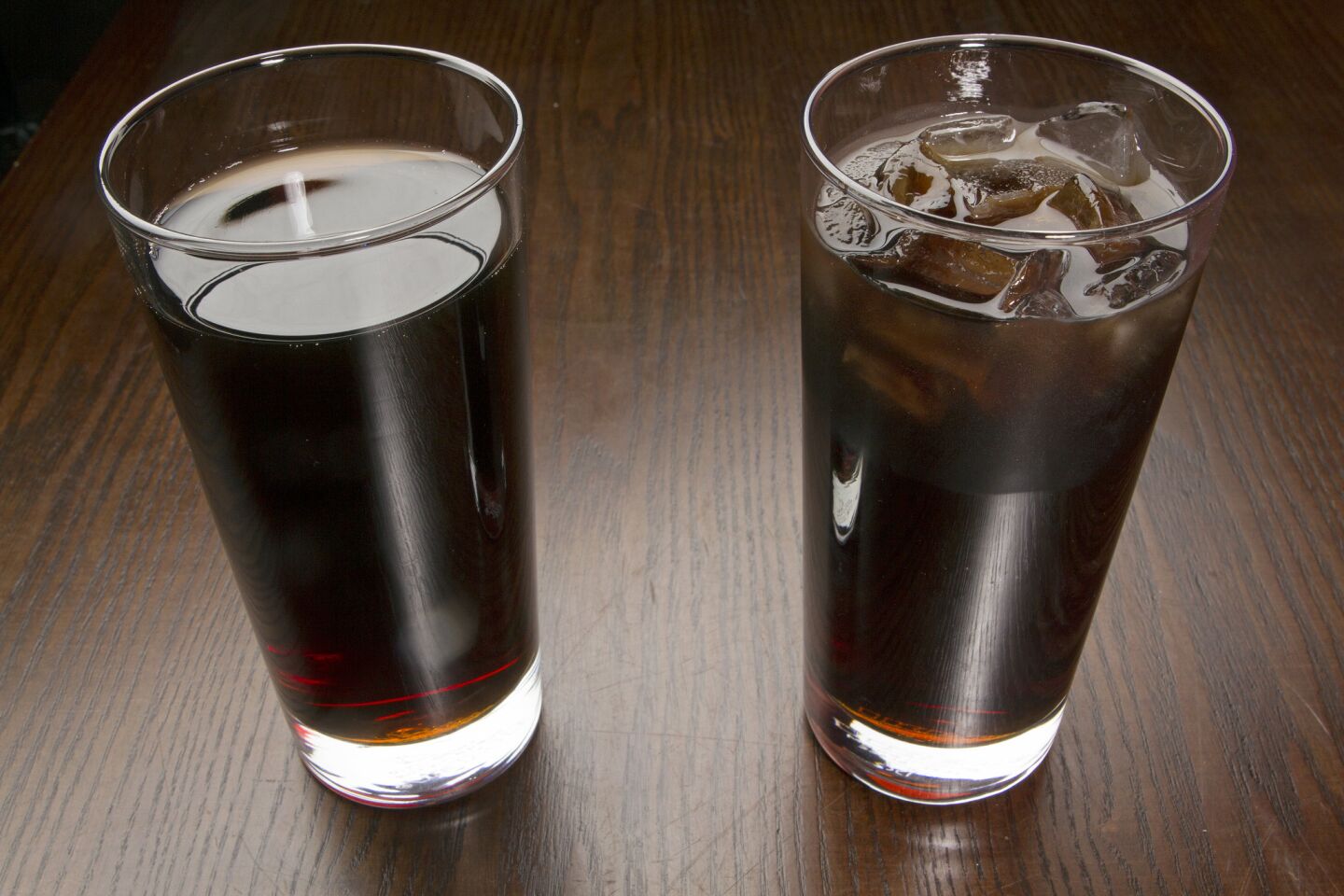 Customers can enjoy the plum juice at Fang's Kitchen in Monterey Park.
(Cheryl A. Guerrero / Los Angeles Times)
Water-boiled fish is one of the most impressive dishes in the Sichuan repertoire: an enormous bowl of vegetables and broth bloodied with a half-inch of vivid chile oil. At Fang's Kitchen, the sleek new Chengdu-style Sichuan restaurant in Monterey Park, the fish, called here Bashu fish fillet, lies atop what must be a triple handful of bean sprouts, which I've never actually seen anybody eat but which keep the pale fillets right at the surface.
I've heard a lot of theories about the recent boom in Sichuan restaurants in the San Gabriel Valley, especially those specializing in the elaborate, spicy cooking of Chengdu. One friend mentions the great 2008 earthquake, centered not far from Chengdu, which might have shaken anyone's resolve to live in that city; another cites the general increase in emigration from China's north and west. Basic ingredients, the pickles, freshwater fish, rabbits, chiles and Sichuan peppercorns essential to the Sichuan kitchen are much easier to find than they were just a few years ago. Or maybe, after decades of exposure to Sichuan dishes prepared by non-Sichuanese, locals are finally ready for the real thing.
The simplest explanation, though, is probably the impressive success of Chengdu Taste, the Alhambra restaurant that still draws two-hour lines on warm nights and stoked a hunger for Bon Bon chicken, cumin lamb and cold rabbit meat that the San Gabriel Valley never quite knew it had. Success, at least in the SGV, always attracts competitors. Look at the sheer number of Cajun-Chinese seafood places and neo-Mongolian hot pot restaurants in town.
"If you wanted dan dan mian, you came to us," sighs the owner of the tiny Lucky Noodle King, possibly the first Chengdu-style restaurant in the area. "Now there must be seven or eight places to get the noodles on this street alone."
What this means for Angelenos is that for the first time it is possible not just to sample Chengdu-style cuisine, not just to marvel at the complex chile heat and the availability of organ-stuffed hot pots, but to decide which restaurant prepares your favorite version of a specific dish: the purple yam cakes at the elegant new Chuan's, the Bon Bon chicken at Szechuan Impression, or the boiled fish with green pepper, the toothpick lamb, the wonton in chile oil — almost everything — at the original Chengdu Taste, whose cooking is by far the spiciest of the new restaurants.
Fang's, all red walls and shiny glass, is sharp-looking, almost sophisticated in its corner space, long home to the Shanghainese restaurant Giangnan, a few storefronts down from the dumpling specialist Dean Sin World in a faded mini-mall south of the 10 Freeway. It seems to be more popular with groups of young couples than with families, although it serves nothing stronger than pitchers of smoky plum juice, and there is only one table that could conceivably seat a party larger than six.
Almost every time I've been in, a waitress has told the group that if we promised to write up the restaurant on the Chinese-language message board Weibo, we'd get a free dessert. I neither read nor write a word of Chinese, but the lure of the crisply toasted rice cakes, sprinkled with powdered mung bean and drizzled with liquid black sugar, is pretty strong. I confess: I have lied for dessert.
The dan dan mian does happen to be pretty good here, a sophisticated version with just a sprinkling of ground pork and a drizzle of chile sauce. The boiled wonton in chile oil, another Sichuan standard, is decent too, although the dumpling skin is not quite as delicate as it is at Chengdu Taste. You will find a delicious rendition of cold, chopped Chengdu chicken in scarlet chile oil, tossed with fried peanuts and chopped herbs, although I prefer the bony, delicious version made with rabbit. There is E-Mei spiced duck, named after the famous Sichuan mountain, rolled up in a bamboo mat and served warm, slightly smoky and barely crisp.
I love the garlicky Chinese leeks sautéed with smoked pork belly, and the dry pot, served in a shallow vessel balanced over a flame, of velvety bullfrog meat sautéed with peppers and onions. (Frog is an important meat in landlocked Sichuan.)
There are salty hot peppers, called "tiger skin" because the vegetable's membrane wrinkles into something resembling stripes when blasted in the hot wok, crunchy potato shreds stir-fried with peppers, and a half-blackened, chile-punched take on the standard dry-fried string beans with pork.
On the other hand, I have tried to order spicy rabbit head every time I've visited the restaurant and have had to console myself with duck heads — although it must be said that gnawing on the skin of a duck head seems more like a pleasant hobby than an attempt to ingest actual food.
I have also failed in attempts to order halogen bean curd, which looks like a log cabin made out of marinated tofu blocks in the menu photograph; scalded hibernate, which looks a lot like jellyfish; and the Chengdu-style sandwich, spicy meat served with a sort of house-made pita, which waiters assure me will be back on the menu when the kitchen gets the bread right.
If you're keeping score, the beef lungs in chile sauce turn out to be our old friend fu qi fei pian, the marinated meat dish you'll find in the cold case at pretty much every local Sichuan restaurant, made with tripe and sliced beef flank instead of lung — which is illegal to serve in the United States.
But that Bashu fish — the fish is tender, just firm enough to lift to your mouth with a pair of chopsticks, and lightly coated with egg white. The fragrance of chiles, garlic and pickly spice is overwhelming. But the flavor is impossibly mild, a bit of tingling from the Sichuan pepper and a bit of heat from the red chiles, a lingering sweetness from what might be Chinese rice wine and just the slightest hint of seafood flavor.
The bowl at Fang's seems to be almost the size of a truck tire, and when you are done with the fish, you can poke around in the broth for mushrooms or chunks of yam jelly. You will take at least a quart of the broth home. It will provide the basis of your suppers for the rest of the week.
::
FANG'S KITCHEN
Another great Sichuan restaurant opens in the San Gabriel Valley.
LOCATION
306 N. Garfield Ave., Suite A12, Monterey Park, (626) 988-5219
PRICES
Cold dishes, $1.99-$16.99; hot dishes, $7.99-$19.99; vegetables, $7.99-$11.99
DETAILS
Open 11:30 a.m. to 3 p.m. and 5 to 10 p.m. daily. Credit cards accepted. No alcohol. Lot parking.
RECOMMENDED DISH
E-Mei duck, Zigong sautéed cold rabbit meat, bullfrog dry pot, tiger skin green peppers, Bashu fish fillet in chili oil, sautéed garlic sprout with Chinese bacon.
Follow me on Twitter @thejgold
---
Get our L.A. Goes Out newsletter, with the week's best events, to help you explore and experience our city.
You may occasionally receive promotional content from the Los Angeles Times.