Otium at the Broad museum is L.A.'s most ambitious new restaurant in years
The deconstructed "pastrami" in a donabe pot at Otium.
(Christina House / For The Times)
Otium's Tim Hollingsworth was chef de cuisine at Thomas Keller's French Laundry in Yountville.
(Christina House / For The Times)
The Otium garden salad.
(Christina House / For The Times)
Chef Tim Hollingsworth works alongside his crew at Otium.
(Christina House / For The Times)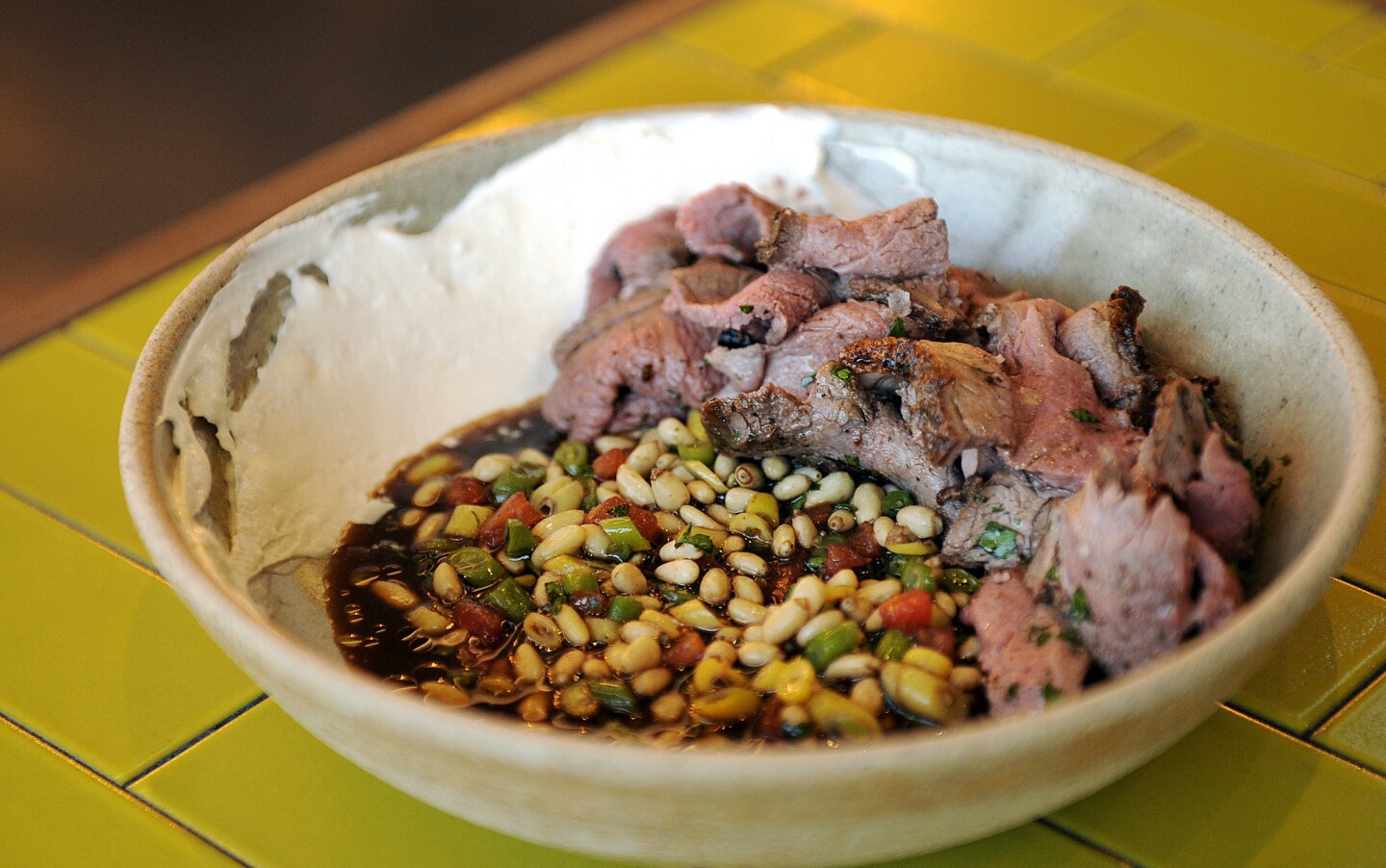 Beef short ribs at Otium.
(Christina House / For The Times)
Not even a counter separates the dining room from the open kitchen at Otium.
(Christina House / For The Times)
Lamb with pine nuts at Otium.
(Christina House / For The Times)
At work on plating at Otium.
(Christina House / For The Times)
Uni spaghetti at Otium.
(Christina House / For The Times)
The dining area at Otium.
(Christina House / For The Times)
The hamachi dish at Otium includes nori, avocado and sweet and sour tomatoes.
(Christina House / For The Times)
The bar at Otium in downtown Los Angeles.
(Christina House / For The Times)
Otium's open kitchen as seen from the dining area.
(Christina House / For The Times)
Otium is the ambitious new restaurant from Timothy Hollingsworth located at the Broad museum in downtown L.A.
(Christina House / For The Times)
Joy Benjamin and her daughter Susan have some wine at Otium.
(Christina House / For The Times)
The wine cellar at Otium. Sommelier Elizabeth Huettinger has a knack for selecting high-acid wines that pair well with modern cuisine.
(Christina House / For The Times)
Inside the wine cellar at Otium.
(Christina House / For The Times)
Sommelier Elizabeth Huettinger inspects the wine cellar.
(Christina House / For The Times)
The Otium shares space with the Broad museum, so artful touches abound in the restaurant.
(Christina House / For The Times)
Los Angeles Times Restaurant Critic
What is an ambitious restaurant in America at the moment? Does it require the elaborate French-based cooking at restaurants like Le Bernardin or the French Laundry, or does it hew closer to the vaguely experimental vibe of Manresa or Alinea? Does the global eclecticism of Providence or Spago qualify? The casual hyper-local rusticity of Lucques or Rustic Canyon? Do there need to be truffles, foie gras and A-5 Kobe beef, or could a well-cooked turnip be enough?
At Otium, the new restaurant in the Broad museum complex downtown, Timothy Hollingsworth seems to be trying to do no less than to reinvent what an American restaurant might be. The original Spago pioneered the open kitchen, but at Otium there is not so much as a counter between the dining room and the stoves. But most of all, Hollingsworth is attempting to nudge American cooking into the conversation — not the idealized regional cuisines cataloged by people like Edna Lewis and James Beard, but American cooking as it is experienced by most of us in 2016 — falafel and shawarma, spaghetti and sushi, funnel cake and campfire-roasted s'mores.
It may be grand to grow up attuned to the subtle culinary rhythms of Osaka or Provence, but also, Hollingsworth seems to suggest, to the picnics, backyard barbecues and county fairs of the rural California in which he was raised. A recent brunch menu included takes on Mexican pozole, Egyptian ful, French duck-leg pithivier, Korean bibimbap, British finnan haddie, and San Francisco hangtown fry.
To get to Otium, you inch across Bunker Hill, through pre-concert Music Center traffic, past the commercials perpetually being shot outside Disney Hall, and to a parking valet just a few steps past the Broad, whose heroic corrugations are bathed in white light. You stroll through a small olive grove, past a geometrically exact woodpile, and into a Modernist pavilion scented with wood smoke and herbs. The experience is so overwhelming that it may not be until your fifth or sixth visit that you notice the mammoth Damien Hirst fish mural painted on the building's side.
In an L.A. dining scene that has caught the food world's attention for its funky spaces, mini-mall Escoffiers and the erasure of boundaries between street food and fine dining, Otium is the most ambitious new restaurant in years. It was designed from the ground up by Osvaldo Maiozzi, the architect who has become to current restaurant design what Morphosis was in the 1980s; the glowing tiles are from Heath Ceramics; and the herbs and flowers are grown on the roof. The young sommelier, Elizabeth Huettinger, famous for her adeptness with the high-acid wines that work so well with modern cuisine, was brought in from the Addison in San Diego. Hollingsworth came from a position as Thomas Keller's chef de cuisine at the French Laundry in Yountville, Calif., one of the most decorated restaurants in the world. It is a restaurant that aspires to please everyone, from steakhouse guys to the Nobu crowd, people who think of a wood oven as a vehicle for roasting cauliflower and people who regard it as a tool designed to cook beef.
So there is a smoky bowl of roast carrots splashed with an herb-forward version of the Mexican seed sauce pepián, with a smear of tart cream just under the rim; a dense disk of tart crust layered with stewed oxtail, orange and bitter dressed greens; cockscomb-shaped pasta tossed with a lightened puttanesca sauce; and a Malaysian-leaning dish of curried grilled prawns with peanuts.
Hollingsworth honors the current vogue for Middle Eastern flavors with a beef tartare tricked out with drained yogurt, mint and bulgur to resemble a plate of Lebanese kibbeh nayeh; and a dish of sliced lamb, spiced vaguely like shawarma, served with yogurt and a sea of what looks like white beans but is actually pleasantly rubbery pine nuts softened in demi-glace.
Raw, pale slivers of the flounder-like fish fluke, lightly cured with zest from the oddly shaped citrus called Buddha's hand, are laid onto crisp, lacy crackers made from black rice. Fluke is bland, so the fishiness is amplified with dots of marinated salmon roe. There are herbs on the fish, crunchy bits of sea bean, and transparently thin slices of kumquat. The plate is painted with bold, Franz Kline stripes of black sesame paste.
Fingers of brioche are laminated with fresh sea urchin roe and sheets of lardo. Amberjack is arranged in a bowl with herbs, curls of puffed pigskin and tiny segments of slightly smoked tangerine, like something you might see at Animal.
A slab of black cod, crisp-skinned but still a bit wobbly-rare, is genuinely good, dusted with charred onion, flanked with clams in a bowl brushed with Maggi seasoning. (Hollingsworth likes playing with intensities of brininess.) The aged duck breast rubbed with spice and salt, crunchy-skinned and rendered of most of its fat, is served with marinated turnips and a squiggle of bitter chocolate sauce that brought out the subtle gaminess of the flesh.
Still, while Hollingsworth may have opened the barbecue restaurant Barrel & Ashes, he is still a haute cuisine guy, truffling roast chickens like the best of them. French Laundry alumni tend to go the way of René Redzepi, Grant Achatz and Corey Lee. And sometimes the pop-culture touches fall a little flat. At a place like Otium, you might reasonably expect the falafel to surpass the stuff you're used to getting at places like the Hummus Bar & Grill or Kareem's, but it is a little stodgy here. The gummy spaghetti with sea urchin, a Japanese-Western standard, falls short of the versions you find at the best yoshoku dives in Gardena and Torrance. Everybody loves roast pork with apples and cabbage, but the over-salted meat spent perhaps too much time under sous-vide. And Hollingsworth's conception of the Japanese clay pot called the donabe — which he uses to smoke food as if it were a miniature Big Green Egg — is just odd.
But the restaurant is new — I suspect that the various strands of Hollingsworth's cooking will come together into a coherent cuisine over the next several months. I love the studied informality. And I even liked the foie gras funnel cake — the notorious carnival fried-dough snack was crisp and delicious, scattered with strawberries, shaved fennel and red sorrel leaves hiding delicate, airy puffs of foie gras mousse. I'm not fond of the concept of decadence when it comes to food, but this is real end-of-empire stuff, the brunch of time's demise.
::
Otium
Chef Timothy Hollingsworth opens a museum-worthy restaurant in downtown L.A.
LOCATION
222 S. Hope St., Los Angeles, (213) 935-8500, otiumla.com.
PRICES
Raw bar, $12-$18; smallish plates, $13-$26; largish plates, $18-$55; desserts $9-$14.
DETAILS
Lunch 11:30 a.m. to 3 p.m. Tues.-Fri.; dinner 6 to 10 p.m. Tues., Wed. and Sun.; 6 to 11 p.m. Thurs.-Sat.; brunch 10:30 a.m. to 2:30 p.m. Sat.-Sun. Credit cards accepted. Full bar. Valet parking on Grand Street.
RECOMMENDED DISHES
Fluke with black rice cracker; carrots with pepián; foie gras funnel cake; grilled blue prawns; duck with chocolate and turnip; pancake ice cream.
ALSO
See the massive underground pastry kitchen where Bottega Louie's macarons are made
You can laugh at the Bellwether's on-trend menu, but Ted Hopson's cooking is no joke
Ari Taymor's Alma, temporarily reborn at the Standard Hollywood, is better than ever
---
Get our weekly Tasting Notes newsletter for reviews, news and more.
You may occasionally receive promotional content from the Los Angeles Times.