Review: Ari Taymor's Alma, temporarily reborn at the Standard Hollywood, is better than ever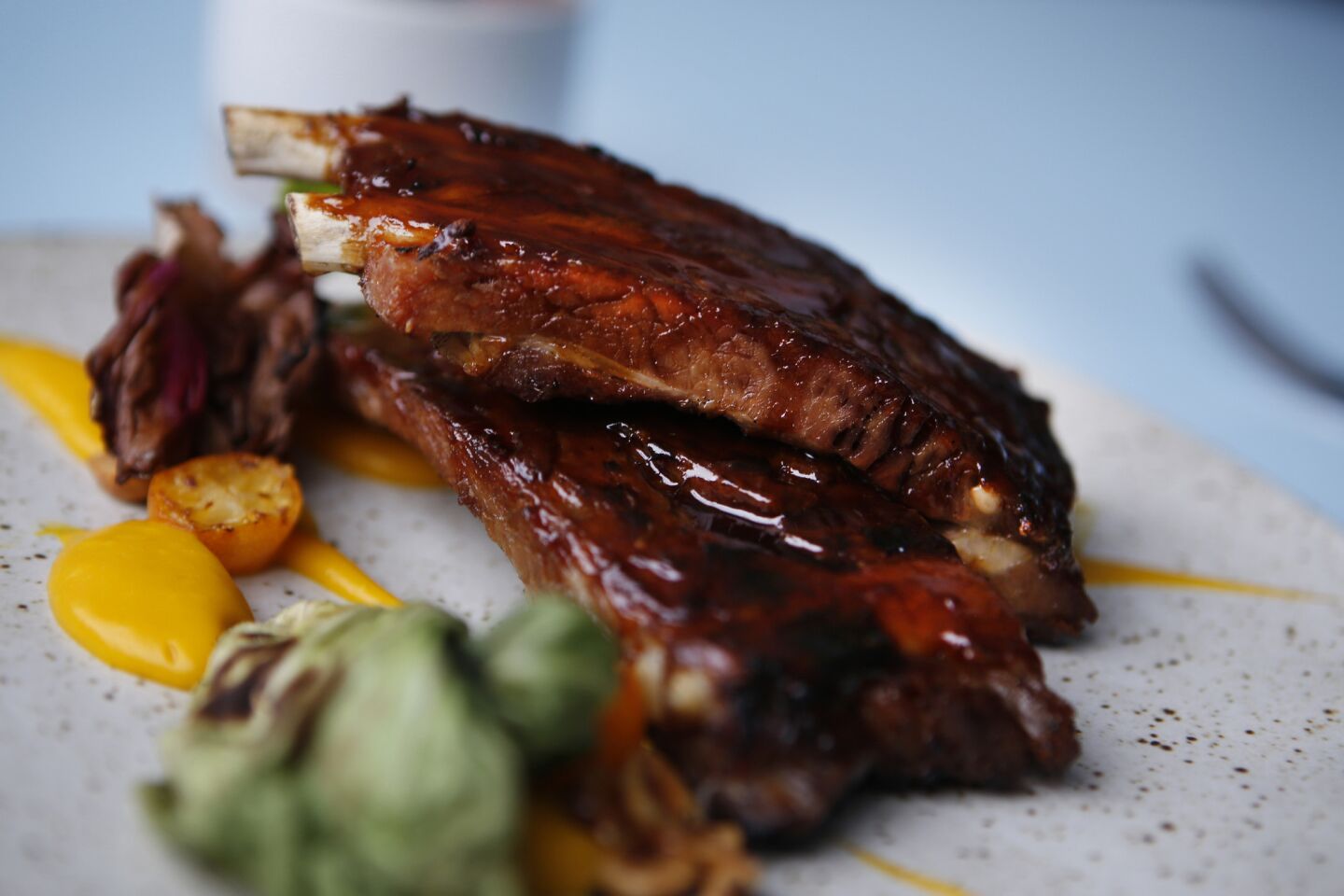 Ribs glazed in cider vinegar, pumpkin, kumquat and hazelnut at the temporary Alma restaurant in the Standard Hotel.
(Glenn Koenig / Los Angeles Times)
Chef Ari Taymor at his temporary Alma restaurant inside the Standard Hotel.
(Glenn Koenig / Los Angeles Times)
Parsley root, fernet and ginger sundae as served at Alma in West Hollywood's Standard Hotel.
(Glenn Koenig / Los Angeles Times)
Frozen foie gras with smoked maple, coffee granola and carrots at Alma in West Hollywood.
(Glenn Koenig / Los Angeles Times)
Roasted carrots and maitake with macadamia nut and dandelion salsa at Alma in West Hollywood.
(Glenn Koenig / Los Angeles Times)
Charred octopus, black garlic, crushed potatoes at Alma in the Standard Hotel.
(Glenn Koenig / Los Angeles Times)
Seaweed and tofu beignet, yuzu kosho and lime at Alma in West Hollywood.
(Glenn Koenig / Los Angeles Times)
Los Angeles Times Restaurant Critic
The restaurant at the Standard is slamming, an ocean of untucked shirts and minidresses crammed into a barely reconstructed diner, sparklers jammed into cakes, frothing bottles of Champagne. A "whoomp whoomp" from a DJ somewhere in the hotel cuts through the Jimmy Cliff and the Morrissey; a dude in a royal blue tuxedo raises his glass in a toast before slumping back onto the banquette. You ask a waiter for what you assume is a variation on a martini. She insists on reminding you that the drink is called the Great White Hype.
It is Saturday night on the Sunset Strip. You have been here before. Until you remember to look at the food on your plate — pink curls of smoked trout with roasted beets and little heaps of salmon roe perhaps, or bits of onion puffed into vegetable chicharrones served like chips with a kind of sorrel-soured guacamole — it is easy to forget that you are in Ari Taymor's domain, a reincarnation of a rarefied restaurant best-known for its shriveled but delicious butter-roasted carrots and its ethereal seaweed-tofu beignets.
Alma's closing in October was one of the biggest restaurant stories of 2015, and the way you reacted to it may have said more about you than it did about the actual circumstances of its demise. Some people thought it was a symptom of the toxic gentrification of downtown; some that Alma was too pure for its own good; some that Los Angeles was too shallow to support even modestly avant-garde cooking.
Alma had been honored about as much as a young restaurant can be — The Times ranked it 12th in its list of the 101 best Los Angeles restaurants, and Bon Appétit named it the best new U.S. restaurant of 2013. Taymor was chosen as a Best New Chef by Food and Wine, and as a Rising Star Chef finalist by the James Beard Foundation. Some observers, including Taymor himself, thought that the praise may have set up unreasonable expectations in the minds of its customers, many of whom were international travelers expecting the polish and conceptual unity of superstars like El Celler de Can Roca or Eleven Madison Park. Even Alma's best friends acknowledged that the multicourse tasting menus, often reliant on the nuanced subtleties of roots, foraged plants and seeds, could occasionally be a slog.
Still, if the last several years have taught us anything in Los Angeles, it is that a restaurant may exist as a concept as well as a physical space; that it is possible for an underground party in somebody's backyard to shape-shift into a supper club, a funky Chinese joint and finally a video arcade; a taco truck can morph into a world-class dining room; and an haute cuisine menu can shuttle between a wine bar and a friend's borrowed living room. Restaurants as well as people can thrive in a gig economy.
So it shouldn't be a surprise that Alma appears to be not just a pop-up but a full-fledged restaurant in the Standard space — seven nights a week until at least the end of February and probably the end of May. (The kitchen crew and the service staff is mostly intact.)
If you were a fan of Alma, you will find all of your favorites, from the crisp little English muffins smeared with uni and burrata, to the melting cubes of frozen foie gras tossed with crunchy coffee granola, to those seaweed and tofu beignets. If you liked Ashleigh Parsons' roster of the eccentric, high-acid wines that go so well with Taymor's vegetable-forward cooking, you'll find the Txakolinas and unsulfured Mourvèdres you crave.
But while the idea might make half the creative chefs in the world grind their teeth in rage — Alma at the Standard is probably a better restaurant than Alma: more consistent, more evenly paced and more fun. It is filled with people who want to have a great dinner rather than with gourmands looking to tick another famous restaurant off their list. You can have a cocktail if you want one. You don't have to reserve a month in advance.
Taymor's cooking is less precious than it was at his last restaurant — still technical, still digging deep flavors out of plants you have never once bought at Whole Foods, but less fussy somehow, more direct. His clam chowder may be basically an earthy root veloute where the clams (two) share space with cubed celery root and diced ham, but the diced vegetable has the hint of tartness and texture the soup needs.
The long-aged New York steak may be cooked using a laborious method, pioneered by British chef Heston Blumenthal, involving constant flipping over a low flame, but the meat is a consistent bright red all the way through, as if it had been cooked sous vide; it's flanked with bright pickled chanterelles and is both juicy and tender enough to cut with a fork.
The sulfurous funk of raw cabbage becomes almost meaty when combined with fleshy mashed avocado and a dusting of pulverized smoked almonds. And there are his famous carrots — blackened and gnarled, impossibly sweet, served with frizzled slivers of maitake mushroom and moistened with a kind of pesto made with dandelion greens.
If it's your birthday, they can probably arrange for a cake if you give them a little notice. Otherwise, you're going to want to try the soft, bittersweet parsley root sundae sprinkled with Fernet, which tastes about a thousand times better than it sounds.
::
Alma at the Standard
Chef Ari Taymor reopens his celebrated restaurant inside a Sunset Boulevard hotel.
LOCATION
The Standard Hollywood, 8300 Sunset Blvd., West Hollywood, (323) 822-3131, alma-la.com
PRICES
Snacks $7-$15; small plates $11-$17; large plates $19-$34; dessert $5-$9.
DETAILS
Open 5:30 p.m. to 10 p.m. Sun.-Thurs.; 5:30 p.m. to 11 p.m. Fri.-Sat. Credit cards accepted. Full bar. Valet parking.
RECOMMENDED DISHES
English muffins with uni and burrata; clam chowder; cabbage and crushed avocado salad; roasted carrots and maitake; New York steak with sunchoke and pickled chanterelles; parsley root and Fernet sundae.
------------
For the Record
Jan. 29, 11:36 a.m.: An earlier version of this review included information about location, prices and hours for Alma's now-closed downtown location.
------------
MORE JONATHAN GOLD
Grand Harbor caters to seafood tastes in the $10 to $10,000 range
Warm up with dizi at Nersses Vanak in Glendale
Andy Ricker's Pok Pok brings a genuine taste of Thailand to L.A.
Get our L.A. Goes Out newsletter, with the week's best events, to help you explore and experience our city.
You may occasionally receive promotional content from the Los Angeles Times.