Redbird sets a divine scene at St. Vibiana's in downtown L.A.
Redbird's Grilled Spanish octopus is a nod to the tapas influence.
(Lawrence K. Ho / Los Angeles Times)
The main dining space, with a view of the cathedral's bell tower, is retractable at Redbird in downtown Los Angeles.
(Lawrence K. Ho / Los Angeles Times)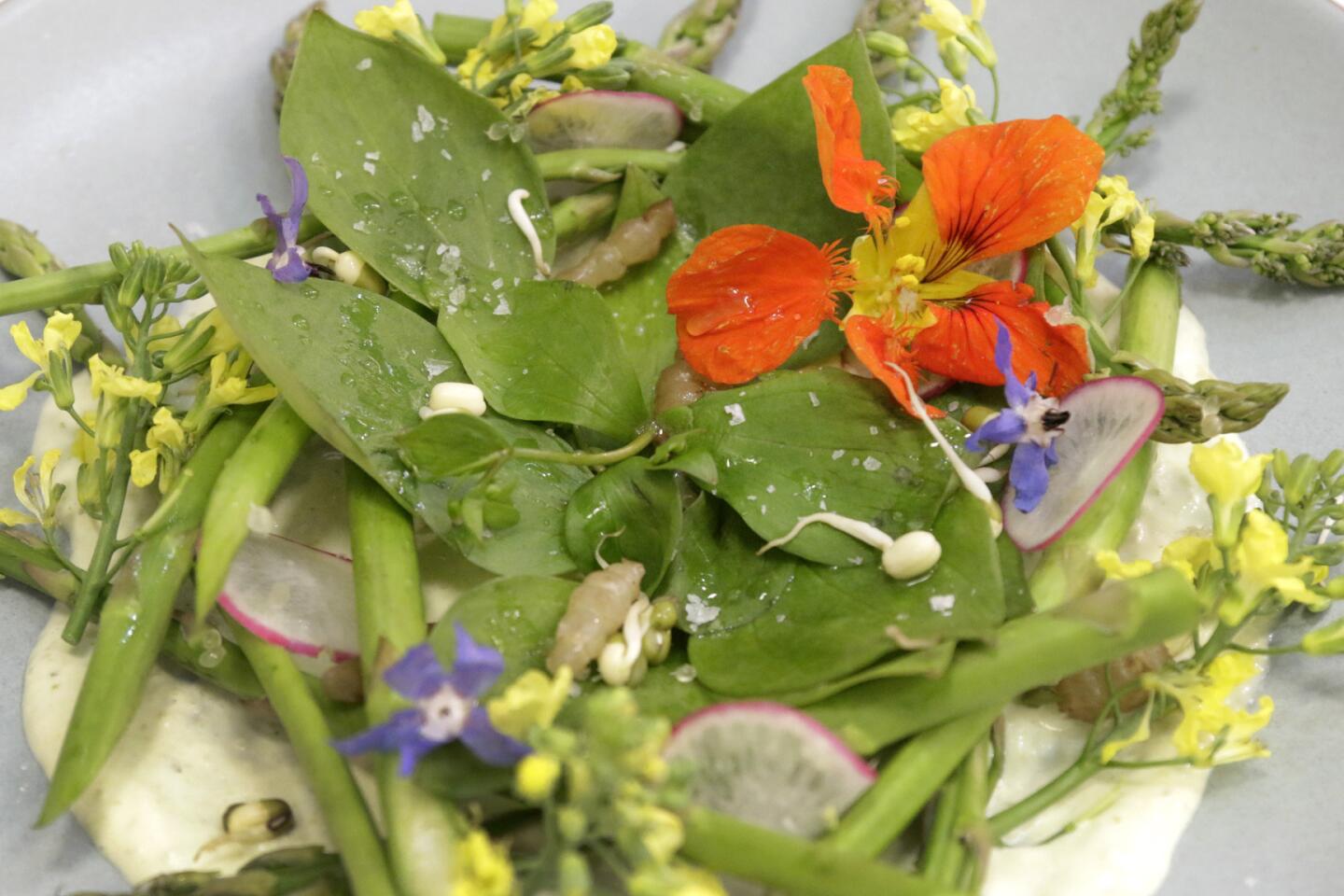 Vegetable crudo is bright with edible flowers and fresh from the farmers market.
(Lawrence K. Ho / Los Angeles Times)
Braised goat with gemelli pasta.
(Lawrence K. Ho / Los Angeles Times)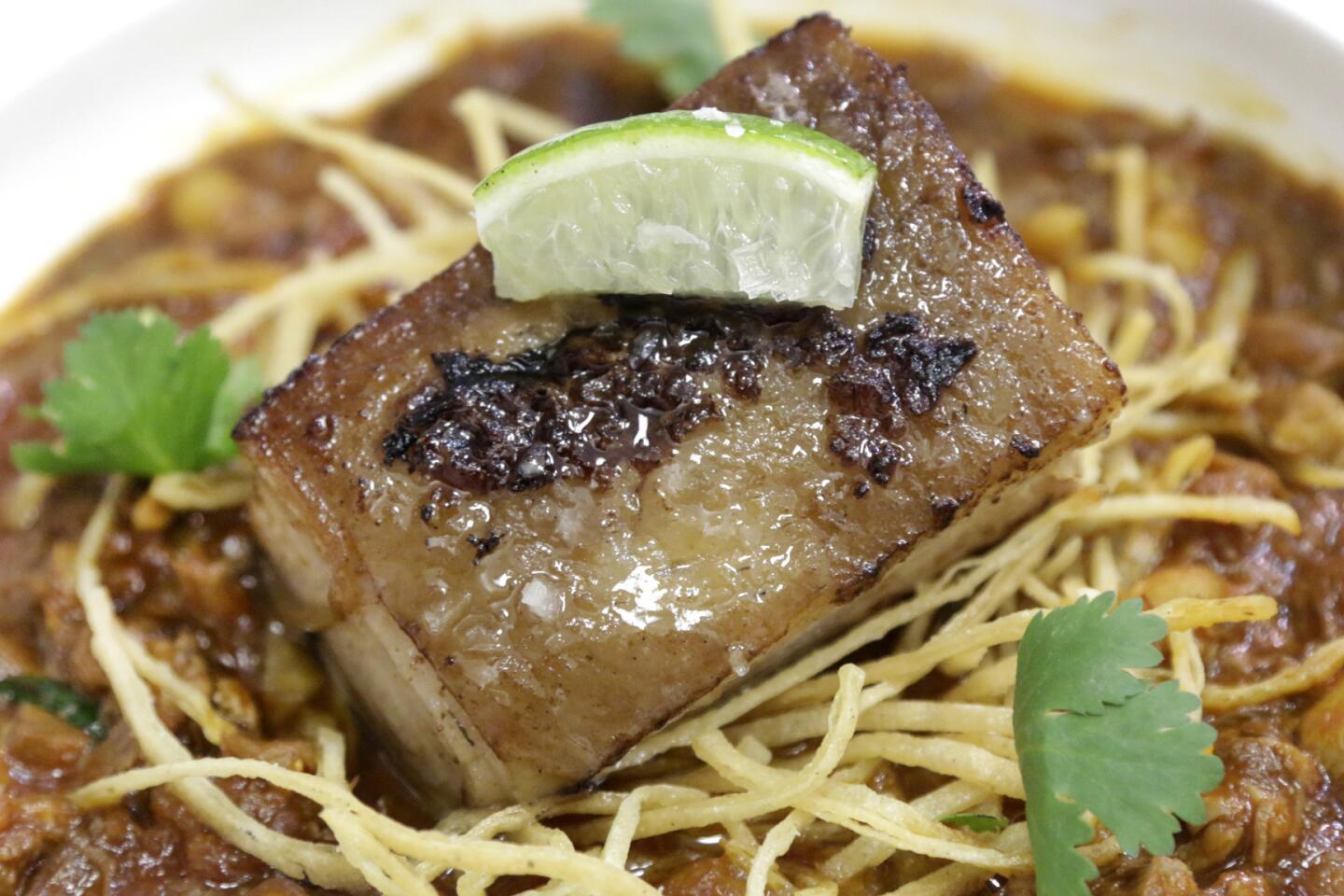 The pozole at Redbird, Neal Fraser's restaurant in the former St. Vibiana Cathedral, is topped with a thick piece of pork belly.
More great L.A.-area restaurants
(Lawrence K. Ho / Los Angeles Times)
The main open dining space at Redbird is in the former rectory building at Vibiana. The ceiling is retractable.
(Lawrence K. Ho / Los Angeles Times)
Rack of Red Wattle pork.
(Lawrence K. Ho / Los Angeles Times)
The creamsicle at Redbird is made with tangerines and liquid-nitrogen ice cream.
(Lawrence K. Ho / Los Angeles Times)
An artfully composed strawberry tart dessert.
(Lawrence K. Ho / Los Angeles Times)
The lounge and bar at Redbird show elements of St. Vibiana's design.
(Lawrence K. Ho / Los Angeles Times)
The cocktail list was designed by Julian Cox and features favorites from century-old bar manuals.
(Lawrence K. Ho / Los Angeles Times)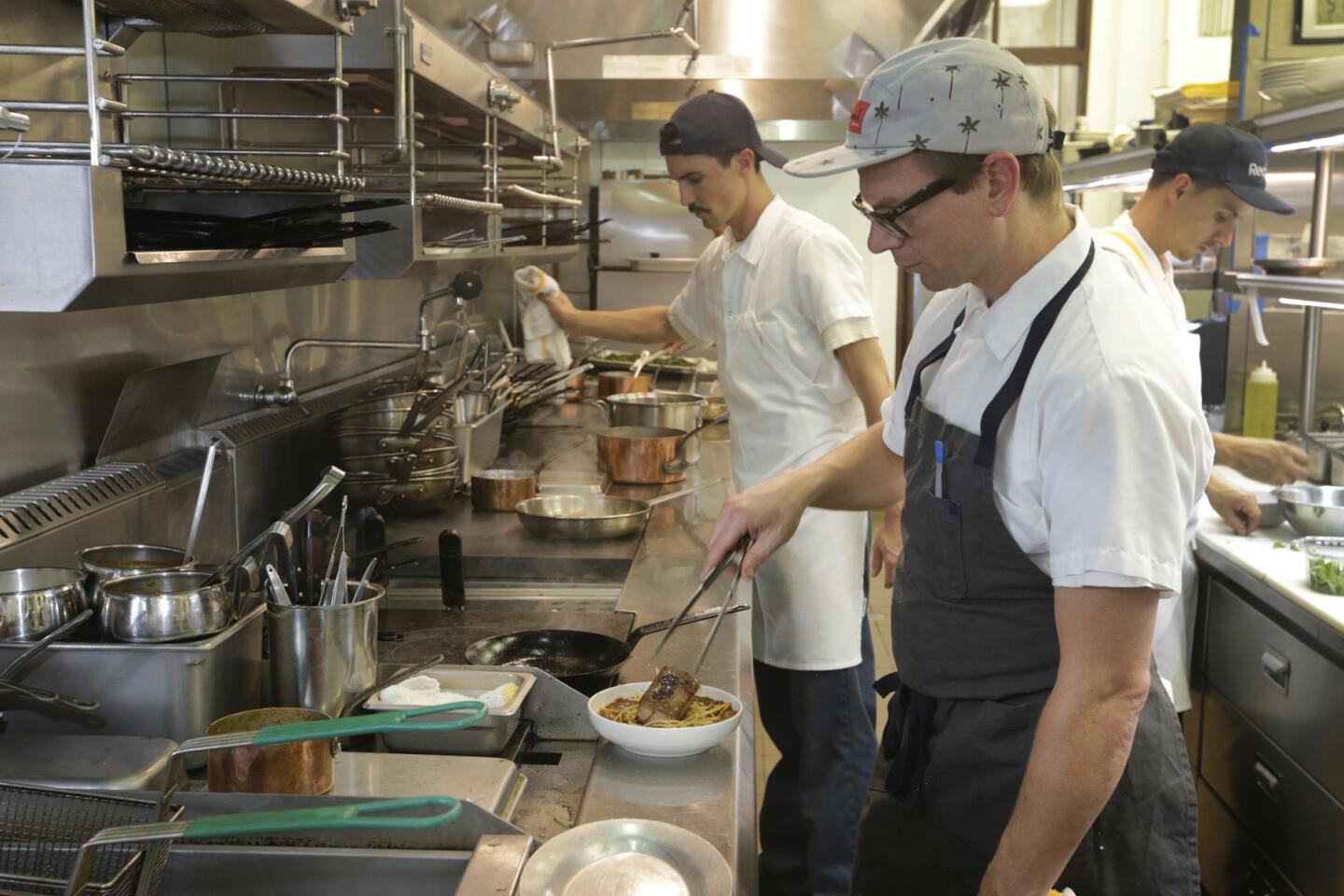 Jason Bowlin, chef de cuisine, in the Redbird kitchen.
Jonathan Gold's 101
(Lawrence K. Ho / Los Angeles Times)
Los Angeles Times Restaurant Critic
Redbird may be the most anticipated Los Angeles restaurant of the current decade, a venture involving the city's highest-profile food entrepreneur at the moment, an actual deconsecrated cathedral and a chef for whom greatness has lain just out of reach for more than a decade. No local restaurant has ever taken quite so long to open; no spit-grilled lamb belly with kumquats and Aleppo pepper has ever taken quite so long to reach the plate.
------------
FOR THE RECORD:
Redbird review: In the April 4 Saturday section, a restaurant review of Redbird misspelled the first name of pastry chef Jashmine Corpuz as Jazmine. —
------------
How long? In the time elapsed between the announcement of the restaurant and the opening last December, Redbird's corner of downtown gentrified from gamy slum to shiny urban showcase — that fragrance on Main Street now is probably night-blooming jasmine, and the neighborhood is no longer inhospitable to gemelli pasta with rapini and braised goat. Neal Fraser, whose former restaurant Grace was considered among the city's couple dozen best, still had his casual restaurant BLD and a hot dog stand in the Original Farmers Market, but his detailed, locavore neo-French cooking was unknown to an entire generation of diners.
Even the former St. Vibiana's had become better known as a high-rent event space than as the former center of Roman Catholicism in Southern California. Cardinals had lived there! (Thus Redbird's name.) The massive door behind the host stand had been donated to St. Vibiana's by a pope. But if you were on the festival circuit in the last few years, Vibiana's was where you went for fancy pancake breakfasts, hog roasts, beefsteak dinners and celebrations of Mexican cuisine. It was not a good idea in those years to ask Fraser or his wife, Amy Knoll Fraser, about the restaurant, which, as the movie guys say, was caught in development hell.
But here we are, walking up the steps to the former rectory, passing through a softly glowing cocktail lounge and into a former patio, newly crowned with a retractable roof. From some angles, you can see bits of the former cathedral interior through the big glass windows — at night, the changing colored lights give the nave the look of a James Turrell installation. A locomotive-size grill chugs at one end of the dining room. The former apartments of the rectory, recently converted into private dining areas, soar overhead. And more than at any Los Angeles restaurant since Rex or the first decade of Campanile, you feel as if you are part of something bigger than yourself, a hungry, chattering component of a grand pleasure machine — even before the 32-ounce porterhouse shows up.
And while the cooking isn't quite a throwback to the big California restaurants of the 1980s and 1990s, it does kind of look back to those times. When you sit down, you are greeted with what the waiters call an "amuse booze,'' a tiny, bitters-infused aperitif that recalls the Road Kill shots Fred Eric used to serve at his old Vida. The Dungeness crab soup, flavored to recall the chicken-coconut soup tom kha kai, is the kind of thing you might have seen at the mid-'90s restaurant Boxer, where you also might have seen a young Fraser on the line in his CIA baseball cap. Fraser likes smoke, chiles and farmers market vegetables; lingering tartness and mild funkiness; odd cross-cultural flavors like sumac, lemon grass and yuzu kosho; little crunchy things and lots of salt. If you accompanied him to a Japanese izakaya, you would probably let him order.
His menu includes reminiscences of the tapas era (grilled spice-rubbed octopus tentacles with fava beans), the Yotam Ottolenghi fixation (that grilled lamb belly with spiced yogurt), modernist gastronomy (uni with chewy half-dried shrimp and a mystifying wasabi snow), farmers market obsession (tiny gnochetti pasta with nettles, lobster and luscious tomato confit) and the urban rustic Italian thing (fennel-scented "rabbitchetta'' with polenta and pea tendrils). As might be expected from a Cochon 555 winner, Fraser takes a swing at Big Pig, and his pink, juicy rack of heritage red wattle pork is delicious, served on a jumble of hazelnuts, chewy spaetzle, artichokes and a blood-fortified Calvados reduction that kind of out-Portlands everything in Oregon.
So you bolster yourself with a truly good cocktail (Julian Cox, ubiquitous at Bill Chait restaurants, designed the list around favorites from century-old cocktail manuals), perhaps gin with ruddy house-made tonic or an embittered sake infusion called Little Tokyo. You choose a modestly priced Romorantin or a Jurassic Poulsard from the eclectic, well-chosen wine list. And you order — kind of small sharing plates, yet kind of not, in that pleasantly confusing jumble that has become more or less standard.
There are roasted shishito peppers dusted with salty, shaved dried fish eggs; thick slabs of headcheese with figs on crisp slivers of toast; fried marbles of smoked pork shank glued to the plate with the Spanish pepper sauce romesco; and a vegetable "crudo,'' which is to say raw bits of asparagus, radish, greens and blossoms ballasted with a spring garlic purée.
The thyme-scented chicken pot pie, served under a pastry dome in a little pot, is delicate and spring-like, slivers of dark meat simmered with vegetables and chewy nuggets of heart. Deep-flavored pozole is even better than you'd think it might be, thick, spicy and powered by hominy funk, garnished with tiny wisps of fried tortilla and a big hunk of gooey braised pork belly. (A bowl of Fraser's pozole and a shot of mezcal would make a perfect pre-clubbing snack.)
Is Fraser's food occasionally forgettable? Of course. King salmon with beets is king salmon with beets, no matter how expertly cooked the fish, and it is easy to forget how dull a fish John Dory really is until you experience it with coins of actually tasty blood sausage. Soft, nutty slices of aged duck breast, a French technique starting to come back here, are overwhelmed by a slightly clumsy bed of Southern beans-and-rice hoppin' John — let me take that back: The clumsiness here actually works as an aesthetic.
But the smoked tofu entrée is the surprise hit of the restaurant, as soft as the freshly made tofu in Korean soondubu parlors but as redolent of the pit as Texas brisket — I never in my life thought I'd find myself praising barbecued tofu. And if the chef is going to name something after himself, it may as well be Veal Fraser: a massive chop topped with braised veal cheeks, plopped on an intense red-wine demi-glace and served with a great mound of schmutz — the odd shredded bits of roast that Creole chefs call "debris'' — enhanced with chewy nubs of snail. It's an almost classical dish that presents all the layers of the food chain at once.
Jashmine Corpuz, the pastry chef, has a love for savory flavors and unusual presentations, such as meringue-light liquid nitrogen ice cream with tangerines, an odd strawberry-rhubarb shortcake with pungent pink peppercorn ice cream, and a crème Catalan with an oddly balanced mint taste that might remind you of boutique toothpaste. Lately, I've been fixated on the black walnut cake, which probably shouldn't count as dessert at all. The cake is musty, kind of grandmother's-attic musty, as black walnuts tend to be. There's a hunk of ale-poached pear as a smidge of token sweetness and a quenelle of an improbable ice cream made with the gamy, stinky goat cheese Humboldt Fog. How does it hold together? Through the force of sheer will.
::
Redbird
Chef Neal Fraser opens his highly anticipated downtown L.A. restaurant in the former rectory of a deconsecrated cathedral.
LOCATION
114 E. 2nd St., Los Angeles, (213) 788-1191, redbird.la
PRICES
Small plates, $13-$24; main courses, $28-$48; desserts, $12
DETAILS
Open 5 p.m. to 10:45 p.m. Tuesdays to Sundays. Credit cards accepted. Full bar. Valet parking.
RECOMMENDED DISHES
Pozole, chicken pot pie, aged duck breast with hoppin' John, smoked tofu, Veal Fraser, creamsicle.
Get our L.A. Goes Out newsletter, with the week's best events, to help you explore and experience our city.
You may occasionally receive promotional content from the Los Angeles Times.