Review: Shawn Pham's Simbal is what you might call a Vietnamese izakaya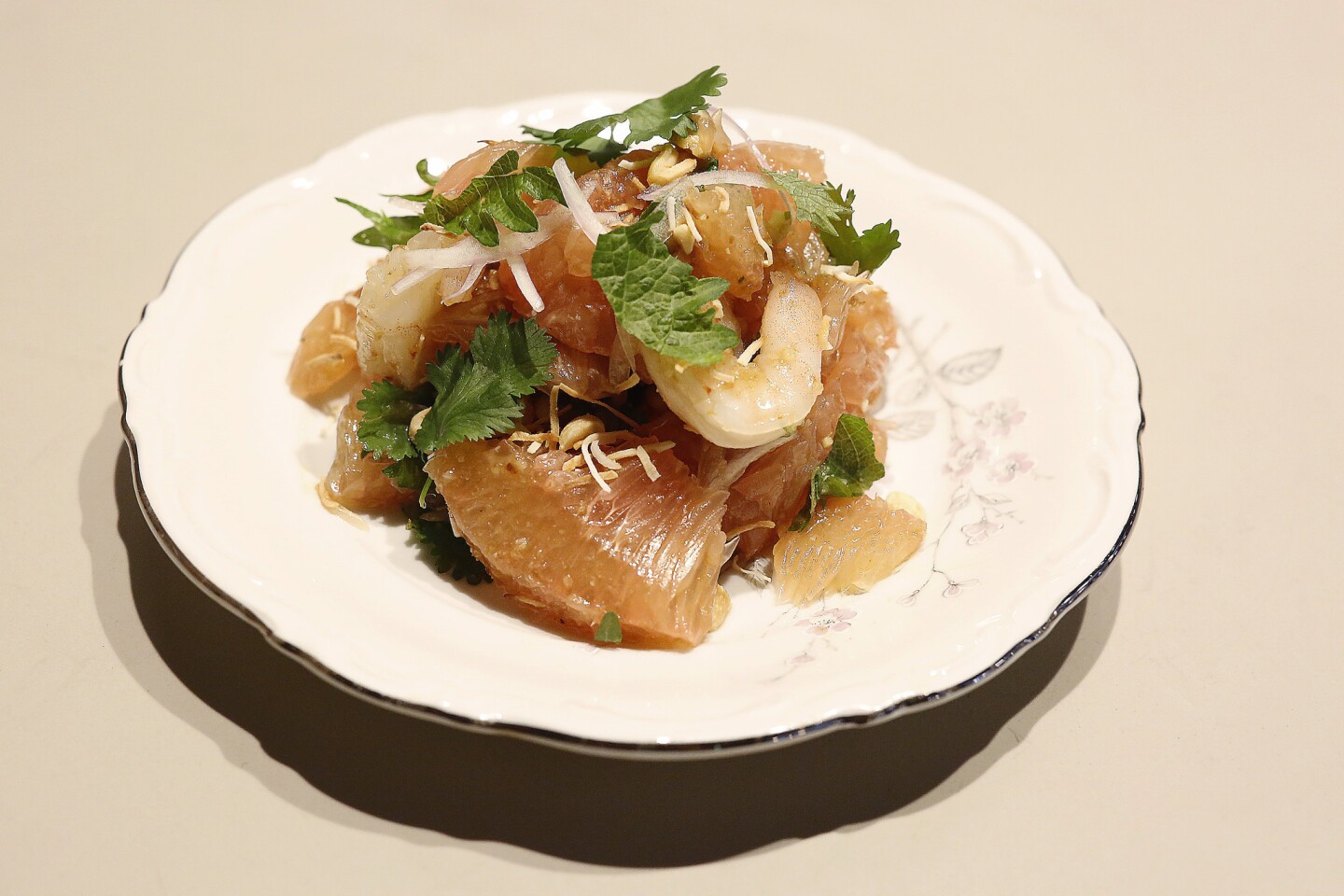 A lot of Asian flavors meet in chef Shawn Pham's dishes at Simbal, but the overall sensibility is Vietnamese. This is a pomelo and shrimp salad with ginger, coconut, peanuts and lime.
(Barbara Davidson / Los Angeles Times)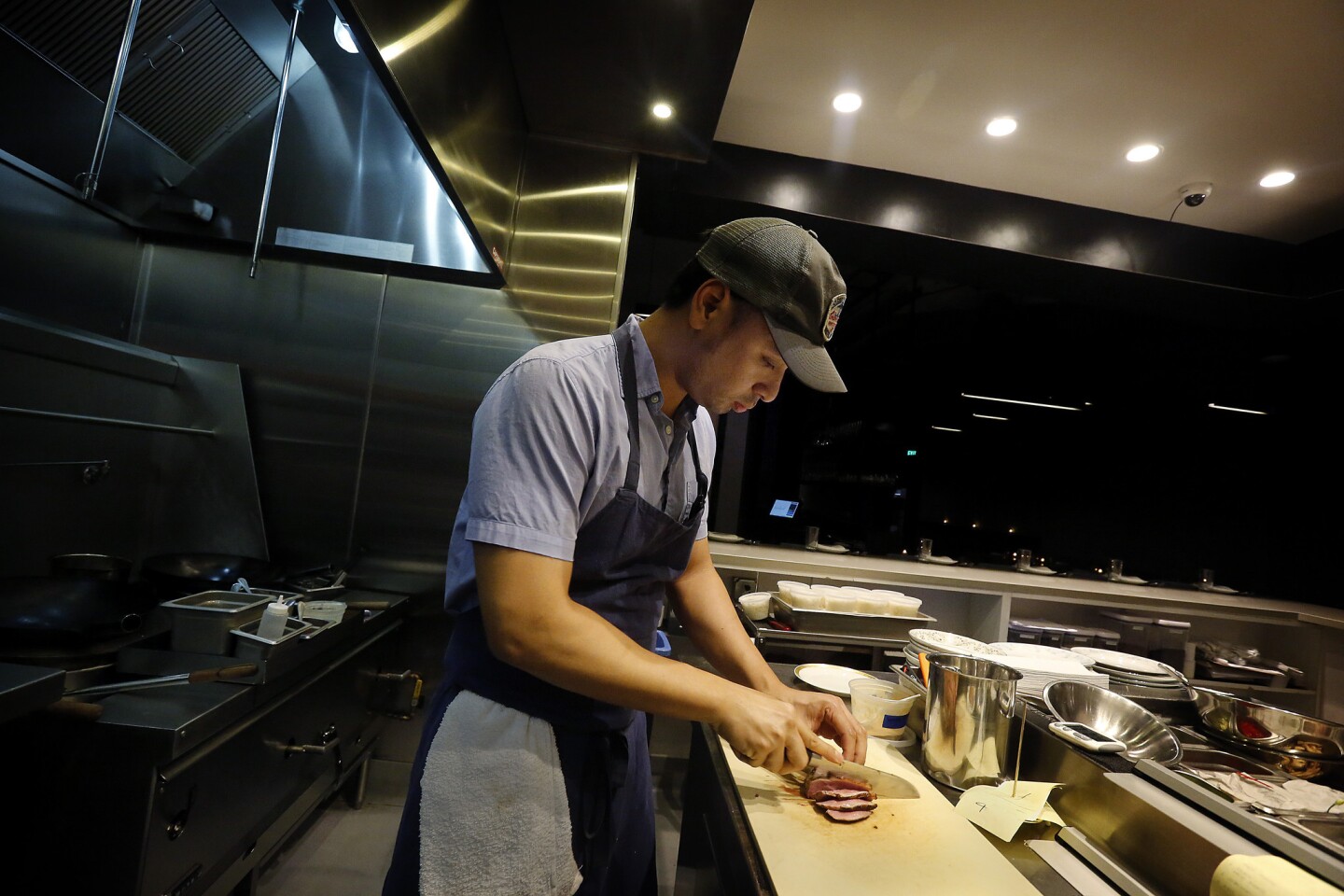 Chef Shawn Pham worked in the kitchen of David Myers' Sona, then spent four years cooking in Vietnam.
(Barbara Davidson / Los Angeles Times)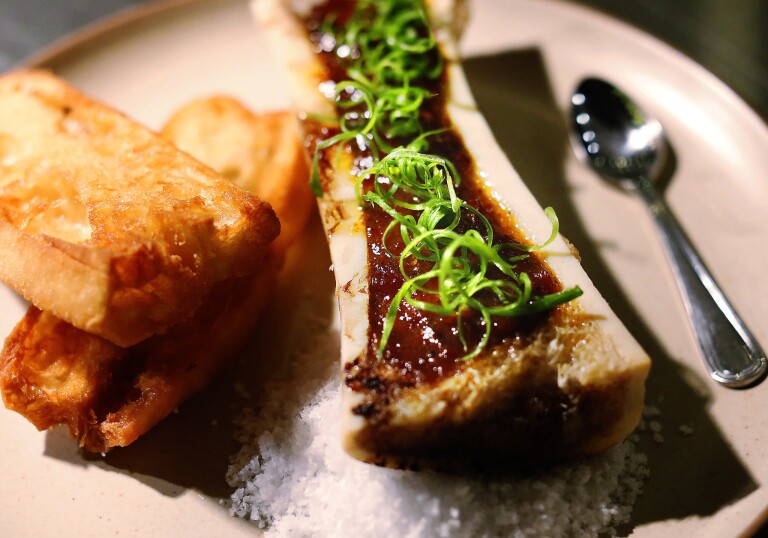 Roasted bone marrow with grilled chile jam and scallions, served with Chinese doughnuts.
(Barbara Davidson / Los Angeles Times)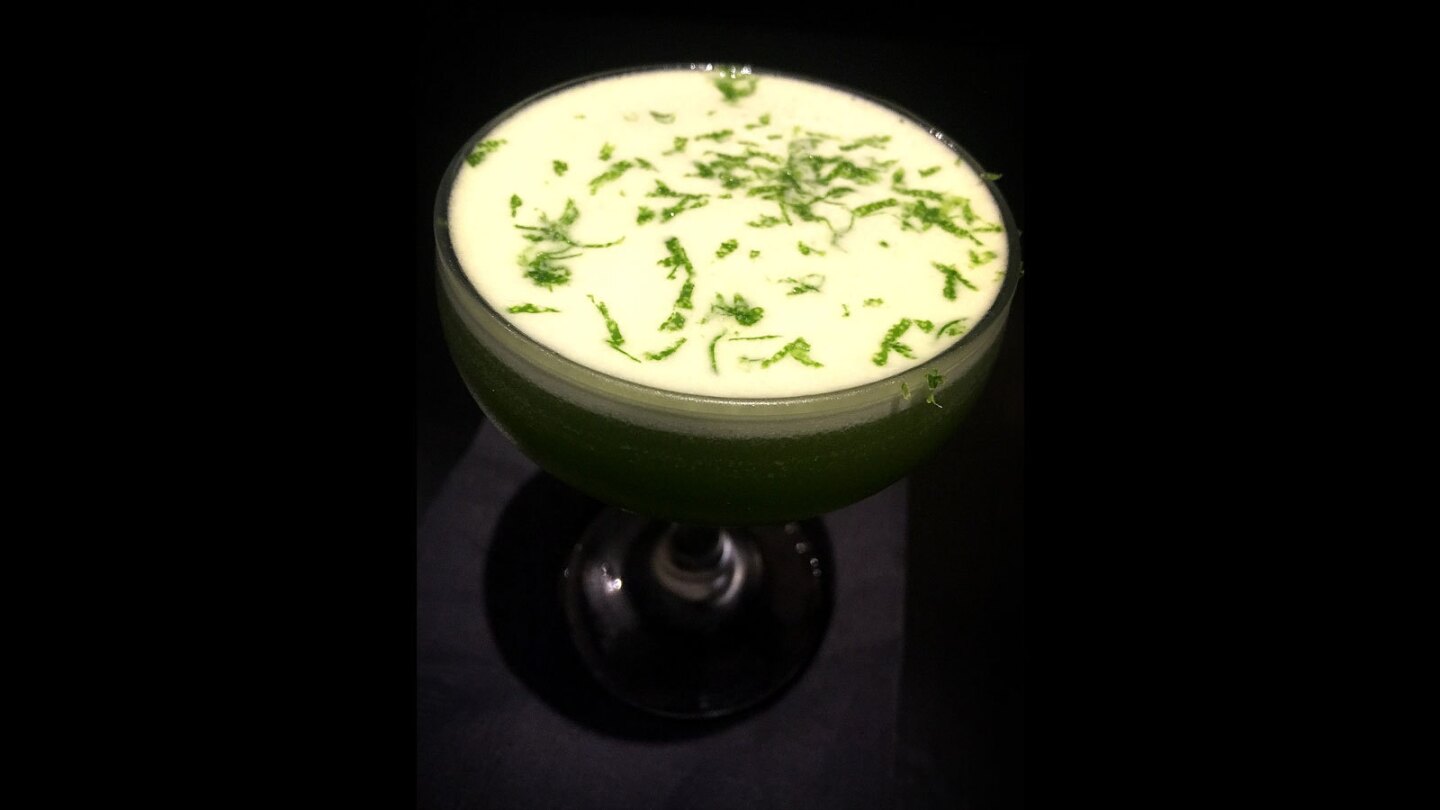 The "Valerie's Garden" cocktail, made with Capurro pisco, pineapple, Thai basil and lime.
(Barbara Davidson / Los Angeles Times)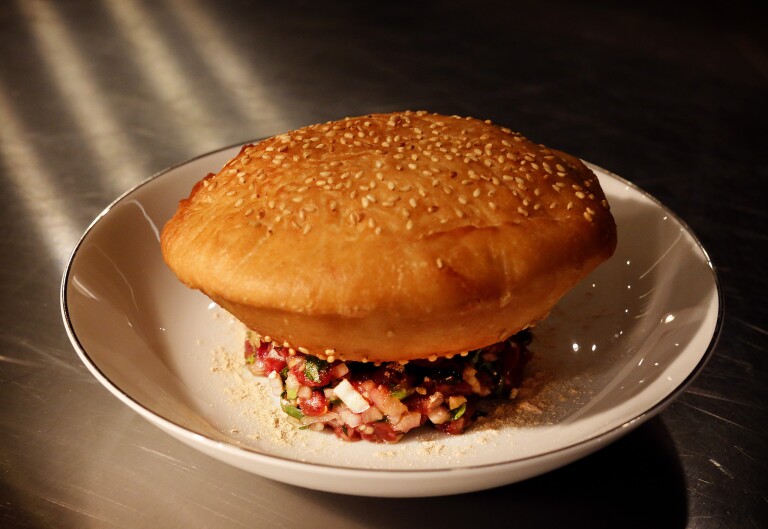 Hanger steak tartare with larb seasoning, served with puffed sesame bread.
(Barbara Davidson / Los Angeles Times)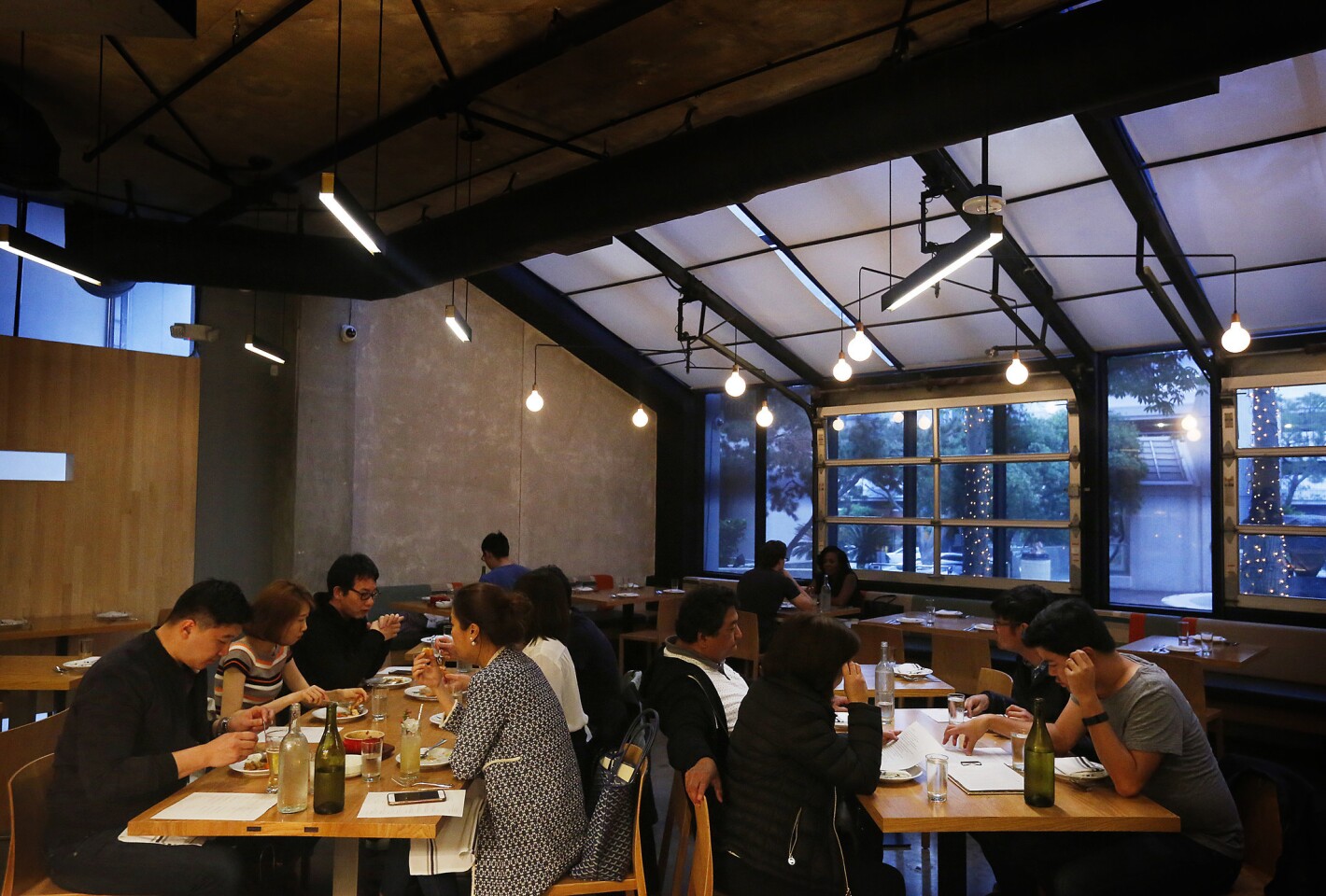 Simbal in Little Toyko.
(Barbara Davidson / Los Angeles Times)
Head bartender Kevin Bonito grills a pineapple for the "Little Pleasures" cocktail.
(Barbara Davidson / Los Angeles Times)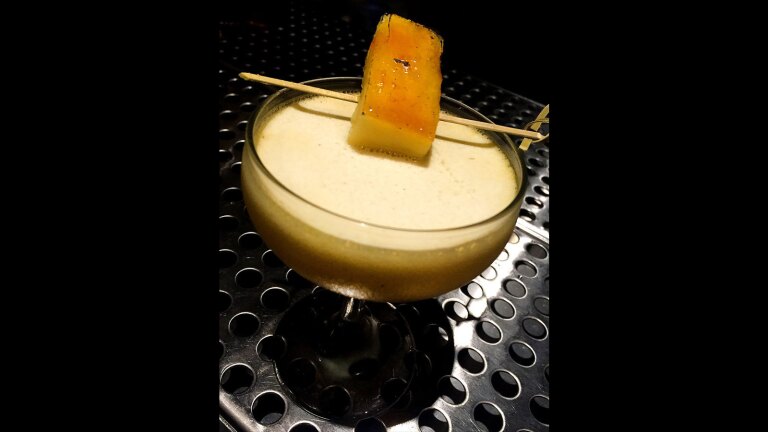 The "Little Pleasure" cocktail, made with 1796 rum, white rum, grilled pineapple, vanilla bean and lime.
(Barbara Davidson / Los Angeles Times)
Coconut flan with tamarind caramel and coconut snow.
(Barbara Davidson / Los Angeles Times)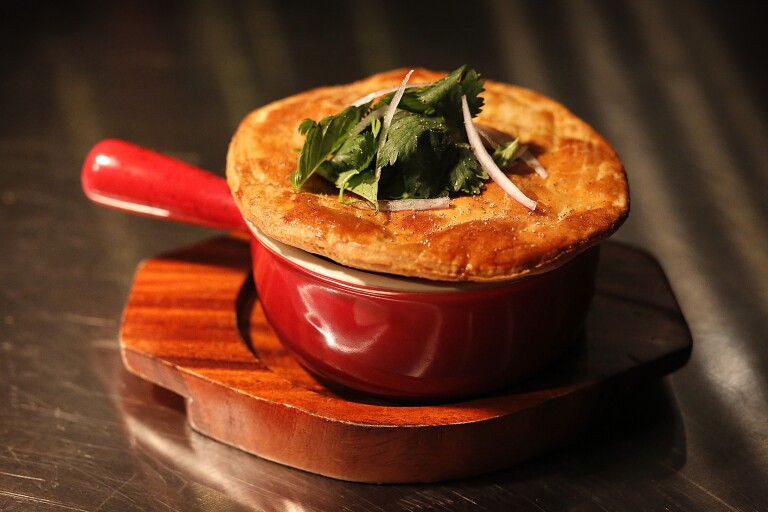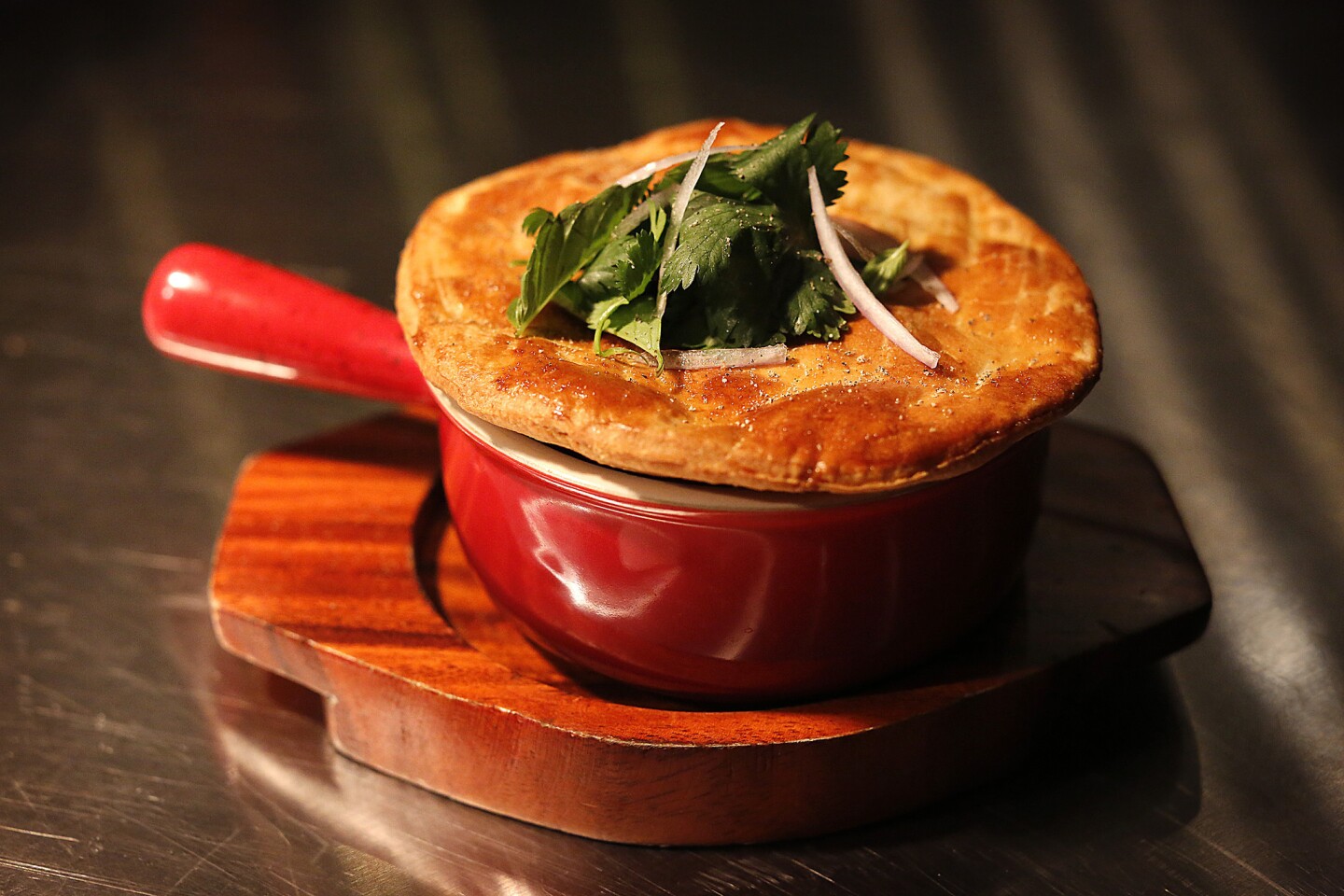 Short rib pot pie with lemon grass, annatto and beef tendon.
(Barbara Davidson / Los Angeles Times)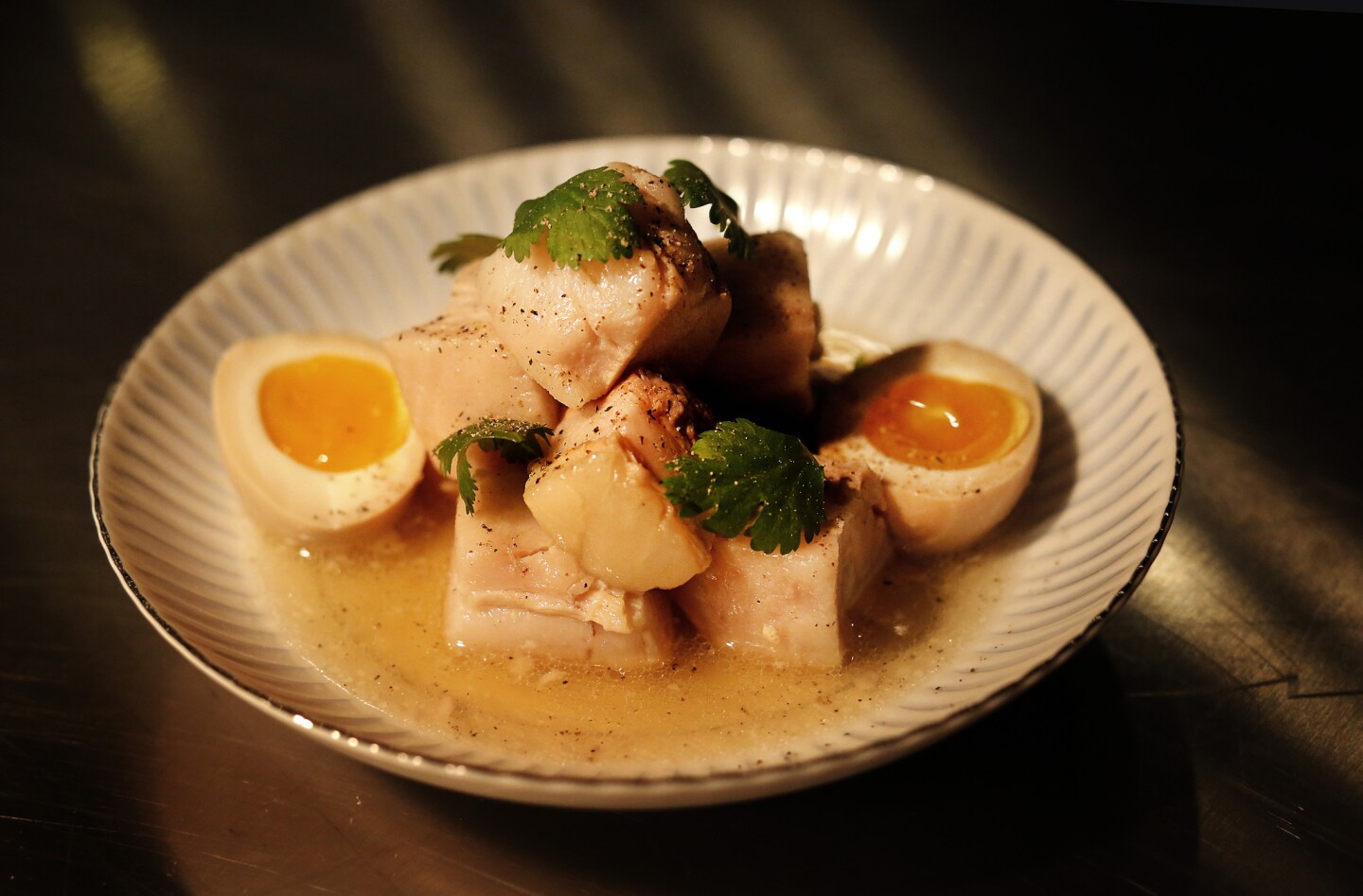 Braised pork belly with fresh coconut juice and marinated egg.
(Barbara Davidson / Los Angeles Times)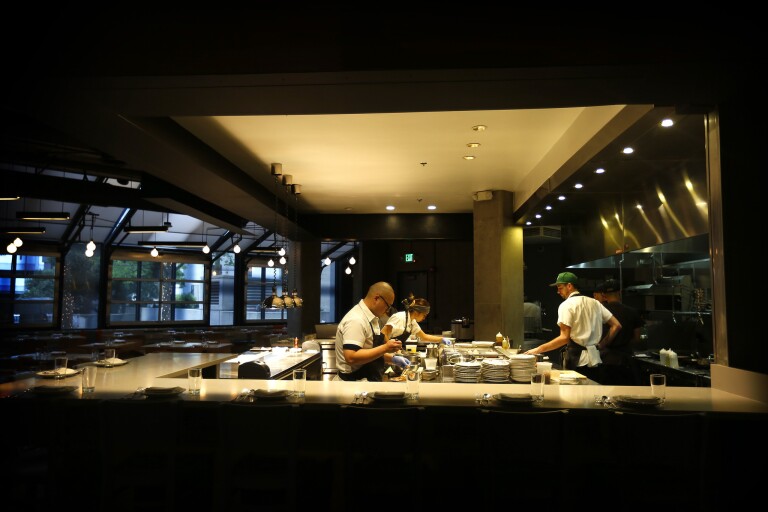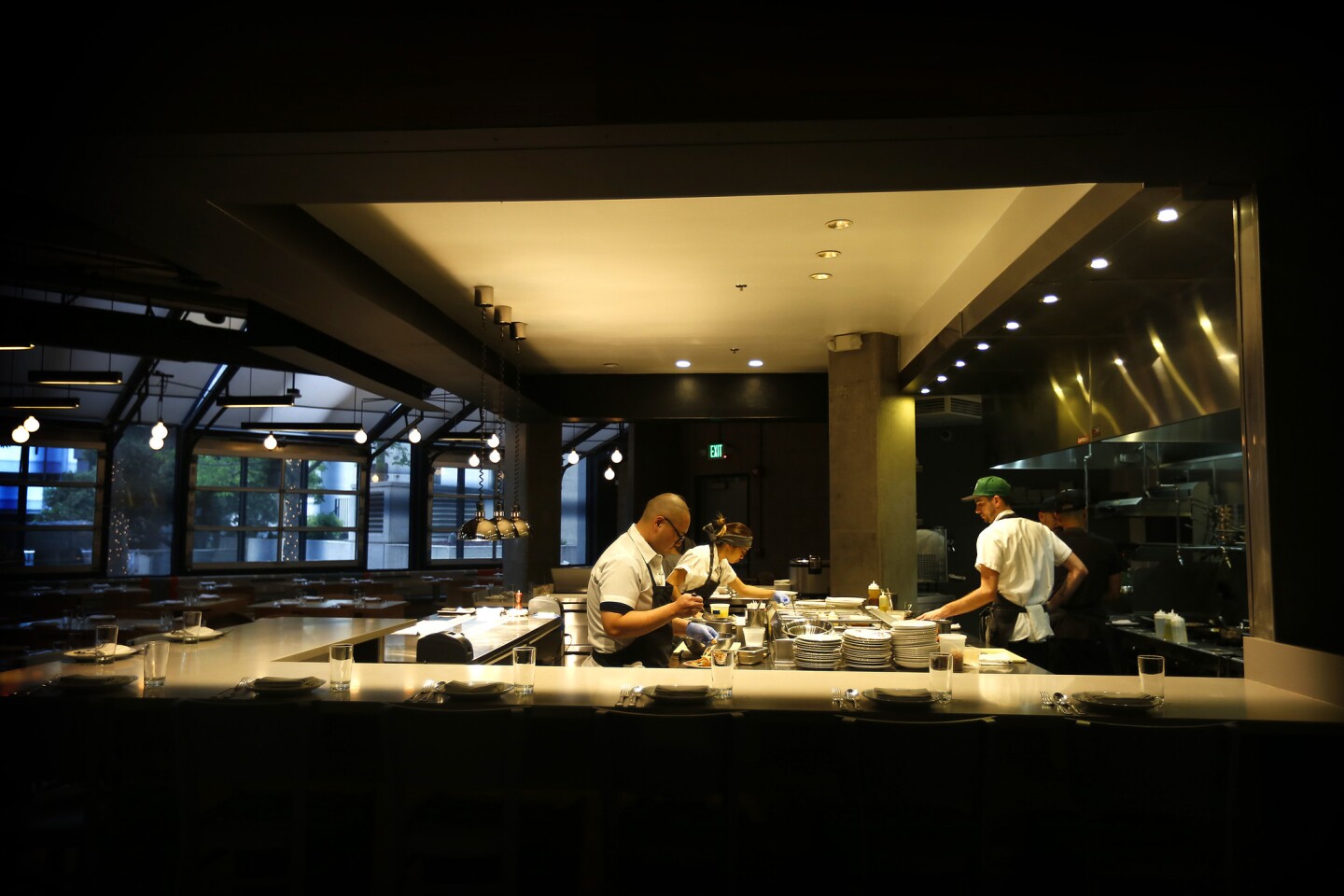 Simbal in Little Toyko.
(Barbara Davidson / Los Angeles Times)
Tuna crudo with dashi fish sauce, pickled green papaya and shallots.
(Barbara Davidson / Los Angeles Times)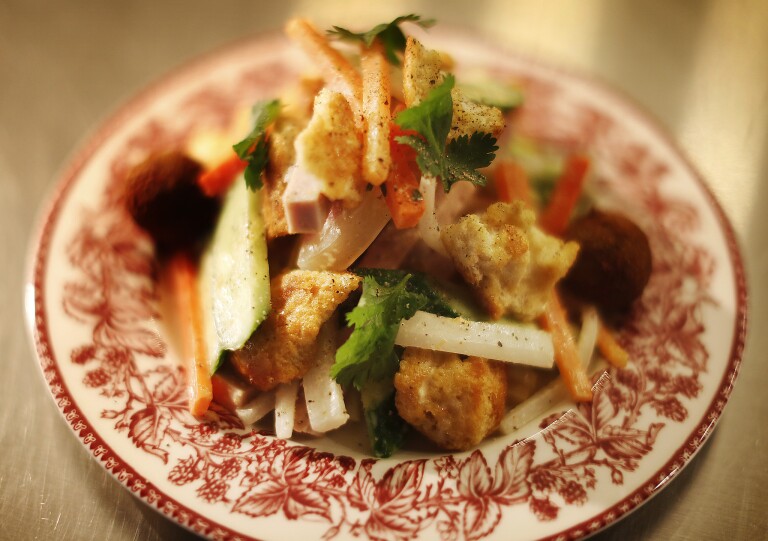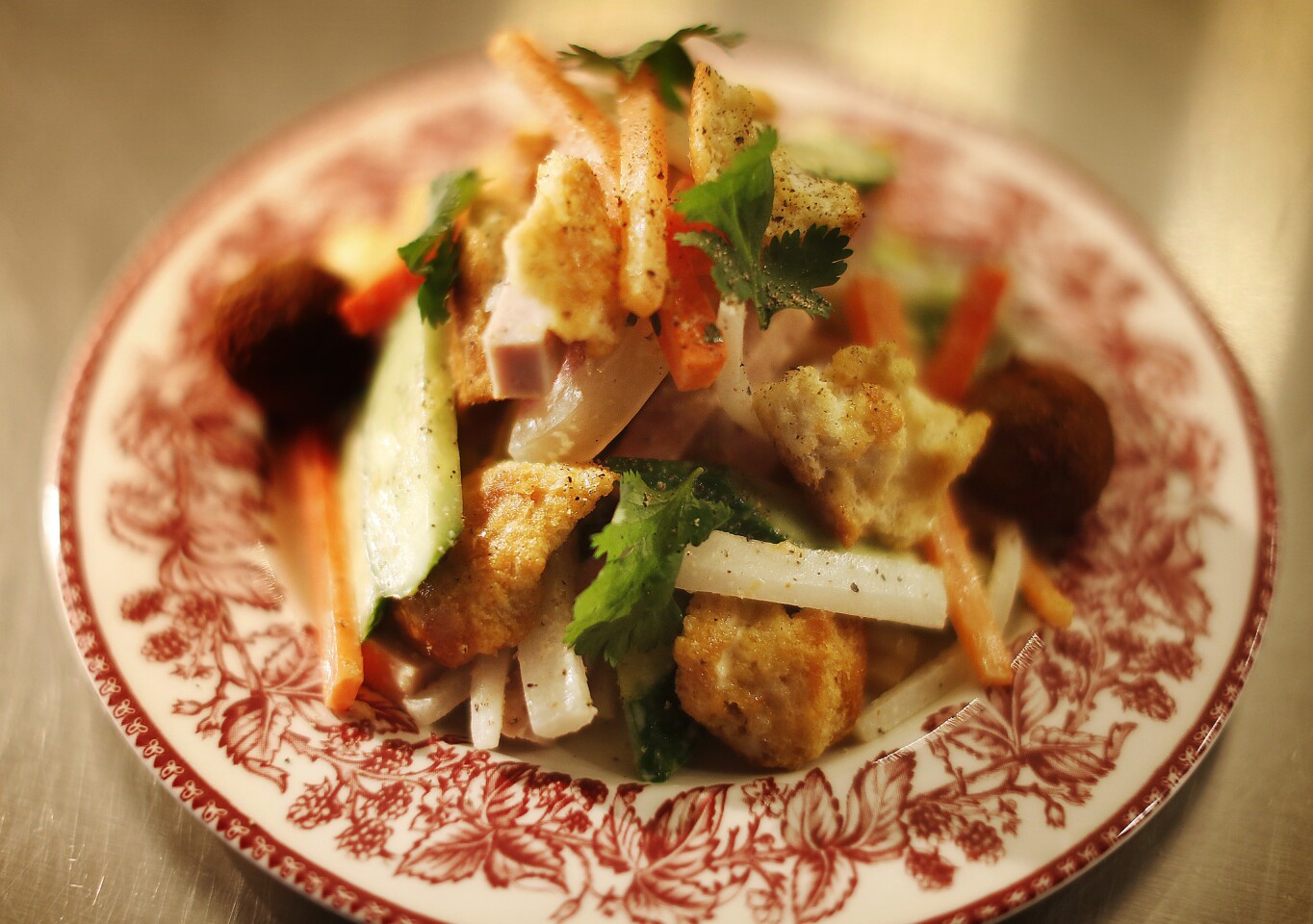 Banh mi salad with pickled daikon and carrots, Vietnamese sausage, head cheese and cucumber.
(Barbara Davidson / Los Angeles Times)
Los Angeles Times Restaurant Critic
If you've been to Tokyo, you know that finding a restaurant can be even harder than wrangling a reservation to one, even if you have an exact street address, even if you're with a friend who knows the neighborhood fairly well. Sometimes the best places are on the 12th floor of what looks like an abandoned office building, hidden in a subterranean labyrinth or down a narrow alley and through the kitchen of a completely unrelated establishment. Sometimes you give up after 20 minutes and wind up at the yakitori place down the road. Sometimes you think the owners must have planned it this way.
Getting to Simbal, Shawn Pham's restaurant in L.A.'s Little Tokyo, may not be quite as difficult, but it is still kind of a challenge. If you look for the official address on 2nd Street, you are only in proximity to the restaurant. If you poke through the passages of the mall in the structure, you are a little closer. It is only when you find your way around the corner and accidentally look up toward an arrangement of odd metal art pieces and mini-plazas that you will spot the entrance to the concrete cocktail bunker, discreetly tucked up next to an elevated parking garage. When you jump up from your table and dart out the door, the manager knows exactly what's up: You're retrieving a lost member of your party. I think rescuing lost customers may be a major part of his job.
Given the location, you wouldn't be wrong to call Simbal a Vietnamese izakaya, a small-plates restaurant focused on eccentric cocktails, high-acid wines and craft ales. Certainly most of Pham's menu — pomelo and shrimp salad, rice with chile jam and salted duck egg yolk, seared arctic char with a fish sauce vinaigrette — hints at Vietnamese flavors. Pham's take on the Vietnamese banh tom, dense shrimp and sweet-potato fritters transformed into a kind of crisp, pizza-size sweet-potato rösti garnished with poached shrimp and peppermint leaves, is a dish any modern Vietnamese chef would be happy to slip into his or her repertoire. The banh mi salad, the famous Vietnamese hoagie deconstructed into slivers of the pickled vegetables, cold cuts and herbs that classically fill the sandwich, tossed with chunks of toasted French bread, is a splendid idea, although I could probably do without the strong-tasting marbles of deep-fried chicken liver paste, no matter how essential they may be to Pham's conception of the dish.
We last saw Pham in the kitchen of Sona, David Myers' sleek but eccentric tasting-menu place up on La Cienega. Myers was famous for running his kitchens like boot camps, but his food was polished, and his alumni have ended up running places as varied as Sotto, Alimento, Hinoki and the Bird, and the butcher shop McCall's, all kitchens noted for their rigor and precision. When Sona closed, Pham spent four years cooking in Vietnam, absorbing yet another set of aesthetics. Still, when Simbal opened last year, the restaurant was kind of a mess: cold, chaotic and formless, organized around dim sum-style service half-heartedly nipped from State Bird Provisions in San Francisco and featuring Asian-ish dishes that lacked both the vitality of the originals and a modernist post-Myers sheen.
But nine months later, Simbal is mostly on track, vibrating with A Tribe Called Quest and De La Soul, filled with customers who seem to be there on purpose, and with a kitchen groove that at its best may remind you more of slightly funky Little Saigon fusion restaurants like Garlic & Chives than of suave post-fusion palaces like Cassia or Lukshon: rice porridge with shrimp braised in bitter Vietnamese caramel; sweet nuggets of sauteed "heavenly beef" that taste like bo luc lac supplemented with whole coriander seeds; pork belly braised in coconut juice; or soft, beautifully charred pork ribs marinated in lemon grass and chile.
So there are peanuts fried with anchovies and big handfuls of seaweed, slices of grilled king mushrooms served on a smear of sesame-mushroom puree, and glass noodle salad with squid and kumquats, dishes that have the smack of Southeast Asia flavors although they have almost certainly never been served quite that way in Vietnam. Pham chops raw prime hanger steak and seasons it with the spices and toasted rice powder of Thai larb — you scoop up the tartare with scraps of a puffy sesame roti.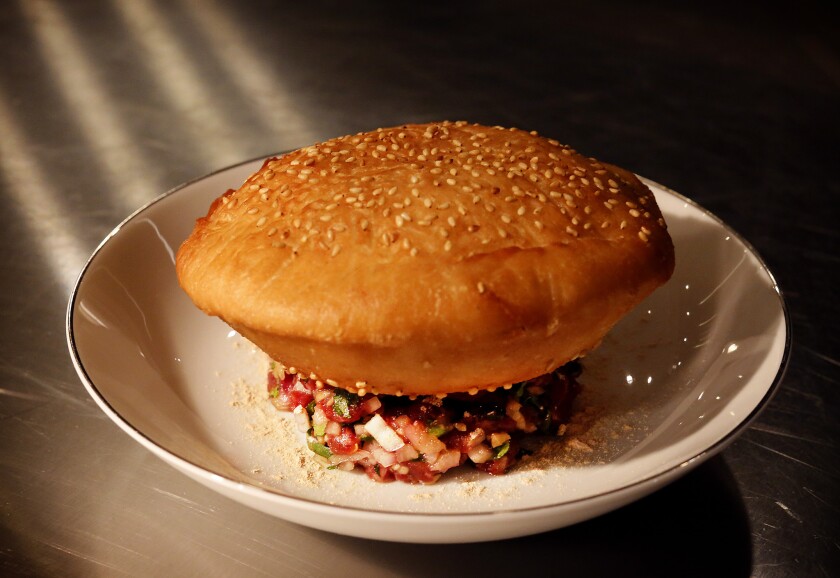 The luscious short rib pot pie may be a nod to the spice-scented Vietnamese chicken pot pie served by Diep Tran at Highland Park's Good Girl Dinette, and the roast bone marrow with grilled chile jam may be an homage to the version Bryant Ng used to make at Spice Table. The seared black cod with mint and fresh dill sounds like, but probably isn't, a shout out to cha ca, the dill-inflected catfish from Hanoi.
So is Simbal a tapas joint? A wine bar? New-style fusion or old-style fusion? You can sip a glass of German Scheurebe or an absinthe-scented gin garnished with jelly beans, nibble tuna tartare or duck breast marinated in fermented tofu, and deconstruct a cabin made with logs of cold grilled eggplant glued together with fish sauce caramel and still not guess. But if you get a glass of the cold-brew Vietnamese iced coffee to go with your sugared Chinese doughnuts at dessert, I guarantee you will still be up at 3 a.m., contemplating the answer to that question.
Simbal
A Vietnamese izakaya in a tucked-away spot in Little Tokyo.
Location: 120 S. San Pedro St., Los Angeles, (213) 626-0244, simbalrestaurant.com
Recommended dishes: Larb-seasoned hanger steak tartare; crisp sweet potato with poached shrimp; bone marrow with Chinese doughnuts; short-rib pot pie.
Prices: Smallish plates $5-$16; larger plates $12-$16.
Details: Open Tues.-Sat., 6 p.m. to 10 p.m. Credit cards accepted. Full bar. Lot parking available in Joe's Parking above the restaurant.
---
Get our weekly Tasting Notes newsletter for reviews, news and more.
You may occasionally receive promotional content from the Los Angeles Times.