Jonathan Gold finds more fun with Japanese fried food at Tempura Endo
Prawn as served at Tempura Endo in Beverly Hills. The restaurant cooks tempura-style, specializing in the art of omakase.
(Ricardo DeAratanha / Los Angeles Times)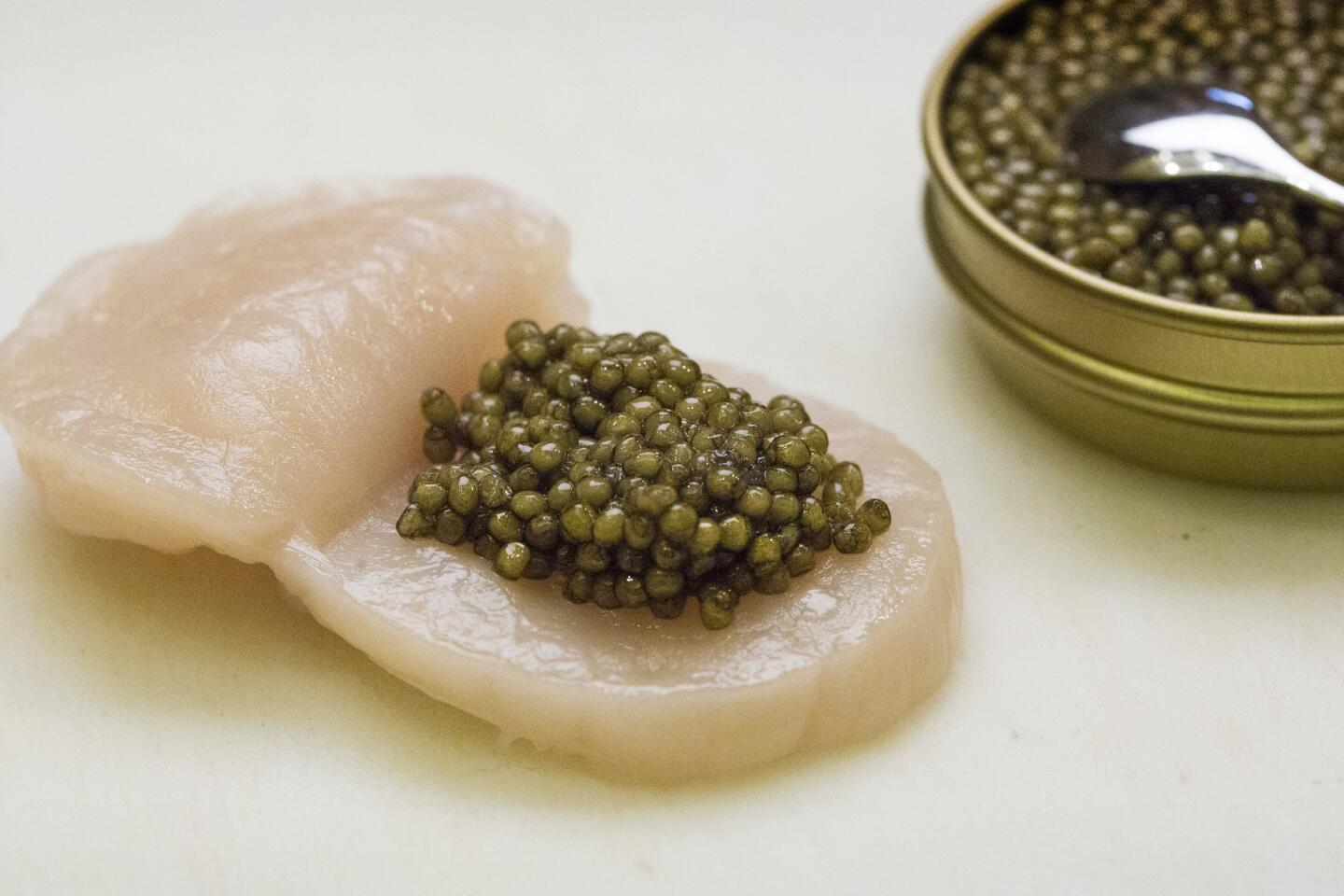 Preparing scallop tempura with caviar at Tempura Endo.
(Ricardo DeAratanha / Los Angeles Times )
Executive chef Satoshi Masuda delivers a prawn.
(Ricardo DeAratanha / Los Angeles Times)
A chef's choice sashimi plate, garnished with gold flakes, at Tempura Endo.
(Ricardo DeAratanha / Los Angeles Times)
Prawn and scallop headed for the oil at Tempura Endo.
(Ricardo DeAratanha / Los Angeles Times)
Executive chef Satoshi Masuda at Tempura Endo.
(Ricardo DeAratanha / Los Angeles Times )
Tempura Endo in Beverly Hills.
(Ricardo DeAratanha / Los Angeles Times)
You've had tempura – that tangle of crisply fried vegetables that showed up in the bento the last time you had Japanese lunch or the fried shrimp that came with the teriyaki when you got the No. 2 combo meal. Perhaps you were lucky enough to try the tempura course at Komatsu in Torrance before it closed its doors. Hannosuke, related to a well-known Tokyo stand, serves delicious ten don, tempura-topped rice bowls, in the food court of a Mitsuwa supermarket in Torrance – you'll want the one with eel. Maybe you even experienced the tempura bar at the old New Otani.
Still, there has never been a tempura restaurant in Los Angeles quite like Tempura Endo, the first American branch of a Kyoto, Japan, institution that dates back to 1910. The restaurant occupies a modest storefront next door to a Japanese knife shop and right by a rental car yard. The location, although it is in the Beverly Hills triangle, has never been noted for fine dining – I remember a sushi bar that seemed really to specialize in sukiyaki.
Tempura Endo is the other kind of tempura bar – an exquisitely expensive place that exists to serve intricate omakase dinners, well-calibrated multi-course meals presented with the detail and attention to seasonality of kaiseki, the lightness and purity you might not associate with two hours of deep-fried food. You've powered through a basket of fried shrimp or a salty, sizzling brick of kakiage, the Bloomin' Onion of Japanese cuisine? This isn't that.
So you remember to reserve, you park down the block in the city lot, and you walk into a deserted hallway, alive with the smell of fresh, hot oil. A hostess intercepts you and guides you into a small, spare room, avocado-green, pottery on shelves on the back wall, with an eight-seat dining bar at its center. Your place has already been set: black-lacquered tray, four squat dishes of salt, chopsticks, a little bowl of sauce. A hot towel appears, cradled in a bendy metal holder you probably won't be able to stop playing with. If you are slow to do it yourself, a waiter unfolds an absorbent bib and drapes it around your neck.
The executive chef is Satoshi Masuda, also executive chef of the Kyoto restaurant. He stands in the middle of the counter, behind a handmade hammered copper shield, tending to the boiling oil. An assistant taps at vegetables with his knife. You order sake, and almost at once a blue bowl appears in front of you, chunked zucchini with seaweed, a puddle of barely thickened dashi, and a spoonful of salmon roe. When you have finished that, you are brought a tart herb salad garnished with a swirled nest of slivered sweet potato, as hair-thin and as crisp as Lebanese kataif. There will be a fair amount of fried food in your immediate future. You probably need the ballast.
You wish that the soundtrack at Tempura Endo did not include quite so much Kenny G.
The chef plucks a slender raft of Japanese corn from the oil, joined in a neat slice from the cob, lays it on a sheet of absorbent paper in front of you, and directs you to dip a corner of it in the salt flavored with the powdered tea called matcha. The hot kernels pop like caviar under your teeth. A tiny deep-fried shrimp sandwich, Japanese characters charred into the toast, has the crunchy appeal of grilled cheese. A sashimi platter, if you have opted for one of the higher tiers of omakase menus, is good enough, but at this point you may become almost annoyed with it. Those slivers of tuna belly and snapper stand between you and the rest of the meal.
The chef opens a bottle of Chardonnay and sloshes a few drops into a bowl of flour. A twitching Santa Barbara spot prawn is neatly decapitated. The shell is flicked off. The chef trims the feelers on the head with a sharp knife, then flicks off the eyes with the motion you might use to remove a bit of lint from a jacket. The assistant expertly scores the prawn's belly with a few slashing motions – the cuts prevent it from curling – and the chef flashes it through the batter and into the hot oil in what seems like a single motion. A few seconds later, the prawn is on the filter paper, delicately crisp but not crunchy, paler than golden, firm but juicy: the purest expression of Endo's house style. The Pringle-crisp head is the chaser.
You follow with fried bites of Santa Barbara uni wrapped in seaweed, perhaps cooked a little too long to express its distinctive brininess; fragile king crab leg; and slightly overcooked golden-eye snapper wrapped in a shiso leaf. A single fried pea pod appears, stuffed with puréed peas – it's a lot of work for a single mouthful, the assistant acknowledges – and then a fat Japanese sea scallop, split in half and stuffed with osetra caviar before it is fried.
On the pricier menus, there will be a chunk of Miyazaki A5 Wagyu beef, richer and even more prized than Kobe beef in Japan, dunked in lacy batter and fried to a dead rare. Is deep-frying the best way to treat the dearest mouthful of beef you are ever likely to taste? I would maintain not – the entire point of steak in my view is its caramelized, charred crust – but you may disagree.
The ten don, a sauce-softened mixed-tempura cake on rice, is superb – even better than the ones at Hannosuke, which I love.
But the bill, with tax, tip and a modest bottle of sake, is likely to approach $600 for two. (Some a la carte dishes are available after 9 p.m.) It is the only meal of its sort in Southern California at the moment, a new kind of Beverly Hills luxury. It is as expensive as a grand tasting menu at Mélisse, three dinners at Animal or about 50 ten don bowls at Hannosuke. It is almost exactly twice as expensive as the original Kyoto restaurant — maybe the location; maybe the caviar.
To finish, there is a lovely slice of glazed Japanese sweet potato, fried, then flambéed with a glug of cognac; beautiful housemade mocha; and a wide bowl of frothy, perfect matcha, the elixir of the Japanese tea ceremony. Savor it. It may be a long time before you can afford this meal again.
::
Tempura Endo
A tempura specialist from Kyoto opens in Beverly Hills
LOCATION
9777 S. Santa Monica Blvd., Beverly Hills, (310) 274-2201, beverlyhills-endo.com
PRICES
Set menus $150-$280. A la carte after 9 p.m., $4-$50 (market price).
DETAILS
Dinner nightly, 5 p.m. to midnight. Credit cards accepted. Beer, wine and sake. Nearby city-lot parking.
RECOMMENDED DISHES
Corn; prawn; pea-stuffed pea pod.
MORE REVIEWS FROM JONATHAN GOLD
Winsome takes Echo Park diner food beyond hipster brunch
Jonathan Gold says Shibumi in DTLA feels like a Tokyo restaurant — and you should order cucumbers
Burmese cooking gets creative at Daw Yee Myanmar Corner in Silver Lake
Get our L.A. Goes Out newsletter, with the week's best events, to help you explore and experience our city.
You may occasionally receive promotional content from the Los Angeles Times.