Winsome takes Echo Park diner food beyond hipster brunch
From the lunch and dinner menus at Winsome, a speck and comte grilled cheese sandwich with rustic toast, thai basil and pear mostarda.
(Jay L. Clendenin / Los Angeles Times)
The grilled pork short rib with a dry-rub, celery, persian cucumber and radish salad and lime for $17 on the dinner menu.
(Jay L. Clendenin / Los Angeles Times)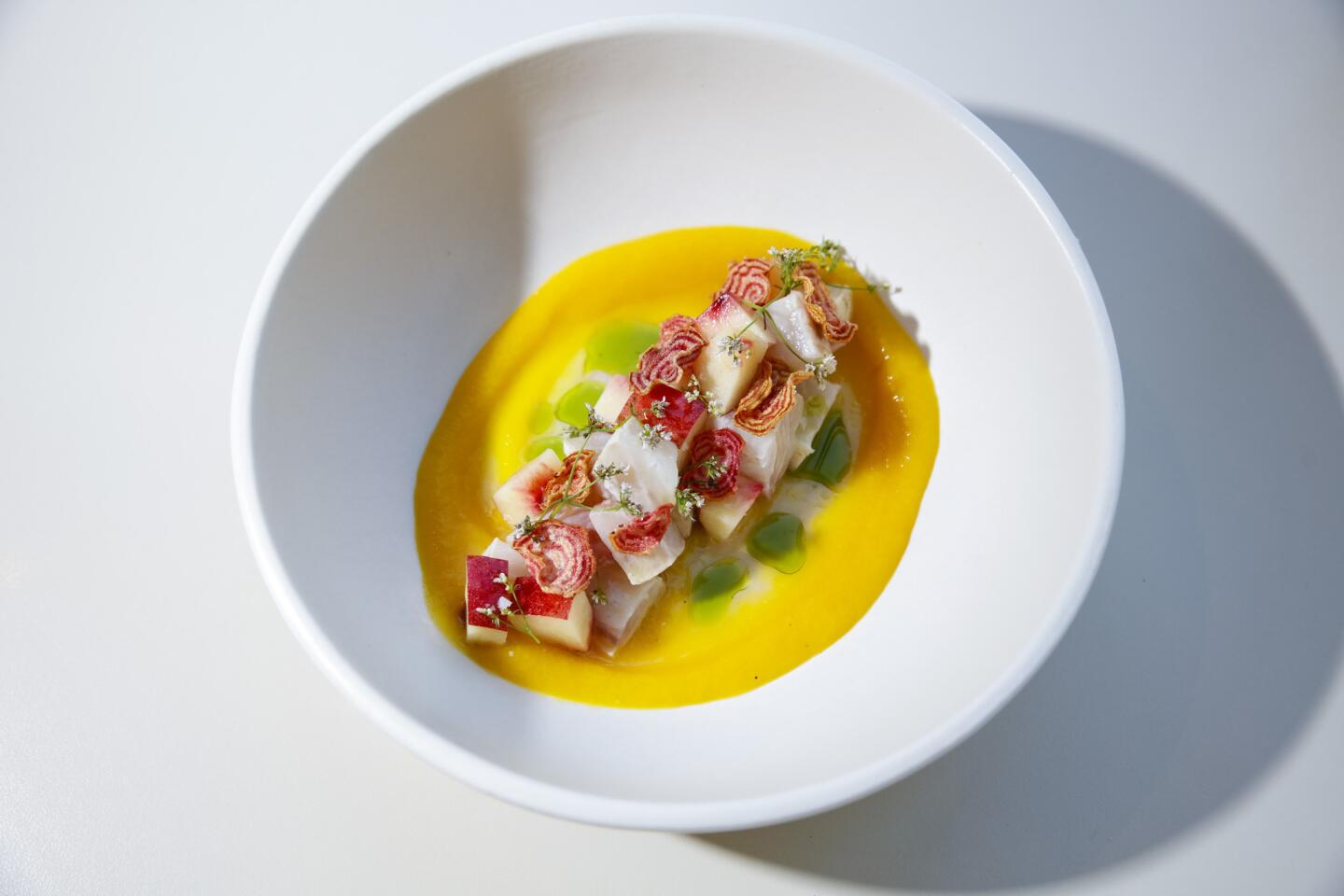 From the dinner menu, torched kanpachi with pickled white nectarine, smoked golden beet, beet chips and flowering coriander for $17.
(Jay L. Clendenin / Los Angeles Times)
From the breakfast and lunch menus, a duck egg toast with Jaime Farm's duck egg, rustic toast, nduja, reading raclette and oregano.
(Jay L. Clendenin / Los Angeles Times)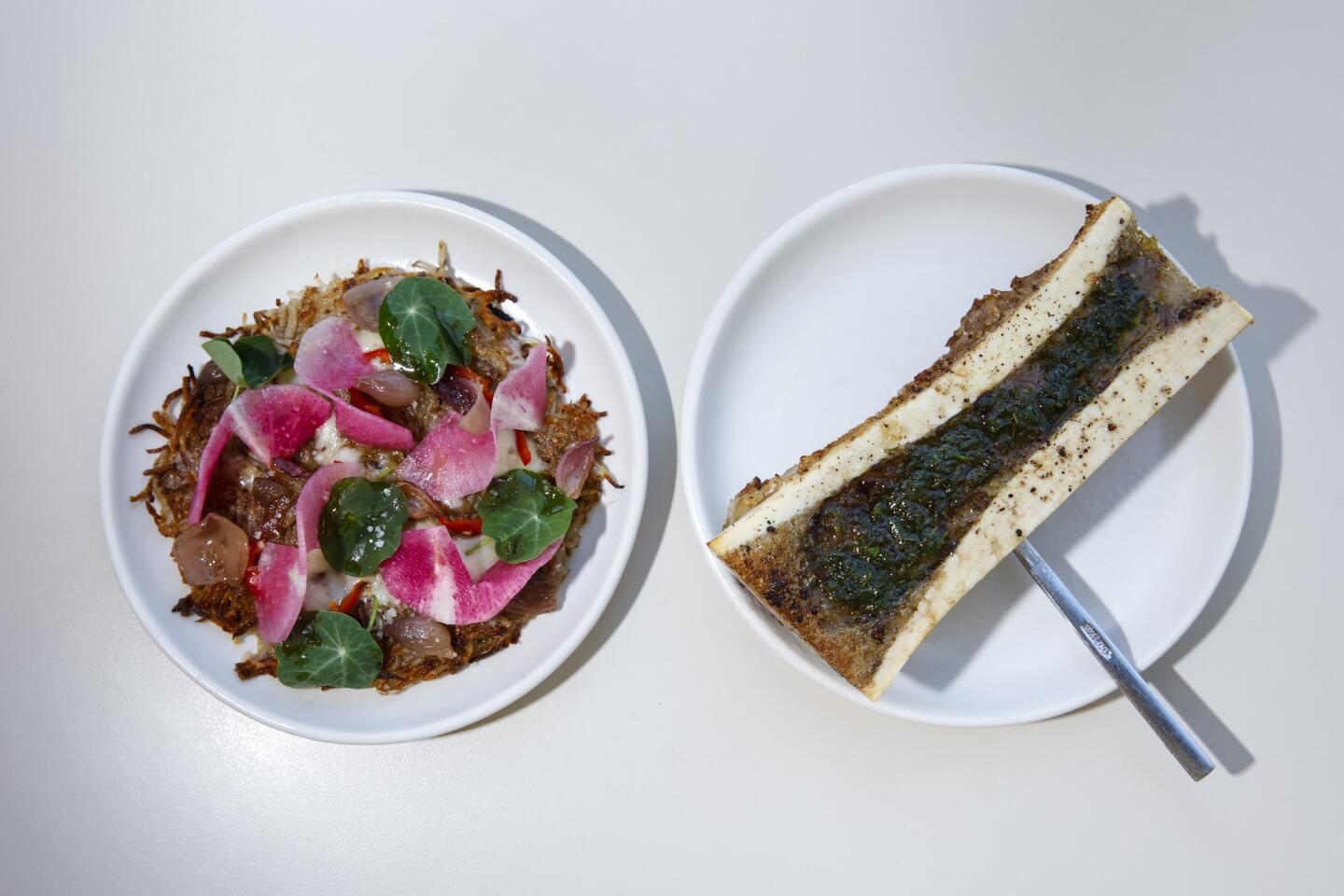 From the dinner menu, roasted bone marrow rosti with pearl onion agrodolce, raclette cheese, watermelon radish, Fresno chile and nasturtium for $16.
(Jay L. Clendenin / Los Angeles Times)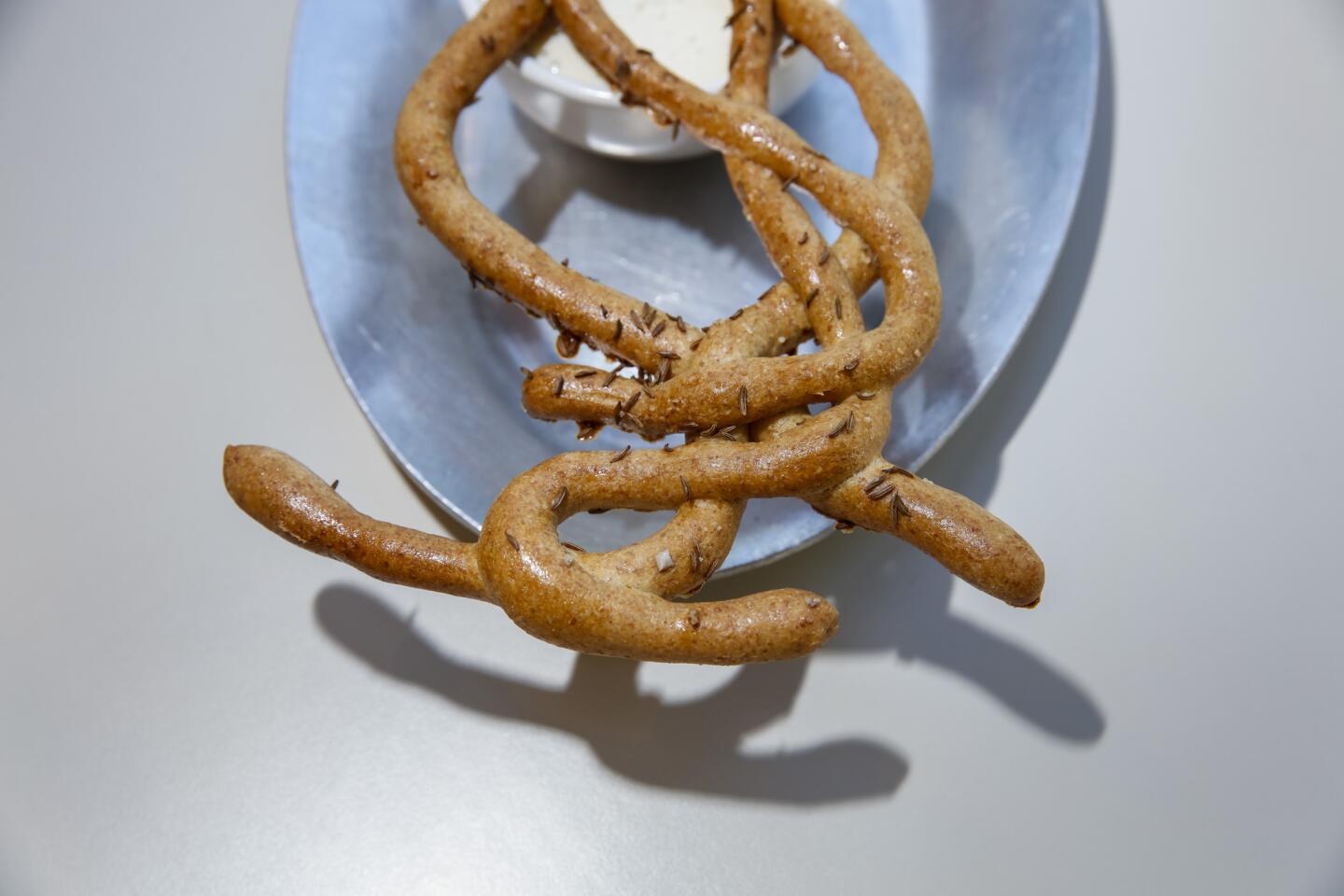 From the dinner menu, a rye pretzel grissini with fontina mousse for $10.
(Jay L. Clendenin / Los Angeles Times)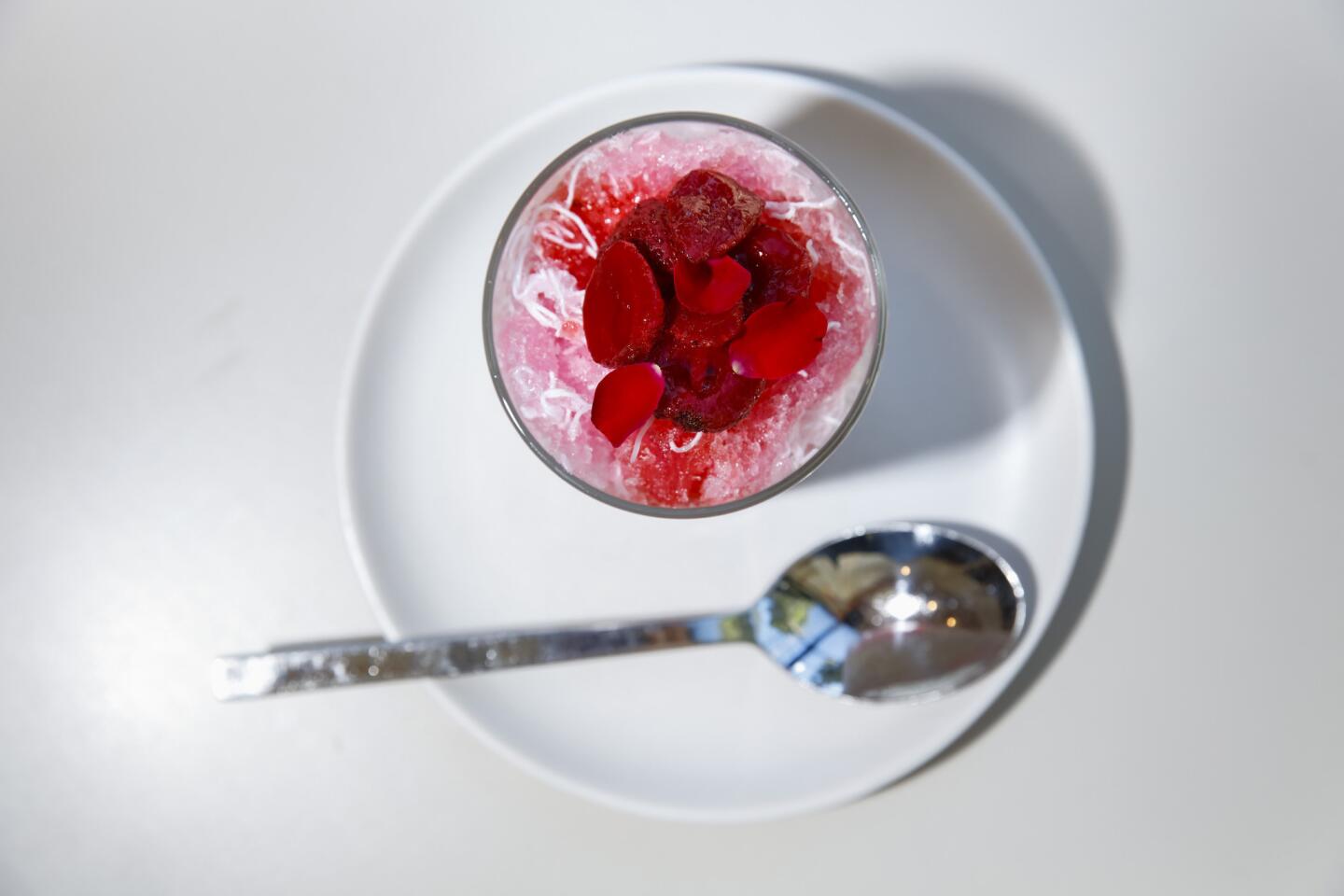 From the desert menu, faloodeh, rose poached strawberries and house-made almond milk for $9.
(Jay L. Clendenin / Los Angeles Times)
The Forgotten Edge, with Wilder gin, Genpy des Alpes, blanc vermouth, celery bitters and lemon peel, for $13.
(Jay L. Clendenin / Los Angeles Times)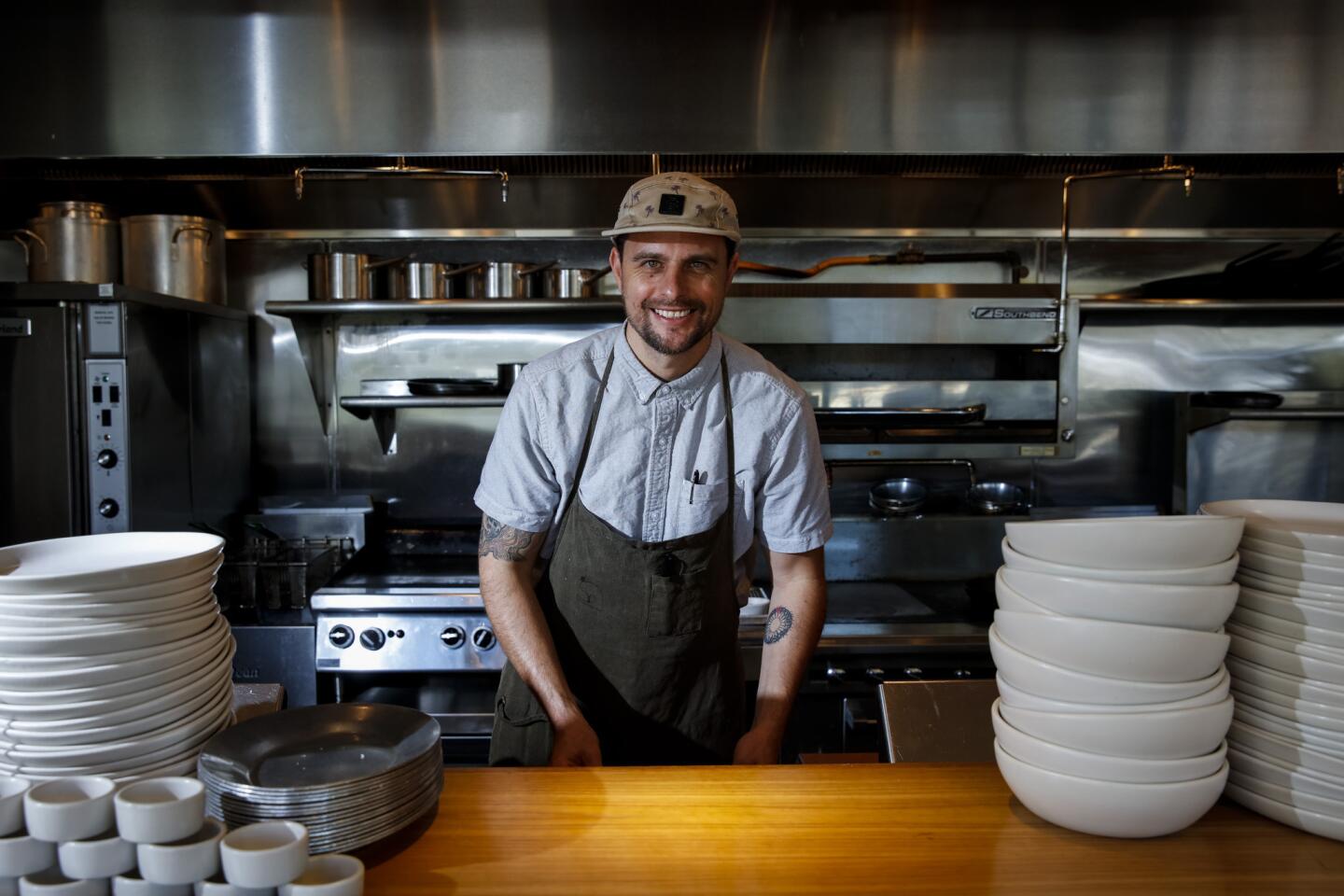 Jeremy Strubel is the executive chef at Winsome in Echo Park.
(Jay L. Clendenin / Los Angeles Times )
Inside Winsome.
(Jay L. Clendenin / Los Angeles Times)
Winsome's interior features wallpaper created from a vintage painting.
(Jay L. Clendenin / Los Angeles Times)
Have you ever walked around Machu Picchu, the abandoned Inca fortress set high in the Andes? Because a trip to Winsome in Echo Park can feel like a modernist version of that, a hot, waterless stroll from the parking lot through the abandoned Department of Water and Power campus, shrouded in half-dead tropical foliage, surrounded by the soaring precast concrete ziggurats that must have seemed so forward-thinking when they were erected in 1962. A big part of the complex served more recently as a church, and as you walk by the clouded windows, you wonder which rooms may have functioned as a rectory, and which as a Sunday school.
It's on a knoll not far from Dodger Stadium — the views of downtown are grand. The campus was designed by William Pereira, who designed the Transamerica pyramid in San Francisco, the Irvine city plan and the Los Angeles County Museum of Art — the one that Ed Ruscha pictured on fire. And by the time you round the corner past the tallest structure, remodeled into an expensive apartment building, you might imagine that the restaurant is just another dusty abandoned facility until you notice the crowded patio, an airy espresso bar and an all-glass dining room that could pass as a retrofitted Googie coffee shop if you looked at it a certain way. (I like the wallpaper in the back room, picturing a bucolic, palm-dotted landscape resembling nearby Echo Park Lake.) Winsome has the power to transform you before you even step inside.
I have no hard evidence, but I suspect that Winsome was developed less as a destination restaurant than as an amenity for the building's residents — coffee from Philadelphia's excellent La Colombe roaster; Leslie Mialma's pastries, which include blueberry spelt muffins and rye-chocolate brownies brushed with a crackly burnt-sugar glaze; and fried duck eggs with cheese and spicy 'Nduja sausage on toast. There were potato pancakes smeared with hummus and avocado and draped with thinly sliced smoked salmon; or spritzed with mustard, then piled with corned beef and shredded cabbage, like a kind of open-faced latke Reuben. The buckwheat-semolina pancake was one of the best pancakes in town: yeast risen, sizzled crisp and buttery at the edges, and served still soft and pudding-like in the center, so that you could really taste the fermentation and the grain.
Long before the restaurant finally opened for dinner, Rustic Canyon alumnus Jeremy Strubel and his crew were famous for what was generally called "hipster brunch,'' although the hipsters in question tended to have gym-toned arms and $400 sneakers — you wouldn't confuse them with the crowd waiting for barley salad at Forage. Even before Winsome obtained its alcohol license, Bon Appétit named it one of the best 50 new restaurants in the country for its quinoa horchata and its fried tofu with Thai basil.
At lunch, Strubel's menu was perhaps more impeccable than exciting, and designed to feed nearly every constituency: shaved cauliflower with Parmesan and Bragg's nutritional yeast (a crunchy, chewy umami bomb, as it turns out); dullish spice-dusted roast carrots with yogurt; and squares of grilled cheese sandwich filled out with a little too much speck, a kind of Italian smoked ham.
There is a drippy grass-fed burger on Gjusta brioche, a funky dip made with shelling beans and feta, and hot, bendy potato chips dusted with chile and pungent makrut lime zest like a Northern Thai salad. You almost want to adopt the roasted pork ribs, to take them home as a meaty, fennel-rubbed pet.
So is dinner any different? Not really, as it turns out, although there is a small if well-chosen list of mostly natural wines, and some of the cocktails are excellent — try the refreshing Forgotten Edge, made with gin and a hint of bitter Alpine liqueur, or the shots of tequila, citrus and catsup-thick tomato purée that make up the house version of sangrita.
Those potato rosti are painted with melted cheese and served with a baked marrow bone — you scrape the gooey marrow onto the pancake, and a single smallish order is probably rich enough to feed five or six. A bouillabaisse-leaning fish broth, flavored with saffron and fruity Aleppo pepper, spiked with wispy crackers, bathes a biggish chunk of grilled rockfish. If there is a single person who has eaten without pausing to Instagram the salad of briefly seared kampachi arranged with white blossoms, sweet chunks of nectarine and dehydrated-beet bullseyes, I have yet to meet her. This is all good-looking food: even the platter of spice-rubbed roast chicken, even the cat's cradle game of a rye pretzel sprawled over the bowl of cold fontina mousse, even the whole roasted branzino splayed on its plate like a salmon in a Tulalip feast.
To finish, maybe a tres leches cake with crisply caramelized banana slices and a spoonful of bouncy passion fruit sludge, or the Baked Japan,' which is to say coffee ice cream encased in a tawny, baseball-size meringue and served in a sauce made with miso and cloudy nigori sake. Like Winsome, Baked Japan is retro yet contemporary, American yet leaning slightly Eastern, and lashed with umami, the sixth taste, in unexpected ways. I think it might be the correct dessert to appease the building's ghosts.
::
Winsome
A hipsterized diner and pancake specialist in Echo Park
LOCATION
1115 Sunset Blvd., Los Angeles, (213) 415-1818, eatwinsome.com
PRICES
Snacks $5-$13; shared plates $13-$19; shared entrees $28-$46.
DETAILS
Cafe open daily, 7:30 a.m. to 3:30 p.m.; breakfast or lunch daily, 8:30 a.m. to 2:30 p.m.; dinner Sun., Mon., Wed., Thurs., 5:30 to 10 p.m.; Fri.-Sat., 5:30-10:30 p.m. Credit cards accepted. Full bar. Street and $3 lot parking.
RECOMMENDED DISHES
Buckwheat and semolina pancake; potato rosti; duck egg toast; Kennebec potato chips; rockfish boil; pork short ribs; whole roasted branzino; banana rum tres leches.
MORE REVIEWS FROM JONATHAN GOLD
Jonathan Gold says Shibumi in DTLA feels like a Tokyo restaurant — and you should order cucumbers
Jonathan Gold reviews the Cannibal, your New World Order butcher-shop-and-beer restaurant
Jonathan Gold reviews Lasa, a temporary Filipino restaurant with long-range ambitions
Get our L.A. Goes Out newsletter, with the week's best events, to help you explore and experience our city.
You may occasionally receive promotional content from the Los Angeles Times.