Grape tomatoes: How to choose, store and prepare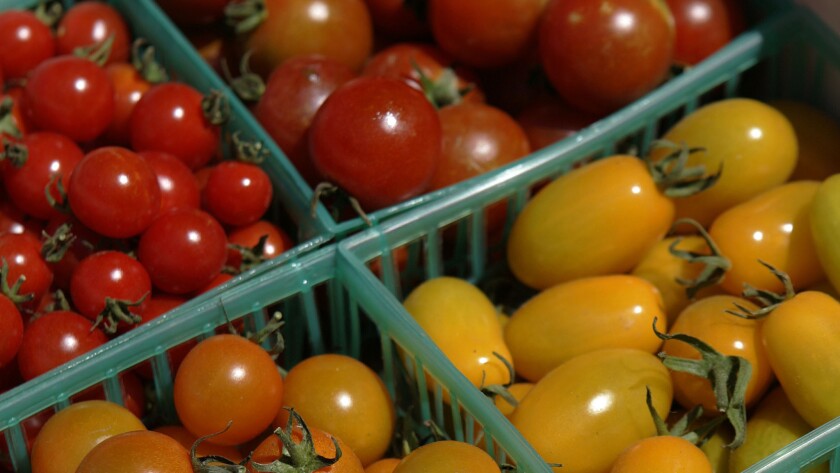 Really great regular tomatoes don't come around until the weather gets consistently hotter. So thank goodness for grape tomatoes. These are tiny (even smaller than cherry tomatoes) and naturally high in sugar (as much as twice as much as other tomatoes).
As a result, they ripen more quickly, making them flavorful even in cool spring weather. Introduced from Taiwan in the 1990s, they have proliferated like mad. What once was just a single variety (called Santa, it's still around and still good) is now a rainbow of colors and shapes--red and gold, of course, but also green, white, pink and even purple.
How to choose: Tomatoes should be vibrantly colored with taut, shiny skin. There should be no soft or wrinkly spots.
How to store: Never refrigerate tomatoes -- it kills the flavor. Keep them at room temperature, lightly wrapped if you prefer.
How to prepare: Grape tomatoes are best used split in half in salads, so you can still appreciate the burst of flavor from their thick skins. To make a quick just-back-from-the-market lunch, cut the tomatoes in quarters and put them in a serving bowl with some minced garlic, a little olive oil and just a splash of red wine vinegar. Season until sharp with salt and black pepper and then toss some freshly cooked spaghetti on top. Give it a second to warm through, then stir to combine.
---
Get our weekly Tasting Notes newsletter for reviews, news and more.
You may occasionally receive promotional content from the Los Angeles Times.