Recipe: Cinnamon <i>bumuelos</i> with maple-macadamia, chocolate and peanut butter dipping sauces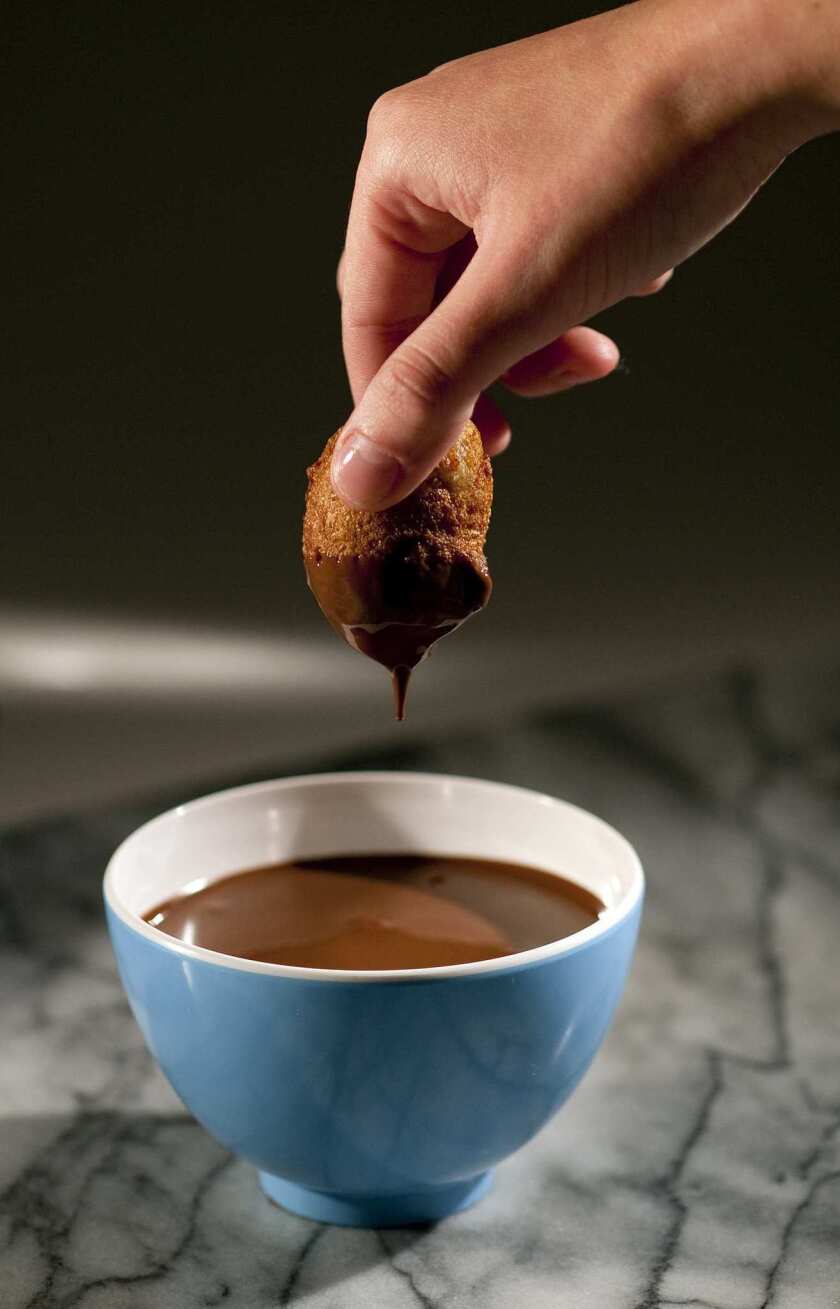 Cinnamon bumuelos with maple-macadamia, chocolate and peanut butter dipping sauces
Total time: 1 hour, 20 minutes
Servings: Makes 1 to 1½ dozen bumuelos, depending on the size.
Note: Although the sauces are quick to make, you may want to prepare them up to two days in advance and store covered in the refrigerator. Heat gently before using.
Maple-macadamia sauce
1 cup macadamia nuts
1 cup plus 1 tablespoon water, divided
5 tablespoons maple syrup
1 tablespoon vanilla extract
1 tablespoon tapioca flour, cornstarch or arrowroot
1. Grind the nuts as finely as possible in a small blender or food processor. Add 1 cup of the water and the maple syrup and vanilla and continue to process until the mixture is smooth, about 2 minutes.
2. Pour the mixture into a small, heavy-bottom saucepan and heat over low heat, stirring frequently until the mixture reaches a boil.
3. While the mixture is coming to a boil, in a small bowl stir together the tapioca flour with the remaining water to form a slurry.
4. Whisk the slurry in with the boiling mixture, then reduce the heat to a simmer and continue to cook, stirring constantly, until the mixture is thickened to a sauce-like consistency, 3 to 5 minutes. Remove from heat and set aside. This makes about 1 cup of sauce.
Chocolate sauce
14 ounces milk chocolate, chopped
1/4 cup plus 1½ tablespoons canola or grapeseed oil
In a medium microwave-safe bowl, combine the chocolate and oil. Microwave on high heat, stirring every 30 seconds, until the chocolate is melted and the sauce is smooth. This makes about 1 cup sauce.
Peanut butter sauce
3/4 cup unsweetened pure peanut butter
1/4 cup plus 2 tablespoons agave nectar or honey or 3 to 5 tablespoons sugar
3/4 teaspoon vanilla extract
1/2 cup hot water, more if needed
In a small bowl, beat together the peanut butter, agave nectar, vanilla extract and one-fourth cup of water, using a hand mixer. Slowly beat in additional water, one tablespoon at a time, until the mixture is smooth and fluffy and the desired consistency is reached. This makes about 1 cup sauce.
Cinnamon bumuelos and assembly
1 1/2 cups (6.4 ounces) sifted flour, or more if necessary
3/4 teaspoon cinnamon
Dash nutmeg
Dash cloves
1 cup water
1/2 cup (1 stick) butter
2 teaspoons sugar
Pinch salt
3 to 4 eggs
Canola oil for frying
Dipping sauces (maple-macadamia, chocolate and peanut butter)
1. In the bowl of a stand mixer, or in a large bowl, sift together the flour, cinnamon, nutmeg and cloves.
2. In a medium saucepan, heat the water, butter, sugar and salt over high heat until the butter melts and the mixture comes to a boil. Remove from heat.
3. Using the beater attachment of an electric mixer, beat in the boiling liquid mixture over low speed. Continue mixing on low speed until a soft dough comes together in a single mass, leaving the side of the bowl.
4. With the mixer running, add the eggs one at a time, mixing well after each addition. Continue adding eggs until the dough is soft but thick and sticky; depending on the dough, you many not need to add the fourth egg. Set the dough aside.
5. Fill a wide pot to a depth of 1½ inches with oil. Heat the oil until a thermometer inserted reads 350 degrees. Have a bowl of ice water handy to keep the dough from sticking to the scoop or soup spoons as you form the bumuelos; you can also dip the scoop or spoons into the hot oil to keep the dough from sticking.
6. Using a medium ice cream scoop or 2 soup spoons, take a heaping tablespoon of dough, form a coarse ball and slip it into the hot oil. (If the ball is difficult to form, beat additional flour into the dough, 1 tablespoon at a time.) Fry 1 or 2 test bumuelos until puffed and golden brown (this will take about 7 minutes). They should puff to the size of ping-pong balls and have the light, fluffy consistency of good doughnuts.
7. Continue to fry 4 to 5 balls at a time until golden brown. (The second and third batch will always be better than the first.) Remove the fried balls to a paper towel-lined plate, and set aside until all of the dough is fried.
8. Serve the bumuelos warm with the three dipping sauces.
Each teaspoon of maple macadamia sauce: 27 calories; 0 protein; 2 grams carbohydrates; 0 fiber; 2 grams fat; 0 saturated fat; 0 cholesterol; 1 gram sugar; 0 sodium.
Each teaspoon of chocolate sauce: 52 calories; 1 gram protein; 4 grams carbohydrates; 0 fiber; 4 grams fat; 1 gram saturated fat; 2 mg cholesterol; 4 grams sugar; 6 mg sodium.
Each teaspoon of peanut butter sauce: 31 calories; 1 gram protein; 3 grams carbohydrates; 0 fiber; 2 grams fat; 0 saturated fat; 0 cholesterol; 0 sugar; 18 mg sodium.
Each of 18 bumuelos: 139 calories; 2 grams protein; 8 grams carbohydrates; 0 fiber; 11 grams fat; 4 grams saturated fat; 50 mg cholesterol; 1 gram sugar; 22 mg sodium.
---
Get our weekly Tasting Notes newsletter for reviews, news and more.
You may occasionally receive promotional content from the Los Angeles Times.