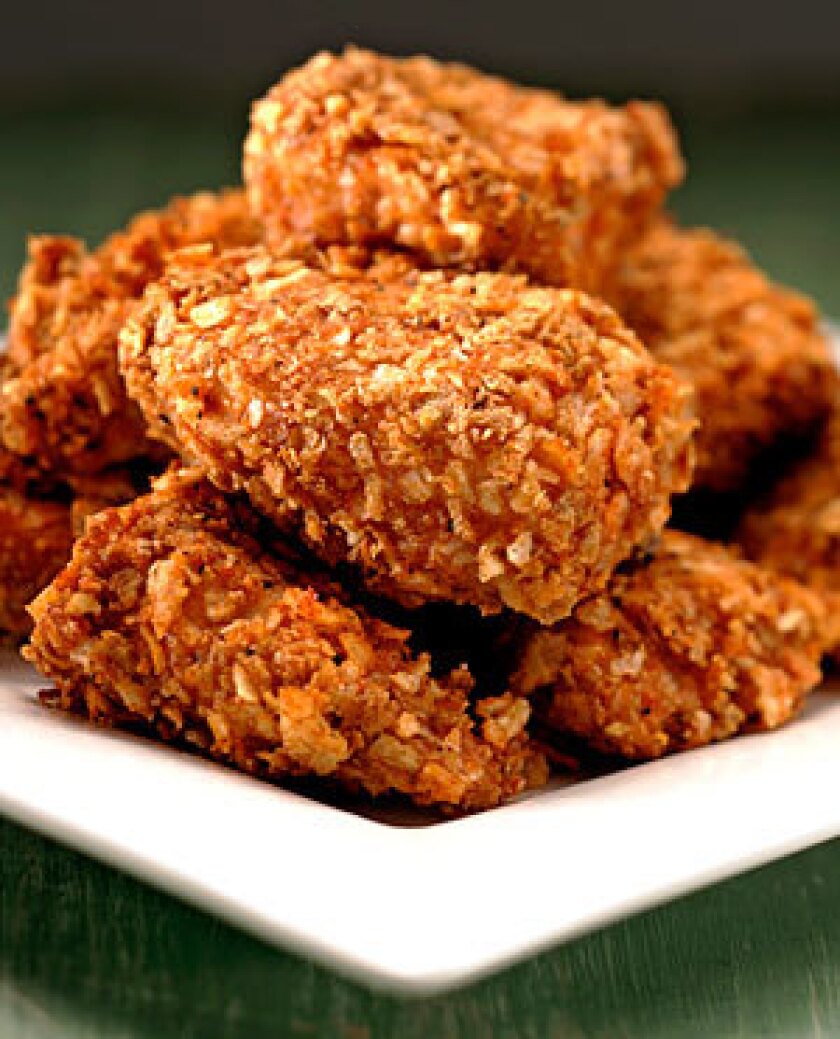 Total time: 40 minutes
Servings: 2
Note: Adapted from "Hungry Girl: 200 Under 200: 200 Recipes Under 200 Calories" by Lisa Lillien. Lillien writes, "If you like Buffalo wings, you'll love, love, love these spicy chicken nuggets. Dipping the chicken in Frank's RedHot makes these taste like REAL wings. It's hard to believe how low in fat and calories they are."
1/4 cup Fiber One bran cereal (original)
1 ounce (about 14 crisps) Pringles Light Fat Free Barbecue Potato Crisps (or another fat-free BBQ-flavored potato chip), finely crushed
Dash onion powder
Dash garlic powder
Dash cayenne pepper
Dash black pepper
Dash salt
1/2 pound raw boneless, skinless lean chicken breast, cut into 10 nuggets
3 tablespoons Frank's RedHot Original Cayenne Pepper Sauce
Nonstick cooking spray
1. Heat the oven to 375 degrees.
2. Using a blender or food processor, grind the cereal to a breadcrumb-like consistency. Move the cereal to a small bowl, and stir in the crushed potato chips, onion and garlic powders, cayenne and black pepper and salt, mixing well.
3. In a medium bowl, combine the chicken with the pepper sauce and toss to coat.
4. Shake the excess sauce from each chicken nugget and coat the pieces evenly with the crumb mixture. Place the crumb-covered nuggets on a baking sheet sprayed with nonstick cooking spray.
5. Bake the nuggets for 10 minutes, then flip them over and bake until the outsides are crispy and the chicken is cooked throughout, about 10 additional minutes. Remove from the oven and cool slightly before serving.
Each serving: 175 calories; 25 grams protein; 14 grams carbohydrates; 5 grams fiber; 3 grams fat; 1 gram saturated fat; 63 mg. cholesterol; 296 mg. sodium.
---