Review: Sushi master Morihiro Onodera reappears at hidden Inn Ann
Restaurant Critic
Framed against the sky, tranquil and removed, Inn Ann is a 35-seat Japanese restaurant in a remote corner of the Hollywood & Highland shopping center. Reaching it means navigating the chaos and spectacle specific to this tourism-riddled juncture of Los Angeles.
Emerge from the airless parking catacombs beneath the mall. Navigate the crowds through a labyrinth of elevators and escalators. Pass the grand staircase that leads to the Dolby Theatre, reach the outdoors and look up. Your destination sits in view to the right of the second 140-foot-tall elephant statue. (The mall's "Babylon Court" theme was inspired by D.W. Griffith's 1916 film "Intolerance." Only in Hollywood.) Hoof it past Victoria's Secret and Dave & Buster's, past shops blasting Robyn and Khalid. A final flight of stairs might be cordoned off; no one will stop you if you step over the chain. Reach Japan House, the cultural center that houses the restaurant. Hike across a short exterior walkway, noting the ornate detailing atop the El Capitan Theatre's Spanish Colonial Revival building across the street.
Pull open the gold door flanked by a living wall of bamboo. You have arrived.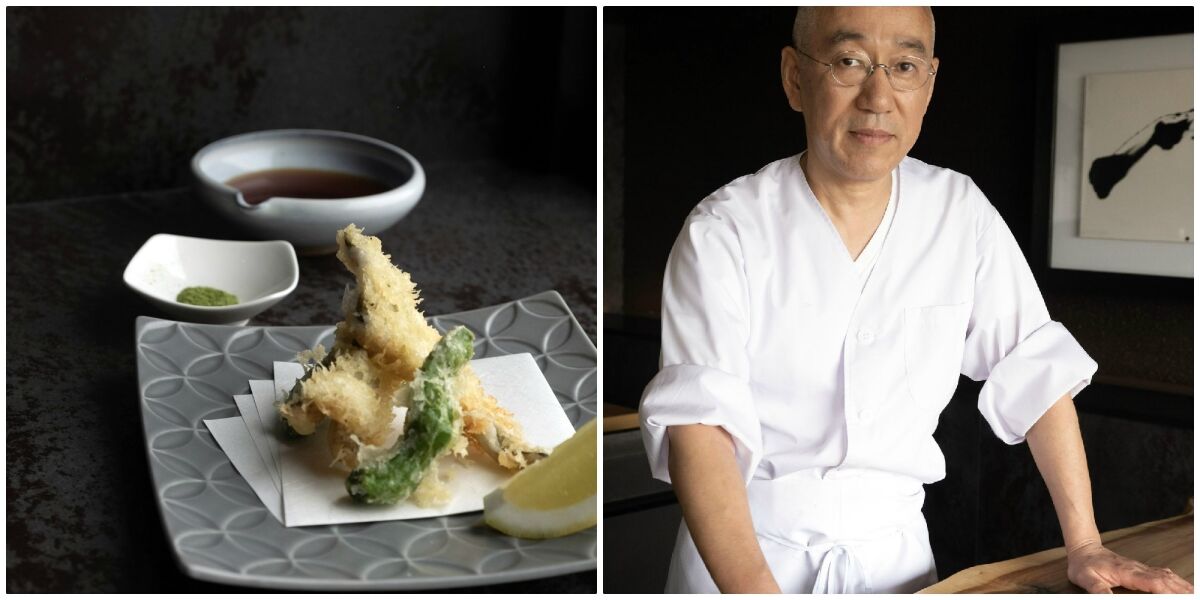 Morihiro "Mori" Onodera awaits in the heart of the minimalist room, behind the six-seat sushi bar. He is one of the city's sushi legends, beloved for his poetic presence and the superb seafood and produce he served at his long-running West L.A. restaurant Mori Sushi. He sold the place to an assistant in 2011, turning his attention to two pursuits: ceramics and rice growing. Onodera reappeared in 2017 at Shiki Beverly Hills before a friend persuaded him to become Japan House's culinary ambassador at the end of 2018.
Chefs love control, and sushi chef Mori Onodera exercises about the maximum amount of control a chef can have over food served at a restaurant.
After training as a sushi chef in Tokyo, Onodera lived in Hollywood when he first arrived in the United States in 1985. Practicing his craft at Inn Ann brings him full circle, though it's also something of a closed loop. The restaurant's mystifying location, slow word of mouth and its steep cost (tasting menu prices start at $80 and, for a customized omakase, can run just north of $200) has kept the buzz quiet, even with Onodera's reputation.
The upside? You have the master's full attention; this is a chance to unhurriedly enjoy his warmth and skill.
Given his devotion to rice, nigiri may be Onodera's truest métier; the menu has options for meals of 10 or 12 or 15 pieces of sushi. Most diners lean toward an omakase that includes a series of cooked dishes before a finale parade of Onodera's nigiri.
To begin the omakase, the server sets down a block of house-made tofu, silken and yielding and appealingly rustic in its fine graininess, with dashi for dipping. Its flavor subtly announces the season: This spring I've tasted tofu infused with cherry blossoms and also with pureed snap peas from one of the nearby farmers markets.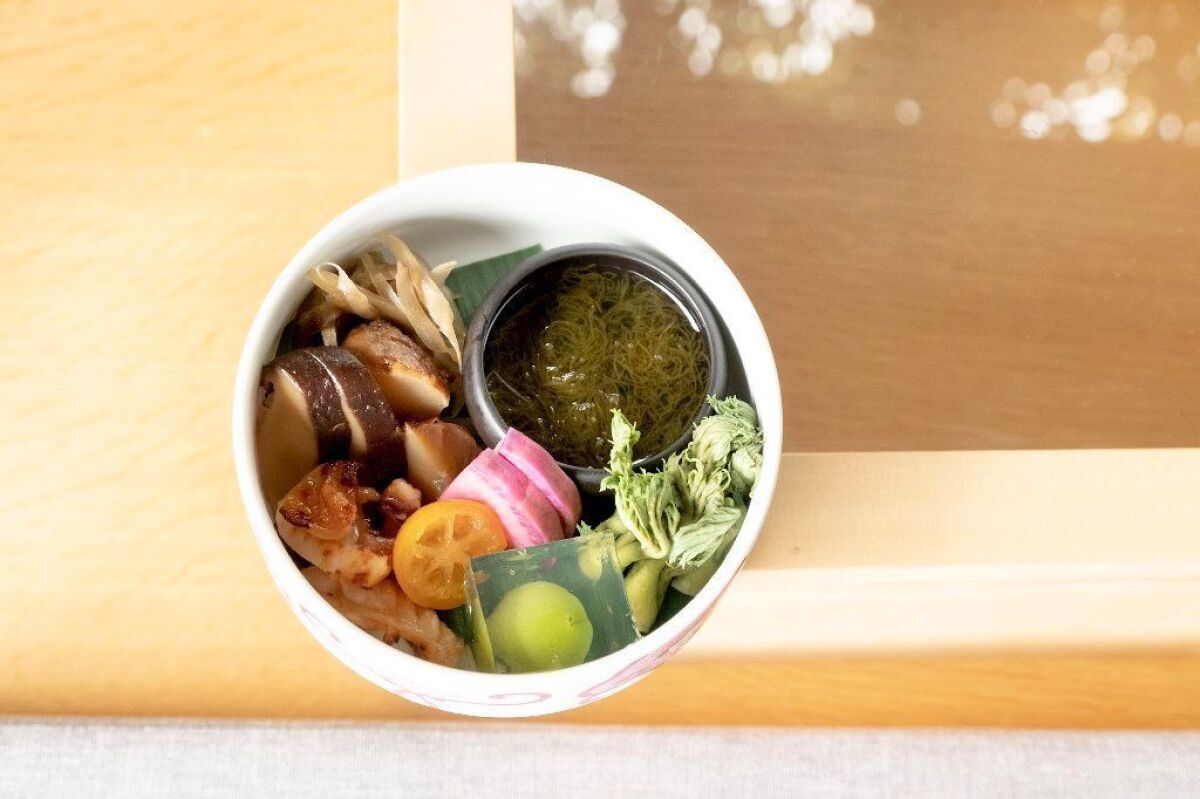 A shallow patterned bowl filled with ever-changing geometries of fruits, vegetables and a smattering of seafood evokes the zensai appetizer course in a traditional kaiseki progression. One night it involved thick, tender bamboo shoots, two preserved kumquat halves, steamed greens, sardines strewn with soy-darkened strips of ginger, and a little heap of shaved burdock root. The precise distinctions in tastes and textures have a meditative quality. This is when the body's molecules really start to settle in for the evening.
The zensai, when I've had it, always includes a tiny green mountain peach suspended in clear gelée. The first time I lobbed this art object in my mouth it tripped all sorts of Maryland childhood nostalgia wires in my head. What was that specific sweetness? Ah, yes: the canned fruit cocktail my mother would serve for special occasions in cut glass bowls. Some flavor memories cross many cultures.
Sterling sashimi shows up soon, three or four selections, each as fresh as dawn. Crackling tempura arrives, often a duet of freshwater eel and shishito peppers, with lemon, green tea salt and dashi for seasoning in various combinations. One course comprises sunomono, or vinegared foods: Hope that lightly pickled cucumbers with feathery Dungeness crab and its mustardy kani miso make an appearance.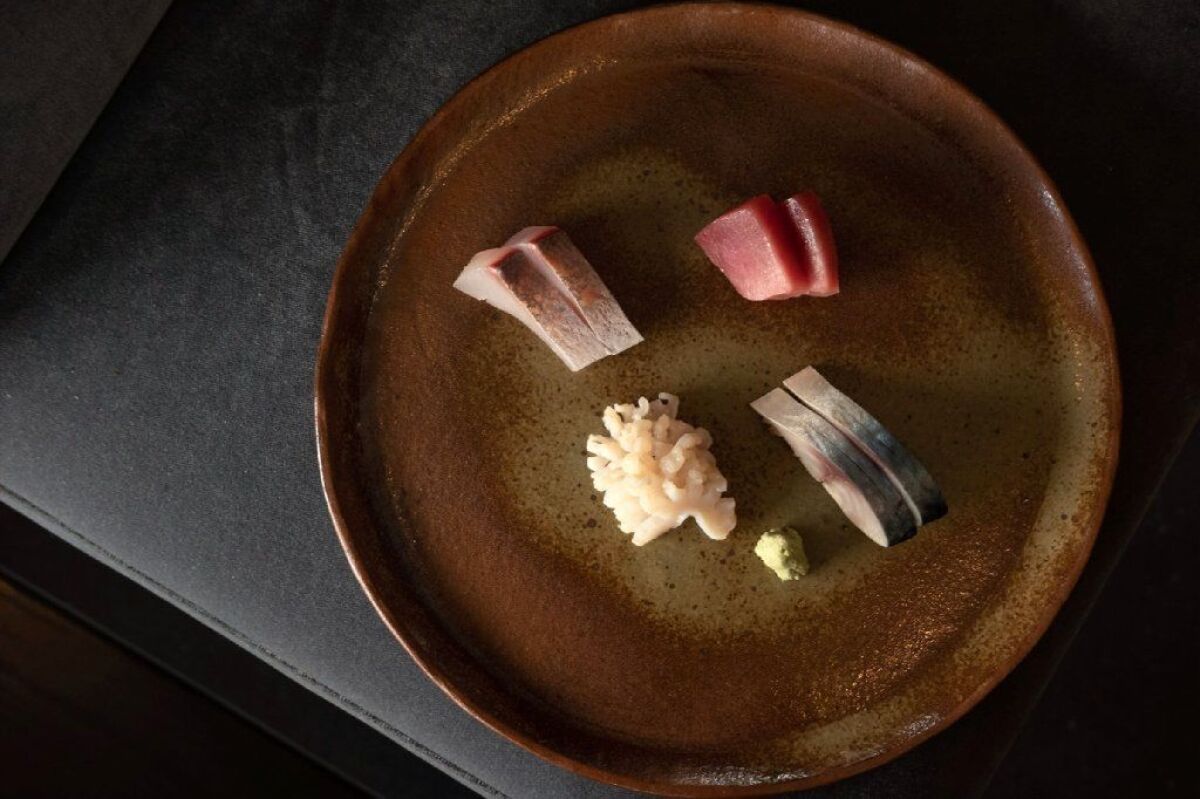 The kitchen, glimpsed only through a tiny window behind the sushi bar, tends to falter with the simple cooked dishes, such as mealy grilled prawns or a bland, too-taut hunk of sea bass. Thinly sliced grilled Wagyu rib-eye comes overlaid with a long tongue of Santa Barbara uni and sides of zucchini slices and flowering cauliflower. This is a mismatched dinner party: The guests are all interesting enough, but they don't have much to say to one another.
During these last kitchen courses, Onodera is gathering and prepping fish at the bar; the staff is pouring sakes from a tightly edited and often expensive list. He chats with customers about his pottery, stacked on open shelves in one corner, though he sighs smilingly and says he doesn't have much time to make ceramics these days.
At last Onodera begins to compose nigiri. As he cups clumps of rice in his palm, forming the grains into loosely packed lobes, he closes his eyes and cocks his head, almost as if he's listening. I fight the urge to lean in and eavesdrop.
The heat you feel when you lay your hand on your chest — that's the temperature of the rice, dyed the color of dried blood from the aged vinegar he uses. He begins with lighter fish like tai (Japanese sea bream); he crucially avoids bluefin tuna, using only bigeye. He doesn't shy away from the mackerel family. There may be rare or seasonal treats such as akagai (ark shell or red clam). It's particularly wonderful when he serves nigiri wrapped in seaweed and showered with ikura (salmon roe): warm, cool, pop, pop, pop.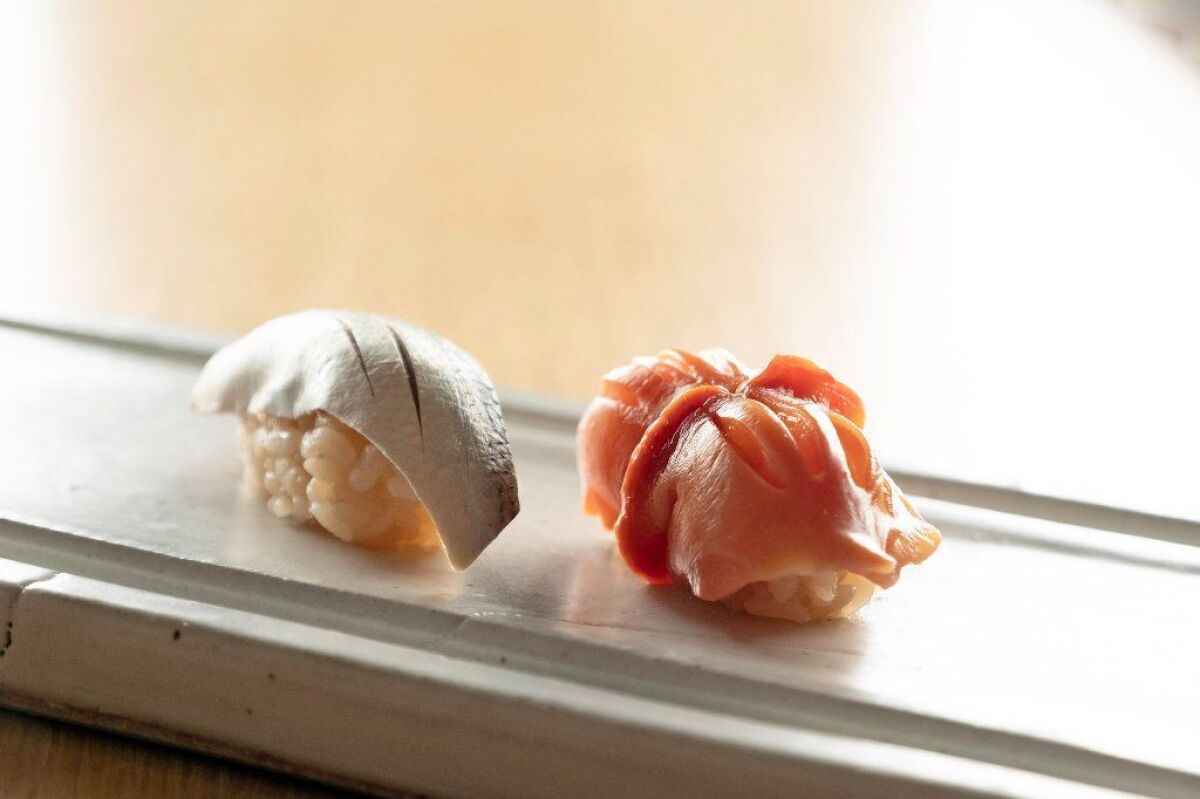 Dessert — perhaps green tea or red bean ice cream, or fresh fruit with cream — comes with the omakase. I prefer to end with the rectangle of tamago (sweetened omelet) that traditionally completes the nigiri cycle.
The downtown skyline is visible outside Inn Ann's panoramic windows. Oddly, most of the tables sit facing away from the vista. I don't recommend camping at a table, anyway. The nigiri arrives with the rice already cooled, robbed of its specialness.
Be certain, then, to book a seat at the bar for a few hours in Onodera's calm company. After the trek through Hades and Babylon, he's really the restaurant's most exquisite view.
Inn Ann
Sushi maestro Morihiro Onodera reappears in the unlikeliest of locations.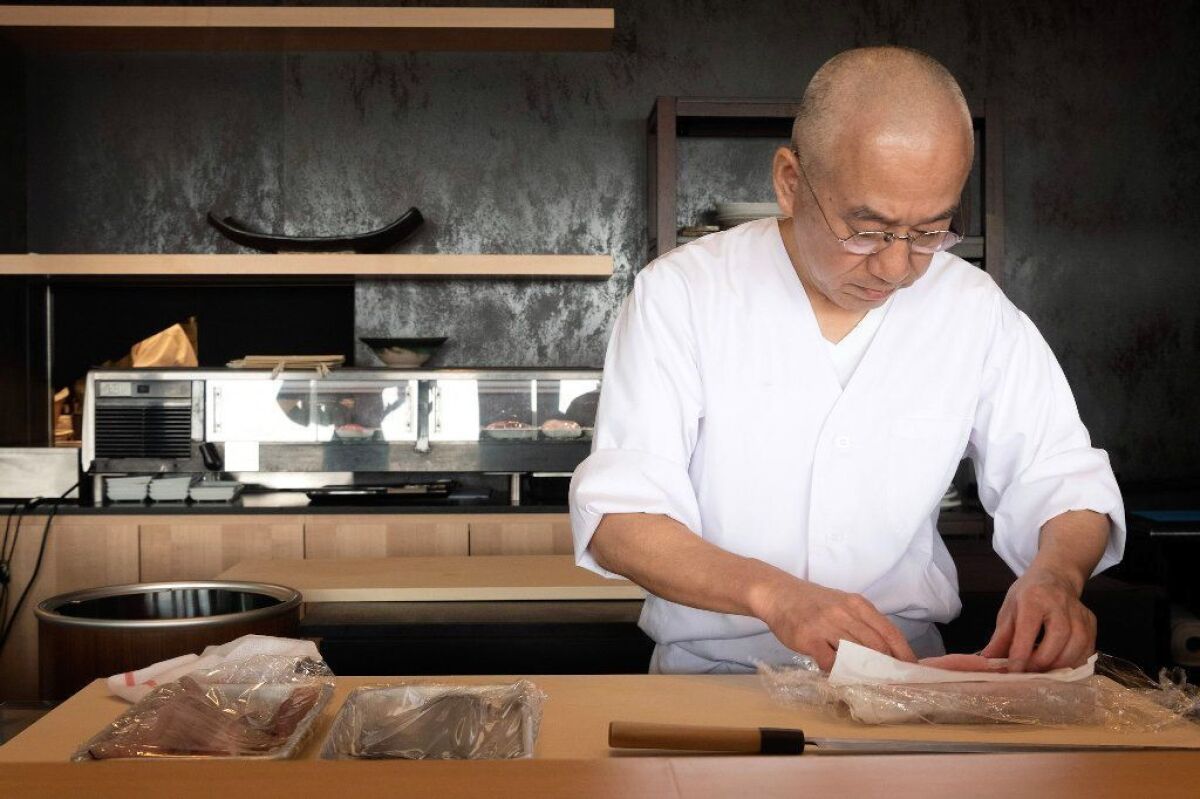 Location: 6801 Hollywood Blvd., Level 5, Los Angeles, (323) 677-5557, japanhouse.jp/losangeles/restaurant/index.html
Recommended dish: "Ringo" eight-course tasting menu.
Prices: Tasting menus $80-$130 (or more); sushi-only tasting menus $80-$100.
Details: Credit cards accepted. Beer, wine, sake and whiskey. Lot parking. Wheelchair accessible.
---
Get our L.A. Goes Out newsletter, with the week's best events, to help you explore and experience our city.
You may occasionally receive promotional content from the Los Angeles Times.