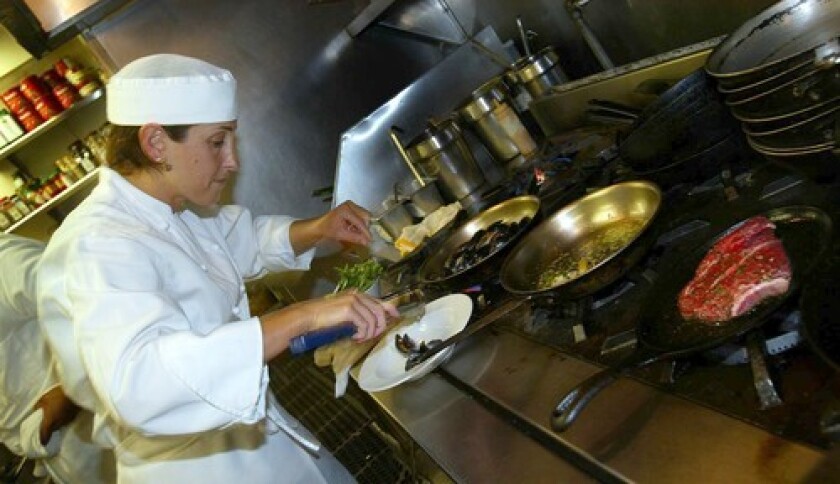 Los Angeles Times Staff Writer
The change of ownership notice in the window looked ominous. Oh no, I thought, we're not going to lose Jar, are we? Not in a year when Nouveau Cafe Blanc, 5 Dudley and Chianti all shut their doors. Not this reliably excellent and very civilized Los Angeles chophouse. There goes that luscious pot roast, those baby turnips roasted with their greens on, the world's best fries and that demure banana cream pie! Say it's not so.
Not to worry, the hostess reassured me as she handed over the night's menus. Suzanne (that's Suzanne Tracht, Jar's chef-owner) is just getting new partners, Neal Rosenthal (producer of "Everybody Loves Raymond") and his wife, Monica Rosenthal.
I felt better. I already knew that Mark Peel, who had been Tracht's partner (but never behind the stoves) at Jar, had sold his part of the restaurant in order to focus his energies on Campanile, the restaurant he owns with Nancy Silverton. And I'd been a little worried that the 2 1/2-year-old Jar would go the way of the dodo just when it had matured into something interesting.
Now I could enjoy my dinner. And because I'd brought along a few friends who'd never been here, I had the excuse to revisit some of my favorites from the menu. It has the same user-friendly format, salads and appetizers listed on the left, broilers and roasts, braises and sautes, sides and sauces down the middle, with Jar's roster of excellent cocktails -- for instance, the Perfect Manhattan (and it is) -- and wines by the glass running down the right side.
The decor is simple, modern and a little stark (a makeover is planned for this summer). The exterior, though, isn't exactly inviting; it looks more like a bunker than anything else. The crowd is an eclectic mix drawn to Jar more for the cooking for any sizzling scene.
---
For The Record
---
Restaurant partner -- A review of the restaurant Jar in last week'sFood section incorrectly identified one of the restaurant's partnersas Neal Rosenthal. The partner is Phil Rosenthal.
---
Of course, because of the Campanile connection, the bread is from La Brea, a big chunk of a chewy loaf with a thick, caramelized crust served with fresh sweet butter. That's enough to keep restive diners content until their first courses arrive.

For anybody from the East Coast, soft-bellied Ipswich clams are a siren call. They're expensive because they're so fragile to ship. Tracht doesn't do anything fancy: She just cooks them perfectly. Fried to a deep gold, they're crunchy little squiggles with a rich soft center. The deep funk of these clams is terrific with spunky cocktail and tartar sauces presented yin-yang style in a single dish. But the portion, with clams set on a thatch of piping hot shoestring potatoes, is arranged so as to appear larger than it is.

Tracht likes to take familiar retro dishes from the American repertoire and update them for a modern sensibility. I love her deviled eggs upgraded with fresh crab. I also love the fact you can order them by the half order. The same goes for her chopped salad. She thinks the cliche through again and makes it her own, with an improbable but delicious combination of fennel, red onion and cabbage against the salt tang of feta and green olives, embellished with chicken and, for garnish, a ribbon of Parma ham. Butter lettuce salad is showered with herbs -- chives, tarragon, chervil -- and delicate white-tipped breakfast radishes.

If she gets in Gulf shrimp, she might make a salad of the meaty shrimp with pink jewel grapefruit, ripe avocado and red onions in a perfectly balanced dressing. How good can a salad be? This good.

There are always fine oysters on the half shell, and this season there's a daring lobster cocktail served in a chilled bowl with slices of green mango in a fiery lime-drenched vinaigrette. It almost seems a riff on ceviche. Steamed black mussels become extraordinary when Tracht cooks them with fennel and serves them in their broth with emerald Chinese greens on top, and, on the side, a svelte lobster bearnaise and fennel salt.

Quite a few of the dishes have been on the menu from the beginning, but they've only gotten better. Many chefs fall asleep at the stove if they have to keep cooking the same things over and over again. Not Tracht. She seems to thrive on the discipline of repetition, honing each dish to the ideal, refining the timing until it is as perfect as it gets.

Order a steak and it's cooked exactly as you ask. The beef is prime and dry-aged. Kansas City (essentially a bone-in New York cut) is always a good bet, with your choice of a textbook bearnaise, a tangy tamarind or green peppercorn sauce, all of them excellent. The best steak I've had in a very long while was a recent special: a hefty porterhouse with exceptional flavor. Turned out to be $40-something when I got the bill, but it was almost worth it.

Tracht and chef de cuisine Preech Narkthong are big fans of braising and roasting, both techniques that require patience. The action is slower, and much less showy than the pyrotechnics chefs with open kitchens go in for. But that patience is rewarded with deep flavor and a more rustic appeal. Who wouldn't be smitten with Tracht's pot roast, made with boned short ribs for a richer flavor? It's all about the beef in a splash of its own juices. Lamb shank is braised to sinewy tenderness too. One of the dishes she brought with her from Jozu is char sui pork chop, a luscious double-cut chop with a complex sweet-salty marinade soaked deep into the meat.

Jar is a carnivore's heaven, but fish lovers are happy too, with a daily fish special that could be sand dabs, or soft-shell crabs in red curry butter, or Hawaiian moonfish (mongchong) in a mustard beurre blanc. And Tuesday now is Fish Market Day, which means a three-course menu, two courses of fish and one dessert (yes!) for $38, including coffee or tea.

The sides at Jar are delightful, from sauteed pea tendrils and dreamy potatoes au gratin to braised Brussels sprouts and, in season, those baby turnips. Fat asparagus spears were roasted one night with good olive oil and a touch of salt.

The wine list could be more interesting and focused. It feels as if no one's given it much attention, except for the wines by the glass. The cocktails, though, would do Nick and Nora proud. A terrific Manhattan, a classic martini. And on weeknights, they're served with a smart little bar menu all evening.

Desserts are in the same sophisticated, pared-down vein: an ice cream sundae with balls of vanilla and coffee ice cream and on the side, butterscotch and fudge sauces and a mound of softly whipped cream. Chocolate pudding is just that -- not mousse, not molten chocolate cake, but the real thing, silky and rich, suffused with a pure chocolate taste cut with a dab of whipped cream on top. More of that billowy cloud goes into the banana cream pie, which tastes simply of bananas and cream.

While I could wish Tracht would venture more with her specials, she's smart enough to stay within her game, cooking upscale chophouse fare with a sly, sensual twist. There's not a dish on the menu that shouldn't be there. That kind of editing and attention to detail sets Jar apart. It's not only good, it's absolutely reliable. How rare is that?

Jar

Rating: ***

Location:

8225 Beverly Blvd., Los Angeles; (323) 655-6566; www.thejar.com

Ambience: Sleek contemporary chophouse with a crowd in attendance more for the smart cooking than any scene

Service: Amiable and attentive

Price: Appetizers, $7 to $15; main courses, $14 to $39; desserts, $5 to $7

Best dishes: Tomato and sweet onion salad, butter lettuce and breakfast radishes, fried Ipswich clams, black mussels with lobster bearnaise, pot roast, char sui pork chop, dry-aged steaks, French fries, pea tendrils, chocolate pudding, ice cream sundae, banana cream pie

Wine list: Safe and unexciting. Corkage, $15.

Best table: A corner booth

Special features: Sunday brunch and fish market Tuesdays

Details: Open Tuesday through Saturday from 5:30 p.m. to 11 p.m., Sunday for brunch from 10 a.m. to 2 p.m. and for dinner from 5:30 p.m. to 10 p.m. Closed Mondays. Full bar. Valet parking, $4.50.

Rating is based on food, service and ambience, with price taken into account in relation to quality. ****: Outstanding on every level. ***: Excellent. **: Very good. *: Good. No star: Poor to satisfactory.
---