How to make a frittata with edible flowers for your next dinner party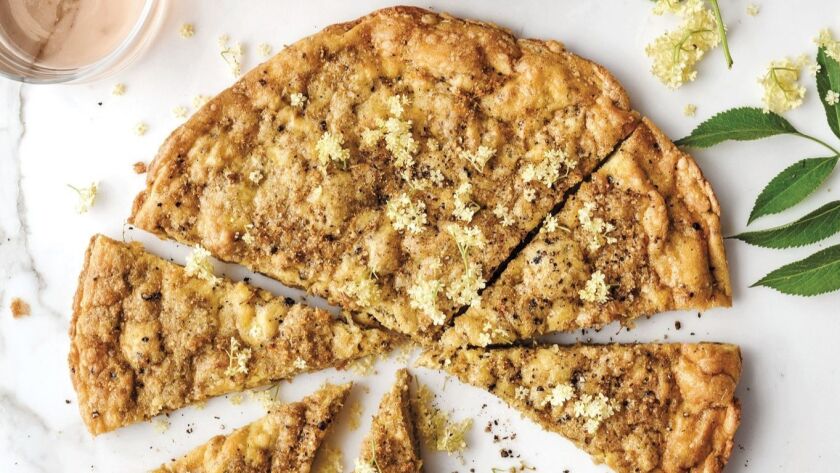 Katie Parla, a cookbook author based in Italy, makes this frittata with the elderflower blossoms she finds there. Here in Los Angeles, you can use nasturtiums or other edible spring flowers that you grow or find in farmers markets. If you can't find any edible flowers, you can use upland cress instead.
Frittata ai fiori
50 minutes. Serves 4 to 6 as a starter or 2 to 4 as a main.
8 large eggs
Sea salt and freshly ground black pepper
1 cup fiori di sambuco (elderflower blossoms), nasturtium or other edible spring flowers, or upland cress leaves, plus more for garnish
¼ cup extra-virgin olive oil
1 Heat the oven to 375 degrees
2 In a large bowl, whisk the eggs with ½ teaspoon salt and ¼ teaspoon pepper. Gently stir in the flowers; make sure they're well-coated with the egg.
3 Heat the olive oil in a large ovenproof nonstick or well-seasoned cast iron skillet over low heat. When the oil begins to shimmer, add the egg mixture. Using a wooden spoon, stir a few times, moving from the outside of the pan toward the center. When the eggs begin to set around the edges, turn off the heat, gently shake the pan so that the eggs settle into an even layer, and transfer the pan to the oven.
4 Bake the frittata until the edges start to come away from the sides of the pan and the center starts to rise, 10 to 15 minutes.
5 Remove the pan from the oven and allow the frittata to cool before unmolding, about 30 minutes. To unmold, run a heatproof spatula around the edges and underneath the frittata and slide it onto a serving plate. Serve at room temperature, sliced into wedges, seasoned to taste with more salt and pepper, and garnished with additional flowers.
Adapted from "Food of the Italian South." Copyright 2019 by Katie Parla. Photographs copyright 2019 by Ed Anderson. Published by Clarkson Potter, an imprint of Penguin Random House LLC.
---
Get our weekly Tasting Notes newsletter for reviews, news and more.
You may occasionally receive promotional content from the Los Angeles Times.