Forget bottles, cans and boxes: Kegged wine is what's next
When it comes to wine and where to drink it, Angelenos in 2019 are spoiled for choice. And inside Bar Bandini, on Sunset Boulevard in Echo Park, the scene at first blush may seem familiar: the twinkling bistro lights, the hip young clientele, the notice on the wall declaring "AVAILABLE FOR FILM SHOOTS."
Then you notice the taps.
Eight or more West Coast wines are on tap a night each night, with a heavy emphasis on California wines meant to be enjoyed with a chill. It would seem so effortlessly natural if it weren't so unusual: for keg wines on tap, sourced from quality focused winemakers, there is nowhere else better in America right now than inside this dark little bar on Mohawk Bend.
There's a reason for that. Keg wine has a stigma to overcome: the kegging or bagging of wine has long been synonymous with large industrial estates selling their run-off plonk as a cheap addendum. This reputation is starting to change, however, as the interest in alternative formats has found a willing bedfellow in the boom of natural wine culture, a multi-faceted, kaleidoscopic genre focused on wines made with limited industrialization.
Kegged wine offers cost savings throughout the bottling and shipping process, and the scene for kegged wine is booming right now in cities such as London, where saving so much as a pound per glass can be life or death for proprietors.
I ask owner Jason Piggott if London was to blame for his concept at Bar Bandini, but he points to Santa Monica instead. He was inspired by an early brush with the keg wine format as a customer at Sang Yoon's gastropub Father's Office back in 2009. "I remember they had a wine from Black Sheep Farms out in the Sta. Rita Hills on tap, and I thought that was really cool. It planted the seed."
Bar Bandini opened in 2015, and on any given night the list includes a range of standard offerings from West Coast winemakers, from estate vineyards like AmByth Estate and Coturri to tiny negociant producers like Joe Swick, Ruth Lewandowski, and Subject to Change. (A range of local craft beers and bottled wines from Europe round out the list.) "I want to give the winemaker an opportunity to experiment here in real time — to try something new out at our bar," says Piggott. "I call every winemaker personally to say 'Hey, toss it in a keg for me and I can commit. I'm here for you and I can support you."
For young and emerging winemakers, this degree of support is unusual — and invaluable. Dan Schaaf and Aaron Olson, who make garagiste wines in an urban Napa City industrial park under the label Deux Punx, fell in with Piggott early in the process. "It was a leap of faith at first with Bandini," recalls Schaaf. "As a small producer, once it's in a keg you can't put it back."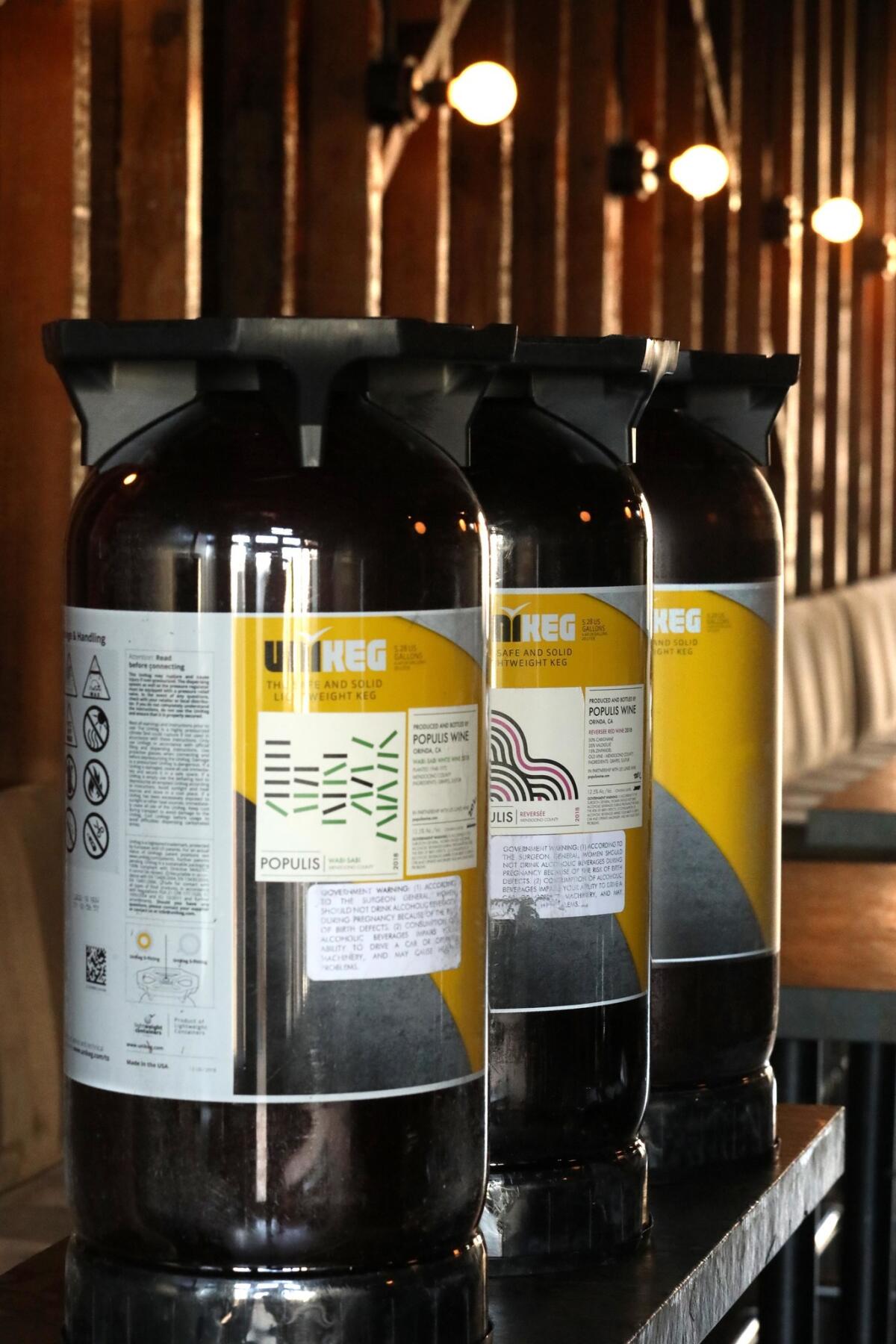 The leap paid off. Deux Punx has become one of Bandini's closest collaborators; Schaaf calls it "our largest keg buyer by far" and estimates they've done around 10 different releases with Bandini since 2015, kegged and shipped from Napa direct to Echo Park. The collaboration has grown to include annual releases like "Carbonic Pinot," a cold-plunge cranberry cocktail of a wine made in a light, quaffable style. "We sell through it so fast each year" Piggott recalls, beaming. "I can't wait until they make more."
Another recent tap debut at Bar Bandini came courtesy of Vin de California, the work of negociant winemaker Adam Vourvoulis, who moonlights as a podcaster, bar manager and streetwear designer. Bar Bandini was the first place in the world to pour Vin de California's "Brutal" Grenache from the Sierra Foothills; the release was part of an international collaborative winemaker series created by a small, influential group of Catalonian natural winemakers based in and around Barcelona, Spain, and bottled under the shared "Brutal" label. Vourvoulis was the first American winemaker to participate in the project, and Bandini had it six months before the wine's limited bottling release, kegged so fresh and clean as to be almost lightly effervescent — a danceable pop song in red wine form, rare as a sneaker drop.
It's not just light red wines that sing in these taps. On a recent visit I tried the latest release from indie winemaker Chad Hinds, who makes wine under the label Methode Sauvage. His new project is called "California Alps" and features uncommon grape varieties like Bergeron and Poulsard, sourced in part from the winemaker's new vineyard project in Siskiyou County. The white version of California Alps is unexpectedly serious, pensive even — a complex white wine with notes of almond and wildflowers inspired by the Jura region on the French border with Switzerland. Just 250 cases were made, plus a few exclusive kegs set aside for Bar Bandini.
"Keg wine serves a function — it saves money on packaging, it's green, it has a lower carbon footprint — but what really speaks to me about it is the freshness," Piggott says. "I'm literally texting these winemakers to say 'Hey, I'm ready for a couple of more kegs,' and then a day later we're pouring it on tap. I just love it."
Get our L.A. Goes Out newsletter, with the week's best events, to help you explore and experience our city.
You may occasionally receive promotional content from the Los Angeles Times.