Recipe: Caribbean jerk marinade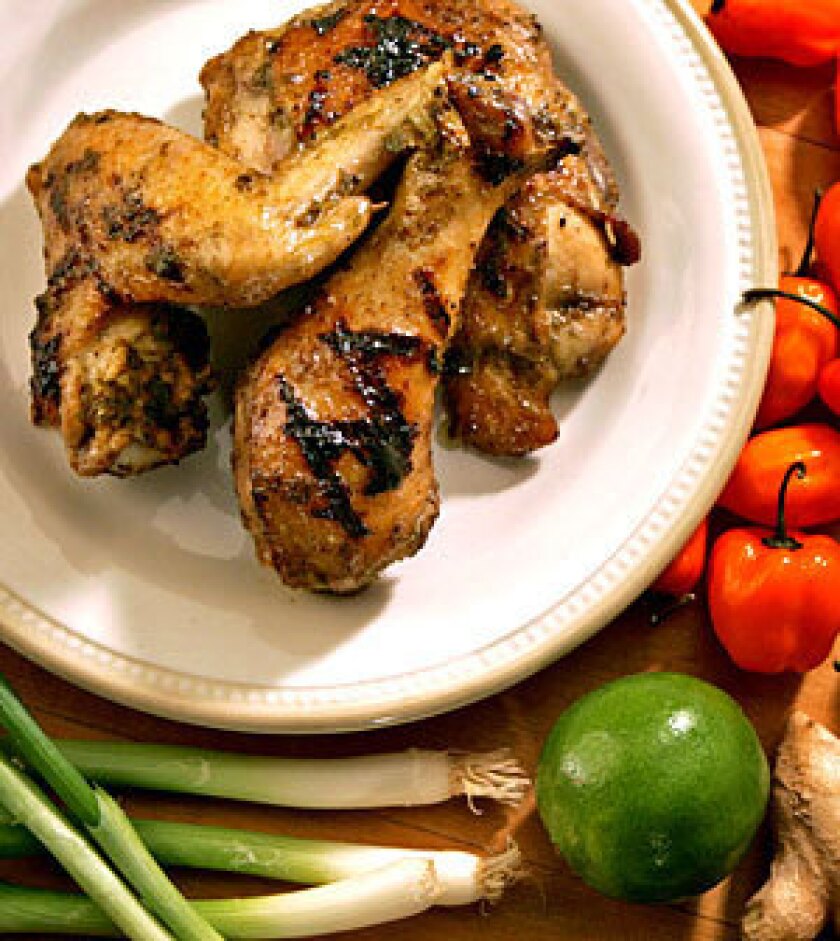 Total time: 20 minutes plus marinating and grilling time
Servings: 6
Note: Muscovado sugar owes its rich color and deep flavor to its high molasses content, and can be found at most cooking and baking supply stores. Wear gloves while chopping the Scotch bonnet or habanero peppers because the heat in the oils can sting your hands. Wash your hands thoroughly after handling the peppers.
1 tablespoon cracked black peppercorns
3/4 teaspoon grated nutmeg
1 1/2 teaspoons ground allspice
1/2 teaspoon ground cinnamon
1/4 teaspoon ground cloves
2 tablespoons salt
1/4 cup muscovado or dark brown sugar
3 to 9 Scotch bonnet or habanero peppers, seeded and chopped
4 teaspoons minced garlic
1 tablespoon minced ginger
2 bunches scallions, finely chopped (green and white parts)
1/2 cup oil
Zest and juice of 4 limes
1/4 cup white vinegar
1/2 cup dark rum
1 (4- to 6-pound) chicken, cut into 8 pieces
1. In a large bowl, combine the peppercorns, nutmeg, allspice, cinnamon, cloves, salt, sugar, peppers, garlic, ginger, scallions, oil, lime zest and juice, vinegar and rum. Add the chicken pieces and toss to coat.
2. Place the chicken and marinade in a large, sealable plastic bag. Squeeze out the air and seal the bag. Place the bag in the refrigerator and marinate the chicken overnight, up to 24 hours.
3. Remove the chicken from the marinade and grill on an oiled rack over medium-high heat until the meat is firm and the juices run clear and a thermometer inserted reads 165 degrees. Remove the chicken to a platter and set aside for a few minutes before serving.
Each serving: 438 calories; 48 grams protein; 5 grams carbohydrates; 1 gram fiber; 23 grams fat; 6 grams saturated fat; 147 mg. cholesterol; 716 mg. sodium.
---
Get our weekly Tasting Notes newsletter for reviews, news and more.
You may occasionally receive promotional content from the Los Angeles Times.