Helping farmers markets managers manage better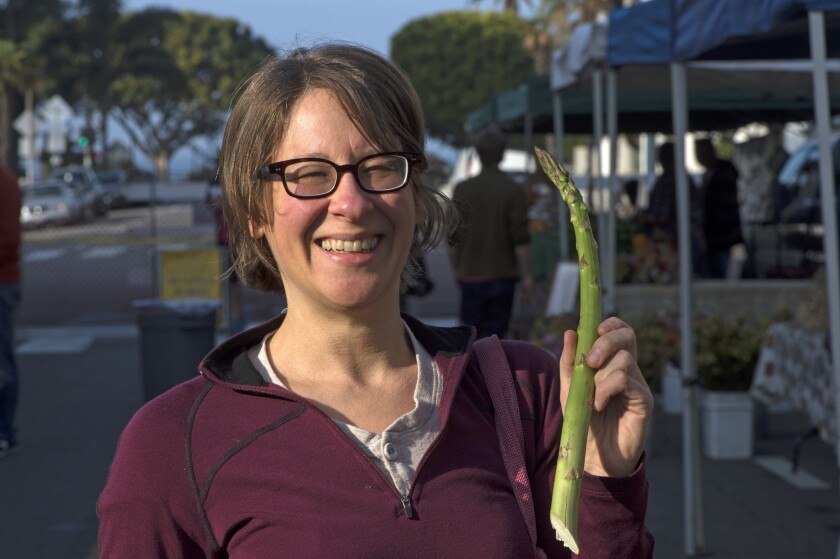 Shopper Abby Kavner with jumbo asparagus from Zuckerman Farms in Stockton.
(David Karp)
Variegated Pink Eureka lemons grown by Laura Ramirez of JJ's Lone Daughter Ranch in Redlands.
(David Karp)
Assorted radishes grown by Windrose Farm in Paso Robles.
(David Karp)
Tango mandarins grown by Bob Polito in Valley Center.
(David Karp)
Artichokes grown by Green Farms in Lompoc.
(David Karp)
Green onions grown by Milliken Family Farms in Goleta.
(David Karp)
Fuerte avocados grown by Will and Jeanne Stehly of Sycamore Hill Ranch in Fillmore.
(David Karp)
Yellow and red swiss chard grown by Vang Thao in Fresno.
(David Karp)
Edible nasturtiums grown by Bill Coleman in Carpinteria.
(David Karp)
Buddha's Hand citron grown by Tony Thacher of Friend's Ranches in Ojai.
(David Karp)
As certified farmers markets have proliferated in California over the past decade, it has become clear that many of their managers lack crucial knowledge of their responsibilities. In response to this problem, veteran managers and the California Department of Food and Agriculture have devised a new program that will shortly hold training sessions for managers around the state.
Until now managers had to learn on the fly about agricultural and food safety regulations, writing their own market rules, recruiting farmers and organizing the event. The new program's curriculum, including a printed and digital manual, will provide the information managers need to know to run their business, such as the history of the markets, effective promotion, and how to deal with specific problems like dogs or counterfeit bills.
Of particular importance to shoppers, the classes, led by Steven Patton, head of the CDFA farmers market program, will teach managers how to detect and deal with cheaters who misrepresent purchased produce as their own. This will include a guide to seasons, correlating crops, growing areas, and storage, the basic criteria needed to identify fraud.
"It's a real game changer, for experienced managers as well as novices," said Diana Rodgers, who runs the Mar Vista farmers market, and helped draw up the program. "Now there's one place to go to get the information we need."
Mary Lou Weiss, the longtime manager of the Torrance farmers markets, led a group that obtained a USDA Specialty Crop Grant of $216,818 to fund the program. A subcommittee of the Certified Farmers Market Advisory Committee put together the curriculum, working with CDFA and ToucanEd, a custom publisher based in Santa Cruz. Although the program was originally conceived to be mandatory for all managers, as currently designed it is optional.
CDFA will conduct 11 one-day training sessions around the state starting April 16 in San Francisco. The local classes will be April 24 at the Irvine Hyatt Regency; April 25 at the Pasadena Hilton; May 6 at the Santa Monica Main Library; and May 7 at the Ventura Crowne Plaza. The sessions run from 9 a.m. to 3 p.m., with a one-hour lunch break. There is no charge, and no reservations are needed.
This is a one-time opportunity; only informal discussions have been held about continuing the program in later years, said Steve Lyle, a CDFA spokesperson.
---
Get our weekly Tasting Notes newsletter for reviews, news and more.
You may occasionally receive promotional content from the Los Angeles Times.